Gerard Cosmetics Hydra Matte Liquid Lipstick Review & Swatches
During a '4 for $40 Hydra Matte' sale, I got these Hydra Matte Liquid Lipsticks using my PR credit on the Gerard Cosmetics site. The exciting part is that you get to choose the shades that you want! That's so cool, right? You get to choose 4 of your favorite Hydra Matte Liquid Lipstick and get them for $10 (Retails for $20 each).
I got the shades – Mile High, 1995, Cher, 90201 and Adam & Eve (GC Love Box). Read till the end to know whether I recommend Hydra Matte Liquid Lipstick or not. I've also included Gerard cosmetics hydra matte swatches below.
Ingredients:
Isododecane, Cyclopentasiloxane, Cera , Alba (Bees Wax), VP/Hexadecene Copolymer, Disteardimonium Hectorite, Octyldodecanol, Trimethylsiloxysilicate, Alcohol Denat, Propylene Carbonate, Phenoxyethanol, Caprylyl Alcohol, Ethylhexy Glycerin, Hexylene Glycol, Tocopheryl Acetate Flavor.
Main Contain:
Titanium Dioxide (CI 77891)
Iron Oxides (CI 77491, CI 77492, CI 77499)
Red 6 (CI 15850), Red 7 (CI 15850:1), Red 27n (CI 45410:1)
Yellow 5 (CI 19140)
Price : $20 (Approx Rs.1439) for 2.6 g
Buy it Here (use code IBB for 10% off)
I got them for $10 (Approx Rs.720) during the 4 for $40 Hydra Matte sale
How's the Packaging?
On my previous Gerard Cosmetics review, I was gushing about how luxe their packaging is. I'd still like to give brownie points to Gerard Cosmetics for creating such beautiful Liquid Lipstick tube with Gold applicator.
The Hydra Matte liquid lipstick comes in a frosted glass tube with a golden metallic cap that contains a medium-sized doe-foot applicator.
The shades are mentioned on the bottom of the lipstick. These lipsticks come in black unicartons with all the details mentioned in it.
They do not feel that heavy but they look great displayed on the vanity. I like to carry my favorite shade 1995 and 90201 everywhere I go, so these are very travel-friendly.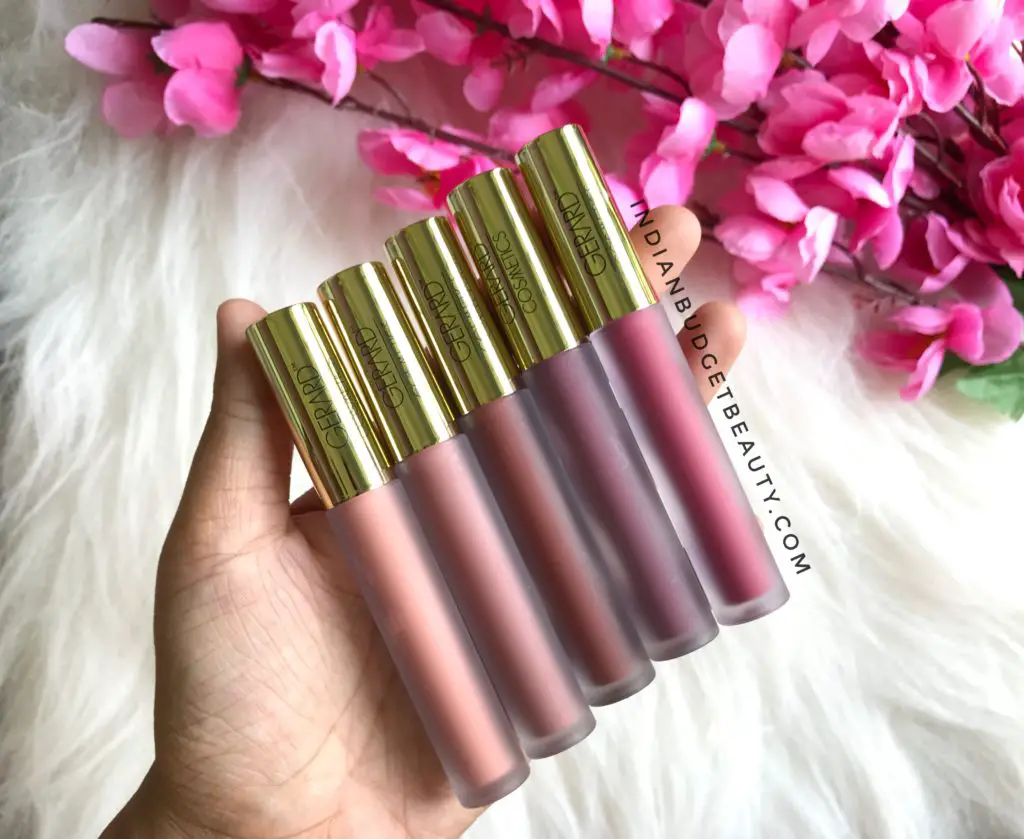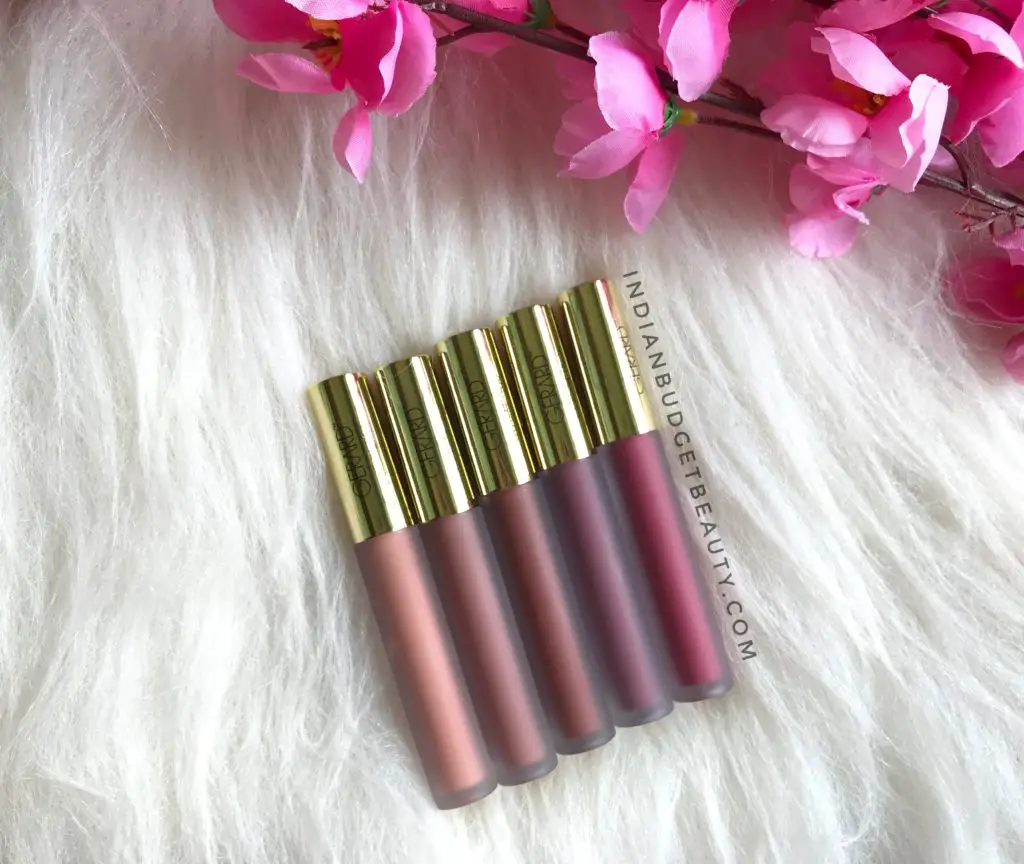 How's the Consistency & Formula?
It has a very thin creamy consistency that glides on smoothly. Hydra Matte Liquid Lipstick has one of the best liquid lipstick formulae I've ever tried. It is so light-weight and comfortable to wear.
These are all matte liquid lipsticks that do not dry down your lips.
Shades – Adam & Eve, Mile High, 1995, Cher, 90201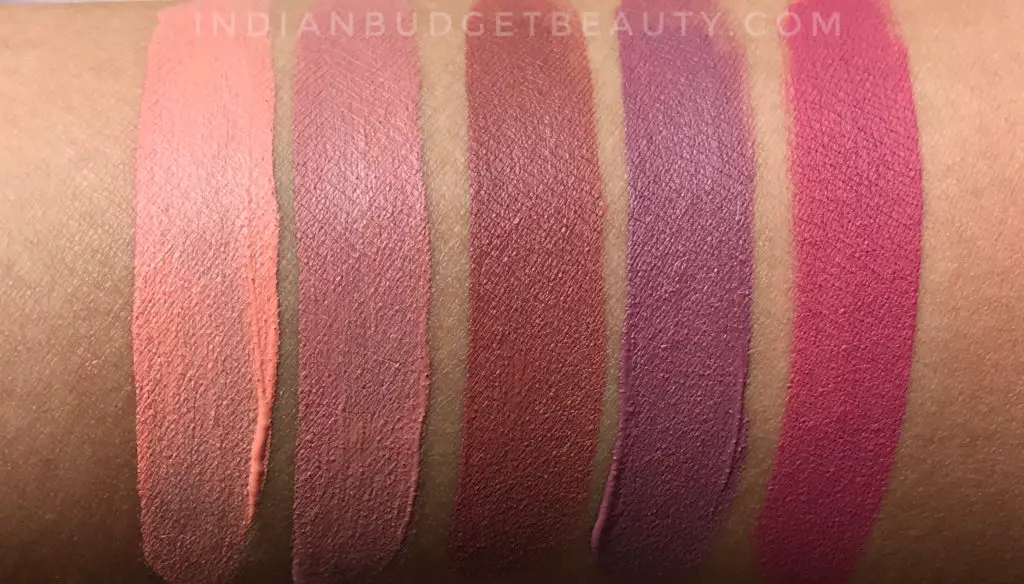 Adam & Eve:
It is a nude lipstick with peach undertones. This shade is way too light for my skin tone, so I use it only with a dark lipstick to make my own shade. I'd recommend this shade for pale skin tones. I've reviewed it here
I could not find Adam & Eve on the Gerard Cosmetics site, I think that shade got discontinued.
Mile High:
Mile High is a mauvy-pink shade but it will not suit medium skin tones or Indian Skin tones. It's too light for my skin tone. It washes me out.
Buy It Here (Use Code: IBB to get 10% off)
1995:
Gerard Cosmetics Hydra Matte 1995 is the best seller from the Hydra Matte range. It is a brick rose shade that will suit all skin tones. On the site, it is mentioned that this shade was inspired by the 90's neutral shades. It is my favorite too.
If you need one shade from the Hydra Matte range, I'll highly recommend this.
Buy It Here (Use Code: IBB to get 10% off)
Cher:
Cher is inspired by one of the most powerful women in Music. It is described as a medium rosy brown with warm undertones. But on my skin tone, it looks a bit rosy-purple. But I like this shade, it's very unique. I have been a huge fan of Cher and I'm humming to her song Believe as I write this review.
Dupe: Colourpop Ultra Matte Lip Lumiere 2 (Follow me on Instagram to know when I post the dupe swatch)
Buy It Here (Use Code: IBB to get 10% off)
90210:
90210 is inspired by California's most Iconic zip code. It is a muted pinkish burgundy shade which looks more rosy brown in sunlight.
Dupe: Vatenn Crayon Lipstick in 403
Buy It Here (Use Code: IBB to get 10% off)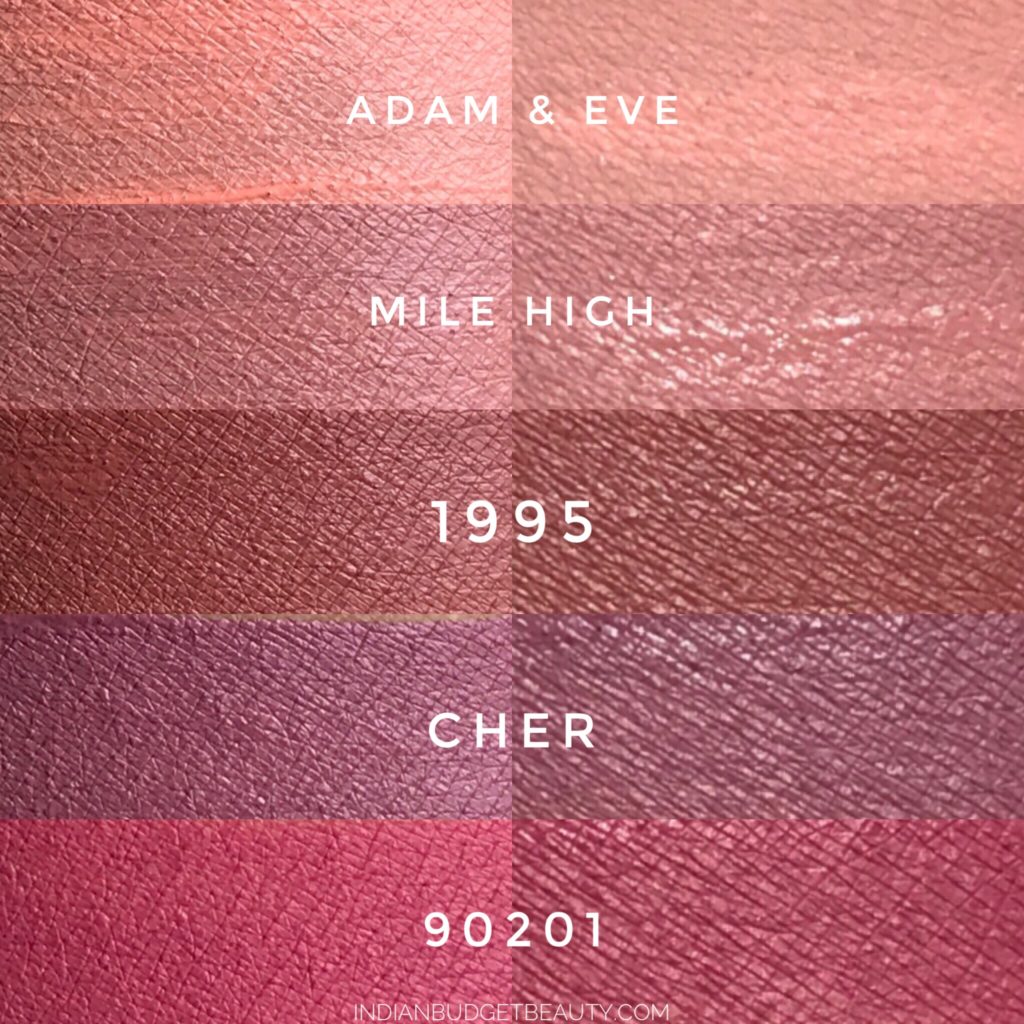 My Final Thoughts on these Gerard Cosmetics Hydra Matte Liquid Lipstick :
Hydra Matte Liquid Lipsticks are not fully matte. They have a demi-matte formula which is very comfortable to wear. You won't even feel anything after you apply it.
They are not exactly transfer-proof but if you blot your lipstick post application, it won't be an issue. They lasted on me even after an oily meal. These liquid lipsticks are super long-lasting.
Even after the oily meal, it was intact, I just noticed light fading in the center of my lips but the color was intact. Even after 8 hours, this lipstick is still on and I did not have to retouch.
Also, there's a huge shade range – 34 shades and all of them are from different color families. So, you will definitely find the perfect shade for your self.
Their quality is top-notch, I literally forgot when I got home that I was wearing a matte liquid lipstick. I totally love their light-weight formula that glides smoothly. There's no issue of patchiness, and you only need 1 swipe for an opaque finish.
Coming to their quantity, I feel like its less than a standard high-end liquid lipstick, even a Kylie Liquid Lipstick ($17) contains 3.25 g and also ABH liquid Lipstick ($20) contains 3.2 g of product.
Overall, this is my new liquid lipstick formula, now I understand the hype.
Do I recommend it? Will I repurchase?
Yes, absolutely! I recommend these liquid lipsticks. I will definitely repurchase the other shades.
Which Shades will I recommend?
I will highly recommend the shades 1995 and 90201. If you are bold enough to flaunt Cher, then I recommend that as well.
Pros
Super lightweight formula
Demi matte finish
Glides smoothly on the lips
Does not crack
Needs only 1 swipe for an opaque finish
Long-lasting
Stays put for more than 8 hours
Lasts an oily meal
Luxe packaging
Huge shade range
Cons
Quantity is less for the price
RATINGS: 5/5
If you loved this Gerard Cosmetics Hydra Matte Liquid Lipstick Review and swatches, then do comment down below your thoughts or experience.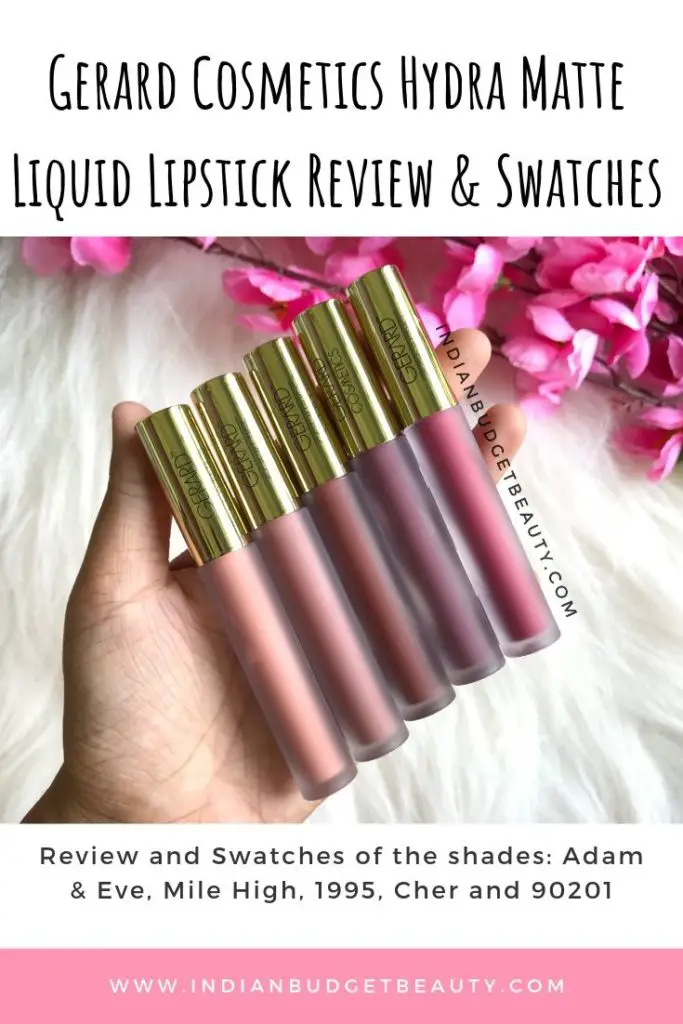 amzn_assoc_placement = "adunit0"; amzn_assoc_tracking_id = "ibb-20"; amzn_assoc_ad_mode = "manual"; amzn_assoc_ad_type = "smart"; amzn_assoc_marketplace = "amazon"; amzn_assoc_region = "US"; amzn_assoc_linkid = "187beafaf0702649703b8b13f2a41502"; amzn_assoc_asins = "B012H0B9ZK,B01F6G2WEE,B01HQVFAM8,B01HQVSZ2U,B01N5307DF,B018IVN3YW,B01DUQV3II,B00K7K5KQC"; amzn_assoc_title = "My Amazon Picks"; amzn_assoc_search_bar = "true";