Lakme Lip and cheek Color Review – Coffee Lite, Rose Touch, Crimson Silk
Recently Lakme has sent me two of their 9 to 5 Weightless Mousse Lip and Cheek Color. I got the shades Rose Touch and Crimson Silk as a part of Nykaa Nappers program. I already had the shade Coffee Lite which is one of my favorite shade and has one of my favorite formulae. Read more to know whether I recommend these lip creams or not.
About Lakme Weightless Matte Mousse Lip and Cheek Color
Lakmé's first-ever lip color in a mousse texture is super weightless and can be used as a cheek tint too. Available in 10 intense and vibrant shades, they last longer and have a powdery matte finish. It's 2 in 2 formula makes it an instant everyday favorite for the modern Indian woman of today.
Price: Rs.625 for 9g
How's the Packaging?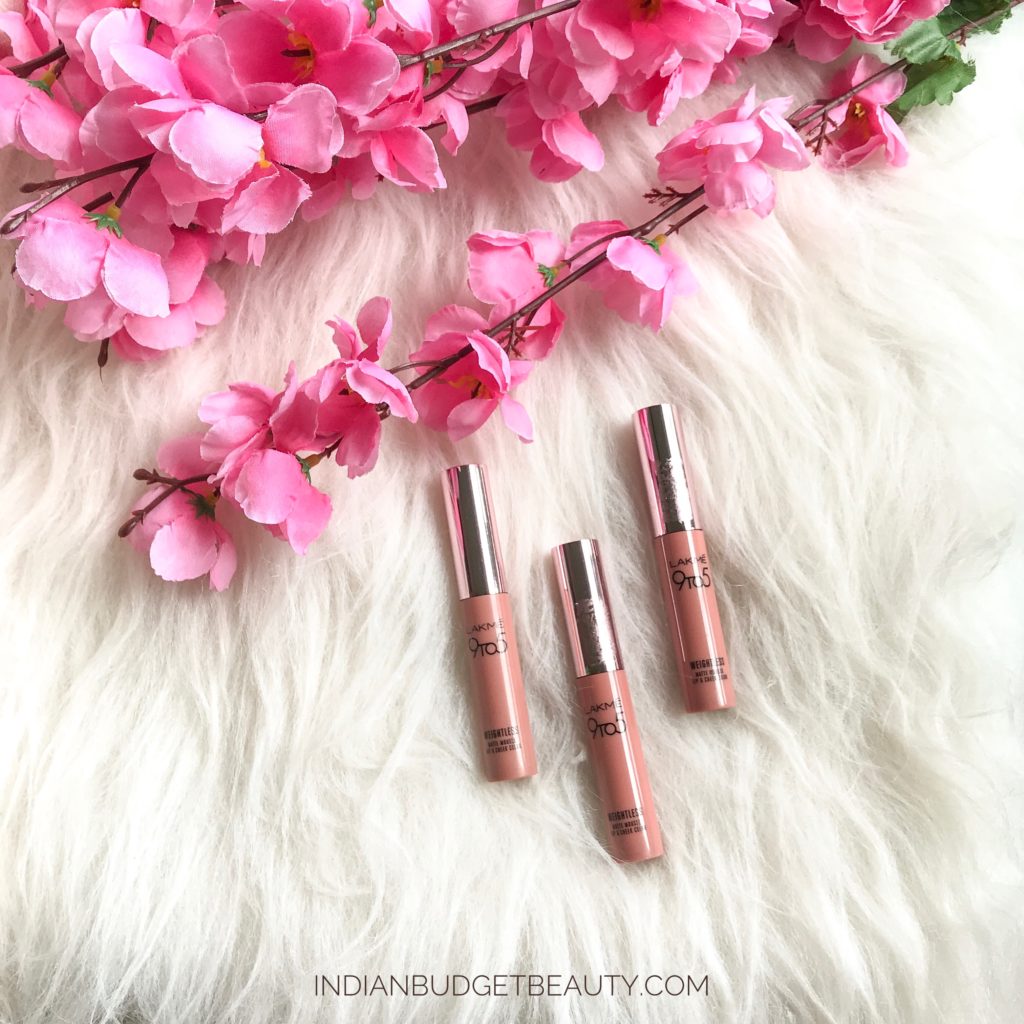 The packaging is quite simple and basic. I wish they had at least a color-coded bottom rather than only writing the shade name below. But I do love the outer cardboard package that it comes in, it has the whole rose gold vibe to it.
These lip colors are so light-weight and compact that you can carry it around in your purse. They are so travel-friendly.
They have an amazing wand!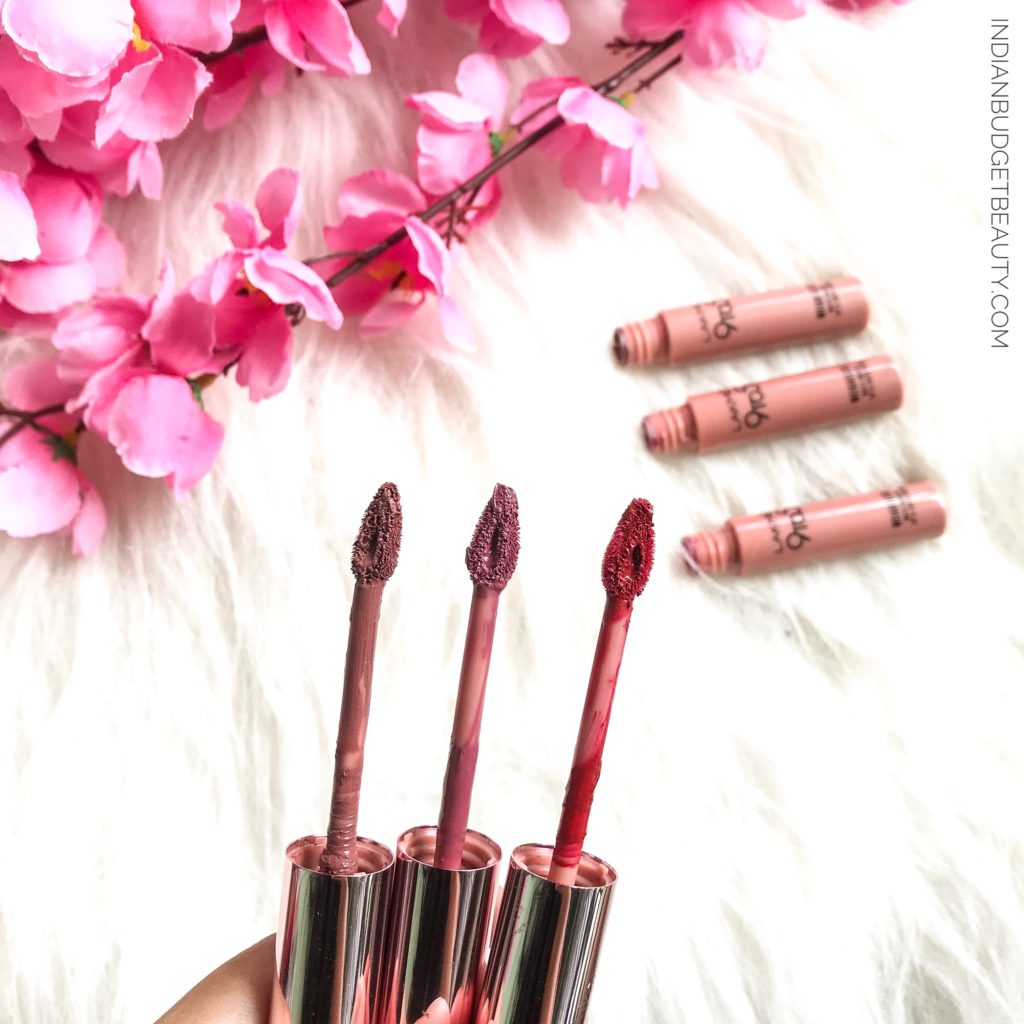 Lakme lip and cheek color have an amazing tear-shaped wand. The tip of the wand is great for precise application and the flat portion of the wand is quite flexible and not stiff like a doe-foot applicator.
Their Consistency & Formula
These lip colors have a mousse-y formula, which is quite similar to Miss Claire Soft Matte Lip Creams. They have a thick creamy consistency which is very pigmented.
I love their formula, it is very easy to wear and light-weight.
Lakme Lip and Cheek Color Swatches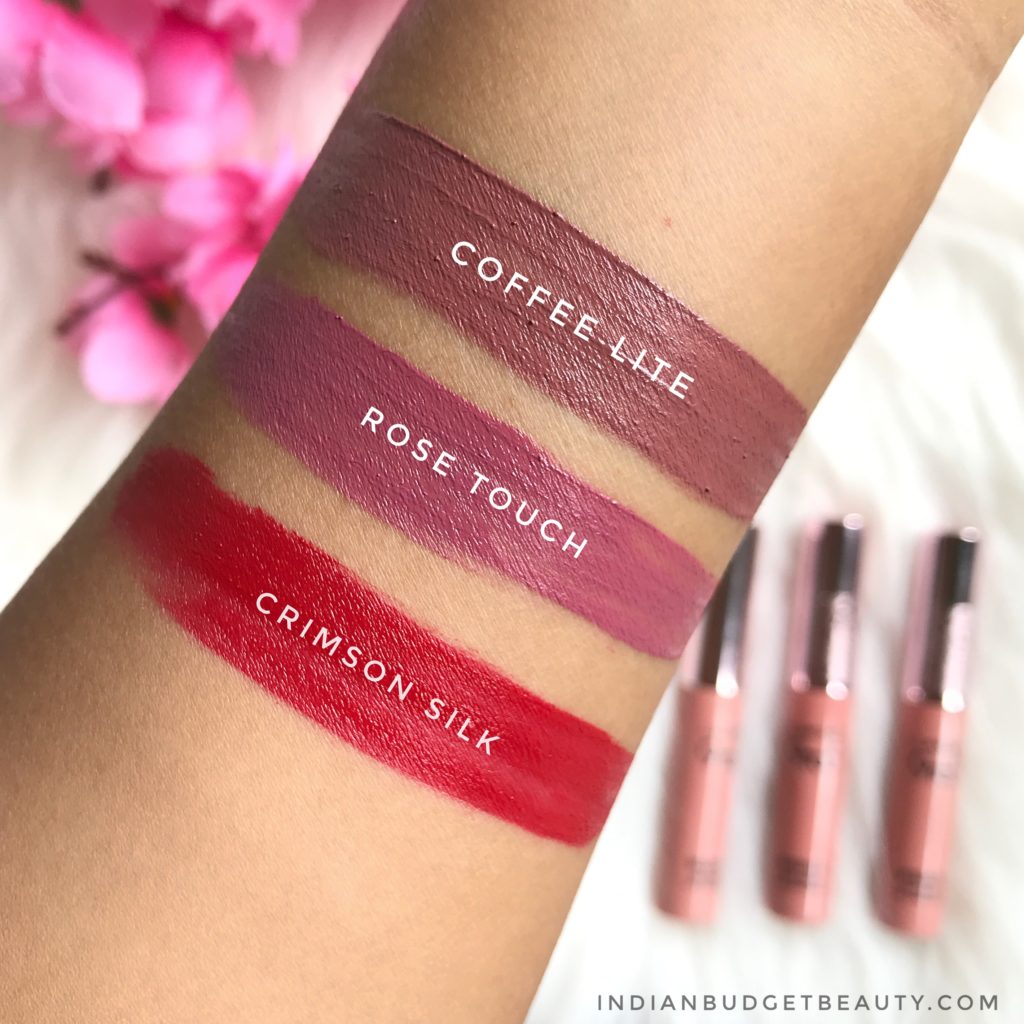 Coffee Lite is a pretty browny-mauve shade that will look great on any skin tone. It is a pretty nude shade for deeper skin tones. Coffee Lite is very similar to Gigi Hadid X Maybelline "Erin", 7Heaven's 302 Kisses, and Wet n Wild Rebel Rose. You can find more comparison swatches on my Instagram
Rose Touch is a pretty rosey-mauve shade which is quite similar to Gerard Cosmetics' Cher and Colourpop's Lumiere 2
Crimson Silk is a blue-based red which will suit all Indian skin tones. Since I don't wear red lipsticks, so I've gifted this to my mother and she looks so great in this shade.
Can be used in 3 different ways
Lakme Lip and Cheek Color can be used in 3 different ways. You can use it as a
Lip cream
Cream Blush
Eyeshadow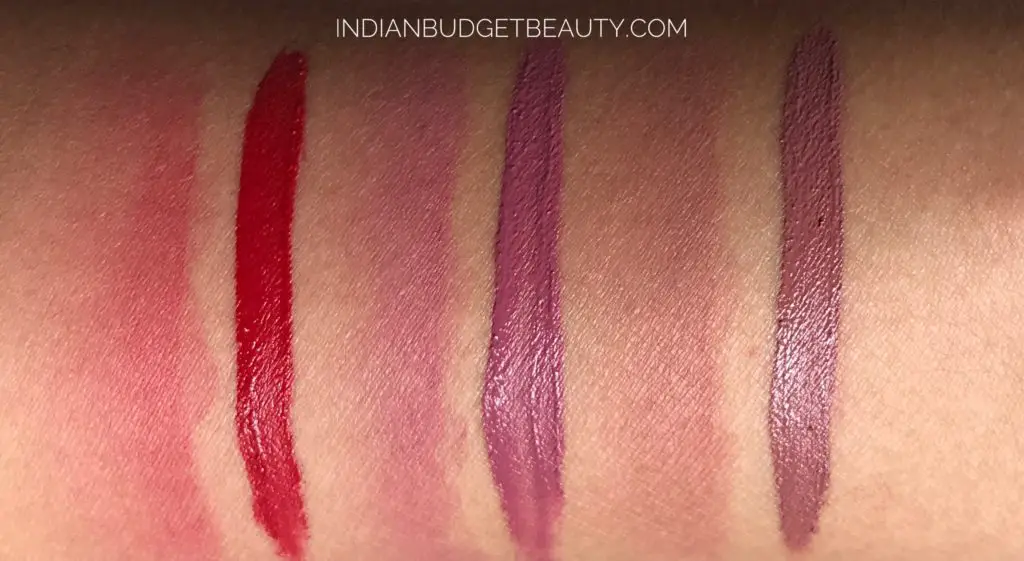 From the above swatch, you can see that these lip colors can be blended easily and you only require a small amount of product for your eyes and cheeks.
How to Use Them As A Blush?
Just dot twice on your cheeks and blend them with your fingers or you a beauty blender. After blending, applying some compact or loose powder over it to make them look natural.
Verdict:
They look so natural and gives an instant flush to your cheeks. It stays put for around 4 hours as a blush.
How to Use Them As An Eyeshadow?
Use it directly from the want onto your brush and gently blend in your crease. Or you can dot it on your crease and gently blend the edges using your fingers.
Verdict:
You will need to set them with a similar eyeshadow or else they will crease.
MY FINAL THOUGHTS ON THE PRODUCT?
Lakme Lip and Cheek Color are some of the best products from Lakme. They are so versatile and their shade range is so diverse. There are a total of 20 shades and it contains nudes, mauves, peaches, fuschias, reds, and browns.
On the lips, they stay for around 7-8 hours but you will have to re-apply after eating a heavy meal. These lip creams have a light-weight formula that is very comfortable to wear and does not dry down your lips. They do transfer a little so they are not transfer-proof.
It can be used in 3 different ways which I've mentioned earlier. So, you can get the most use out of a single product.
Coming to the price, it is a bit expensive for a drugstore brand, but you are getting 9g of product, which is more than any standard quantity. It has a fruity smell to it which is not too over-powering but some people might not like it.
DO I RECOMMEND IT?
Absolutely Yes! I love these Lakme Lip and Cheek Color It's one of the best lip creams available in the Indian Market. I highly recommend the shades Coffee Lite and Rose Touch.
PROS:
Light-weight formula
Does not dry your lips
Unique Wand
3-in-1 product
Quantity is more compared to other lip creams
Stays for around 7-8 hours on the lips
Available in 20 shades
Travel-friendly
CONS:
A little Expensive
Fragrance can be an issue for some people