Gerard Cosmetics Review | Lipsticks, Lipgloss, Settings Sprays, Illuminating Cream 
Hello everybody, recently Gerard Cosmetics have sent me a PR kit. They have asked me to choose from their website, so I've chosen the GC LOVE  GOLD BOX, Mini Slay All Day Collection (Garden Party), BB Plus Illumination Cream (Grace). Want to know which products I loved the most? and which products I did not like at all? then keep on reading till the end. I'll be providing short in-depth reviews on each product.
Gerard Cosmetics
GC LOVE GOLD BOX Review
Mystery box has been quite a thing since Jeffree Star launched his mystery boxes. After watching a couple of unboxing videos of GC LOVE GOLD BOXes, I wanted to try it on my own. So, what better opportunity could have been when Gerard Cosmetics asked me to choose the products on my own.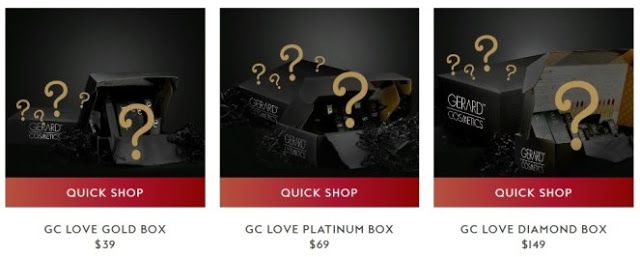 There were three mystery boxes to choose from,
GC LOVE GOLD BOX ($39)
GC LOVE PLATINUM BOX ($69)
GC LOVE DIAMOND BOX ($149)
Since I got $96 as a store credit, so I thought of opting the GC LOVE GOLD BOX.
WHAT I GOT IN MY GC LOVE GOLD BOX?
I was quite happy with the number of products that I've received in the GC LOVE GOLD BOX, like this $39 mystery box contained $110 value products, BUT I did not like the shades of the lip products. These mystery boxes are not available now, so I'll link down all the products that I have received. You can use my code IBB to get 30% off at Gerard Cosmetics
Lip Pencil (Peachy Keen) – $16
Lipstick (London Fog) – $19
Hydra Matte Liquid Lipstick (Adam & Eve) – $20 [Not listed on their site]
You can use my code IBB to get 30% off at Gerard Cosmetics
Overall The whole value of the box was $39 and I have received 7 products which totaled up to $131, which was 3 times more than the value of the box. So, if you are willing to try Gerard Cosmetics products but don't want to spend more money, then mystery boxes are good investments, but you'll have to keep a check that you might not like the shades that you receive.
MY FINAL THOUGHTS ON BOX:
Most of the shades washed me out. I only loved the Supreme Lip Cream in the shade 'Wild Berry Tart' and the Slay All Day Setting Spray in 'Lemongrass'. The Lip Pencil, Color Your Smile Lighted Lip Gloss and Hydra Matte Liquid Lipstick were in shades which totally washed me out. Lipstick in 'London Fog' and MetalMatte Liquid Lipstick 'Grape Crush' are totally not up to my ally, I don't wear these kinds of shades but will try to incorporate for my Instagram Feed. I do not like the shades of the products but I do love the formula. I felt like they wanted to incorporate all those shades which were not selling well, so they have incorporated these shades in the mystery box.
Also, I'd like to mention that the lights in the Color Your Smile Lighted Lip Gloss was not functioning.
If anyone from Gerard Cosmetics is reading this, I urge them to include an option where the user can at least mention about their skin tone, so that the GC team can at least include those shades which will suit their skin tone.
WAS THE GC LOVE GOLD BOX WORTH THE MONEY?
If I look at value and number of the products I have received, then I feel like investing in a GC LOVE GOLD BOX is worth it.
But if you are someone like me who is very picky with the shades they wear, then investing in a mystery box does not seem like a good idea, as in this case, I have received lipsticks and lipgloss which I might not wear as the shades do not compliment my skin.
Gerard Cosmetics Lipsticks Review:
Since I've received almost all the lip products, hence I'd like to review the Gerard Cosmetics Lipsticks, Lip Pencil and Lipgloss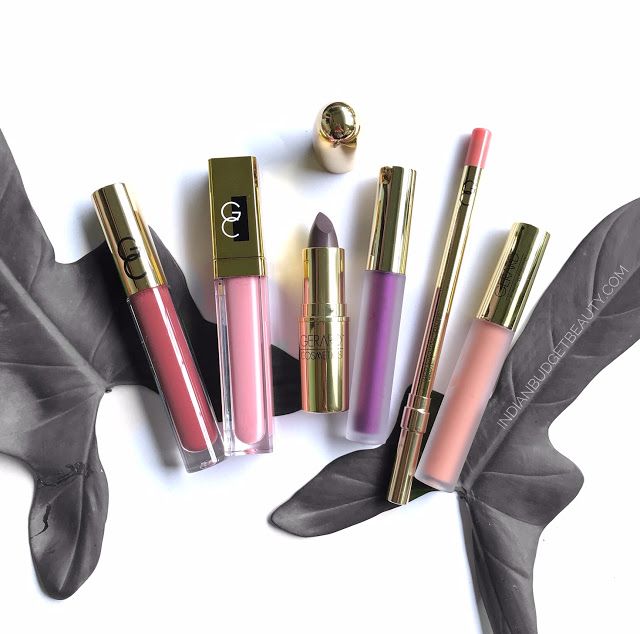 Left to Right– 

Supreme Lip Cream (Wild Berry Tart), Color Your Smile Lighted Lip Gloss (Sugar Mama), 

Lipstick (London Fog), MetalMatte Liquid Lipstick (Grape Crush), Lip Pencil (Peachy Keen), Hydra Matte Liquid Lipstick (Adam & Eve)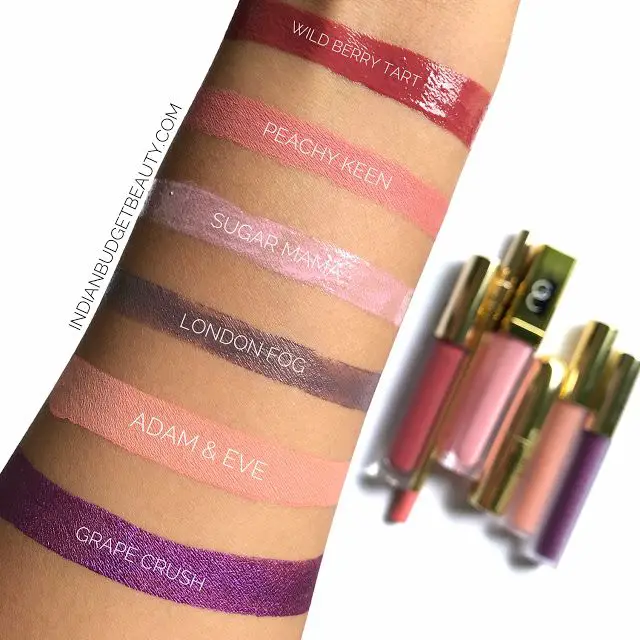 Gerard Cosmetics Supreme Lip Cream Review – Wild Berry Tart
Wild Berry Tart
is a pretty
berry toned lip cream
which has a juicy appearance and
smells good
at the same time. The packaging is very luxurious with a gold cap and a doe-foot applicator. I really loved the shade. It is one of my favorite shades out of the lot.
It has an ultra-hydrating, mousse formula which is very pigmented at the same time. This lip cream gives an opaque finish in one swipe only. It is very comfortable on the lips, and will intensely moisturize at the same time. Since it has a mousse-y, creamy formula, it is not transfer proof.
Gerard Cosmetics Lip Pencil Review – Peachy Kin
Peachy Kin
is a very pigmented, creamy but longlasting lip liner. It is a
perfect peach for people who are fair and pale
. This lip liner totally washes me out. But I loved the formula, it has
a matte finish
but I wish I got any other shade which would have complimented my skin tone.
Gerard Cosmetics Color Your Smile Lighted Lipgloss Review – Sugar Mama
Sugar Mama
is a
pale pink lipgloss,
that you can
wear it on your own or use it on top of any lipstick
. Since this shade washes me out, I use a dark pink lipstick underneath and use it to lighten the color. This lip gloss is quite pigmented and is thick in consistency.
I freaking love the packaging, it even contains a mirror on the lipstick tube and lights on the cap. But sadly the lights on my gloss are not functioning.
Gerard Cosmetics Lipstick Review – London Fog
London Fog
is a
cool toned grey shade
which is totally relatable to its name. It is a
satin finish lipstick
which applies smoothly. This lipstick is a normal bullet lipstick but the packaging is to die for. It comes in a gold, good quality bulette lipstick packaging. I totally love the vibe of Gerard Cosmetics' packaging.
But the color is totally not my style. It is a freaking cool-toned grey. I can totally wear it for a good Instagram post though.
Gerard Cosmetics Hydra Matte Liquid Lipstick Review – Adam & Eve
Adam & Eve is a nude shade with peach undertones. It is one of the best liquid lipstick formula I've ever tried. This shade washes me out but I freaking love the formula. It has a thin formula which spreads evenly and does not dry out your lips.
The packaging is pretty too with frosted glass and gold cap. This lipstick is transfer proof and also waterproof.
Gerard Cosmetics MetalMatte Liquid Lipstick – Grape Crush
Grape Crush
is a
metallic purple lipstick with fine metallic shimmers
. I totally
use it as an eyeliner
, it looks great as an eyeliner. MetalMatte Liquid Lipstick has a
thick formula
which is
budge-proof, waterproof and stays all day long
, It is very
difficult to remove
. I used my
Nivea Skin Breathe Micellar Rose Water
to remove while swatching it but it literally stained on my hands.
Gerard Cosmetics BB Plus Illumination Creme Review – Grace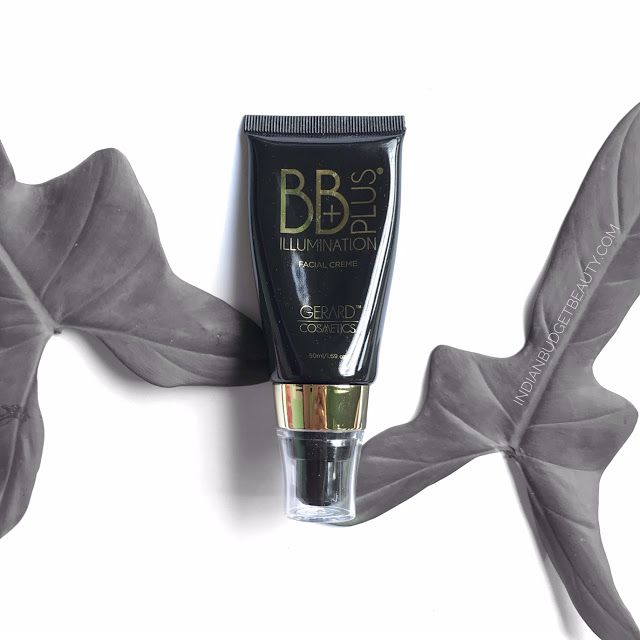 Grace
is a very
pretty pearl shade with golden undertones
to it. BB Plus Illumination Cream is basically
a strobe cream mixed with anti-aging properties
like a BB cream. This product is versatile,
you can wear it alone
or
use it underneath your foundation.
You get 47.9g of product for $36. This product is quite comparable to 
Wet n Wild Photofocus Dewy Face Primer
.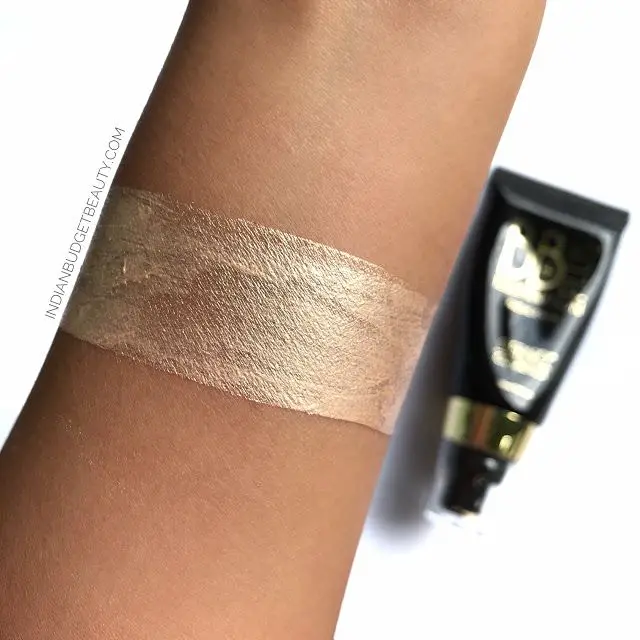 It
contains fine micro pearl particles
which give a very pretty glow to your face. The fact that it comes with a pump is a bonus. I found this illuminating cream a
little hydrating
, you will definitely need to set it down if you are using as a highlighter.
This illuminating cream will give you a popping highlighted look. If you are searching for an illuminating primer/base, then it will be a great base/ illuminating primer for makeup.
Gerard Cosmetics Slay All Day Setting Spray Review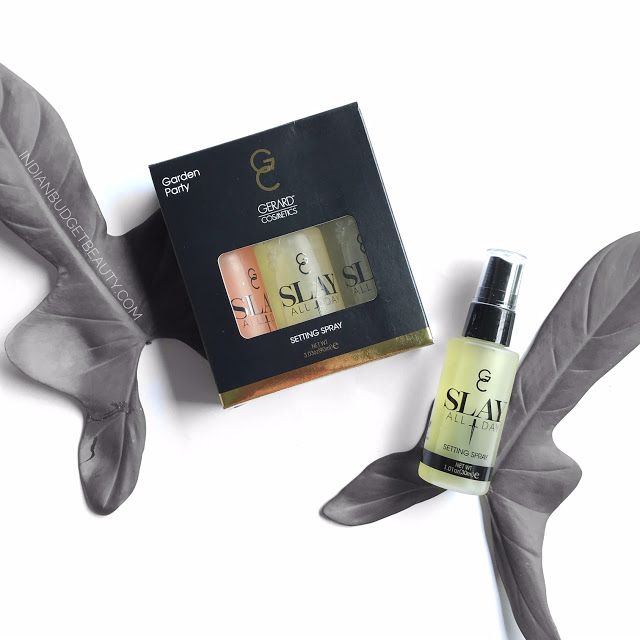 Mini Slay All Day Collection (Garden Party)
is a $48 value kit that retails for $19.25. Currently, I could not find it on the site. But it does contain 3 mini Slay All Day Setting Spray –
Lemongrass
,
Peach
and
Green Tea
. All the mini Slay All Day Setting Sprays retails individually for $16 and contains 28.6g of product.
These setting sprays gives a  soothing sensation which refreshes you and sets your makeup into place. I love the fact that they smell exactly like their variant. Mini Slay All Day Setting Sprays are great for travel.
They set your face and gives a dewy finish to your skin. I'd totally recommend these setting sprays and make sure to buy them in buddles whenever they are back in stock.
What To Buy From Gerard Cosmetics?
I'd highly recommend the Slay All Day Setting Sprays, Supreme Lip Cream in Wild Berry Tart, Hydra Matte Liquid Lipstick and their Lip Pencils.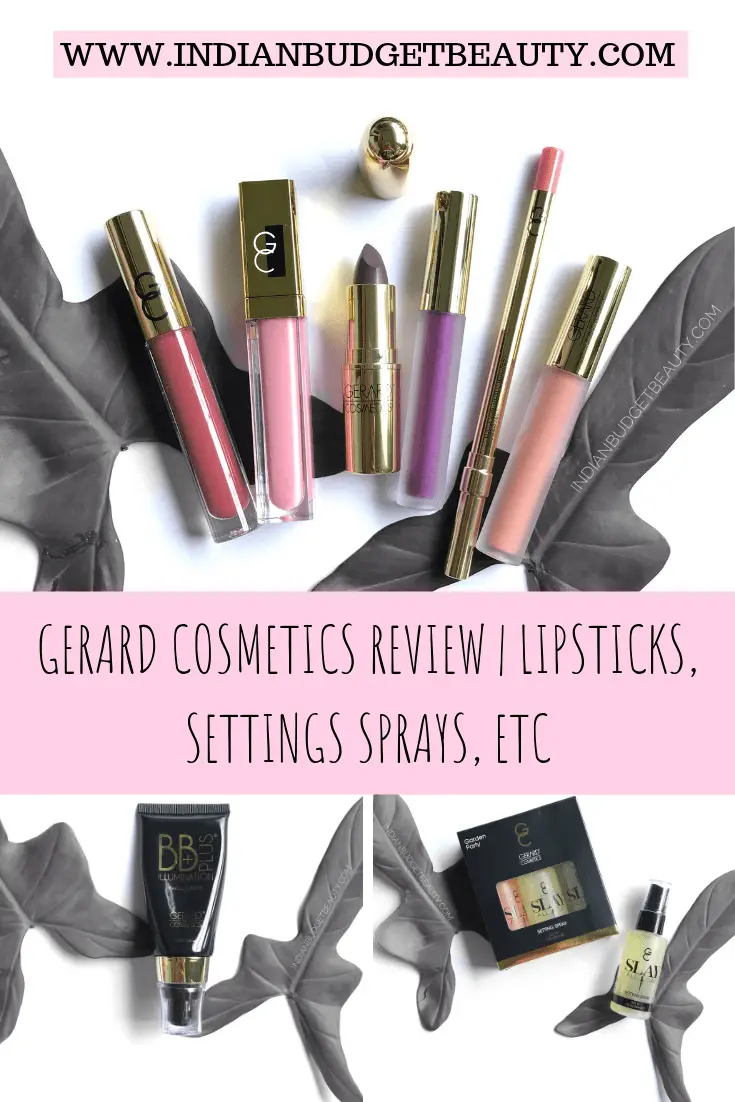 amzn_assoc_placement = "adunit0"; amzn_assoc_tracking_id = "ibb-20"; amzn_assoc_ad_mode = "manual"; amzn_assoc_ad_type = "smart"; amzn_assoc_marketplace = "amazon"; amzn_assoc_region = "US"; amzn_assoc_linkid = "187beafaf0702649703b8b13f2a41502"; amzn_assoc_asins = "B012H0B9ZK,B01F6G2WEE,B01HQVFAM8,B01HQVSZ2U,B01N5307DF,B018IVN3YW,B01DUQV3II,B00K7K5KQC"; amzn_assoc_title = "My Amazon Picks"; amzn_assoc_search_bar = "true";