Ponds Super Light Gel Oil-Free Moisturizer with Hyaluronic Acid & Vitamin E Review
I've never been this excited about a moisturizer! Ponds Super Light Gel Moisturizer is an oil-free moisturizer, infused with Hyaluronic Acid and Vitamin E. It reminds me of Clinique's Moisture Surge and Neutrogena HydroBoost. Want to know why it is my favourite new moisturizer that I'm even going to repurchase? Then keep on reading
Product Description:
Looking for 24 hours of moisturization for your skin? Look no further! The all-new Pond's Super Light Gel – your go-to moisturizer for all seasons. Infused with the goodness of hyaluronic acid, vitamin E and glycerine, this super light moisturizer absorbs faster than regular creams and gives 24-hour hydration for a water-fresh glow! It helps restore the moisture balance to keep your skin soft and smooth. Its lightweight formula absorbs into the skin instantly without leaving any sticky feeling, making it ideal for all seasons, even in scorching summers. It's super lightweight formula spreads easily on the skin making it easy to apply. Enjoy it all throughout the year!

Features:
A super lightweight gel-type moisturizer that provides long-lasting hydration
Infused with moisture-boosting hyaluronic acid, it improves your skin's natural moisture-holding capacity, making it soft and bouncy
The non-oily formula keeps oiliness and stickiness at bay, keeping your skin feeling fresh
Suitable for all skin types and for all seasons
INGREDIENTS

Price: Rs.299 for 147 g
How's the Packaging?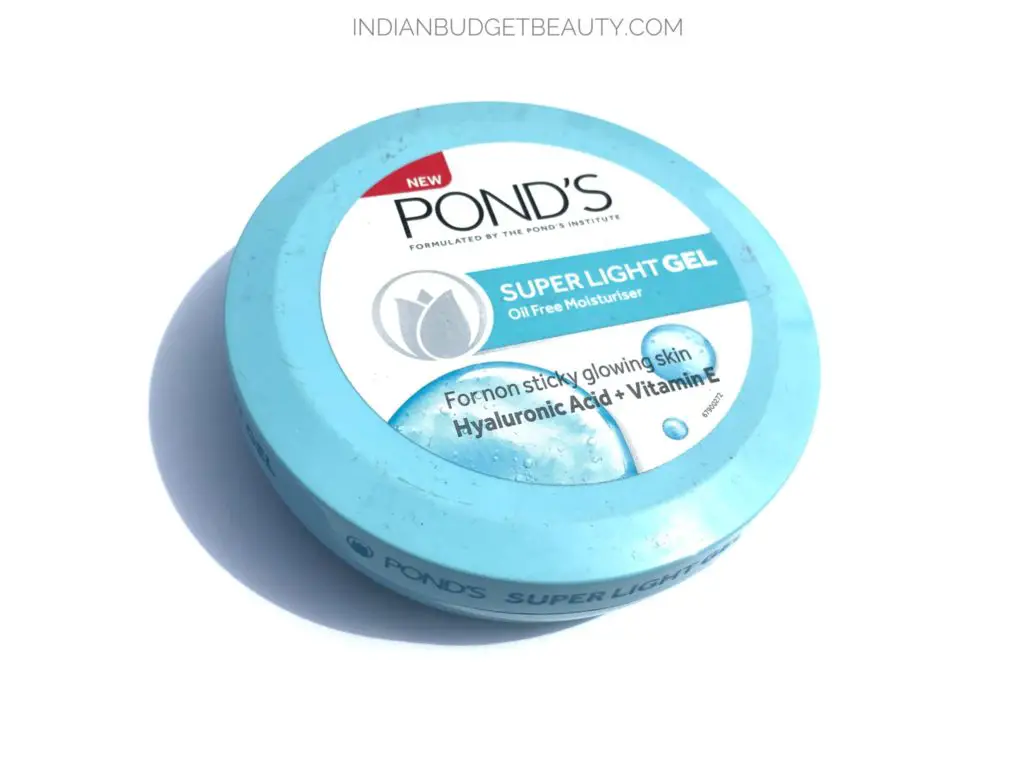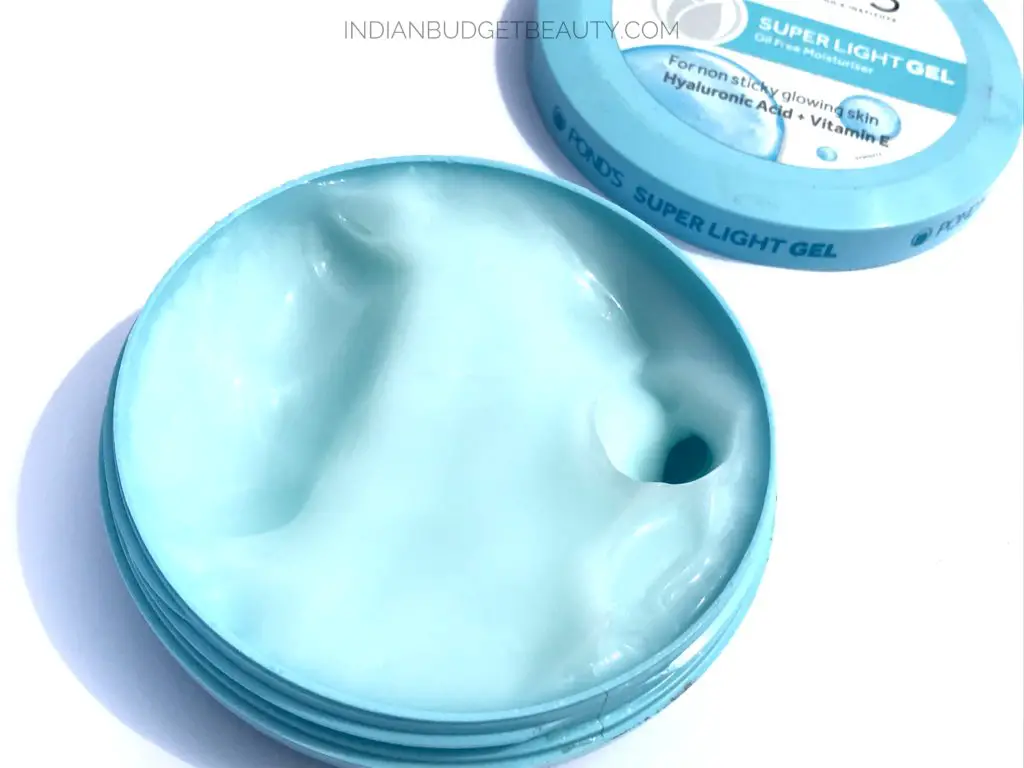 Pond's Super Light Gel Moisturizer comes in an aqua blue tub packaging similar to the Ponds Light Moisturizer. It has a silver foil cover which you have to peal once you start using it. But I feel like there should have been an extra lid because the gel moisturizer tends to deposit in the cap.
Texture and Consistency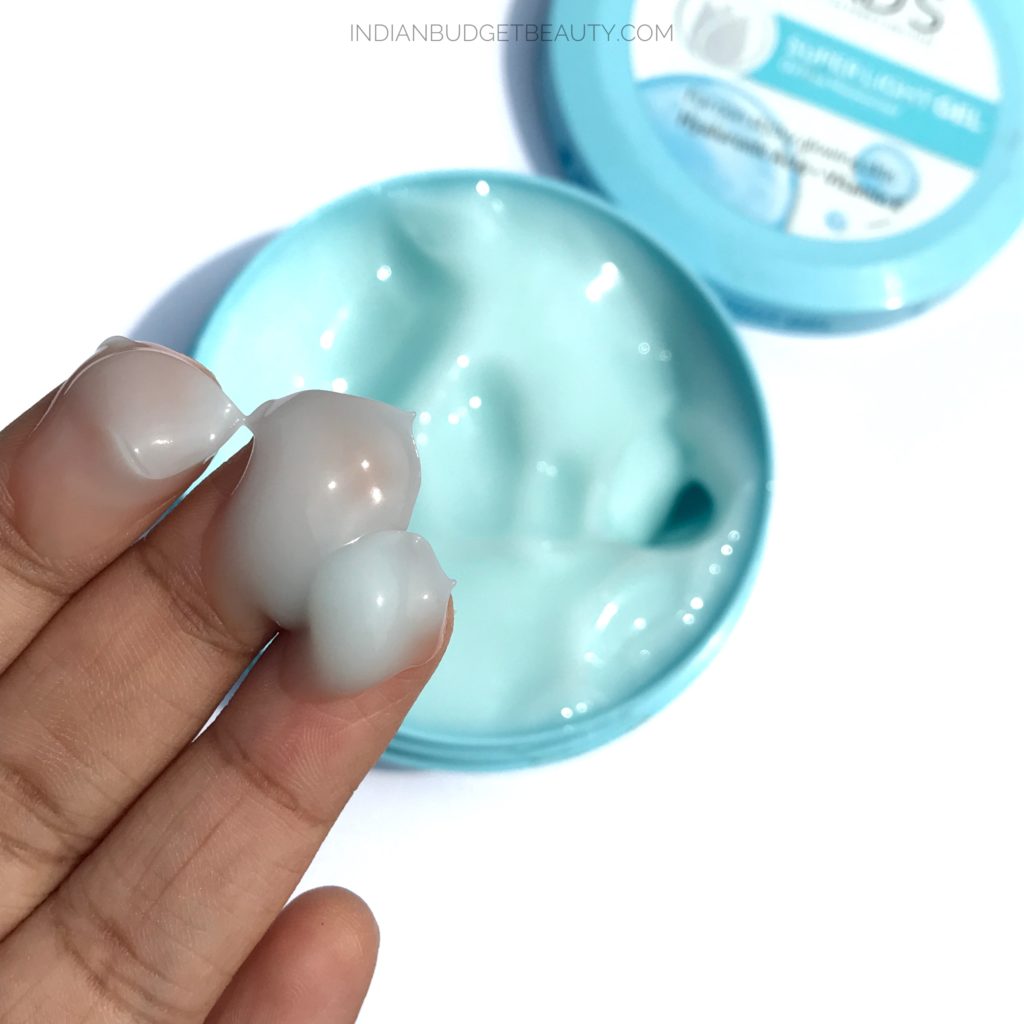 I love the texture and consistency of this ponds super light gel moisturizer. It is a soft gel that gives instant hydration. It just seeps into your skin without making you oily as it has an oil-free formula.
The hydration is real! It is so hydrating that even dry skin types can use this. On my combination-to-dry skin, it keeps my skin hydrated for almost 5-6 hours. I even use this as a part of my night time skincare routine, and it keeps me hydrated the whole night.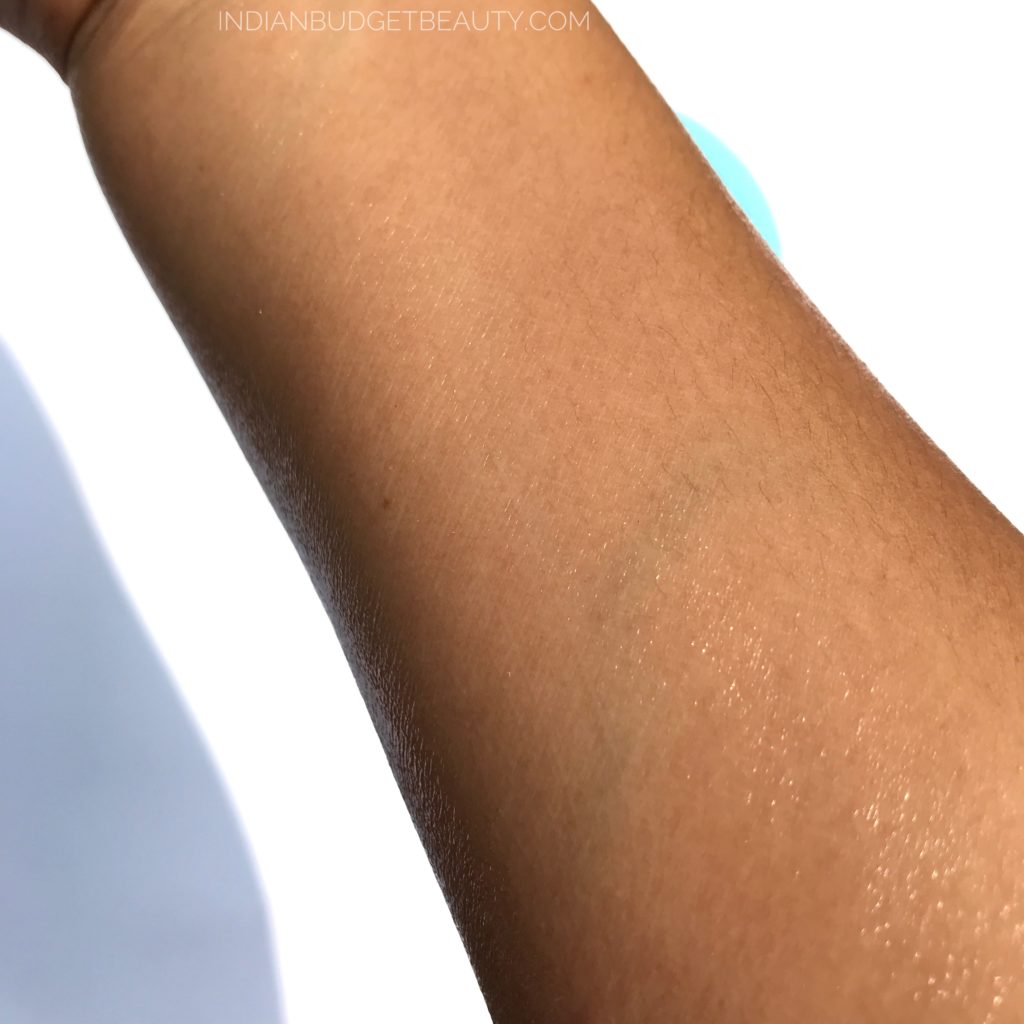 In the above picture, I have just massaged the moisturizer onto my hand. It gives absorbed after a few seconds without making you look greasy.
My Final Thoughts On the Moisturizer
Ponds super light gel moisturizer is an excellent moisturizer which is a boon for people with oily skin. All skin types can use this, even people with dry skin. I use a generous amount of my face and it gives me instant hydration.
It contains Hyaluronic Acid which retains your skin's moisture and makes it more supple and reduces fine lines and wrinkles. It also contains Vitamin E which is an antioxidant that helps in soothing your skin and protects from sun damage.
After using this moisturizer, my skin feels hydrated and a soothing effect. It is a great moisturizer to use under your makeup. People who do not like heavy moisturizers will love this as it makes you feel like you are not wearing any.
Furthermore, it is a great moisturizer to layer upon. If you are into layering skincare, then you will love this.
Coming to its 24-hour claim, I feel like you need to apply this after 5-6 hours, so that claim is not true. It also mentions that it is suitable for all skin types and all seasons, which is kinda true.
People with dry skin can also use this as a moisturizer as it contains hyaluronic acid but they would have to re-apply after 4 hours but I do not think it will work well in the winter season.
Is Ponds Super Light Gel Moisturizer a dupe of Clinique Moisture Surge?
By looking at the ingredients, I've found many similarities, but the Clinique Moisture Surge contains many rich ingredients like green tea, Lady'S Thistle, Birchbark, aloe vera extract, etc which provides added benefits.
Whereas the Pond's one contains Citronella, Limonene (Chemical compound found in Citrus fruits), Geraniol (found in roses, Citronelle, etc), etc.
I've used the Clinique moisture surge from one of my friends and I found that it has the same texture and consistency but it is much more hydrating than the ponds one. If you apply the ponds one too much, you won't feel greasy but the same is not true for the Clinique moisture surge. You need a tiny amount of the Clinique Moisture Surge which provides much hydration than the ponds one.
So, coming to the price, I feel like the Clinique Moisture Surge is quite justified as it contains richer ingredients and you need a small amount of product. But, the Ponds one is no less, for the price you are paying, you cannot ask more but appreciate this beauty. It is almost similar to the Clinique moisture surge, but I would not consider an exact dupe, but similar!
The Goods & the Bads
PROS:
Very Affordable
Very hydrating
Moisturizes without making your skin feel greasy
Super lightweight formula
Contains hyaluronic acid and Vitamin E
Makes skin supple
Stays for 5-6 hours
For all skin types
CONS:
Packaging should contain an extra lid
Is ponds light moisturizer good for oily skin?
Ponds light gel moisturizer is perfect for oily skin. It is a light-weight gel formula that moisturizes your face without making it oily
RATINGS: 5/5
Also Read:
Pixi pHenomenal Gel Review | New Pixi Moisturizer
What Is a Water-based moisturizer? 5 Affordable Recommendations
Glamaroma Coconut Vanilla Moisturizer Review
Sukin Signature Facial Moisturiser Review
Deyga Organics Rose Glow Kit Review
Vanya Herbals Rose and Olive Face Cream Review
PIN THESE IMAGES