Derma Roller System Review | How to use a Derma Roller| Derma Roller Post Care | Derma Roller FAQ
. Almost a month ago, Derma Roller System has sent me their Derma Roller System with Anti-aging system for review. Once I've seen Shreya Jain posting an Instagram story of her using a Derma Roller, so I was very curious about it. Hence, I was quite happy to receive it.
What is the Derma Roller System?
A Derma Roller System is a skin roller with micro needles on them. It is a hand-held device with small microneedles, available in different needle sizes as required. A derma roller basically has the ability to naturally stimulate collagen and elastin into the skin to promote healthier skin cells into the body.
Derma Roller System (with Anti Aging Serum) Review
Price: $159.90 $79.95 Sale | Buy it Here
What does it contain?
DermaC+® Anti-Aging Serum 30mL
Derma Roller
User Guide
Compact Travel Case
Packaging :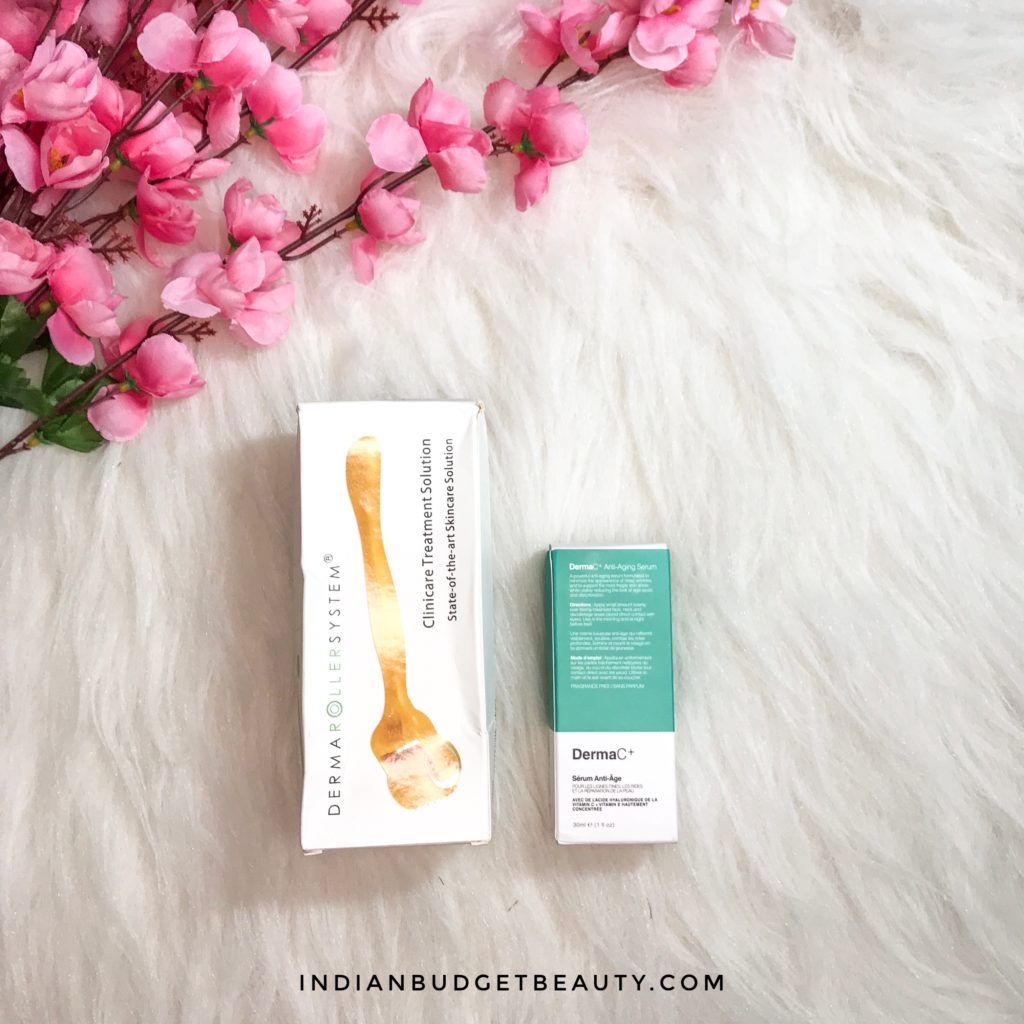 The Derma Roller comes in a clear acrylic plastic case which is quite compact and travel-friendly. It also has an outer cardboard packaging with all the necessary details, instructions and cautions mentioned on it. I'd not throw away the cardboard packaging as it contains a small date chart with a space to write my name on it.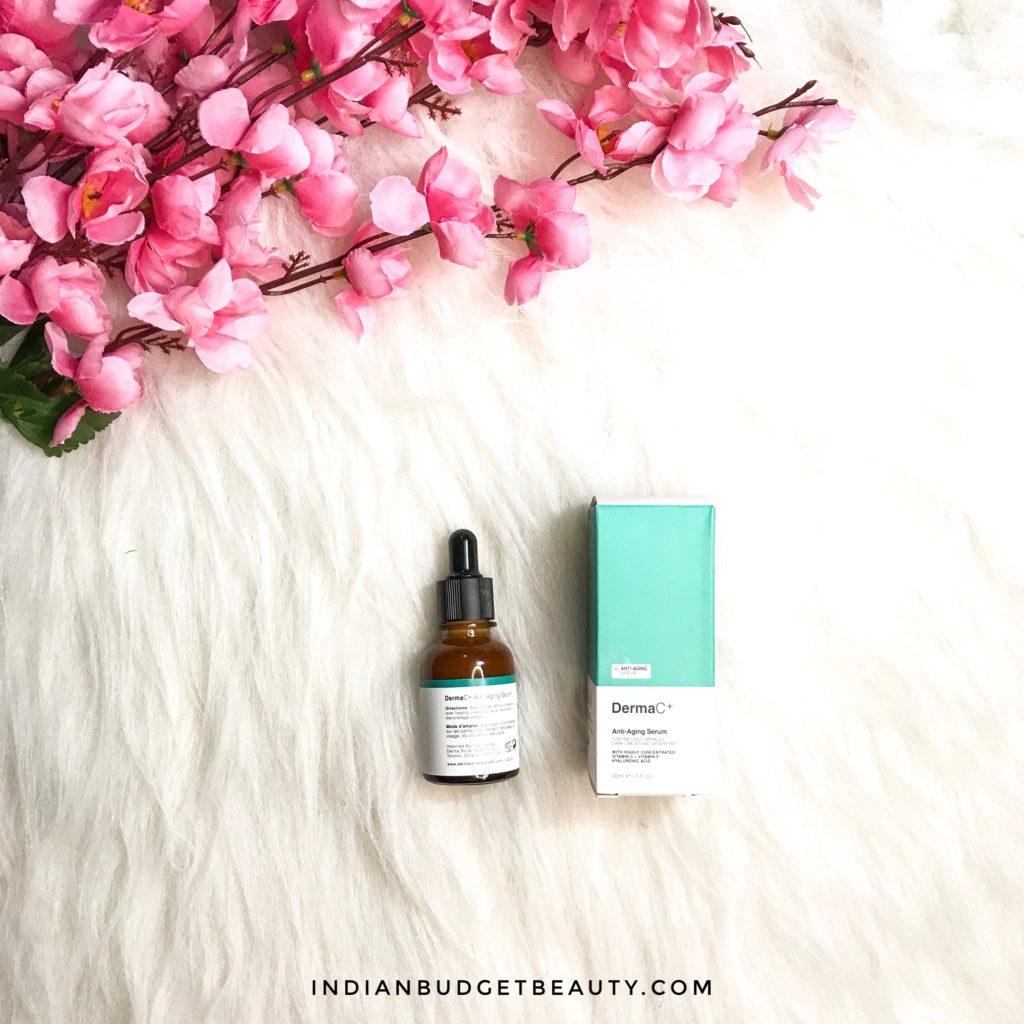 Derma C+ Anti-Aging Serum comes in a dark glass bottle which also has a dropper in it. The is quite heavy and looks like a high-end serum. It retails for $59.95 and contains 30 ml of product
Needle Size & Their Usage:
There were 5 sizes available: 0.5 mm, 1.0 mm, 1.5 mm, 2.0 mm and 2.5 mm. I've chosen the 1.0mm size needle because of its various features:
Cell Regeneration
Upper Derma Reborn
Anti-aging/Anti Wrinkle
Light scars, pimples, and blemishes
Deep scar, pore-refining treatment
Enhance nutrient absorption
Cellulite & stretch marks
I've posted a picture chart below containing the features of the different needle sizes. Know more about the Derma Roller here.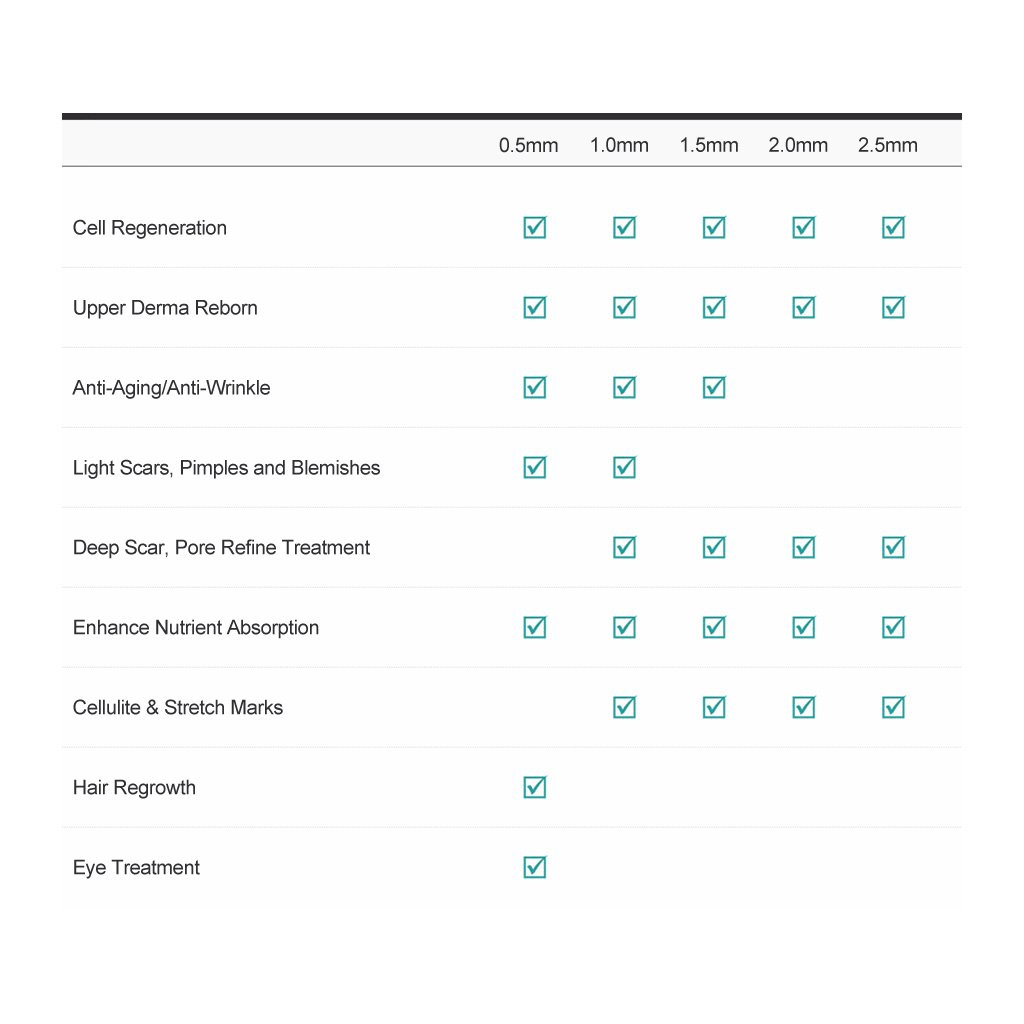 How to Use A Derma Roller?
Before you begin using your Derma Roller System, make sure to wash and dry your hands and also the area to be treated with soap and water. Make sure to clean and disinfect your treatment table as well.
STEP 1: First and foremost, disinfect your derma roller
In a glass, soak your derma roller in 70% isopropyl alcohol for about 30 minutes. This makes sure that your derma roller is disinfected and it helps in killing any surface microbes.
STEP 2: Cleanse and wash your face
Use a gentle face wash which balances your face pH. I've used my Cetaphil Gentle Skin Cleanser. You will need to wipe your face with 50% isopropyl alcohol (Just dilute the 70% isopropyl alcohol with few ml of purified water and make a solution)
STEP 3: Applying Numbing Cream (if required)
I have a pretty decent pain tolerance level. For needle size larger than 1.0 mm, you'd definitely require numbing cream. I cannot recommend a Numbing cream here, as you'll have to ask your pharmacist regarding this.
STEP 4: Begin derma rolling
I've followed the instructions given on the kit's manual and also have taken the help of few youtube videos.
Derma Rolling For Face Treatment:
Roll the derma roller gently over the area you wish to treat for 4 times vertically and 4 times horizontally. This will stimulate collagen and elastin production in your skin. NOTE: Always lift your Derma Roller after you complete rolling over one area at a time. Never use the Derma Roller on your eyelids or lips.
Apply the serum on your face for at least 10 minutes (this step is optional)
NOTE: If you are using Derma Roller in the daytime, apply sunscreen on your face and neck and try to stay away from direct contact with sunlight as your skin is very sensitive and you are highly prone to sunburns.
I've mainly used the Derma Roller for my face so I've only included the Face Treatment.
Derma Roller Post Care
STEP 1: Rinse your face with water
After Derma Rolling your face, rinse your face with water and tap it dry.
STEP 2: Clean your Derma Roller
Make a soapy solution of any liquid detergent (I've used Detol Handwash) in a clean glass and place your Derma Roller in it for 5 minutes. After 5 minutes, wash it off.
STEP 3: Sterilize your Derma Roller
Soak your derma roller in 70% isopropyl alcohol for about 30 minutes.
STEP 4: Skincare
After derma rolling, continue with your basic skincare. You should not use any chemical exfoliates or any active ingredients.
Derma Roller System Review & My Experience
The first time I've used this derma roller, I followed all the steps mentioned above. Due to the use of the numbing cream, I did not feel any pain at all. But after derma rolling, my face became very red, which was bound to happen. Normally, you are not advised to go out in the sun for approximately 48 hours, so I've done this during the weekend at night because, during the night, your skin rejuvenates.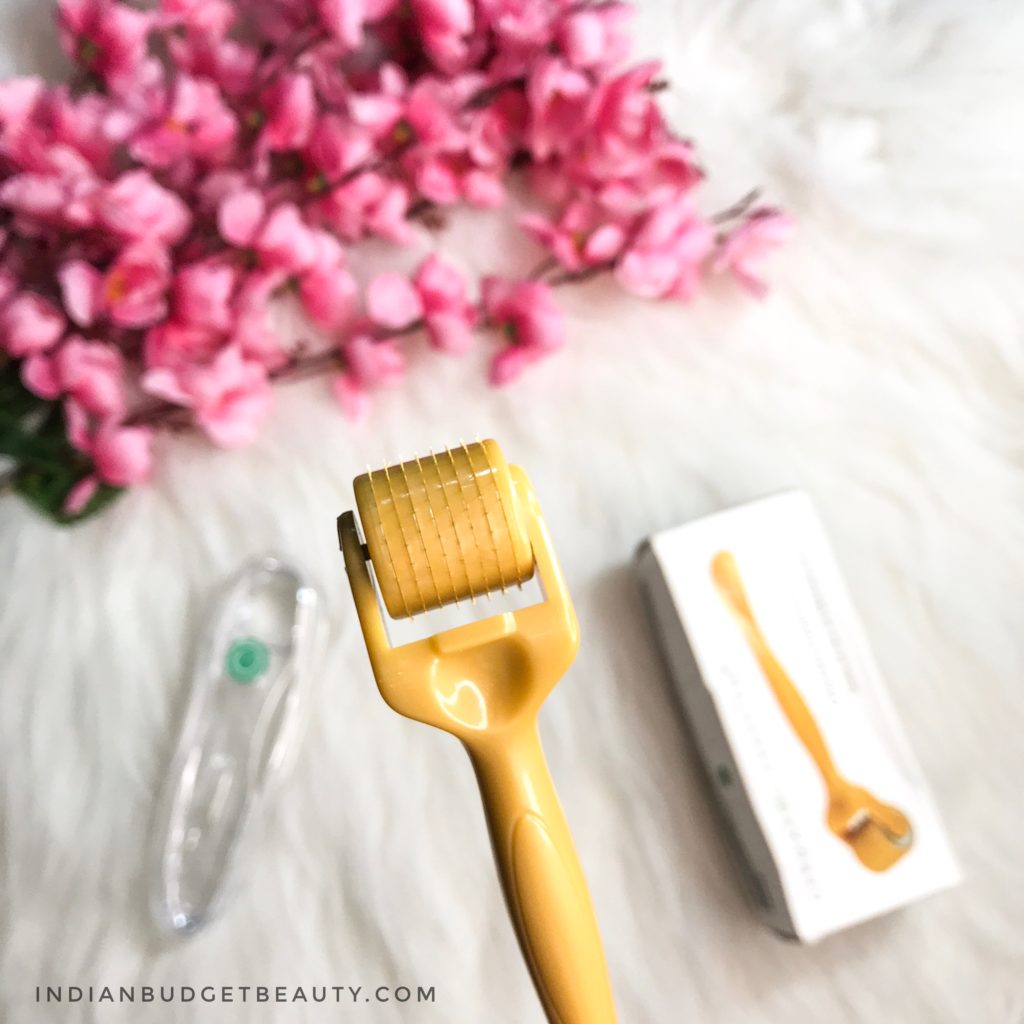 You can see the tiny needles. These are made of stainless steel which is more sterile and has 0 toxicity. If you are confused between Titanium and Stainless Steel Derma Roller, then you should get the stainless steel one as it is more sterile and has 0 toxicity.
To be honest, I was very scared to use this as first, but after I've used it, I was quite happy. Now I'm even thinking about getting one for my mother because she has some dark spots on her neck that she is quite insecure about. (DO NOT SHARE YOUR DERMA ROLLER WITH ANYONE)
After using the Derma Roller System
My skin was quite red and plump for a while. I did not see any instant results because you need to use at least 6 months to see full results, but my skin had a glow after using both the Derma Roller and the serum. So, I've used the Derma C+ Serum which is basically an anti-aging serum.
Furthermore, I want to make it clear that you can start using anti-aging serum from age 21 itself just make sure your serum is appropriate for your skin type.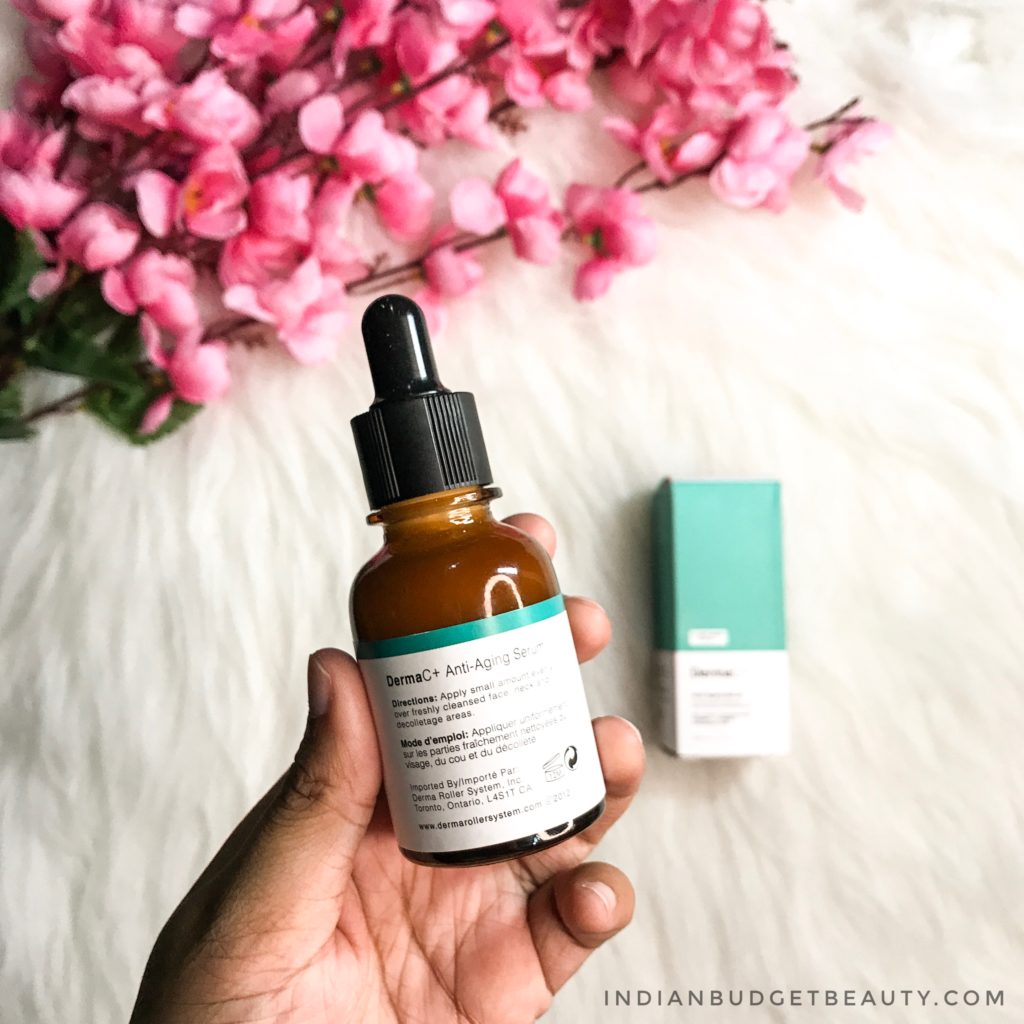 Derma C+ is quite a thick serum but gets absorbed very easily onto your skin. It contains highly concentrated Vitamin C and Hyaluronic acid. You can use it on its own too. My mother loves this way too much.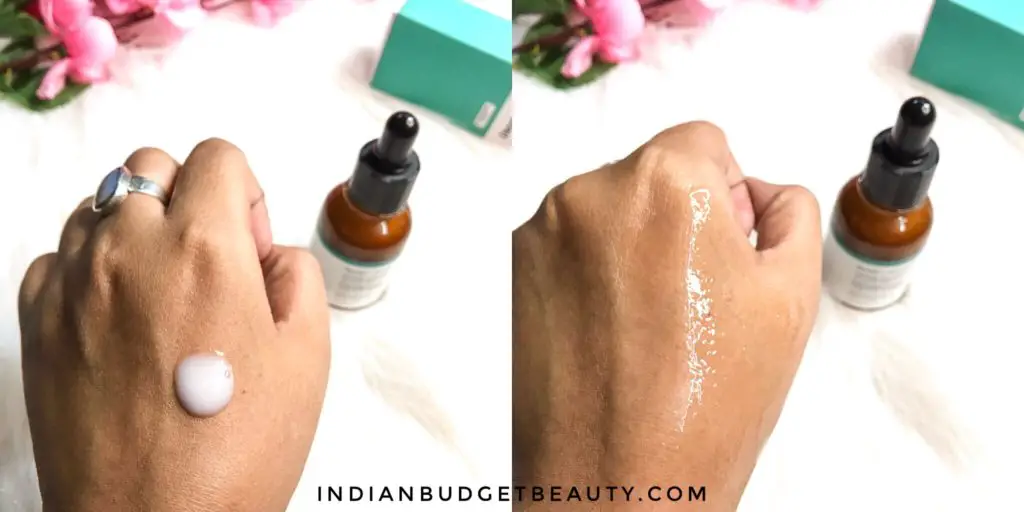 I'd recommend that you use an only serum after micro-needling but no moisturizer. You can also follow up a hydrating sheet mask.
The next day, my skin felt a bit plump but it had a slight glow to it.
Frequently Asked Questions (FAQs) regarding The Derma Roller
At What Age, you should use a Derma Roller?
I'd recommend that you can use a Derma Roller after 21. But the older you are, more effective it will be
How often should I use a Derma Roller?
If you are using 1.0 mm Derma Roller, use it once every 3 weeks.
Should I use Derma Roller on severe acne-prone skin?
No. Not at all. Never use Derma Roller on active acne. It will worsen it. Derma Rollers can only fade away acne scars.
Effect of Derma Rollers on pores and blackheads
Derma Roller helps in stimulating collagen which helps in shrinking the pores and it also helps in reducing the production of blackheads and whiteheads.
I hope you got to know what you were searching for. In case you have any more queries, DM me on Instagram or comment down below.