Ceramides, hyaluronic acid, and other hydrating ingredients have always been my go-to products for my dry skin. The Nykaa SKINRX 2% Ceramide Serum is one of the most anticipated product debuts this year. I received this serum in PR and have been using it as part of my skincare regimen to see whether it has any effect. If you want to know if I think it's a good idea, keep reading!
Ingredients:
Purified Water, Capryl/ Capric Triglyceride, Butyrospermum parkii, Prunus Amygdalus Dulcis (Sweet Almond) Oil, Glycerin, Olea Europeae (Olive) Fruit Oil, Avena sativa (Oat) Kernel Oil, Sodium Acrylates Copolymer, Phenoxyethanol , C12-16 Alcohols , Titanium Dioxide, Sodium PCA, Lecithin, Palmitic Acid, Tocopheryl Acetate, Hydrogenated Lecithin, Ceramide 3, Ceramide 6II, Ceramide 1, Disodium EDTA, Sodium Lauryol Lactylate, Phytosphingosine, Cholestrol, Xanthan Gum, Carbomer
Ingredient Analysis
Ceramides: Ceramide 3, Ceramide EOP, Ceramide 6 II
Ceramide 3: It is found naturally in the upper layer of the skin. This type of ceramide is mainly used as a moisturizer in various cosmetic products [Source]
Ceramide EOP: Ceramide EOP, also known as Ceramide 1, has a "binding role" in the extracellular matrix's lipid layers. It is naturally found in the skin's outer layer. They are essential for maintaining a healthy skin barrier and keeping the skin hydrated.
Ceramide 6 II: Ceramide AP is one of several types of ceramide found naturally in the skin's upper layer. They are essential for maintaining a healthy skin barrier and keeping the skin hydrated.
Price: Rs.799 for 30 ml | BUY HERE
Packaging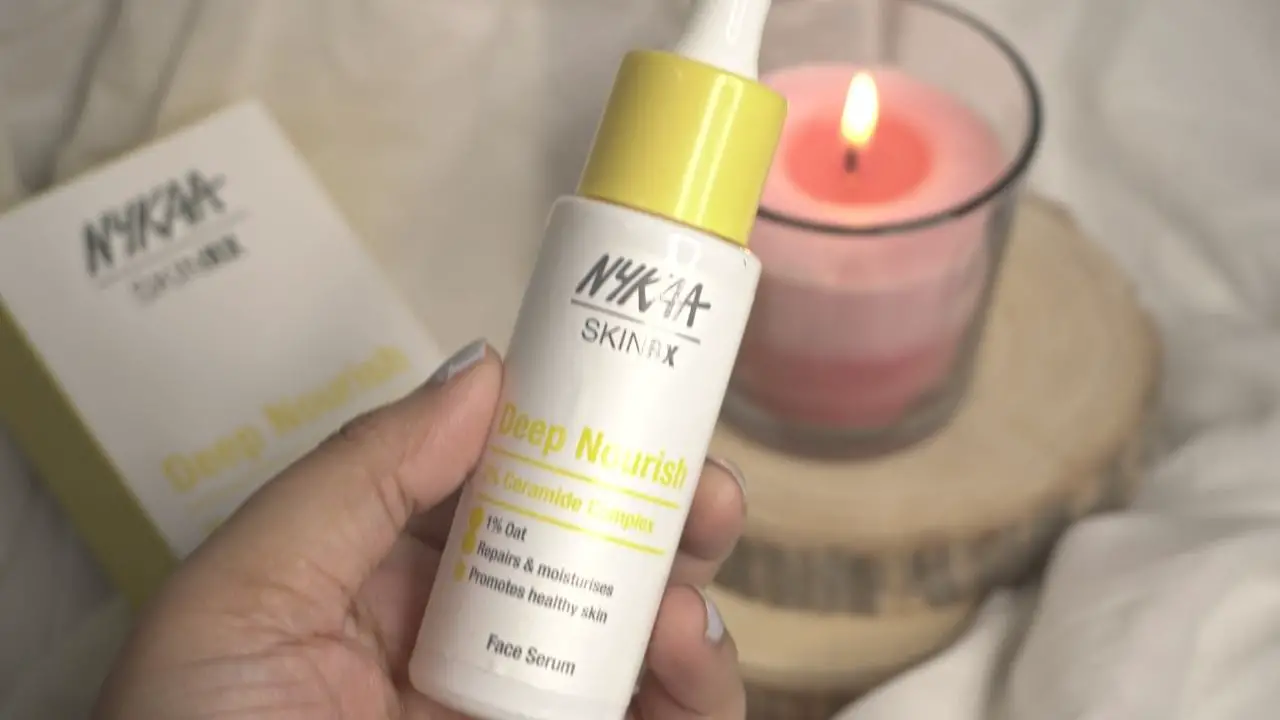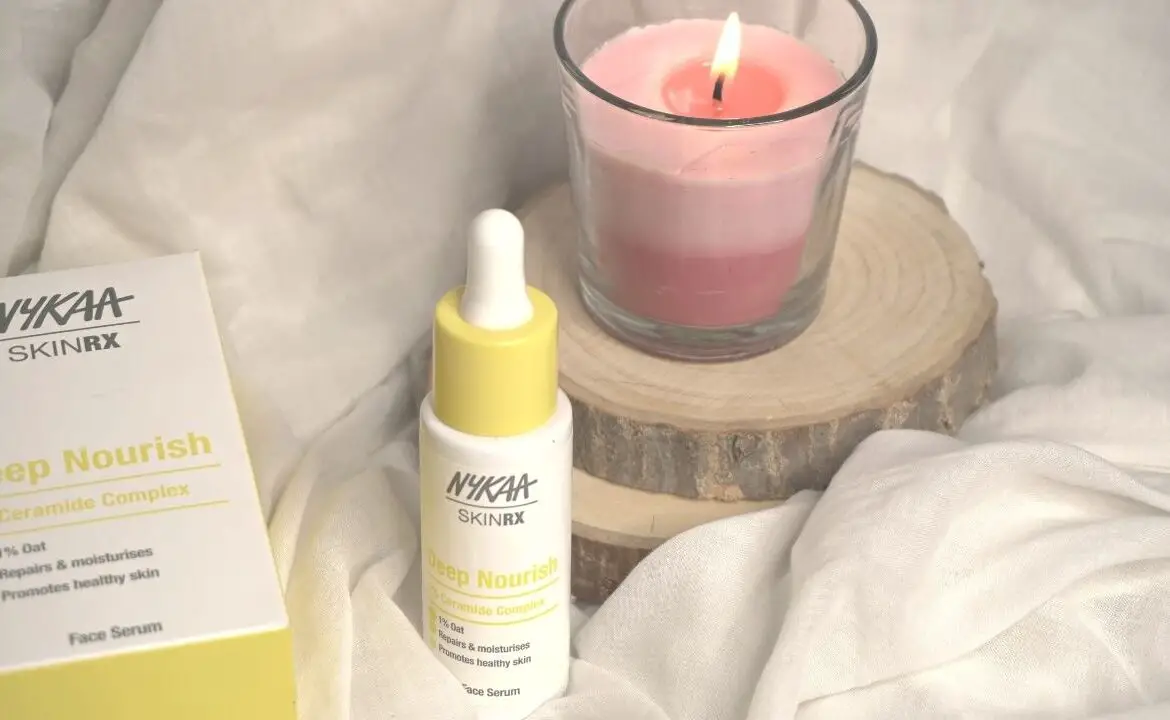 Like the other SKINRX serums, the Nykaa SKINRX 2% Ceramide Serum is packaged in a glass bottle with a dropper. Instead of using a dropper to get the product out, the brand should have come up with a pump packaging. The dropper is unable to dispense the serum because of its creamy emulsion-like consistency. It's one of those good products with bad packaging.
Their other serums, apart from the 2% Ceramide and 2% Advanced Retinol serums, have a thinner consistency, making it easier to use the dropper to dispense the product.
Consistency & Texture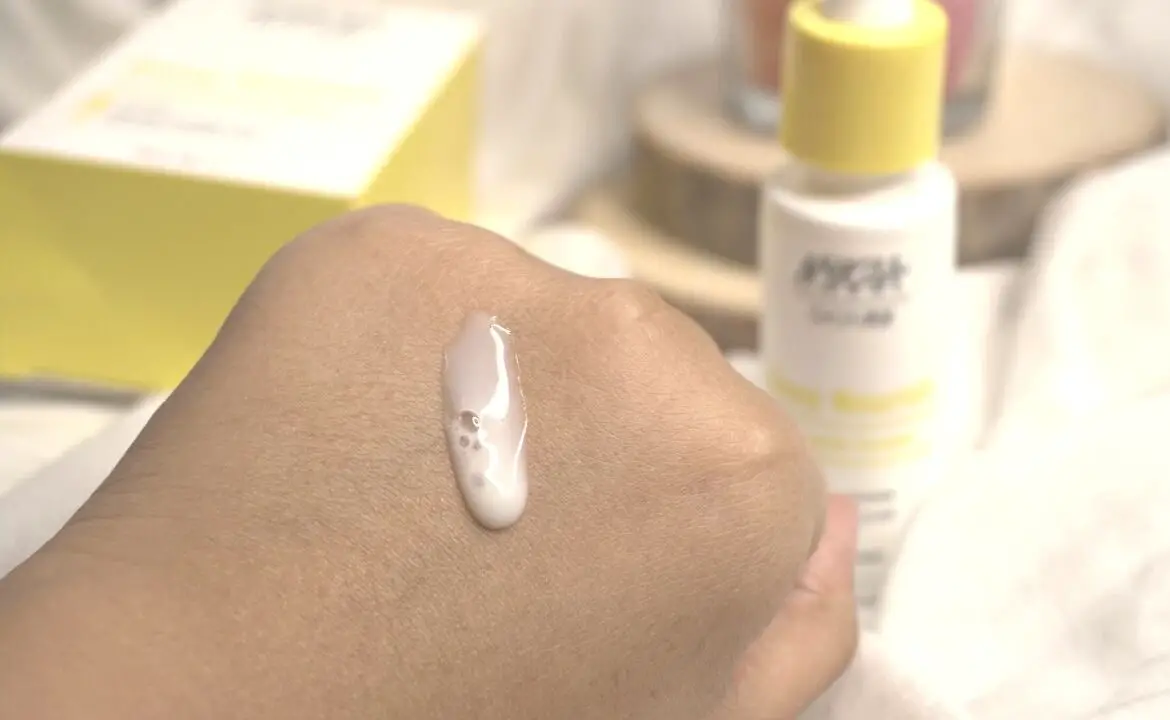 The emulsion-like texture has a little runny consistency, but it's still incredibly creamy. It features an easily absorbed, fast-absorbing formula. It's a little tough to get the product out of the dropper because of its formula.
My Final Thoughts On The Product
It's a barrier-repairing serum that helps to moisturize, prevent moisture loss and also soothe irritated skin. When my skin barrier is breached, this serum is the first thing I reach for. My skin looks and feels radiant and healthy after using it.
My skin became softer and more nourished with each use. As soon as my skin is red and inflamed, this Nykaa SKINRX 2 percent Ceramide Serum quickly soothes it. It even aided in the healing of any dry patches, making it a godsend for those with dry skin. My favourite way to apply it is on my wet skin, and it works great! I do have to say that this serum is one of the best ceramide serums available in the Indian market.
People with oily or combination skin may not require an additional moisturiser because this product is moisturising enough to nourish the skin. It is not non-sticky, but it leaves the skin slightly dewy.
It contains no extra fragrance and did not affect my skin, therefore those with sensitive skin can also enjoy this product. Remember to do a patch test prior to application.
Compared to the Dr Sheth's Cica & Ceramide Serum, this Nykaa SKINRX Ceramide Serum has a thinner consistency but both of them work equally well in repairing skin barrier.
The only drawback I could find was the poor packaging. Once half of the serum is used up, it becomes difficult to continue pumping out the product. In addition, I believe this serum gets over quickly. Unlike the remainder of the range, it finished in 1.5 months.
Also Read:
The Review
Nykaa SKINRX 2% Ceramide Serum
PROS
Quick absorbing formula
Deeply nourishes and moisturizes the skin
Helps to soothe redness and irritation
Helps to repair skin barrier
Makes the skin healthy and dewy
Repairs dry patches
CONS
Product is too thick for the dropper