Simple Night time Skin care Routine using only five steps.
Nowadays, boujee skincare routine is all over the internet. Everybody wants a good flawless skin. Gone are the days of a cakey full face of makeup, everybody wants a dewy goddess-like skin. They want to embrace their blemishes, go out with a 'no makeup' makeup look. But how can we achieve all this?   For good skin, you need to prep them up, give good attention to your skin, and pamper it. I'll show you a simple night skincare routine with 5 steps that will help you achieve that glowing healthy skin. Let's just find out my skin care routine at night, shall we?  
1.  Use an oil based makeup remover /miceller water
  The first thing you must do before sleeping is to remove all your makeup (if you are wearing any) with oil-based makeup remover. It will make sure that all your makeup will melt off and you can remove it easily. Oil-based makeup remover ensures that your waterproof makeup will come off easily without any hassle.   You can also use micellar water if you are not using any waterproof makeup. Micellar water is water-based and is soap-free. I use Garnier Micellar Water or Pixi Vitamin C Cleanser, which can remove my Maybelline FIT Me Foundation and my liquid lipsticks as well.
My Recommendations:
Also Read:10 Best Cleansing Balm in India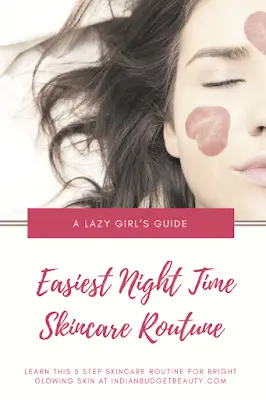 2.  Cleansing
No matter how much a miceller water or makeup remover claims that you don't need to use an extra cleanser, I never believe it. I need a face cleanser to remove this makeup remover/miceller water from my face. Face cleanser or face wash will make sure that you skin is clean of all the oils from the makeup remover. I use my Clean & Clear Foaming Face Wash daily. You can also use those cleansers which have exfoliating beats in them.  
My Recommendations:
Exfoliating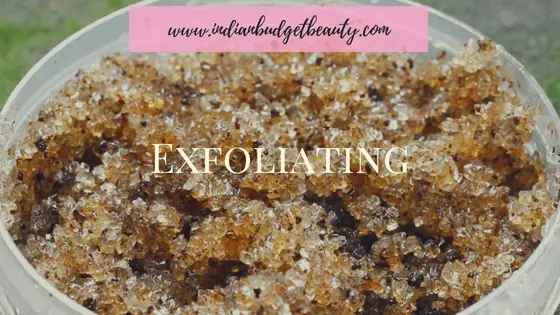 If you do not use a Face cleanser with exfoliating beads, then by all means use a face exfoliator. Exfoliator makes sure that all your pores are clean and will decrease the appearance of black heads and white heads.
My Recommendations: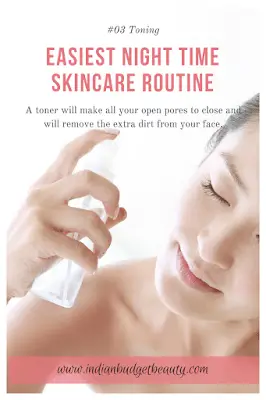 3.  Toning:
A toner will make all your open pores to close and will remove the extra dirt from your face. I normally use only a rose water to tone my face. But you can also use other toners available in the market. Just make sure that it is alcohol free.
My Recommendations:
4.  Serum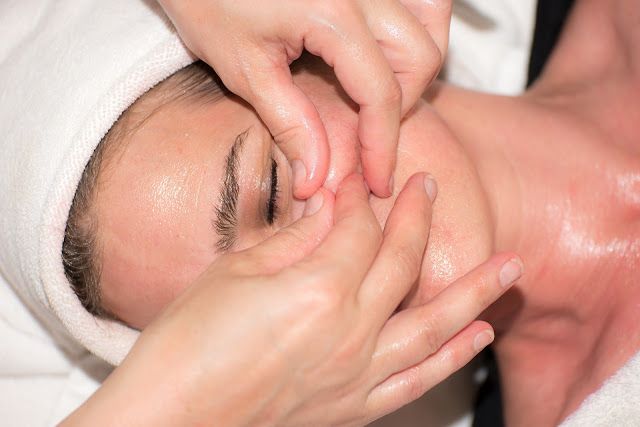 Serums are lightweight and contain a lot of moisturizing ingredients which can penetrate deep into your skin. It will ensure that your skin gets the required treatment. Using a serum overnight can help you rejuvenate and hydrate your skin directly. Hence serum is an essential part of daily skincare routine.
Also Read: Top 10 Kumkumadi Oils In India 
My Recommendations: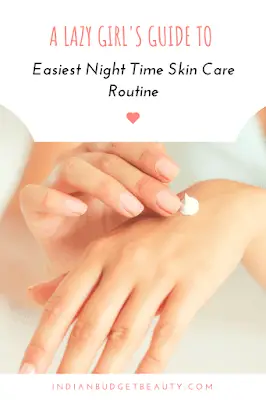 5.  Moisturizing
The last step on this skincare routine is to use a moisturizer. Using a moisturizer after a serum will make sure to lock the serum into your face. A moisturizer will protect your skin by shielding it.  
My Recommendations:
I hope this easiest nighttime skin care routine with five steps will help you in achieving that glowing, rejuvenated skin. Feel free to add your own magic touch.