It's been 3 weeks since I've been trying this Mamaearth Vitamin C Sleeping Mask. I have a lot to say about this Mamaearth product. Make sure to read this Mamaearth Vitamin C Sleeping Mask Review till the end, it will save you your money for sure.
I've always been skeptical about Mamaearth product reviews as they always seem to be over-hyped. I have tried 4 Mamaearth products and I'd say that I'm quite disappointed. That does not mean that all the products are bad, it's just my personal opinion and I wanted to clarify that. I hope this Mamaearth review will help you in making the right choice.
About The Product
Mamaearth Vitamin C Sleeping Mask is an overnight restorative gel-cream sleeping mask that replenishes lost radiance and reduces signs of aging, as it works throughout the night. With this sleeping mask by your side, you will wake up with more radiant and hydrated skin. This Vitamin C Sleeping Mask is just the thing you need to add to your night-time routine! The product is dermatologically tested to ensure that it is suitable for all skin types. It contains no harmful chemicals, toxins, or parabens and is 100% safe to add to your night time skin regimen.
Claims:
Replenishes lost radiance: 
Reduces signs of aging:
Illuminates skin and reduces pigmentation: 
Suitable for all skin types: 
Certified toxin-free:
---
Price: Rs.599
---
Ingredients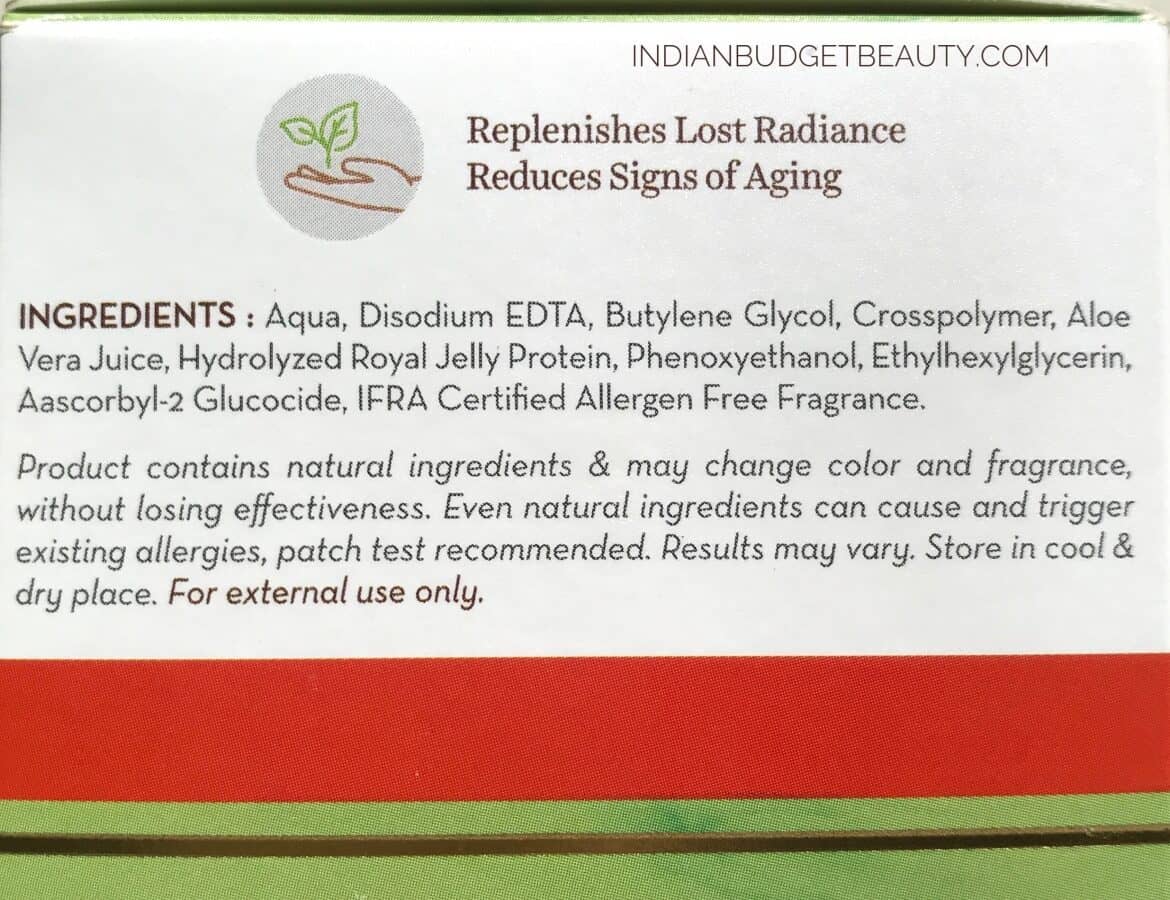 Good Ingredients:
Aloe Barbadensis Leaf Juice (skin conditioning), ascorbyl-2 glucoside (vitamin c), ethylhexylglycerin (preservative)
Nasty Ingredients:
Butylene Glycol (bad for acne prone skin), crosspolymer ( safety 4-6 according to cosdna), Hydrolyzed Royal Jelly Protein, Fragrance
---
Mamaearth Vitamin C Sleeping Mask Review
Packaging: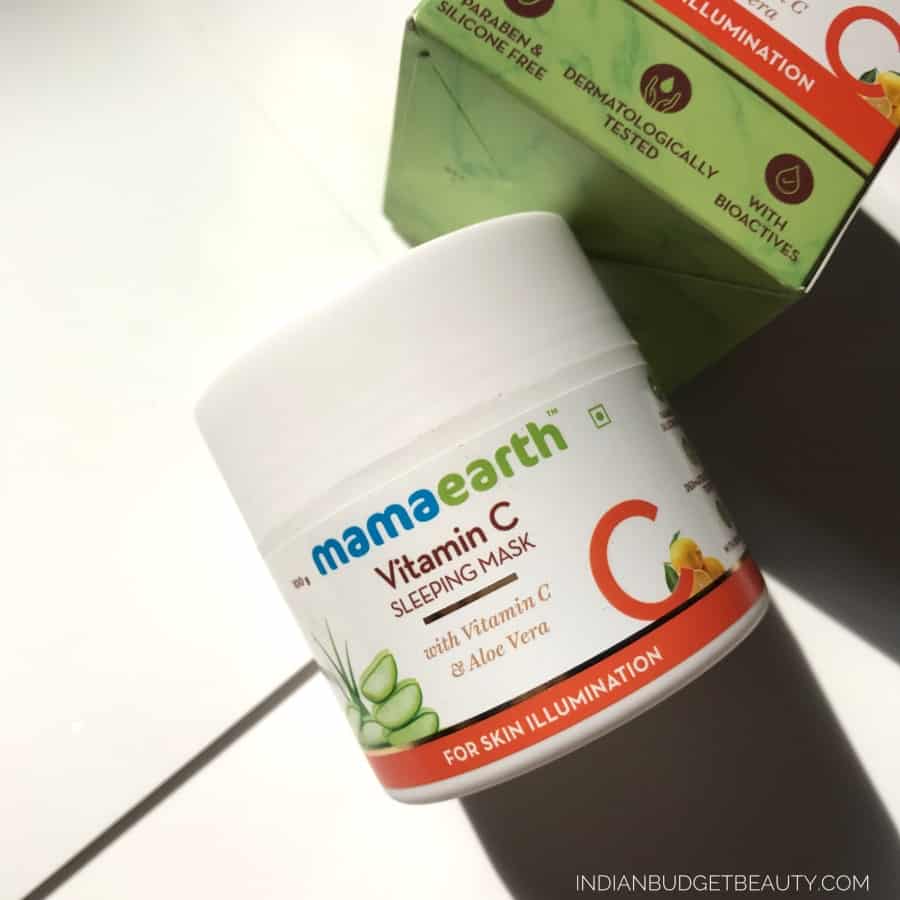 This Mamaearth vitamin c sleeping mask comes in a white plastic tub packaging with a plastic spatula. It also comes with an outer cardboard packaging. Personally I found the tub packaging to be a bit cheap looking. It is huge and bulky. But the good part is that the mask is quite secure since it also has a stopper in between the mask and the cap.
Even though it comes with a spatula, I prefer applying it with my fingers. The spatula does not help in spreading the product
Texture & Fragrance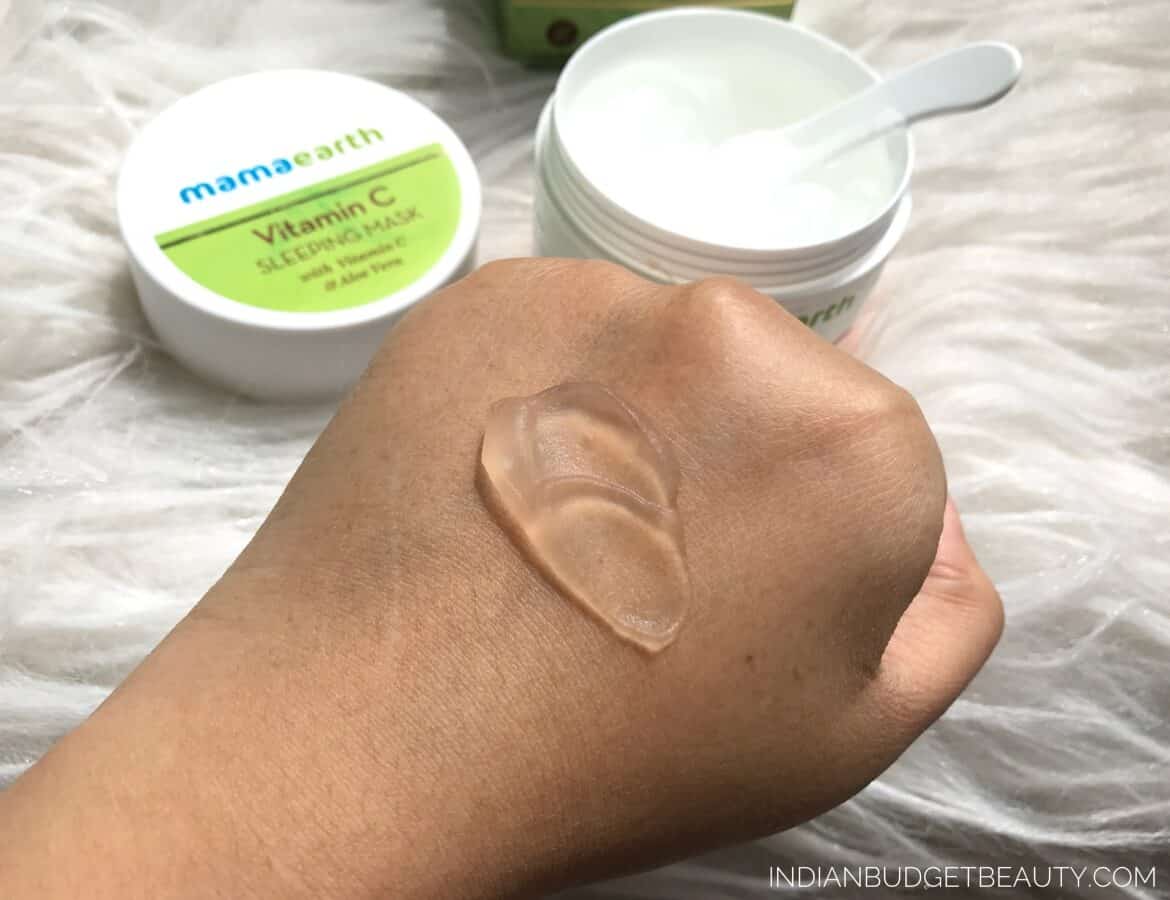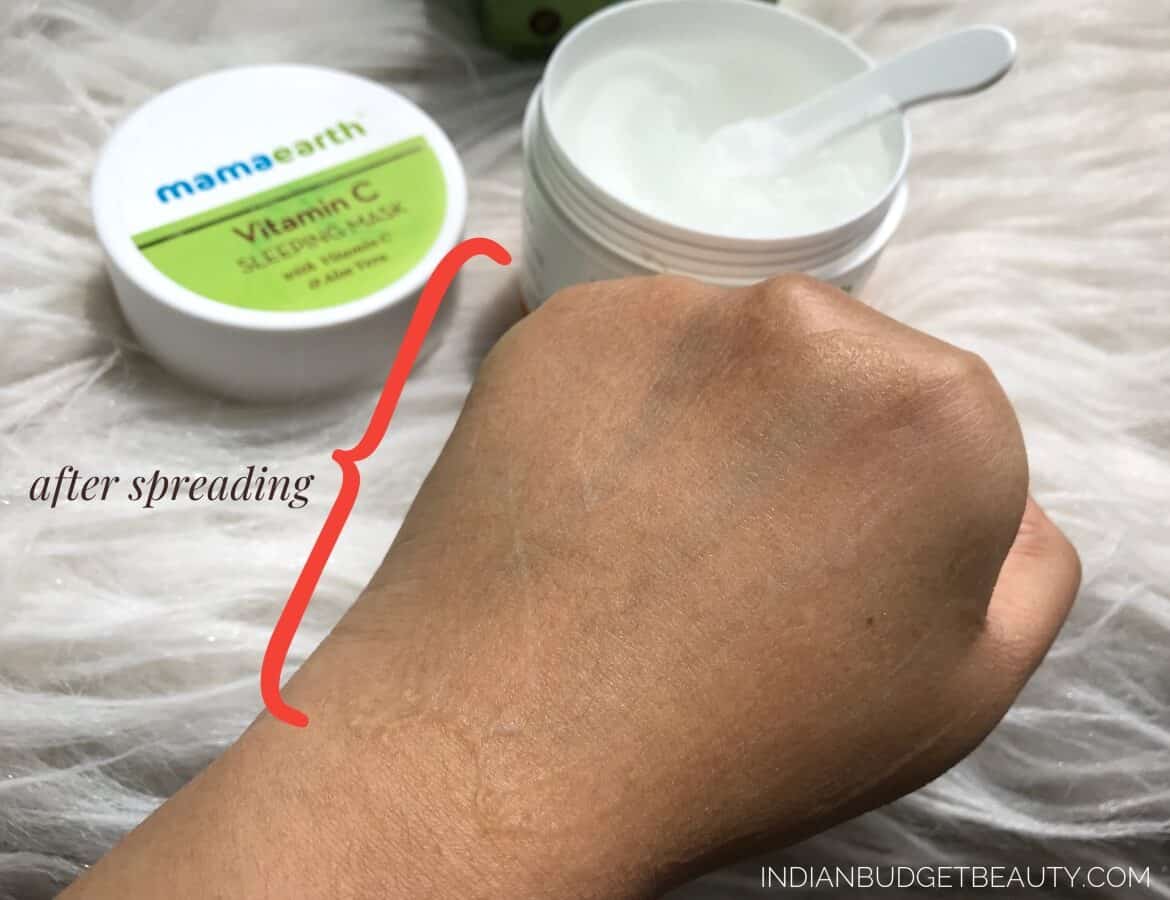 The mask has a translucent gel-like texture. It is very light-weight and gets absorbed easily within minutes. I have also noticed a few specs of shimmer in the gel.
I don't like the fragrance, it's too strong and smells of men's aftershave. I hate how Mamaearth products are heavily fragranced. For instance, the c3 mask gives me a headache due to its strong minty scent. The fragrance of this Vitamin C Sleeping mask is a bit overboard so do keep that in mind.
Also Read: Mamaearth C3 Face Mask Review
My Experience With The Product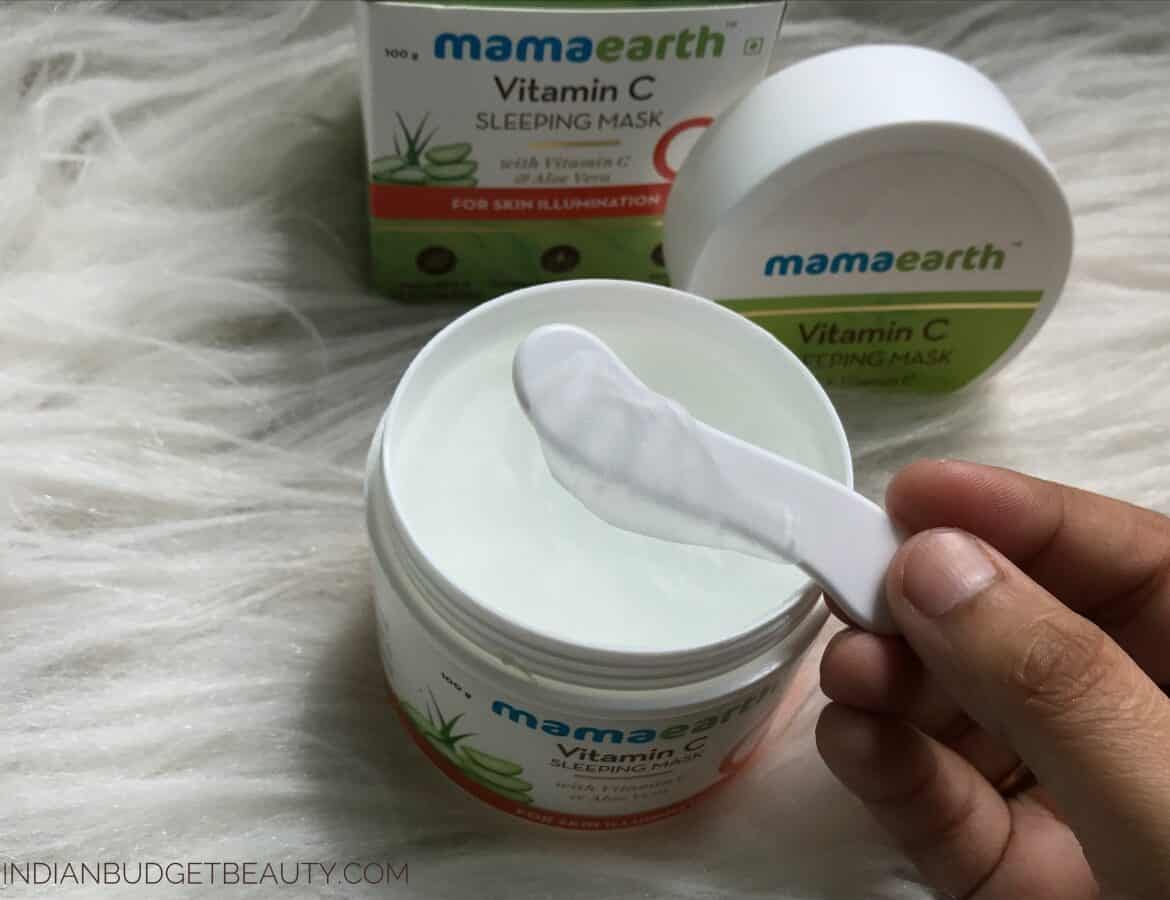 I have a lot to say about the product. I've used this Mamaearth Vitamin C Sleeping Mask for the past 3 weeks and here's how I feel about it. The percentage of Vitamin C is not mentioned, but I think its less than 1%.
First of all, I've used it as a sleeping mask just like it was instructed in the packaging. I've felt a slight stinging effect on my cheeks just after application and a cooling sensation. Within the first 10 minutes, the mask had dried out and formed a few white dried residues that crumbled. My whole face felt dry but I've still kept it on and slept with the mask on.
The next day, I did not notice any such radiance or hydration like it claimed to give. I expected that at least my skin would have been a bit hydrated but it did the opposite, my skin felt totally dry. For your reference, I have combination skin that tends to be a bit dry in the winters and normal combination skin during the summers.
Since I did not want to form an opinion just by one usage, so this time, I had applied the mask and kept it for 15 minutes and then washed it off. It was the same with the slight stinging effect on my cheeks after application. But this time, I felt that it had tightened or firmed my face but it did not hydrate or provide any sort of radiance as it claimed.
I'd say that this mask gives a cooling sensation, but you can totally use any aloe vera gel or Good Vibes Watermelon gel for the same effect. Coming to its claims, it did not do anything to my skin. I've kept using it as a normal mask and not like a sleeping mask as it tends to dry out my face completely. I've used it 4 times a week for 3 weeks straight, that's 12 days. It did not show any noticeable effect on my skin. It made my skin dry and sensitive. If you have dry and sensitive skin, just STAY AWAY from it. It will make your skin worse.
I've even asked my mother to use it and she has oily skin and even she doesn't like it at all. Even her face was dried down after the usage.
So, if a product could not show any effect even after using it for 12 days, I'd say that Mamaearth Vitamin C Sleeping Mask is not worth your money. Thankfully I did not have to spend the full price and got this mask and the C3 mask during a BOGO sale else I'd have regretted a bit more.
But in the end, I'd like to put up a disclaimer that what does not work for me, might work for you. I'm still intrigued to try out their Tea Tree Hair Mask so I won't say that the brand is not good, it's just that their products didn't work on my skin type.
---
Pros:
Gives a cooling sensation
Helps in temporary firming the skin
Cons
Heavily fragranced product
Dries out your skin
Slightly stings after application
Does not show any result whatsoever
Mamaearth Vitamin C Sleeping Mask Review
Packaging

Effect

Fragrance

Pricing
Final Verdict
I'd never recommended this product if you have dry or sensitive skin. It does nothing to your skin except the cooling sensation. The fragrance is too overboard and it smells like men's aftershave. If you want you can try it out as what does not work for me might work for you. 
---
Related Reviews:
Good Vibes Face Mask Review – Activated Charcoal, Papaya, Green Tea, Havana Mango
St Ives Sheet Mask Review | Glowing Apricot, Soothing Oatmeal, Revitalizing Acai
Fuschia by VKare Verve Face Mask Review – Kiwi & Asparagus
The 5 Best DIY Face Masks For Acne Prone Skin & Acne Scars
Goodal Green Tangerine Vita C Dark Spot Serum Set Review
---
LIKE IT? PIN IT