I've always wanted to try Kay Beauty Matte Lipsticks but never really got a chance to try them out. The brand kindly gifted me their newly launched Kay Beauty Matte Drama Lipsticks which is launched in 18 different shades. I've received 8 of them and here are my thoughts on these Kay Beauty Lipsticks. Here's my first Kay Beauty review:
Claims:
Infinitely Matte Finish
Long-Lasting
Weightless film of colour
Luxurious rich texture
One stroke application
High impact colour
Price: Rs.999 for 4.2 gm
Ingredients:
No ingredients were mention on the packaging, nor on the site.
Packaging: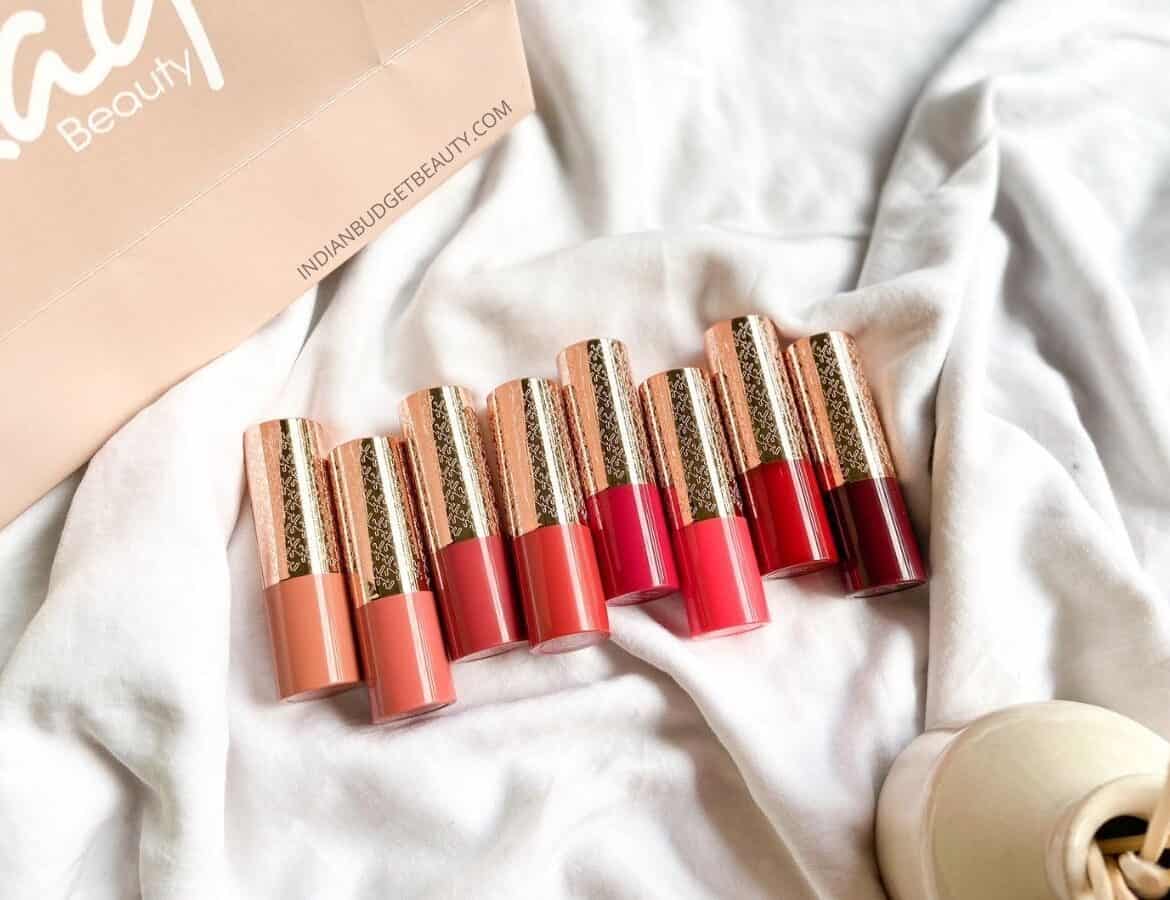 These Kay Beauty Matte Drama Lipsticks have a luxurious logo-engraved rose gold lid with a colour-coordinated bottom. Their outer packaging is in their signature style with colour-coordinated packaging. I love how these lipsticks are in a magnetic format which makes them easier for travel. The magnet is quite strong and the packaging gives you a high-end feel. Overall, I absolutely love their packaging.
The bullet is in a twist up format with format with a special cupid's bow shape of the bullet. This makes sure that it's easier to shape your lips with these lipsticks.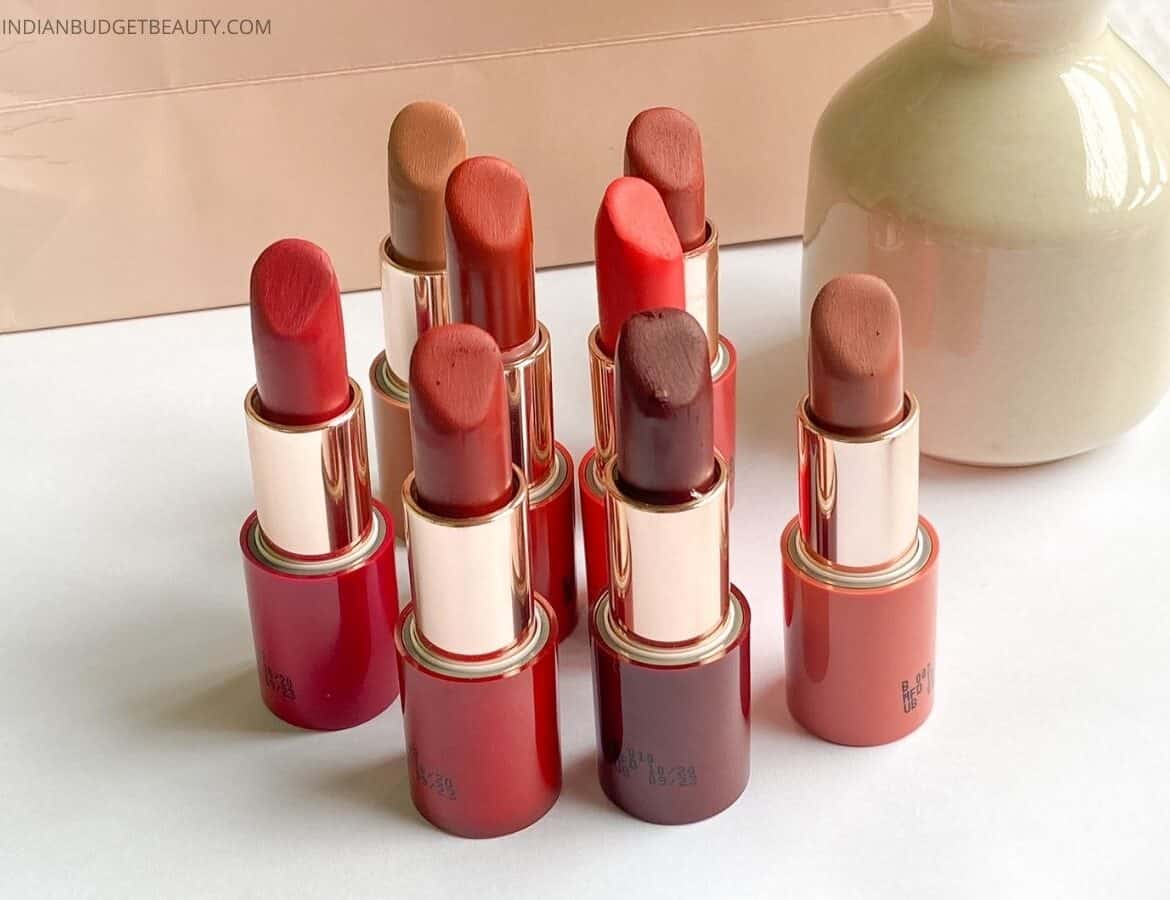 Kay Beauty Matte Drama Lipstick Swatches: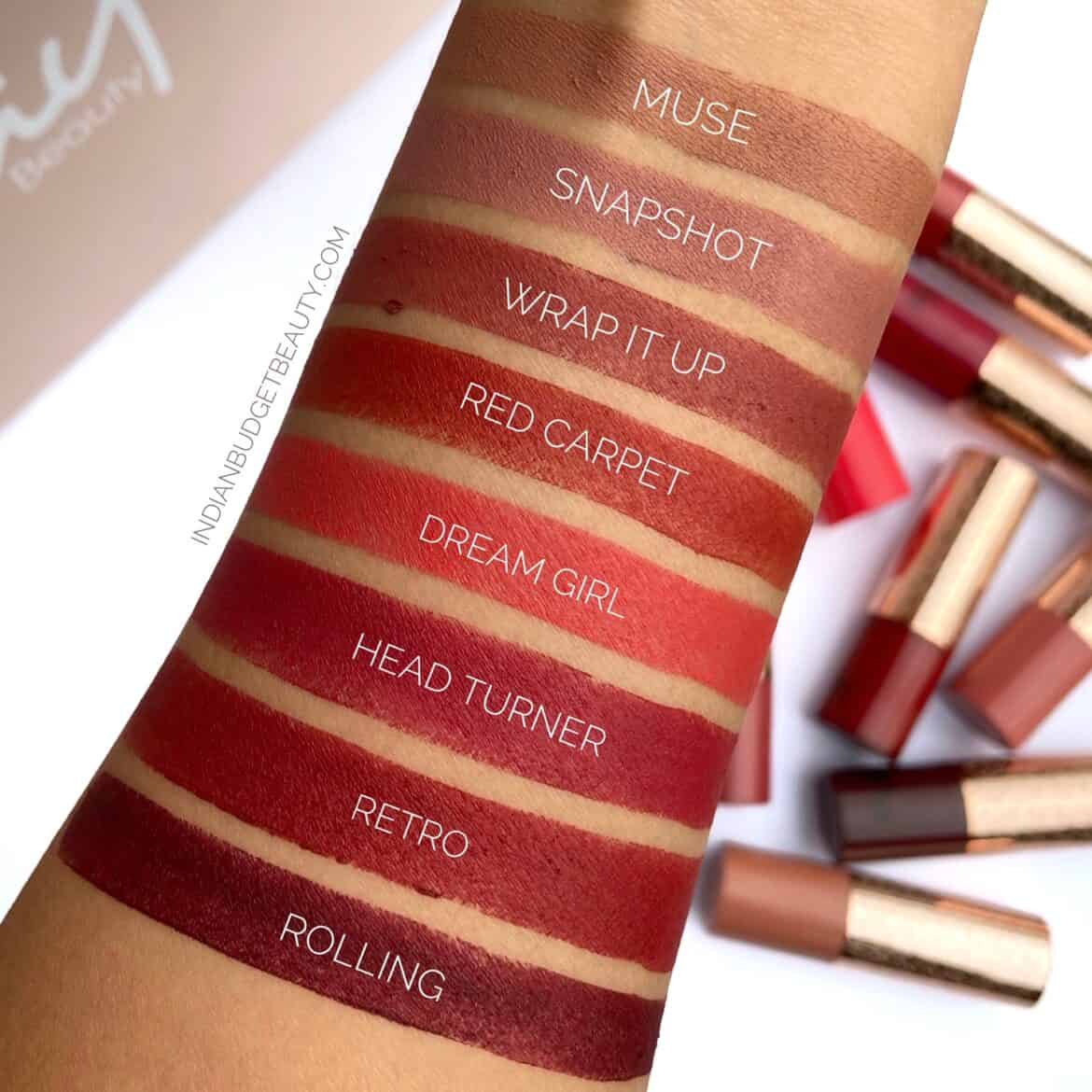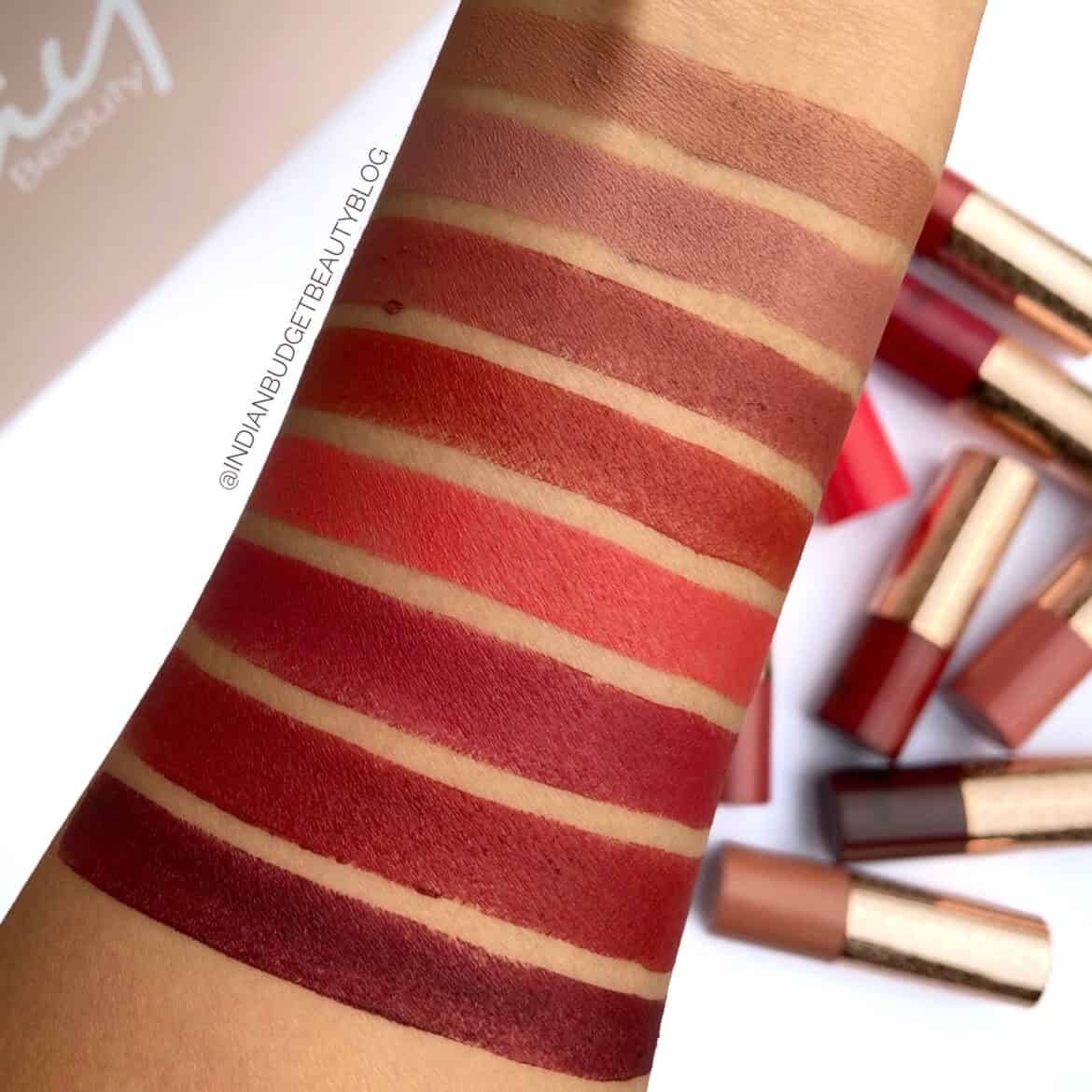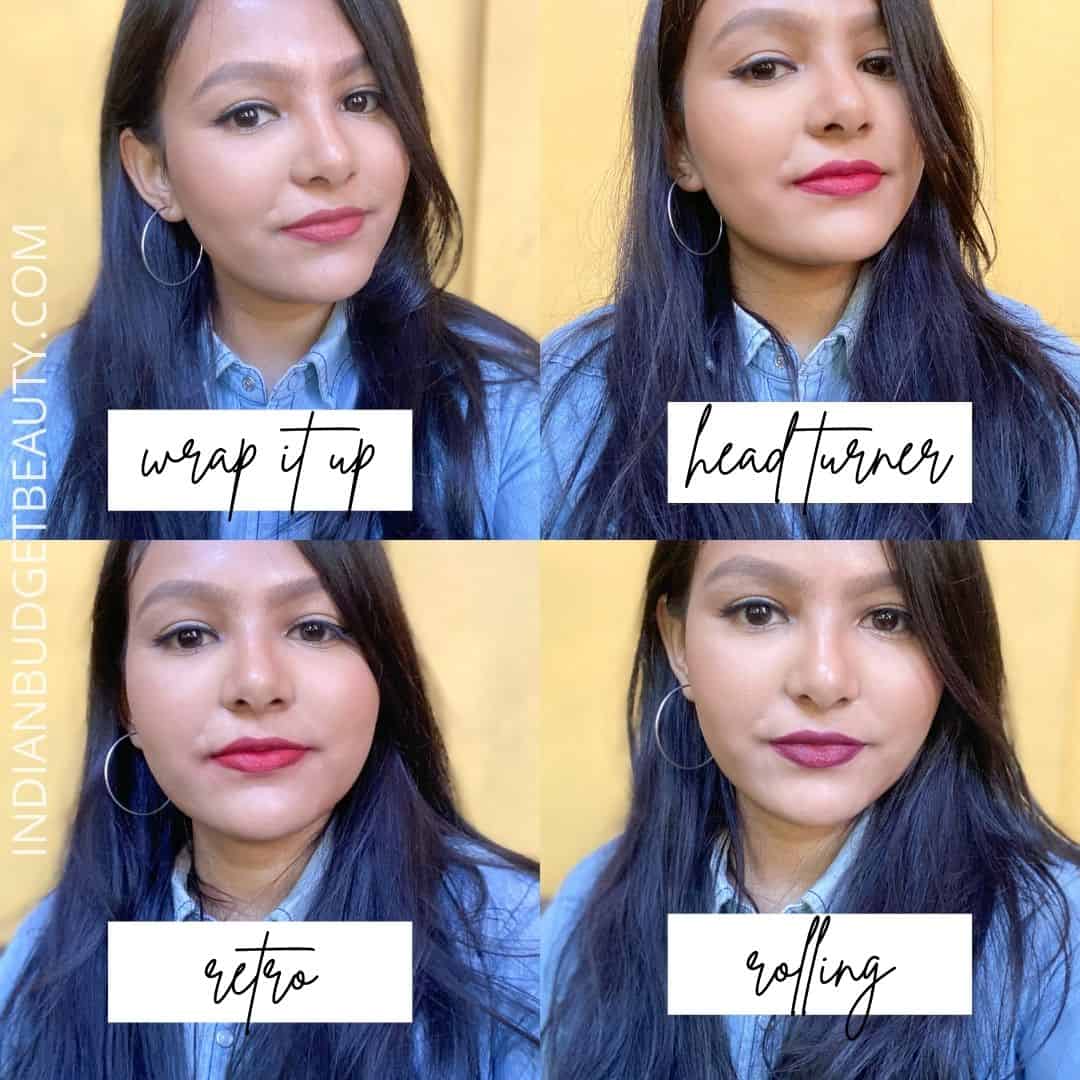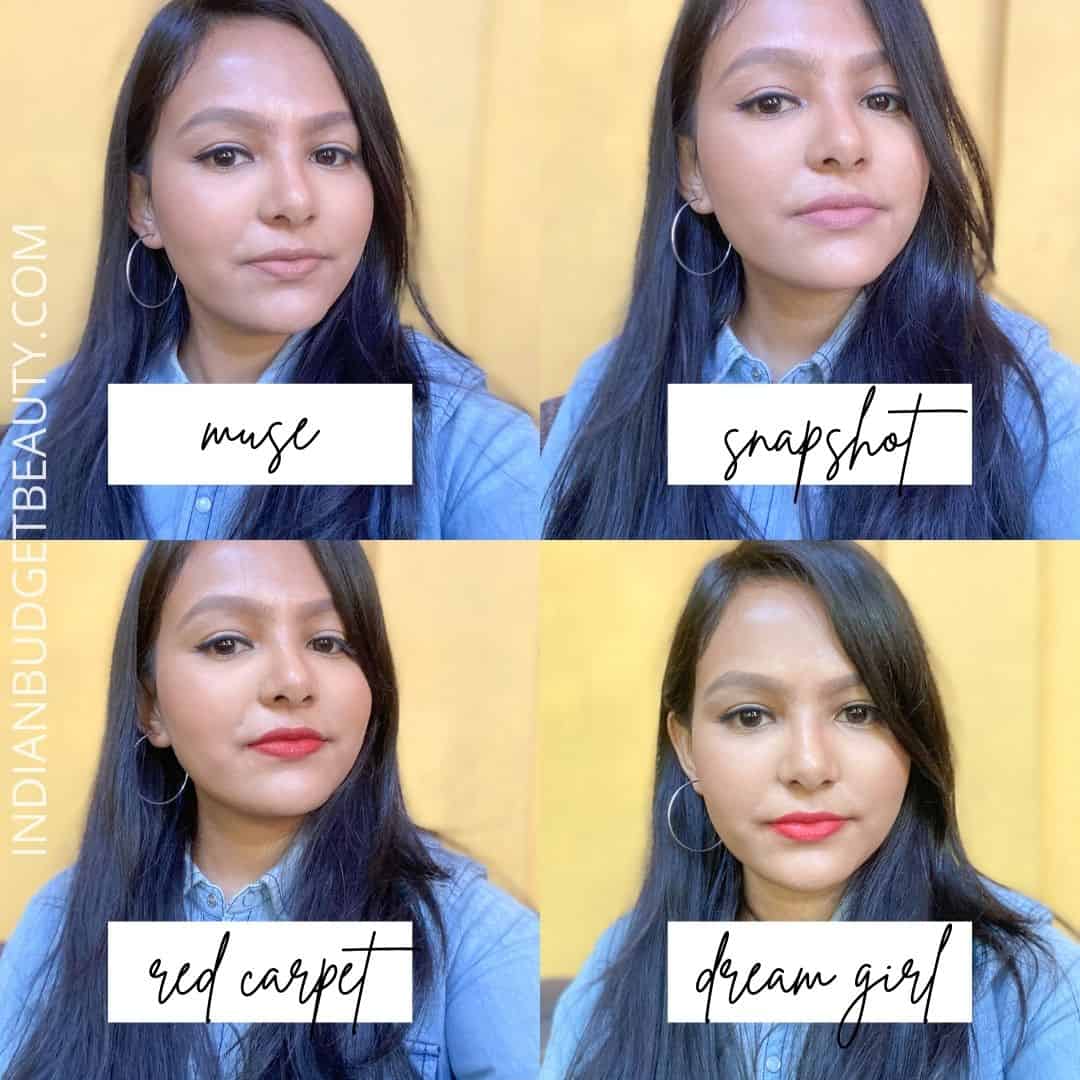 | Shade Name | Shade Detail | Skin Tone |
| --- | --- | --- |
| Muse | Light honey Brown toned nude | For lighter skin |
| Snapshot | Neutral Pink | For fair-to-medium |
| Wrap It Up | Dark Pink toned nude | for all skin tones |
| Red Carpet | Burned Red | Suitable for all skin tones |
| Dream Girl | Coral Shade | For fair-to-medium |
| Head Turner | Dark Pinkish Plum | Suitable for all skin tones |
| Retro | Plum with red undertones | Suitable for all skin tones |
| Rolling | Deep Plum | Suitable for all skin tones |
My Thoughts On The Kay Beauty Matte Drama Lipsticks:
These Kay Beauty Lipsticks have a comfortable matte formula with an opaque finish in one swipe. They are very comparable to Colourpop Lippie Sticks in terms of formula and texture. I absolutely love how light-weight these lipsticks are but at the same time give a super matte finish. I wear them by prepping my lips with my favourite lip balm.
I found them highly pigmented with a luxuriously rich texture which glides on smoothly in the lips. But chapped lips need to be scrubbed for smooth application. Coming to the bullets, these lipsticks do offer a unique cupid's bow bullet shape which helps in shaping the lips easily. It does hug the corners of the lips.
They have a good amount of shade range of 18 colours with nudes, pinks, reds, berry tones and browns, so one can easily find their own choice of colour and skin tone. Overall they last for above 6-7 hours and can last a good ole meal (but not a heavy meal).
I wish they would have disclosed their ingredients in the packaging as well as on their site. Coming to their price, I do feel they are a bit overpriced but I do like their quality a lot and you can definitely get them in any sales.
These Kay Beauty Matte Drama Lipsticks claim to be Cruelty Free, Paraben Free & Vegetarian, but I cannot vouch for that because of the missing ingredients. They are also Dermatologically tested.
Do I Recommend These Kay Beauty Lipsticks?
Absolutely yes! But I'd recommend you to buy them during a sale and not in their full price.
---
Pros:
Opaque finish in one swipe
Matte finish that is non-drying
Rich texture with superb pigmentation
Unique bullet shape for easy application
Longlasting formula
Light-weight and comfortable on the lips
Luxurious colour-coordinated packaging with magnetic cap.
Travel-friendly
Cons:
No ingredients were mentions
A bit over priced.
Kay Beauty Matte Drama Lipstick Review & 8 Swatches
Packaging

Pigmentation

Lasting Power
Final Verdict
If you are searching for fully matte bullet lipstick that is non-drying and comfortable on the lips, then you can definitely get these. They have a one-stroke opaque finish formula with a rich texture. But these lipsticks don't disclose their ingredients and are a bit over priced, the best time would be to get them on a sale.
---
Also Read:
---
Disclosure: Contains affiliate links. I receive a small commission for purchases made via them.