Tann Beauty This Is All I Need Eyeshadow Palette is my most used palette till now. I've been recommending that palette to all my friends and family and even the makeup artists during my cousin's wedding. So when these Tann Beauty Brushes launched, I knew they would be of fantastic quality. The brand sent these 5 pieces of professional makeup brush set for review back in mid-June. I've been trying these out and also washed them so you will get the overall review about the quality of the brushes and whether you need to invest in them.
About The Brushes
A set of uncut, hand assembled, and gentle brushes for professional makeup artists and makeup lovers who wish to achieve professional finish makeup at home.
Why it's special: 
Hand-assembled with the softest synthetic micro-tips fiber that mimics the feel of natural hair.  
Intuitively applies creams, liquids, and powders curving itself as per the structure of the face for mistake-proof application
Whisper-soft hair glide on the skin to only ensure a gentle touch
It allows the skin to stay in its natural shape by not tugging or pulling the skin, which is why Shruti highly recommends it for dry, sensitive, acne, oily and mature skin. 
Brushes that move easily ensuring to keep the previous layer of makeup intact resulting in a smooth and filter-like finish
Whisper-soft brush hair gives the most comfortable application of makeup, ensuring a soothing and calming sensation while the process of makeup is taking place
Every single brush functions in over 9 different ways
Each brush is carefully hand assembled by master brush makers in Italy 
Packaging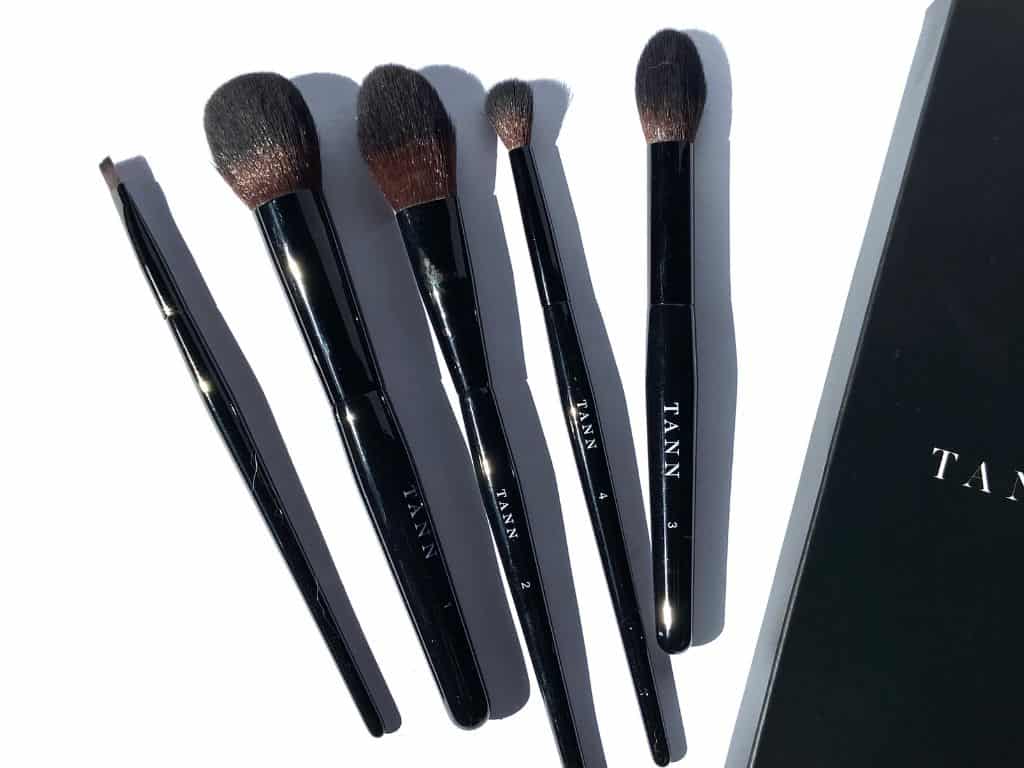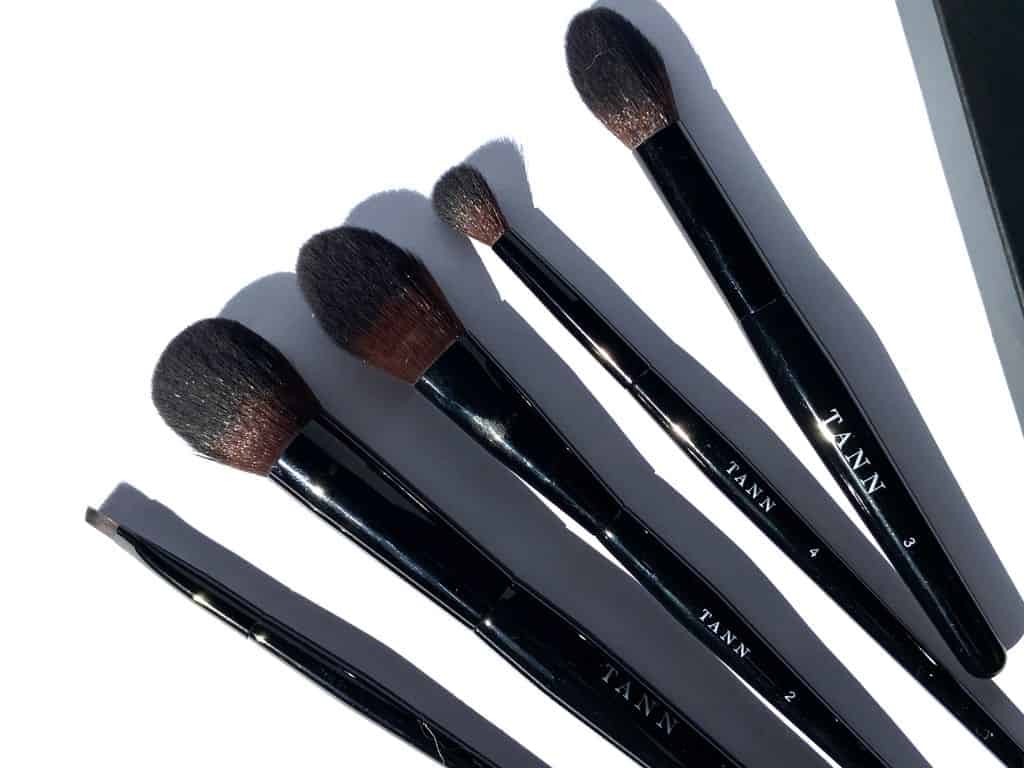 These Tann Beauty brushes come in sleek black packaging with a plastic outer cover. The brand name and the brush number is printed on the handle of the brush. This professional makeup brush set has a minimalist look that feels quite luxe and sturdy.
The body is shaped in such a way that it's easy to hold the brush. The bristles are very soft. They are made of synthetic micro-tips fibre that almost feels like natural hair.
Considering the price, I hoped for a mesh bristle cover for brushes 1, 2, 3, and 4, so that it's protected from dust, but it did not have any. Overall, I like the packaging a lot, it's not too heavy nor too light. It's perfect.
PRO Finish Set – 5 Professional Makeup Brush Set
Brush 1 – Master Blender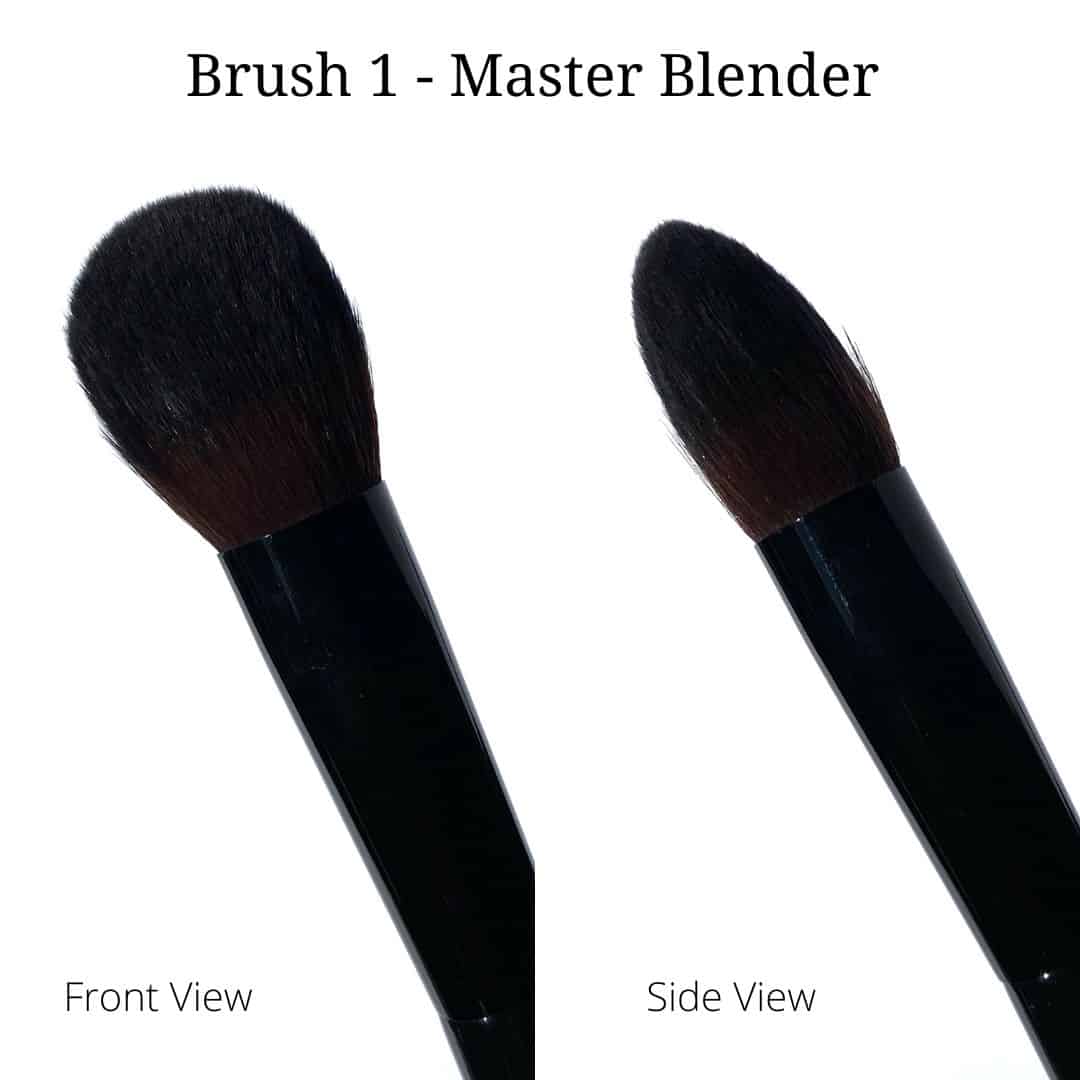 This multi-tasker brush works like a dream for all cream, liquid, and powder products. This is the type of brush that absorbs very little product and gives you the most flawless finish. It helps in zero wastage of product. The bristles are very soft, so it does not poke your skin and you need to apply the lightest pressure for blending or buffing your foundation, powder, or liquid blushes.
I've used this brush to apply my Kay Beauty Hydrating Foundation, and I needed only 2 pumps for my entire face. It gave streak-free, better coverage than other brushes and sponges.
Price: ₹2,490 | Buy Here
Brush 2 – Tulip Powder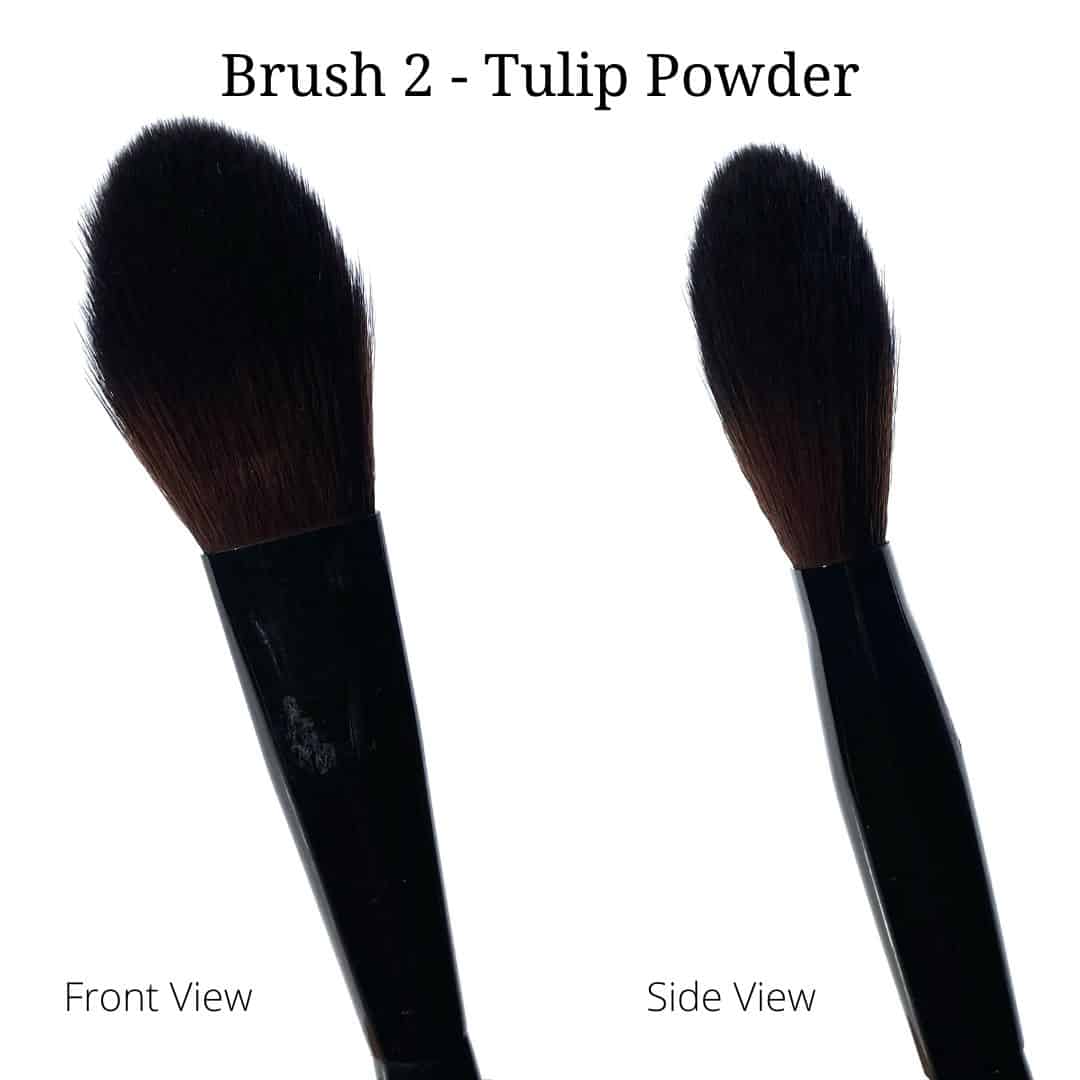 This Brush 2 – Tulip Powder has the softest, fluffiest bristles. It can be used in setting your powder, highlight, contour, and applying blush, or bronzer. The shape is so perfect that it can be used in any corner of your face. It takes the smallest amount so if you are afraid of over-applying any blush or contour, it will be your savior. It does help in giving an airbrushed look.
The shape is perfect to blend along the curves of our face. If you like a dewy makeup look and want a brush to set your T-zone without taking away all the shine, this is the type of brush you need to invest in.
Price: ₹2,290.00 | Buy Here
Brush 3 – Detailer Pro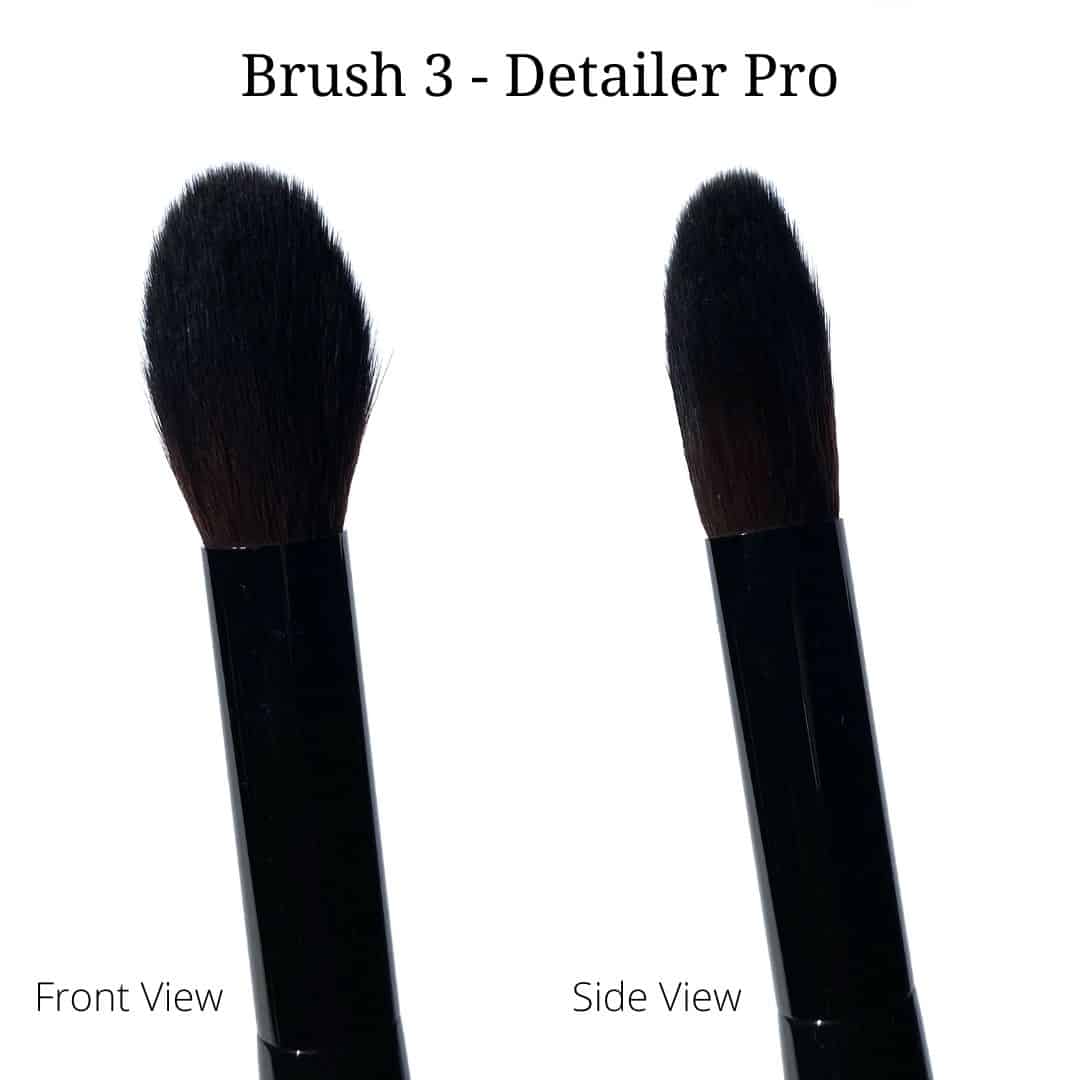 The Detailer Pro brush is designed for the precise application of the product to the target area. The shape is designed in such a way that it covers smaller areas of the face like the inner corner of the eyes, the corner of the nose and lips, the hairline, the curves of the ears, and behind the ears. I like to use it for precise contouring, setting powder around the corners of my nose and on my smile lines. I feel like this brush will be more useful for a professional makeup artist rather than a beginner or for everyday-purpose.
Price: ₹1,690.00 | Buy Here
Brush 4 – Swipe & Go Blender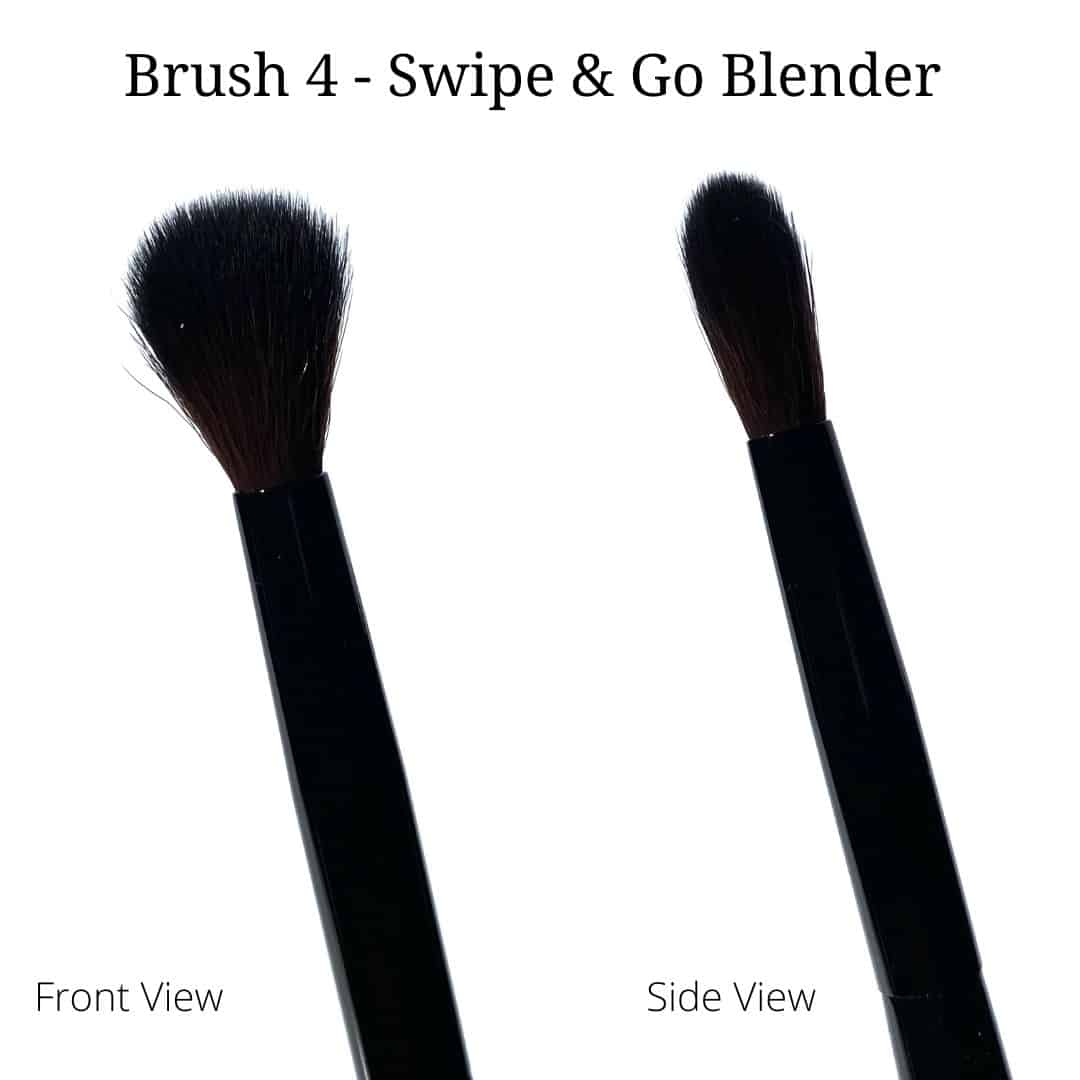 This Swipe & Go Blender brush has become one of my fav brushes. It's fluffy and blends any eyeshadow and gives a softer look. You can use it to contour your nose, set your under-eye concealer, or the corners of your nose. I've been using it to blend the eyeshadow edges and for an ombre lip look. It's one of the best eyeshadow blending brushes I've ever used!!
Price: ₹1,290 | Buy Here
Brush 5 – Sharp Detailer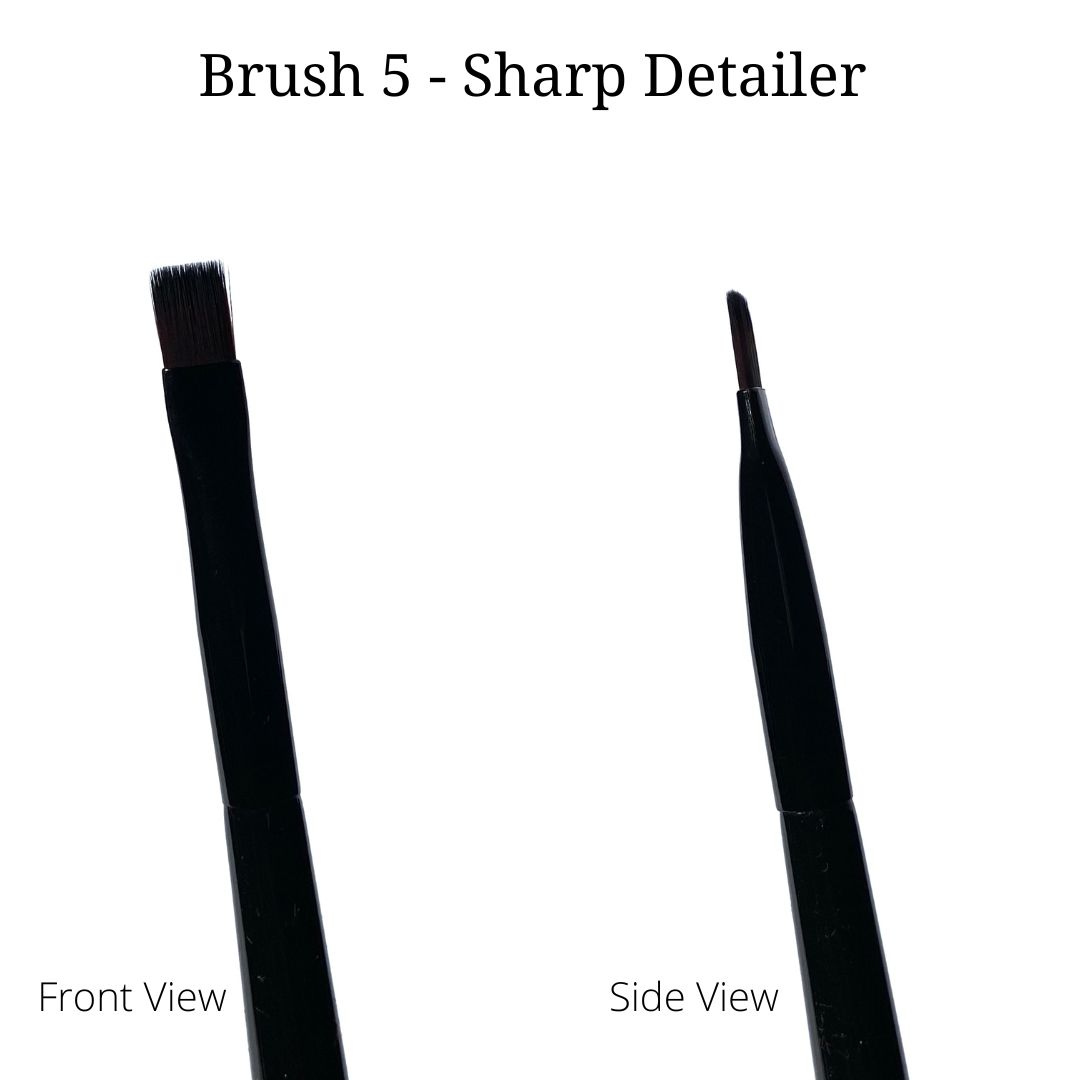 The Sharp Detailer brush has sharp edges that can be used for lip lining, tight lining on eyes, and foxy eyeliner. So far I've used it for carving my brows and smudging my gel liner. To be honest, I don't reach out much to this brush as I don't have the necessity of using it on a daily basis but it can be a nice addition to your kit if you are professional..
Price: ₹1,290 | Buy Here
Can You Wash Them?
Yes, you can. The brand mentioned washing only when necessary, with mild moisturizing soap or baby shampoo. I've used baby shampoo to wash them. Honestly, it's the easiest to clean, especially the brush 1. Usually my flat top foundation brushes are a pain to wash but these brushes are so easy to clean. I use my Sigma Spa Brush Cleansing Mat and all I had to do was swirl the brush on it to remove any foundation and concealer residue. It did take 12-16 hours to get fully dry.
My Final Verdict
Overall, I feel like it's one of the best makeup brushes in India. The quality is so good, totally worth the price. If you are a beginner or searching for a good quality makeup brush set, I'd say get the brushes 1, 2, 4 and you'll be good to go. But if you are a professional makeup artist, then get this whole set.
(Brushes were sent for review by the brand)