Nykaa So Creme Creamy Matte Lipstick Review & Swatches – You're Latte, Break A Leg
Recently Nykaa has launched a new affordable lipstick range called the So Creame! Creamy Matte Lipstick. These lipsticks remind me of the Maybelline Creamy Matte Lipsticks which also have the same price range. Today, I'll be reviewing and swatching the Nykaa So Creme lipstick in the shades 'You're Latte' and 'Break A Leg'
Product Description:
Creamy Matte Finish
One Stroke Application
High Colour Payoff
Smooth Application
Lightweight & Hydrating
Long Lasting Comfort
Ingredients:
No ingredients were mentioned
Price: Rs.299 | Buy It Here
Quantity: 4.2g
Shelf Life : 3 years
Nykaa So Creme Creamy Matte Lipstick Review
How's the Packaging?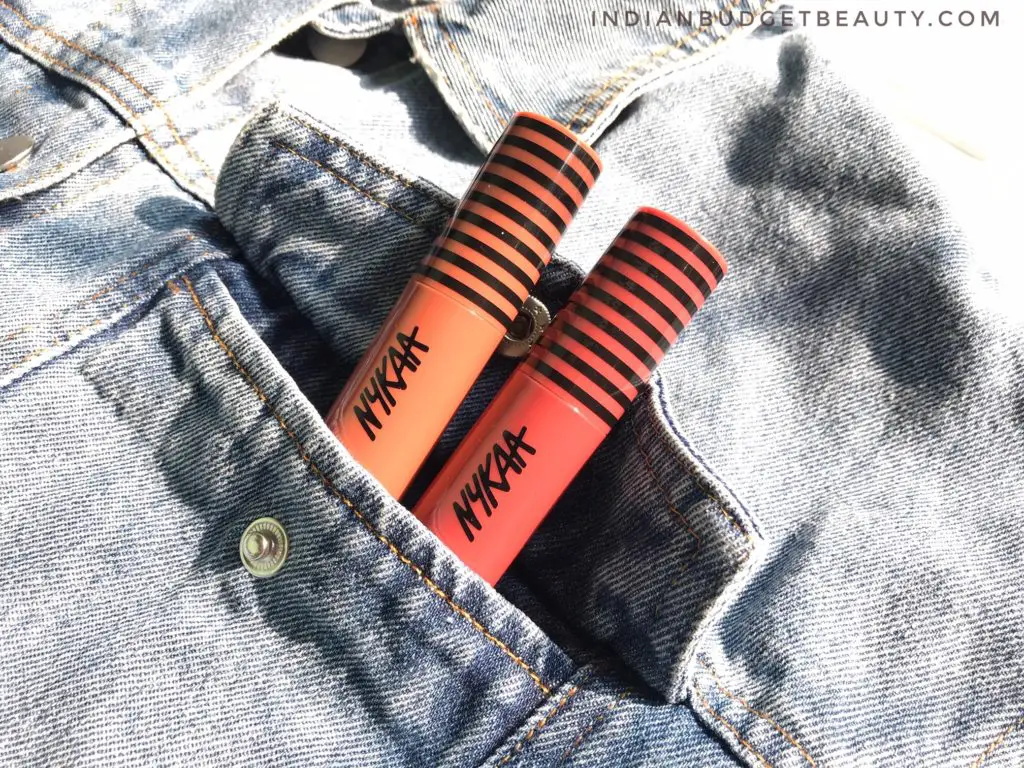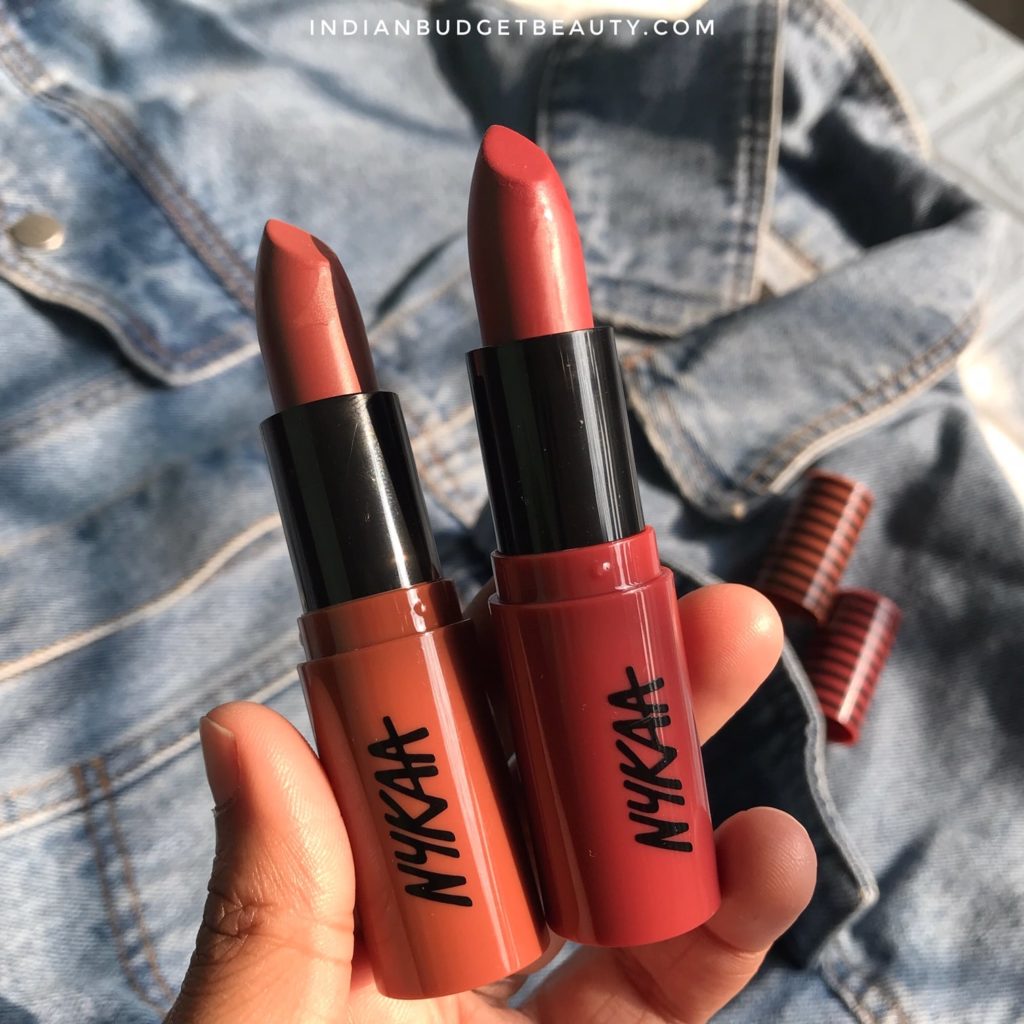 I found the packaging to be very cute and quirky. These Nykaa so creme lipsticks have a color-coordinated packaging with horizontal stripes on the cap. You really don't have to worry about them opening in your bag as they do close very securely.
I loved the fact that the shades are mentioned on the bottom and the packaging is color-coordinated.
Pigmentation
These lipsticks are pigmented but the lighter shades don't deliver opaque finish in one stroke. You need at least two strokes for the high color payoff. One thing I've noticed is that if you use this lipstick without neutralizing your lips, they don't give good pigmentation.
Shades
Nykaa So Creme Creamy Matte Lipsticks are available in 18 shades. All the shades are very wearable and everyday kind of shades. You will find a wide range of nudes, pinks, and reds. There is no crazy shade of purple, orange, etc.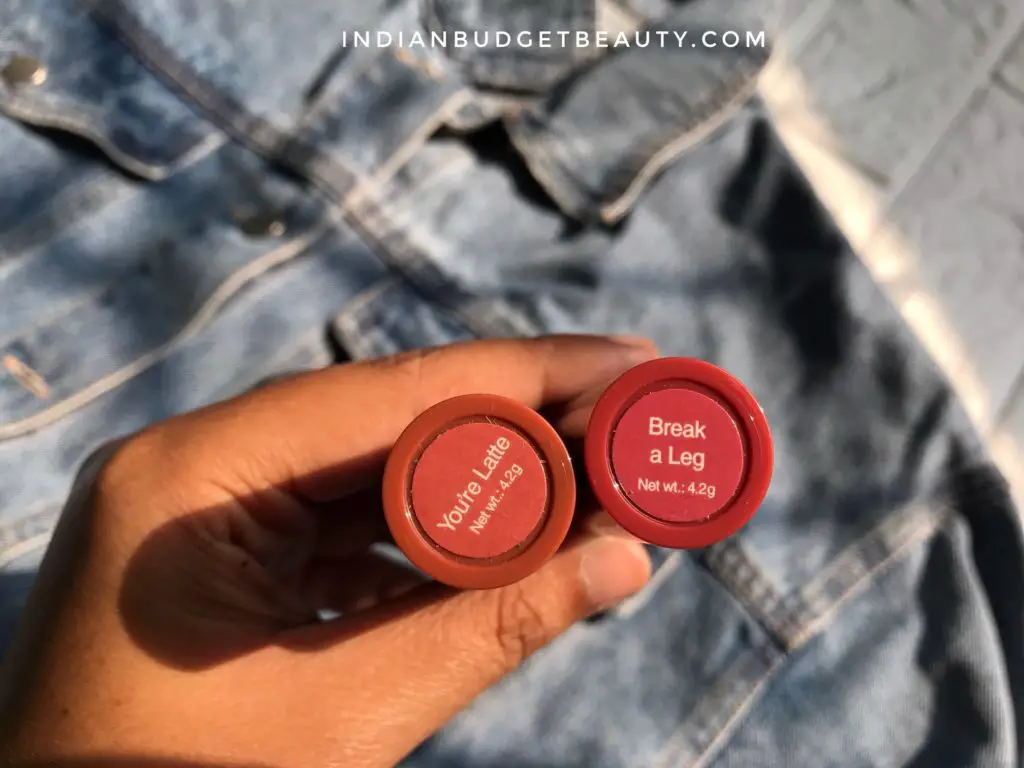 Break A Leg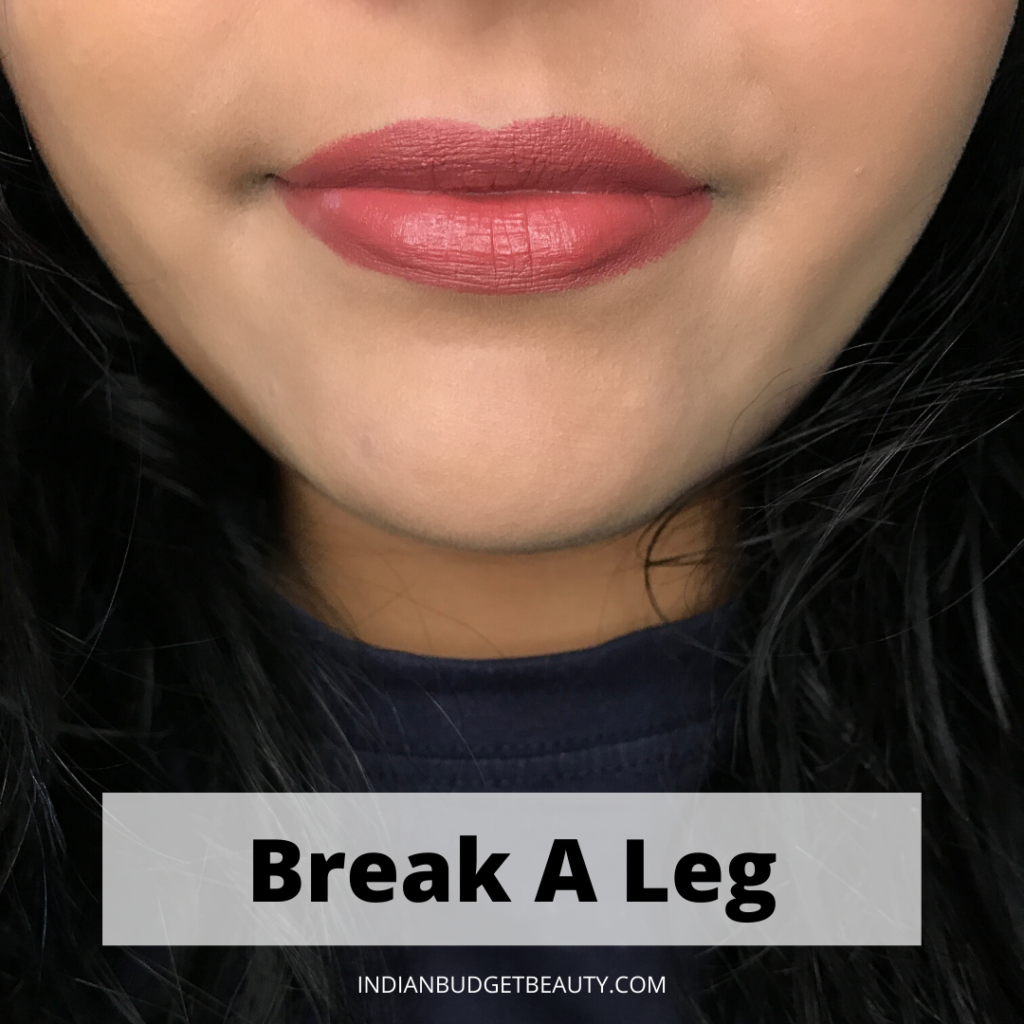 Break A Leg is a very pretty warm toned pinky nude shade. It reminds me of Colourpop Lippie Stix Daydream shade. This shade gave good color payoff in one stroke. This shade will suit all skin tones.
You're Latte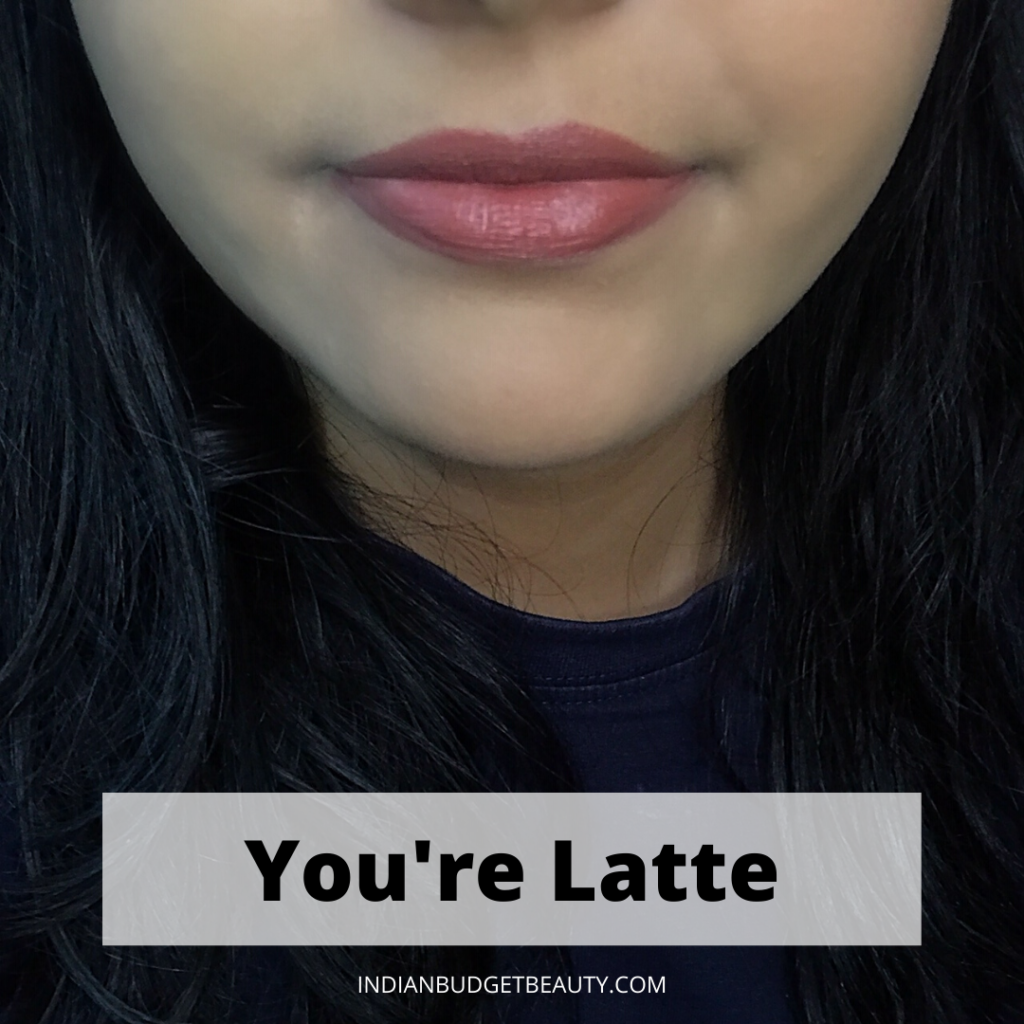 You're Latte is a brown tone neutral nude shade. This color is my MLBB shade and I freaking love this. If you have a light to medium skin tone then this will be your perfect MLBB shade.
Swatches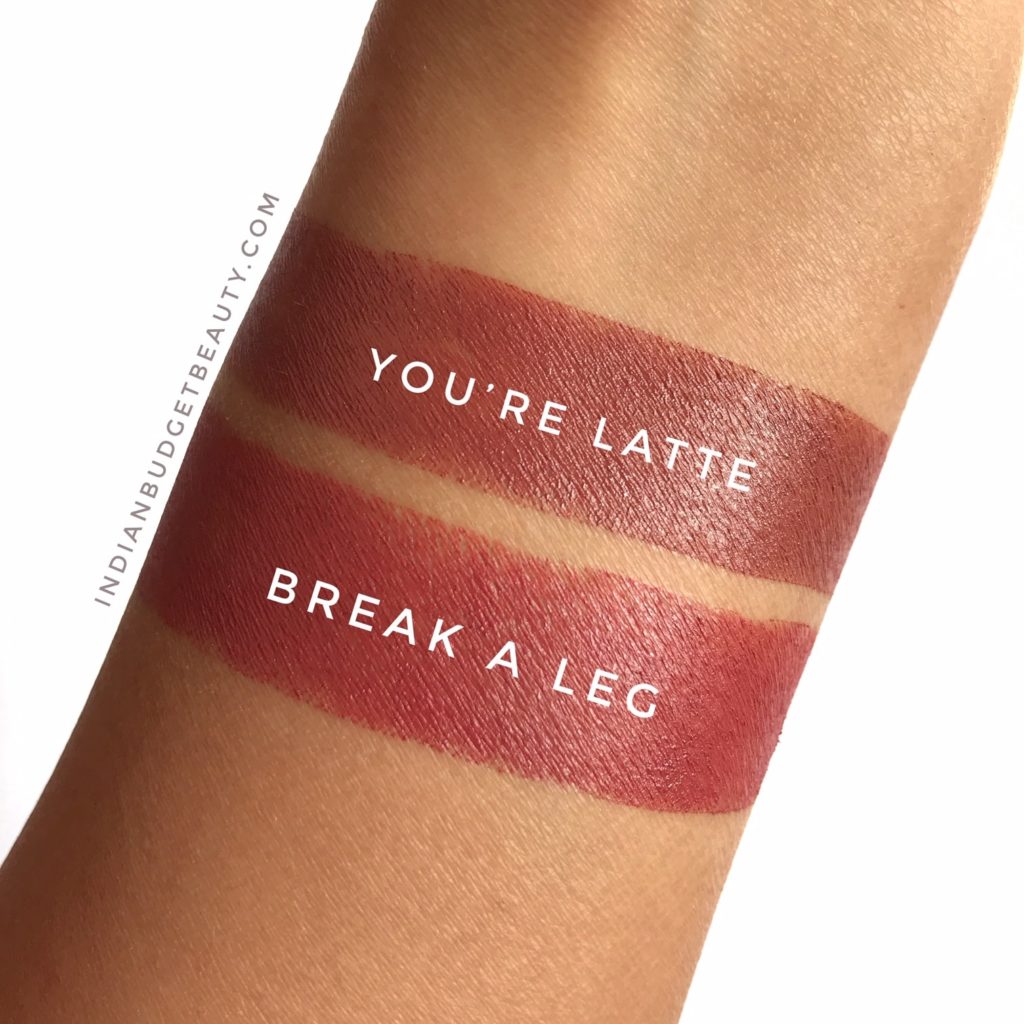 Are they Creamy Matte in Texture?
These lipsticks appear straight out creamy lipsticks when applied but they do become a demi-matte finish after 10-15 minutes. They still give a sheen on the lips.
Comfortable to Wear?
These Nykaa So Creme Lipsticks are so comfortable on the lips. They don't dry out your lips at all. They last for 4-5 hours which is quite nice wear time. They last while you drink water but these lipsticks won't last a meal.
My Final Thoughts On these Nykaa So Creme Lipsticks
These lipsticks are very comfortable on the lips, everyday sort of shades and very lightweight. If you want a lipstick that is cruelty-free, affordable, contains daily-wear shades and nondrying, then you can definitely get these.
You are also getting 4.2 gm of products which is quite more than what other brands offer. They do have a sweet fragrance. Nykaa is easily available online and offline so availability is not an issue.
These lipsticks do transfer so you'll have to keep that in mind. They are not creamy matte but have a creamy to a demi-matte finish. On bare lips (without neutralization), you will need to apply at least thrice to get the perfect payoff. After neutralizing your lipsticks with foundation or concealer, they do give a better color payoff in one stroke.
Pros
Very cute & sturdy packaging
Comfortable to wear
Do not dry down your lips
Cruelty-free
Affordable
Lightweight formula
Everyday wearable shades
Lasts for 4-5 hours
Easily available
Cons
Does not last a meal
Transfers a little
Need at least three strokes for a full-color payoff.
Final Verdict: I do like these lipsticks and would be wearing these very frequently daily for college. The shade range is targetted for daily wear and the price is very suitable for college going girls or working women.
Also Read:
Maybelline Sensational Liquid Matte Lipstick Review
Kay Beauty Matte Drama Lipstick Review & 8 Swatches
Gerard Cosmetics Hydra Matte Liquid Lipstick Review
Miss Claire Soft Matte Lip Cream 11 REVIEW
Nelf USA 9 to 6 All Day Long Lipsticks REVIEW
Wet n Wild Liquid Catsuit Matte Lipstick- Give Me Mocha
Rimmel Lasting Finish by Kate Moss lipstick Review
Loreal 'Pink a porter' Color Riche Matte Addiction Lipstick Review
Pin These