Colourpop Lumiere 2 Ultra Matte Lip Review
I've was dying to try Colourpop lipsticks since they have launched. So, around May, I bought this Colourpop Ultra Matte Lip in Lumiere 2. Originally Lumiere Lippie Stick is a Kathleen Lights X Colourpop Collaboration. Since it was a fan favorite product, hence Kathleen Lights and Colourpop made Lumiere 2, which is an Ultra Matte Liquid Lipstick. If you want to know more about Lumiere 2, just click here to watch Kathleen's video.  
ABOUT COLOURPOP:
Colourpop was born, raised and made with love in the City of Angels. Founded in 2014 by Seed Beauty, we pride ourselves on being wallet-friendly and bunny approved. We test our products in the nicest way possible, leaving fur babies to be fur babies and experimenting on people instead (the people at ColourPop HQ to be exact!).
ABOUT COLOURPOP ULTRA MATTE LIP:
Ultra Matte Lip This thin, lightweight formula smoothly glides on the lips leaving SUPER intense pigment with a bold, ultra-matte look. It is very long-wearing and 100% kiss-proof AKA no transferring! The boldest formula of our liquid lipsticks – in one smooth swipe, you'll get the intense color payoff that dries down to a super matte, transfer-proof finish.
PRICE: $6 for 3.1 g or 0.11oz ( I got it for Rs.670 from an Instagram seller)
Where to buy? Colourpop.com
INGREDIENTS:

MY EXPERIENCE WITH THE PRODUCT:
PACKAGING: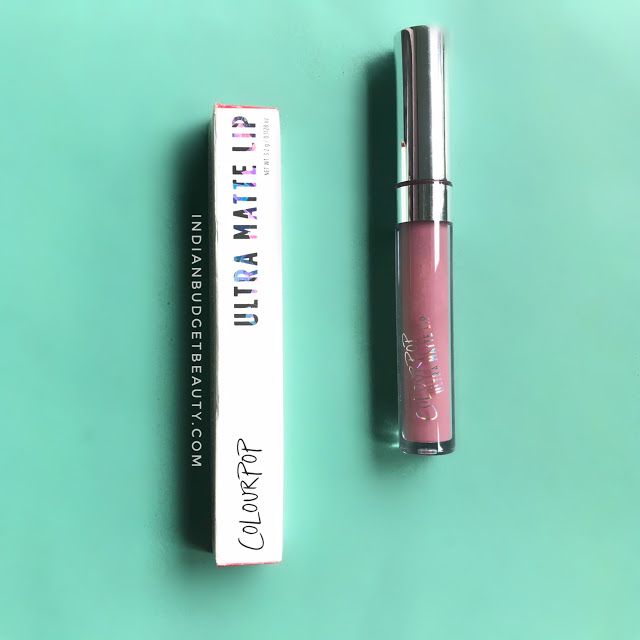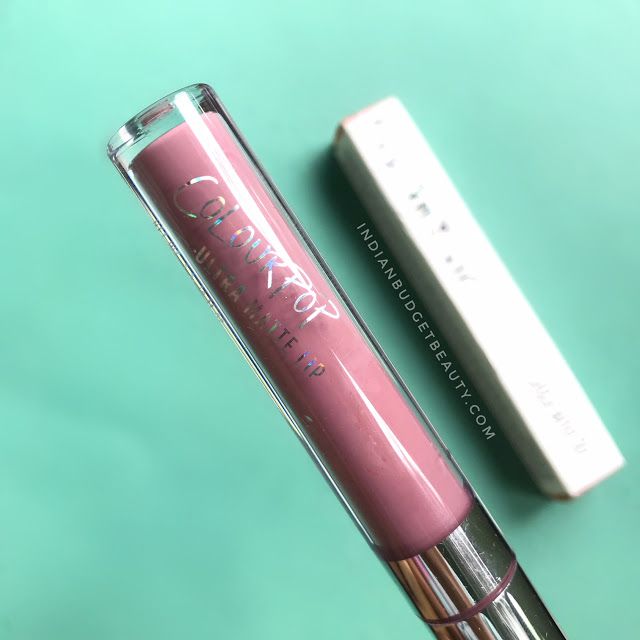 Colourpop Lumiere 2 Ultra Matte Lip comes in a lipgloss kinda packaging. It has a doe-foot applicator which pretty much does the job. I love the way these liquid lipstick look. They are very sleek and the color is see through. 'Colourpop Ultra Matte Lip' is written in a holographic form.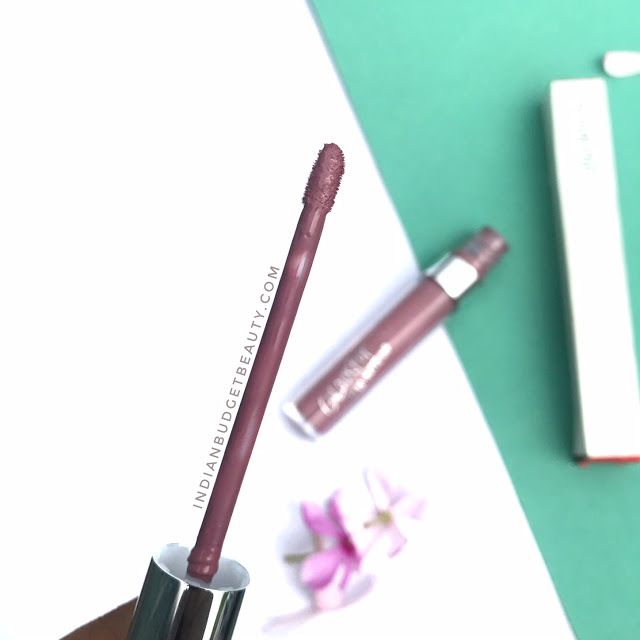 Formula & Pigmentation:
This shade is very very pigmented, so I just apply a light layer. It has a creamy consistency which dries within 30 seconds. I suggest that you use a lip primer or a lip balm underneath. It does apply smoothly and evenly.
SHADE: Lumiere 2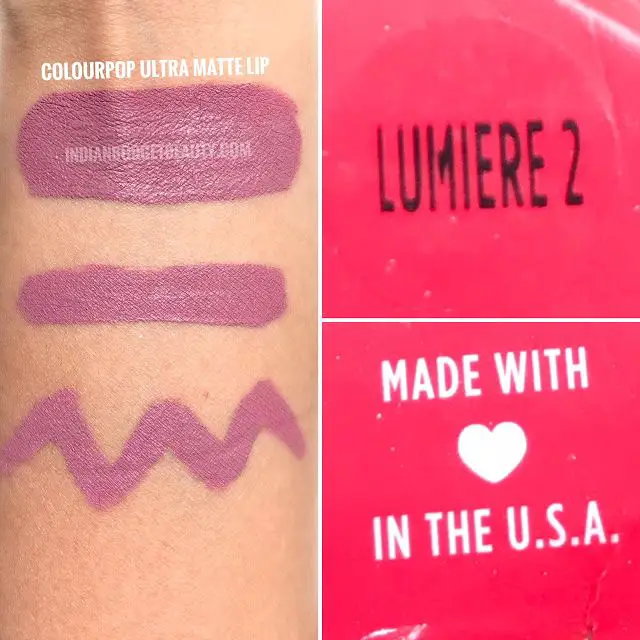 Colourpop Lumiere 2 Ultra Matte Lip is a muted purple shade with grey undertones to it. This shade is very unique as it looks different on different skin tones and lighting. On me, it looks like a muted purple with cool undertones. But, in direct sunlight, the color looks different.  
ALSO READ: Wet n Wild Megalast Liquid Catsuit Matte Lipstick – Rebel Rose | Review, Swatch & Comparison
SWATCHES: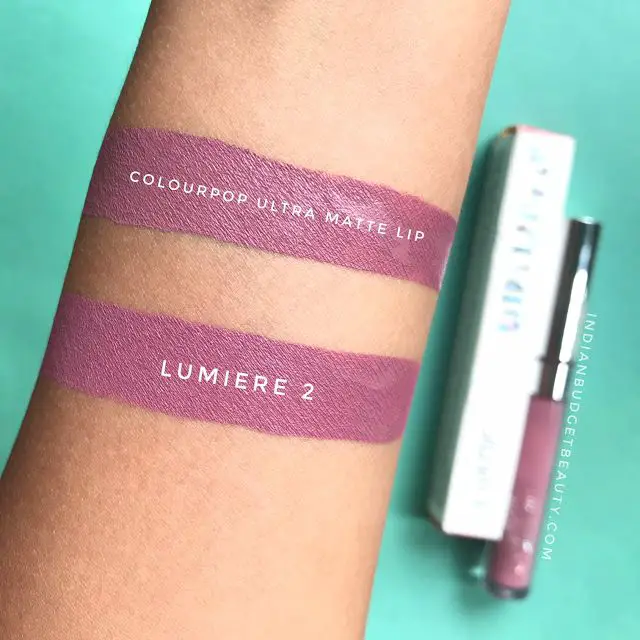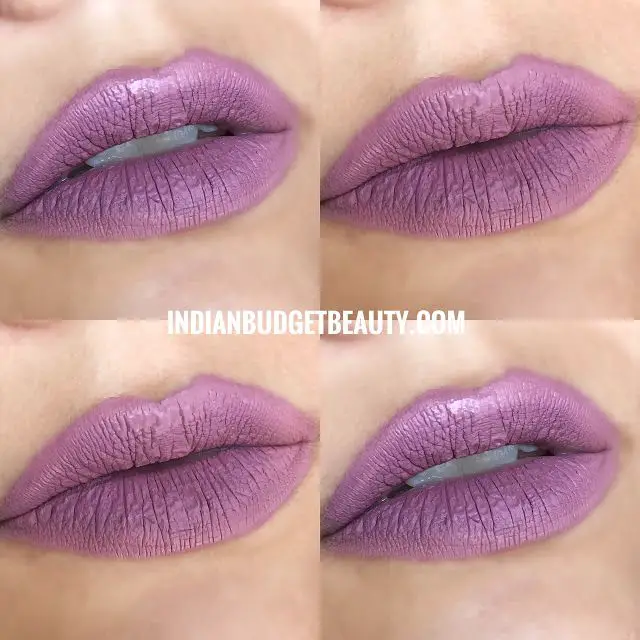 LONGEVITY:
It lasts on me up to 6 hours with snacks. I was surprised to see that it did not wear off after lunch. With heavy oily food, it will definitely crumble like other normal liquid lipstick though.
My Final Thoughts on the product:
Lumiere 2 is not everyone's cup of tea. At first, I really did not like the shade, since it was not something I was comfortable with. It has this grey undertone to it which will not suit many skin tones. But, after a while, I got the jist of it. It is one of those bad-a$$ lipstick shade that will definitely make you look amazing. With my new short bob, I feel totally empowered after applying this lipstick.
One thing I have noticed is that, whenever I apply this lipstick, it does crack on my lips if I smile, and it is slightly drying on the lips. This is a bang on transfer-proof lipstick, does not budge after it is set.
Sadly, I think this was a limited edition since I cannot find this lipstick on Colourpop website anymore. Overall, this lipstick will forever be in my heart, since this is my first ever colourpop lipstick. I do wish that Colourpop launch in India as well, but they do ship internationally. Colorpop is cruelty-free.  They provide free international shipping if you order above $50
ALSO READ: ADS PRO Matte Me Ultra Smooth Lip Cream – 409 Rose Blossom REVIEW
Colourpop Lumiere 2 Dupe:
Colourpop Lumiere 2 is no longer available. So, I've found the perfect dupe. It's Gerard Cosmetics Hydra Matte Liquid Lipstick in "Cher"
PROS:
Unique Shade
Very pigmented
Thin and creamy formula
Smooth & even application
Long lasting
Transfer-proof
Cute packaging
Can identify the color through packaging
Colourpopcruelty-free
CONS:
cracks on lips if you smile
can be slightly drying
RATINGS: 4.5/5
P.S, the best time to buy ColourPop from India is during their birthday sale, be it from their website or through an Instagram page.Like it? Pin It!