As a resident of a humid city, I am always on the lookout for lightweight body lotions that protect my dry skin while not making me a melting mess. I knew I had to try the Vaseline Sun Protect & Calming SPF 30 Body Serum Lotion after seeing an ad for it on Instagram. It comes in SPF 30 and SPF 15 spray versions, as well as a Bright & Calming Body Serum Spray version.
About The Product & Claims
Designed for Indian Summers
1st ever mattifying Serum Lotions
SPF 30 PA++ for Harsh Summers
Protects skin from sun
Reduces Tan Lines in just 7 days
Non Sticky & Matte Look
No White Cast
Price: Rs. 449 for 180ml | BUY HERE
Ingredients: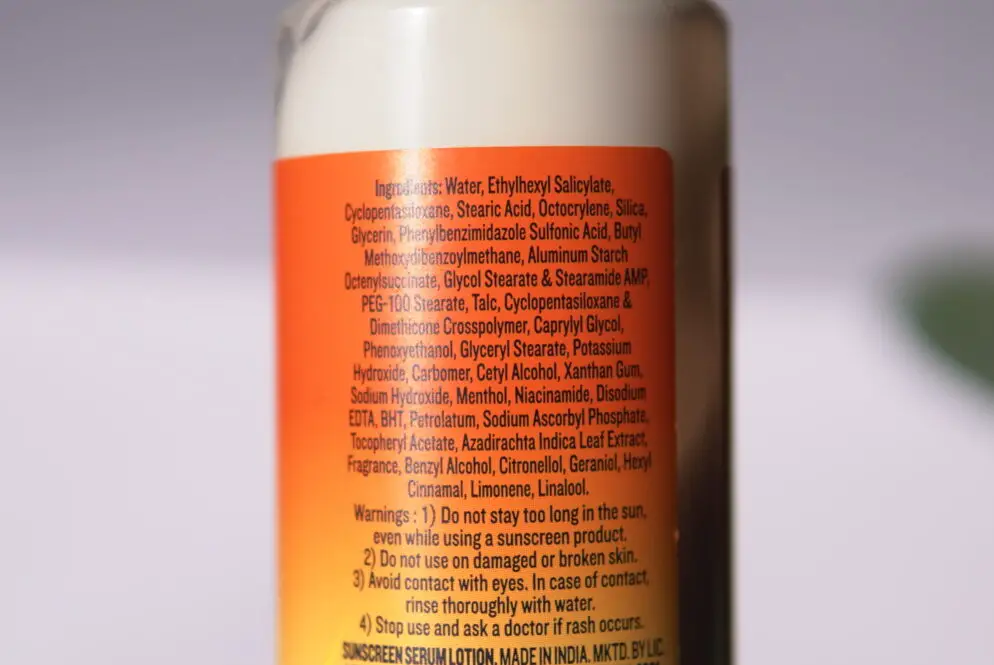 It contains 4 sunscreen filters:
Ethylhexyl Salicylate: It is a UVB (280-320nm) sunscreen filter with a peak absorbance at 306 nm. It is also known as Octyl Salicylate or Octisalate. It is always used in conjunction with other sunscreen ingredients to boost SPF and solubilize other solid UV filters.
Octocrylene: With a peak absorption of 304 nm, this oil-soluble chemical sunscreen agent protects skin from UVB and some UVA II rays. Its protection is insufficient on its own, but it is quite photostable (loses 10% of SPF protection in 95 minutes) and is frequently used to stabilise other photo-unstable UV filters, such as Avobenzone. It is also frequently used to improve product water resistance.
Phenylbenzimidazole Sulfonic Acid: It is a chemical sunscreen agent that provides strong UVB (280-320nm) protection with a peak protection at 306 nm. It is also known as Ensulizole. Its unique property is that, unlike most sunscreen agents, it is water-soluble rather than oil-soluble, making it ideal for creating light, oily skin-compatible formulas. It is also fairly photostable and can be used to protect other less stable UV filters in the formula, such as the well-known UVA blocker avobenzone. 
Butyl Methoxydibenzoylmethane: Avobenzone is a chemical sunscreen agent that provides adequate UVA protection. It protects against UVA at a wavelength range of 310-400 nm (UVA1 and UVA2), with a peak protection at 360 nm [Source]
Apart from sunscreen filters, it's enriched with Glycerine, Niacinamide, Vitamin E, Sodium Ascorbyl Phosphate (a form of Vitamin C). It also has a lot of humectants and emollients, so it's very nourishing on the skin.
The Vaseline Sun Protect & Calming SPF 30 Body Serum Lotion also contains Menthol (which explains the cooling sensation) and a wide range of essential oils, which I don't mind using on my body. I'd like to request that you should not use it on your face; it's intended for your body.
How's the Packaging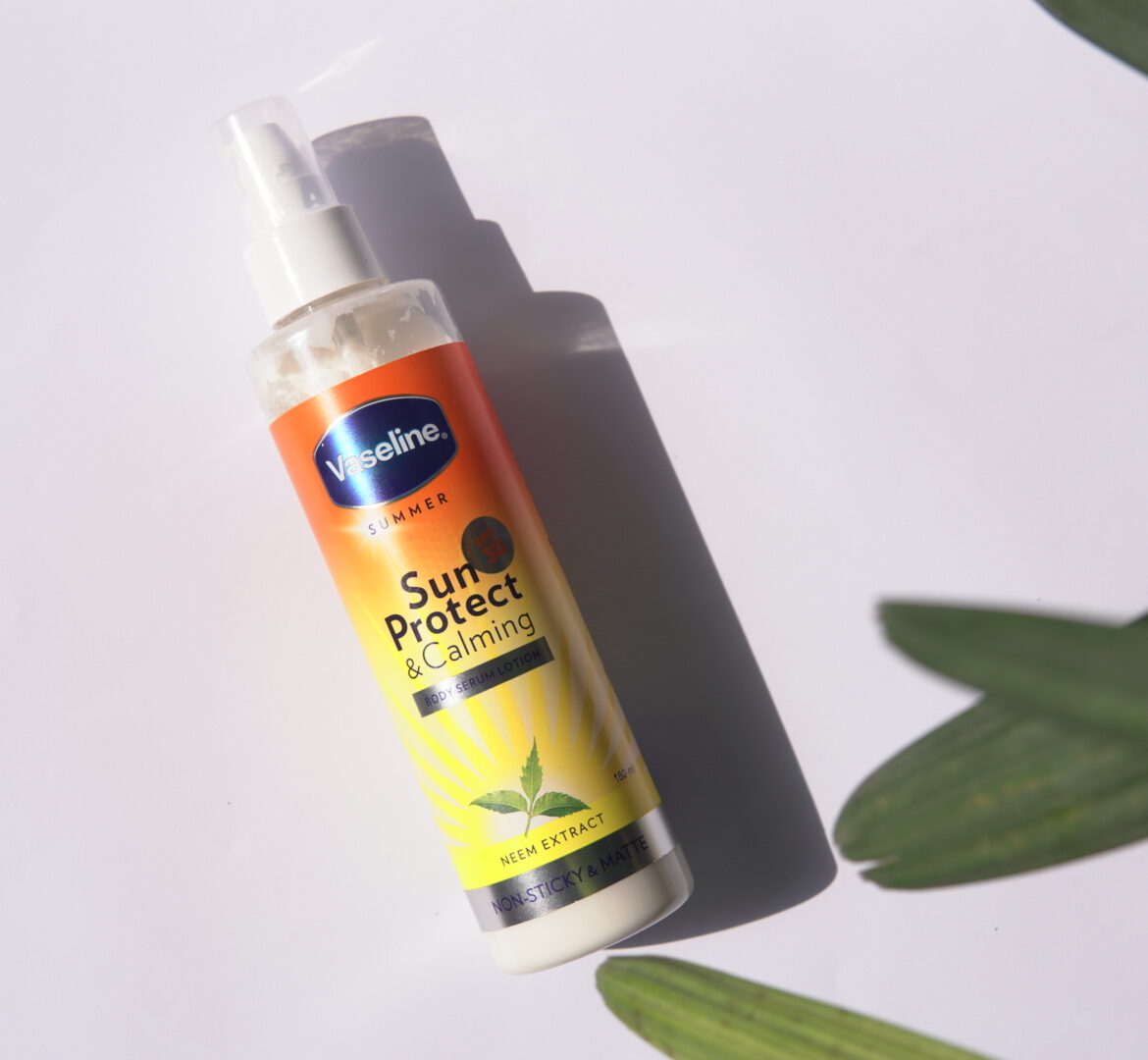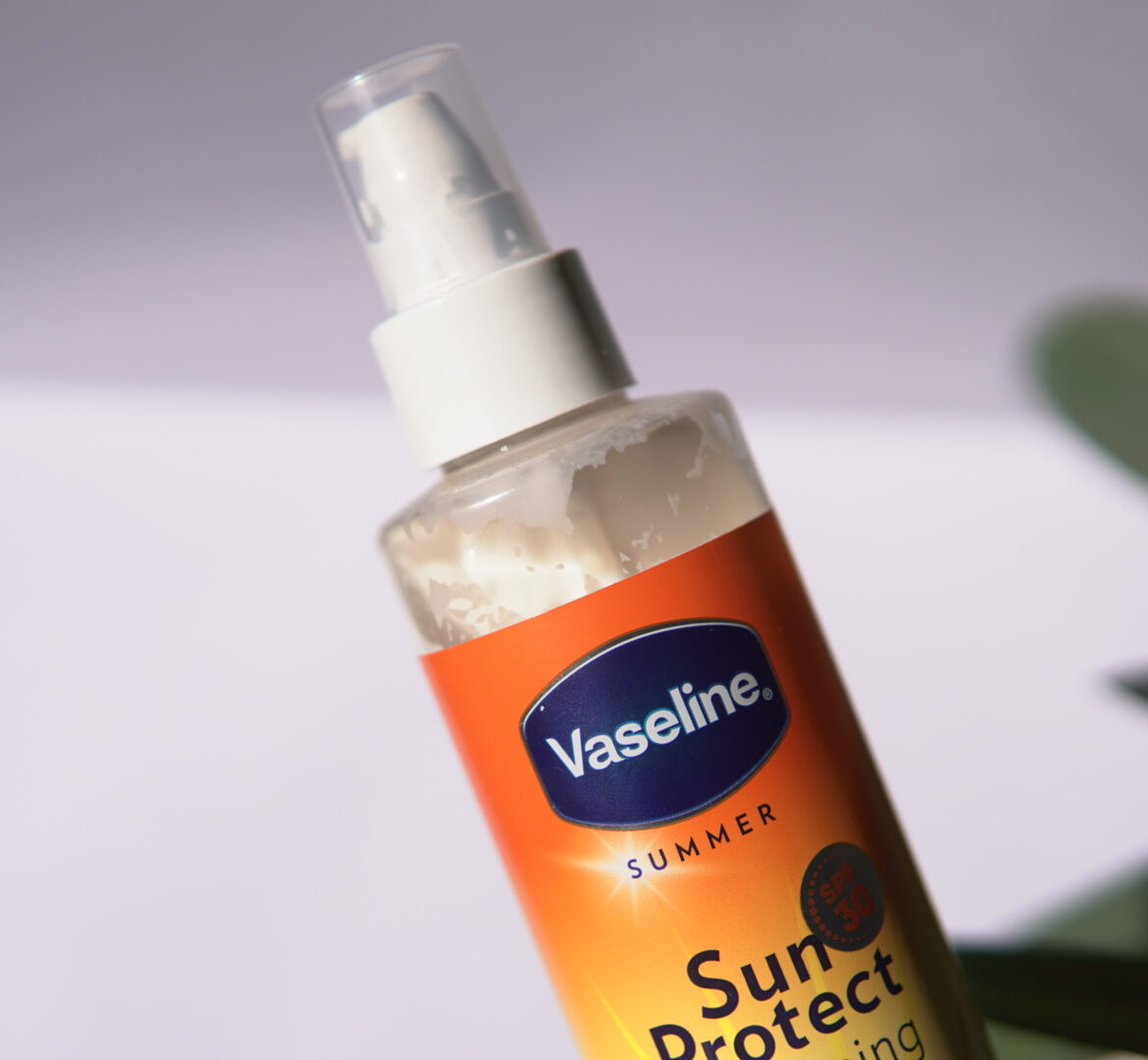 The Vaseline Sun Protect Serum Lotion comes in a cylindrical plastic bottle with a white pump. I bought my one from Nykaa, so it was sealed with a few cello tapes on the pump and packaged in perforated paper packaging. It did not leak while in transit. The cap is quite sturdy so it won't be a problem while travelling. It's travel friendly 🙂
All the necessary information, like the ingredient lists, manufacturer name, etc were mentioned on the bottle so you don't have to worry about it.
I did not face any issues while dispensing the product, but the first time, I had to press on the pumper almost 10 times to dispense the vaseline body serum lotion.
It's a 180ml bottle, so I really wish the brand comes up with a 300 or 400ml bottle soon because the serum lotion might get over soon.
Texture, Consistency & Fragrance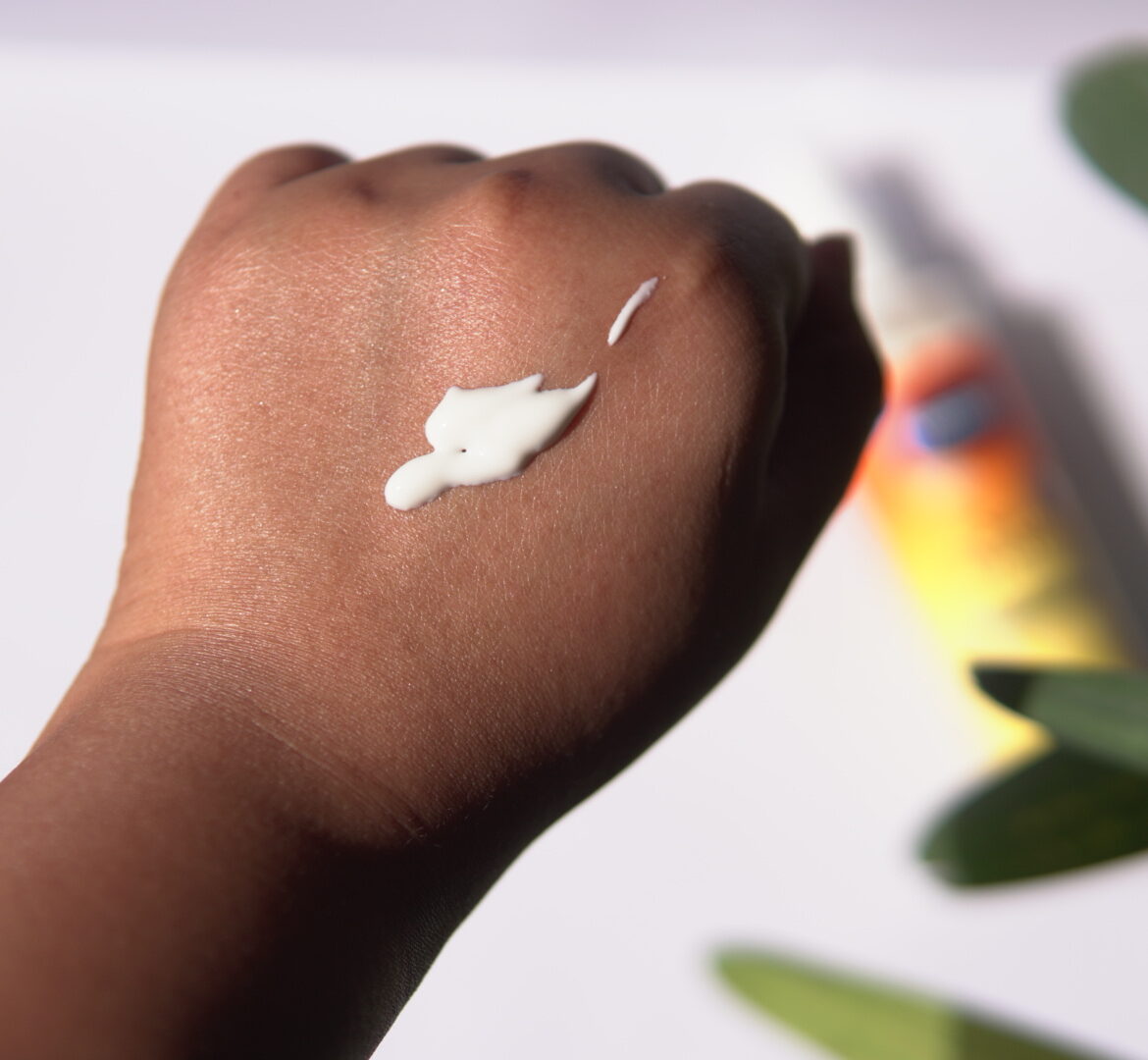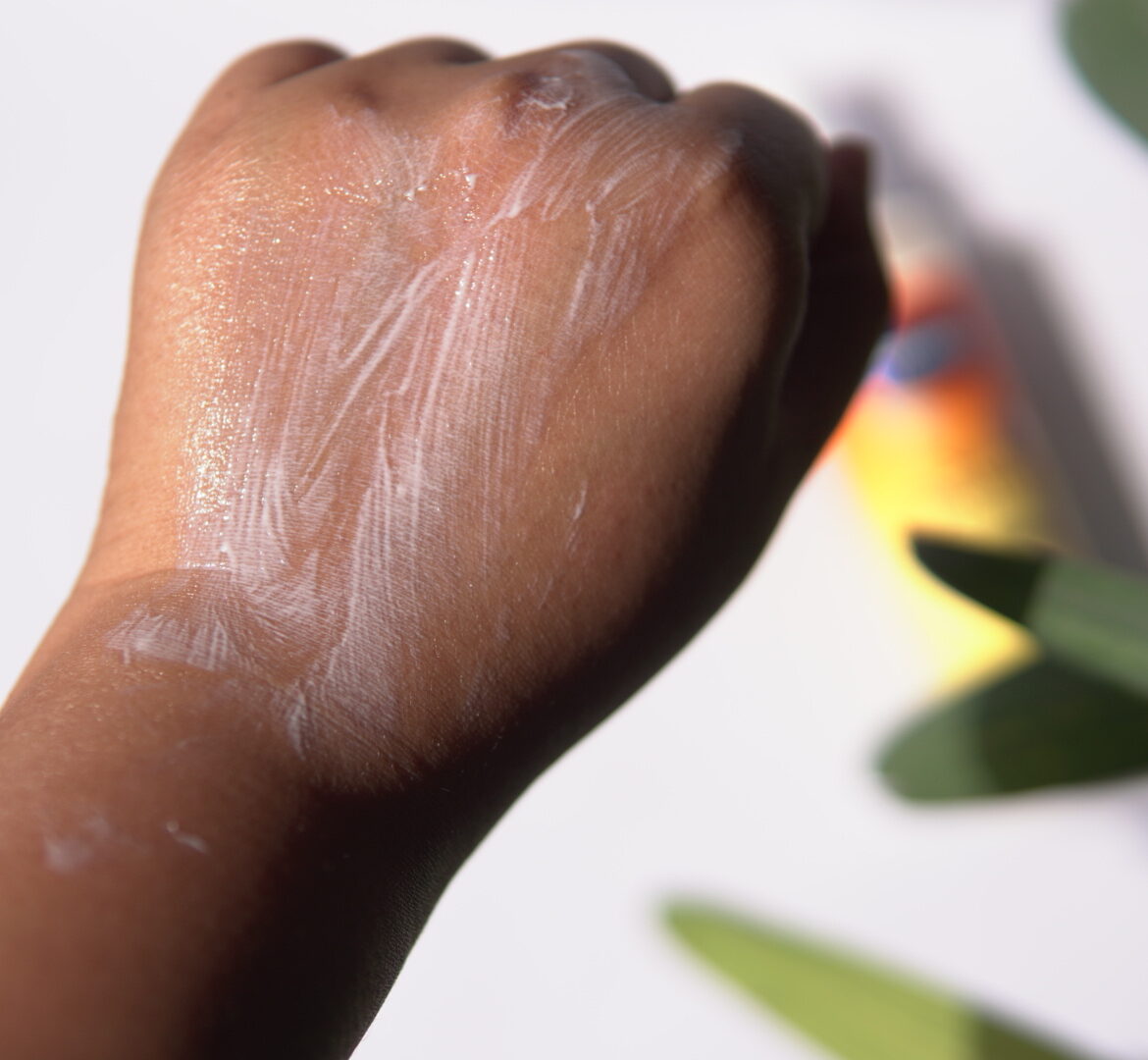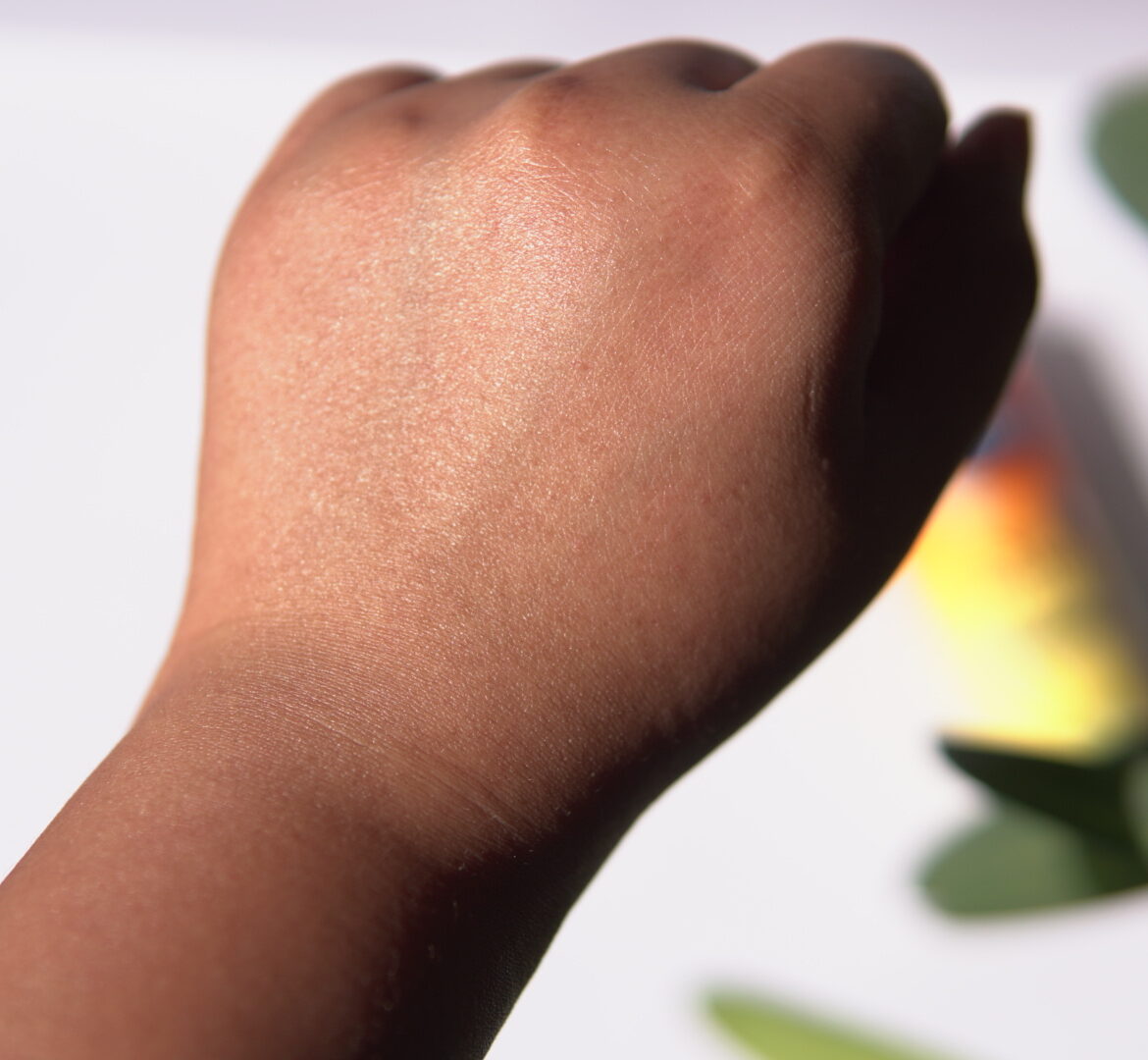 The texture of this Vaseline Sun Protect Calming SPF 30 PA++ Body Serum Lotion is very lightweight lotion-like which gives a cooling sensation once blended. It gets absorbed into the skin instantly. It does not have a runny consistency, rather it stays wherever you dispense the product.
It has a light fragrance that lingers on when applied. But after 2 hours, I could not smell the fragrance. It's not something that's very strong, just a signature Vaseline body lotion fragrance.
My Final Thoughts On The Product
First of all, the Vaseline Sun Protect & Calming SPF 30 Body Serum is truly designed for Indian Summer. It's super lightweight and gives this cooling sensation, which is perfect for hot and humid summers. It nourishes the skin perfectly without any white cast. It contains SPF 30 PA++ which is great, but don't stay under the sun for a long period.
It's a bit pricier than their other body lotions. But if you get a discount of 15-20% then go ahead and buy it.
The serum lotion gets absorbed quickly and dries into a Demi-matte finish. Its hydrating and will be enough for summers but for winters or drier season, you'll definitely need an extra layer of moisturization.
If you have irritated skin or cuts on your body, don't use it as it might sting due to the presence of essential oils. Overall, it's a great body sunscreen with SPF 30 PA++.
I just hope the brand comes up with a bigger bottle, probably 400ml with the same formula but with SPF 30 PA++++.
Read More:
The Review
Vaseline Sun Protect & Calming SPF 30 PA++ Body Serum Lotion
PROS
Contains SPF 30 PA++
Very lightweight
Absorbs and Blends Easily
No white cast
Contains 4 sunscreen filters that provide adequate sun protection
Great for hot and humid climatic condition
Non Sticky finish
CONS
Contains a lot of essential oils that might irritate sensitive skin
A bit pricey for the quantity provided
Review Breakdown
Blendability

Protection

Packaging