Loreal Paris Rouge Signature Matte Liquid Lipstick Review – I Lead, I Explore
L'oreal Paris Rouge Signature Matte Liquid Lipstick is an ultra-lightweight liquid lipstick which is a hybrid between a liquid lipstick and lip stain. I'm reviewing the shades 129 I Lead and 116 I Explore.
Note: These are known as L'oreal Rouge Signature Matte Lip Ink in the western countries
Features:
Unique Oil-in-water formula
No flaking
No Smudging
No Drying out
Price: Rs. 650 for 7ml
Buy Here: Amazon, Flipkart, Nykaa
Loreal Paris Rouge Signature Matte Liquid Lipstick Review
Packaging: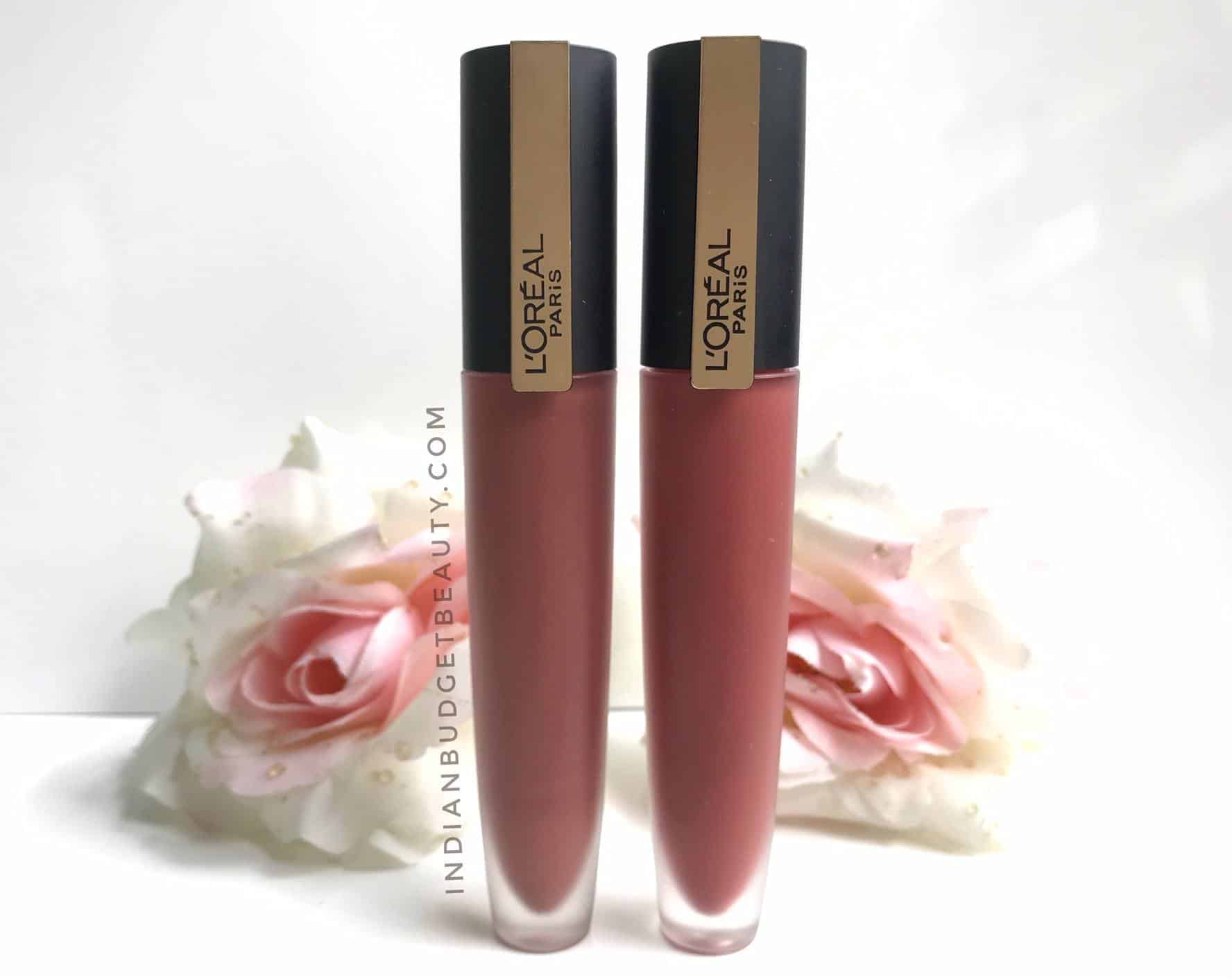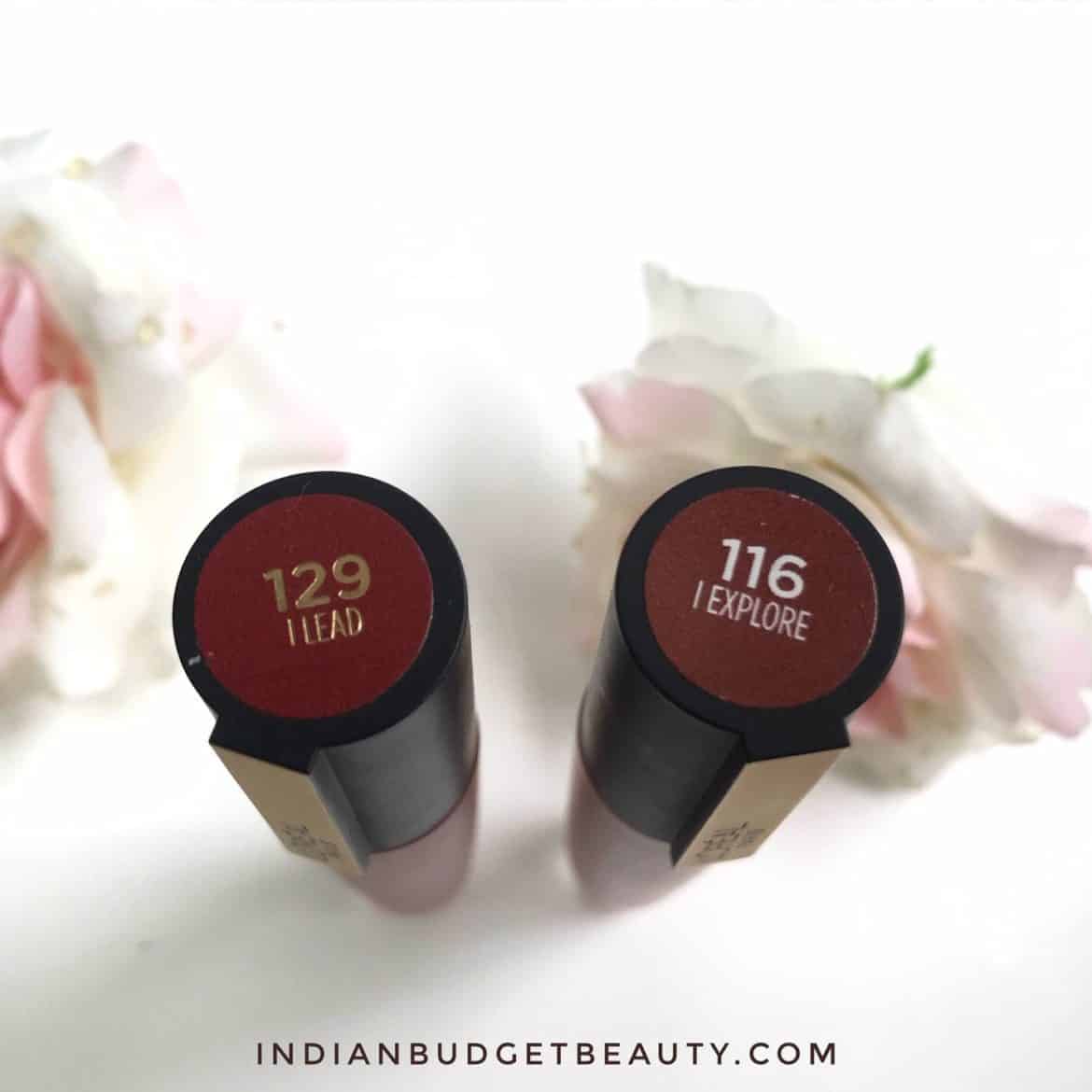 These liquid lipsticks come in frosty glass tubes with a black wand cap. The loreal Paris logo is engraved in gold hardware that closes with a 'click' sound. I found the packaging to be of good quality and does not look cheap at all. These lipsticks even fell on the ground a multiple times but never did they break, so I'd categorize theme as travel friendly.
The Unique Tear Shaped Wand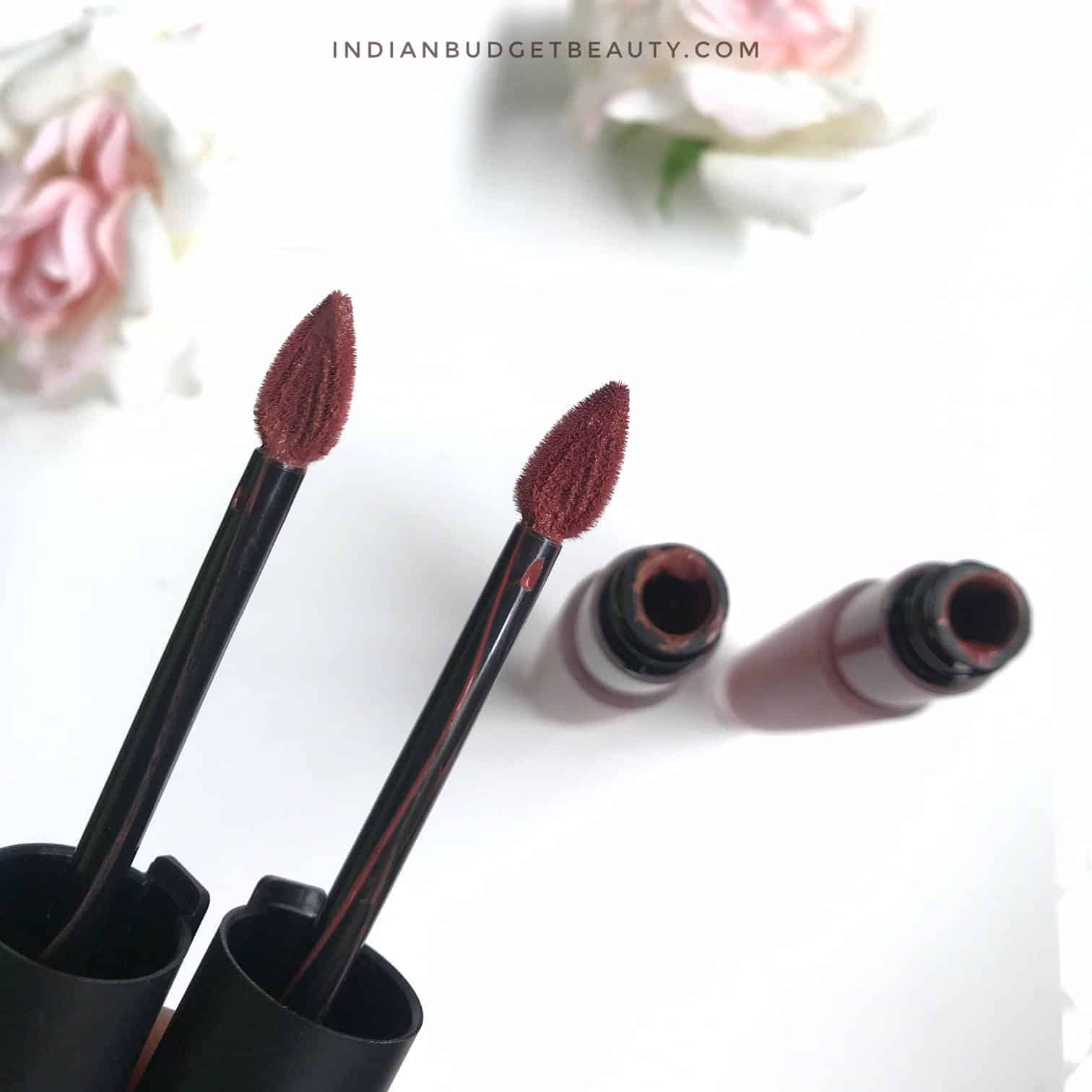 Its unique tear-shaped flexible wand helps with applying the lipstick with great precision and flexibility. The wand is designed in such a way that it's flat and flexible with a pointy head. So, whenever you apply the lipstick, the pointy end reaches the corners of your lips and helps in easy application.
Formula & Consistency:
The best part of these Loreal Rouge Signature Lipsticks is their ultra light-weight formula. It's so light that you don't even feel like you are wearing lipstick. But I'd prefer it if Loreal India would have kept the name as the Rouge Signature Matte Ink instead of Rouge Signature Liquid Lipstick.
I feel like the formula is a hybrid between a liquid lipstick and a lip stain. It has a water-like consistency. It is opaque than a lip stain but not as opaque as to how a liquid lipstick should be. The formula is very thin. It does not flake or smudge.
L'oreal Rouge Signature Shades:
In India, they are available in 13 Shades:
L'oreal Rouge signature swatches: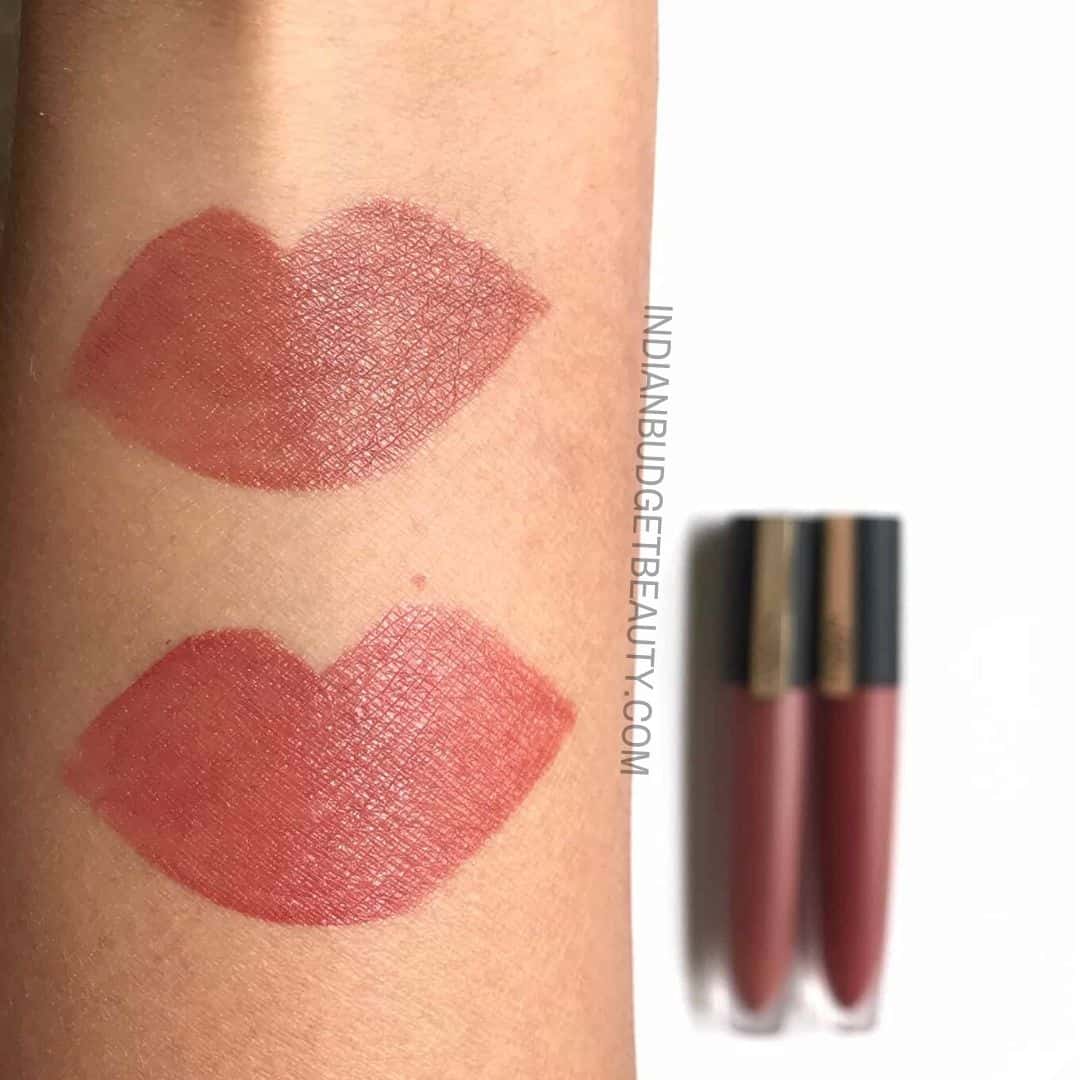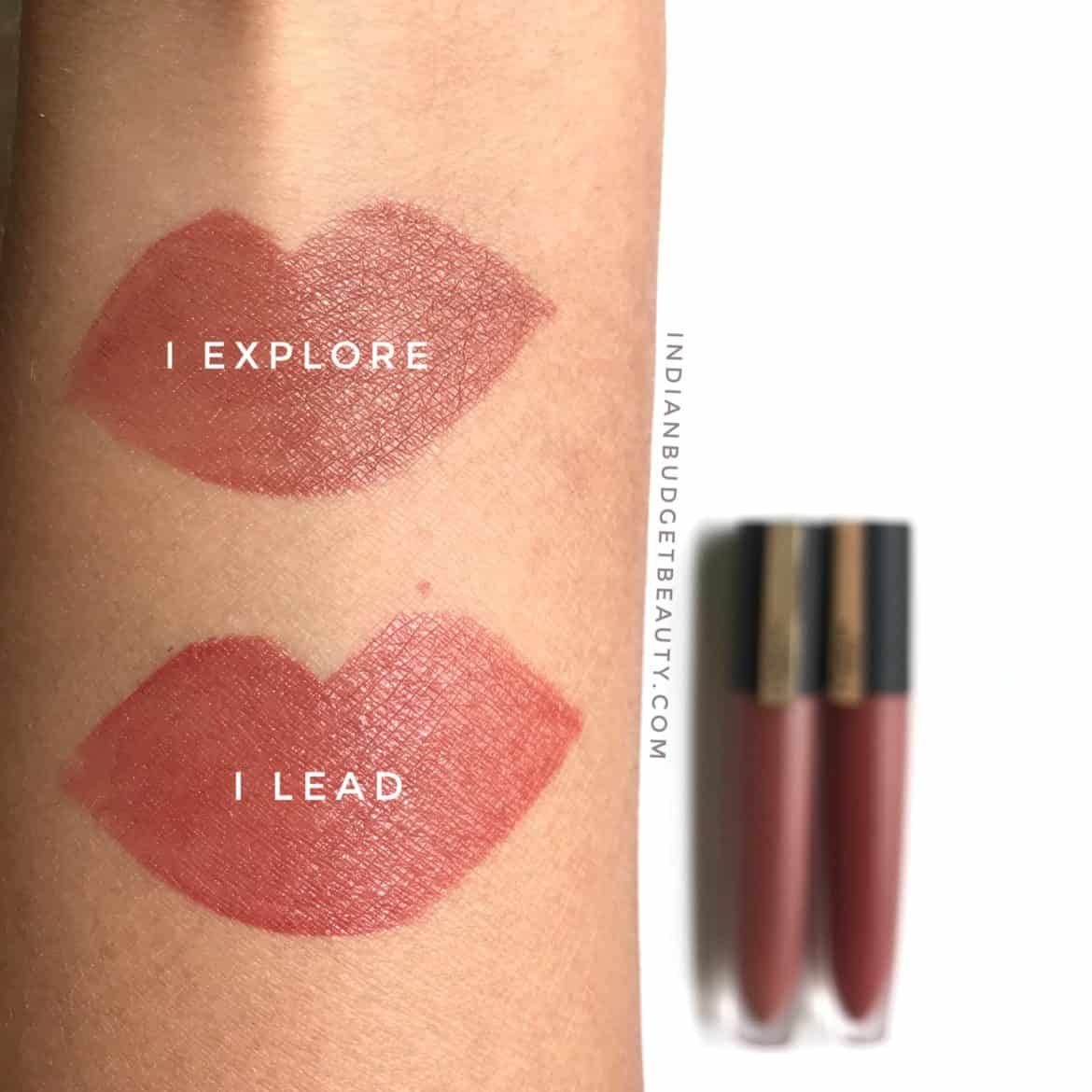 Loreal Rouge Signature I Lead 126
129 I Lead is a terracotta red color which will suit all skin tones. It is the perfect summer shade to pair up
Loreal Rouge Signature 116 I Explore
126 I Explore is a browny nude shade which is totally the perfect MLBB shade for my skin tone. It will suit fair to medium-dark skin tones.
My Final Thoughts
These lipsticks have a beautiful light-weight formula that almost feels like water. It gives a cooling sensation while applying. I totally enjoyed wearing them during the dry winters and they did not dry my lips at all. These lipsticks dry down to a comfortable matte finish which has a thin texture like a stain.
They won't give you an opaque finish in one swipe because they are meant to be like ink. You definitely need two swipes for an opaque finish, but I'm not complaining at all. You can build up the coverage by applying 2 coats. I prefer 1 coat for daily wear and 2 coats when I'm going out somewhere special.
I found these Loreal Paris Rouge Signature Matte Liquid Lipsticks to be smudge-proof and transfer-proof after it settles down. It never flaked my lips even when I did not apply any lip balm underneath. I'd like to mention that they do take a while in settling down.
But they don't stay that long in the lips, especially I Explore, lasts for almost 4-5 hours. They don't last an oily meal. The darker shades like I Lead do stay more than the lighter shades. You cannot expect them to stay long like Maybelline Super Stay Matte Ink.
I found these L'oreal Paris Rouge Signature Lipsticks to be of high quality, just like high-end lipsticks like Sigma Beauty Creme De Couture Liquid Lipstick. I'd also like to mention that the packaging is very classy and beautiful. I don't have any complaints regarding this lipstick. I enjoy it way too much.
Pros:
Very light-weight beautiful formula
Do not dry down your lips
Extremely comfortable to wear
Smudge-proof
Unique wand for better application
Beautiful packaging
Easily available
Decently priced
Cons:
Not long-lasting
Takes a while in settling down.
Final Verdict: I absolutely love these lipsticks and would highly recommend you guys to purchase them. They won't let you down. They have a beautiful formula which is great for everyday usage or even for party wear.
Also Read:
Loreal Voluminous Lash Paradise Review 
L'oreal Paris Brow Artist Pomade Review
L'Oreal Paris 'Pink a porter' Color Riche Matte Lipstick
14 Best Primers In India Under Rs.1000
Five Drugstore Makeup Dupes Under Rs.799