Wishcare Invisible Gel Sunscreen DEALS
Recently everybody was talking about the Wishcare Invisible Gel Sunscreen SPF 50+ PA++++. It claims to give an invisible finish that is skinlike, gives no white cast, and is easy to blend. I've put this on the test to see whether it's really THAT good. Read more to know more 😉
Is Wishcare a Good Brand?
When the brand approached me about a collaboration, I was unsure if I would enjoy their products. However, they proved me wrong, as I've enjoyed every product I've tried from them. They are one of those hidden, underrated brands that needed a social media boost, and I'm so glad I discovered them. They are a Kolkata-based, 2015-launched brand that develops products using Non-Toxic Ingredients. They are cruelty-free, have a 'sustainable empties return' program, and deal with a range of products from the body, skincare, and hair care to wellness.
Price: Rs.550 for 50gm
Where To Buy: Wishcare (TRISHNA for 15% Off), Nykaa, Amazon
Wishcare Invisible Gel Sunscreen Ingredients:
Aqua, Propylene Glycol, Octocrylene, Octyl Salicylate, Squalane, Glycerine, C-12-15 Alkyl Benzoate, Tinosorb M, Tinosorb S, Sunflower (Fractionated /Extracts), Coconut (Fractionated /Extracts), Shea Butter, Cocoa Butter, Raspberry Fruit, Hydroxyethyl Cellulose, Disodium EDTA, Zinc Oxide, Titanium Dioxide, Hyaluronic Acid, Potassium, Sorbate, Sodium Benzoate, Green Tea, Phenoxyethanol, Ethylhexyl Glycerine.
It has SPF 50 PA++++ that provides broad-spectrum protection. It contains physical sunscreen agents like Zinc Oxide and Titanium Dioxide and for chemical filters, it contains Tinosorb M, Tinosorb S, Octocrylene, and Ethylhexyl Salicylate.
Tinosorb M: It is a new generation UV filter, which is hybrid in nature. It is organic like the chemical agents, but it is neither water nor oil soluble and works as a suspension of micro-fine particles. It gives broad-spectrum coverage, is highly photostable, and also helps to stabilize other less stable sunscreens.
Tinosorb S: Also known as Bis-Ethylhexyloxyphenol Methoxyphenyl Triazine, Tinosorb S is a broad-spectrum chemical sunscreen agent with peak protections at about 310 and 345 nm. It's very photostable and hardly deteriorates in the presence of UV light. It also acts as a stabilizer for other less stable sunscreen agents.
Octocrylene: It is an oil-soluble chemical sunscreen agent that protects skin in the UVB and somewhat in the UVA II range with a peak absorption of 304 nm.
Ethylhexyl Salicylate: Also known as Octisalate, works as a UVB sunscreen filter with a peak absorbance at 306 nm.
It also contains other great ingredients like 1% hyaluronic acid, Green Tea, squalane, and shea butter which makes it hydrating and soothing for the skin.
Packaging: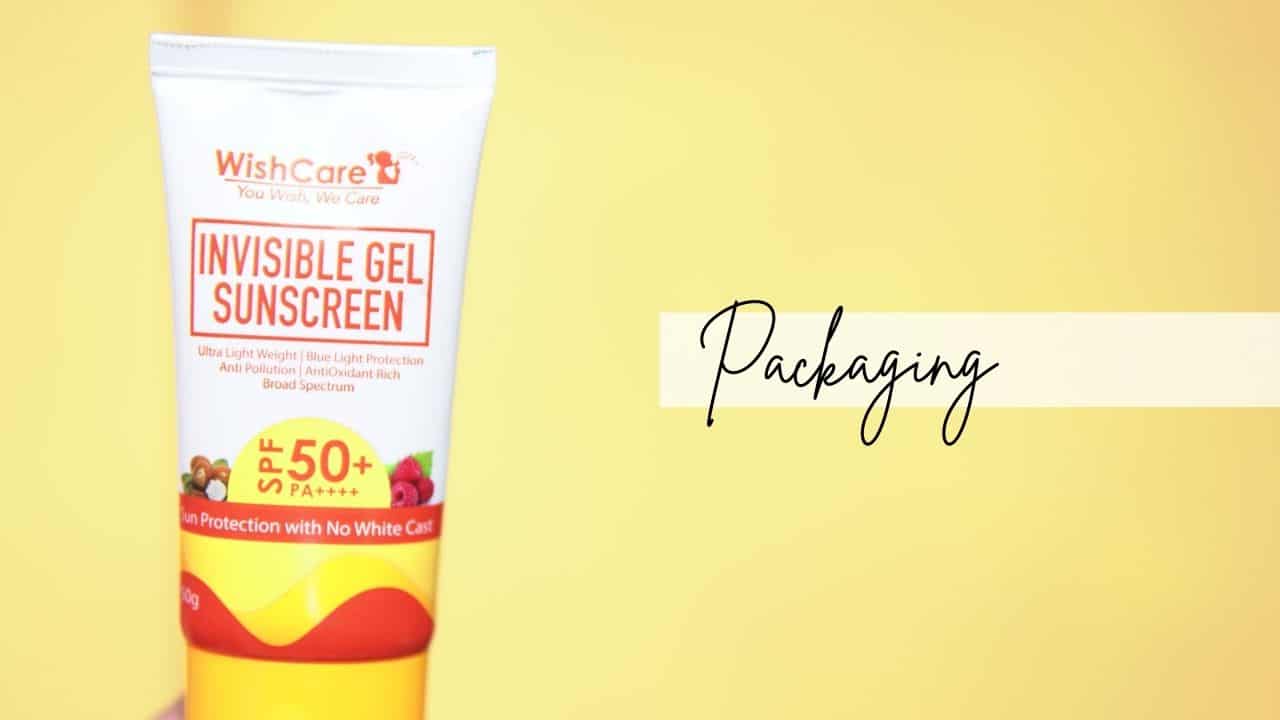 The Wishcare Invisible Gel Sunscreen comes in a flat tube packaging with an outer cardboard box. It contains all the necessary information on the tube. Make sure to check if the manufacturing date is in April and not March because their March batch had some issues with the formula.
Texture & Consistency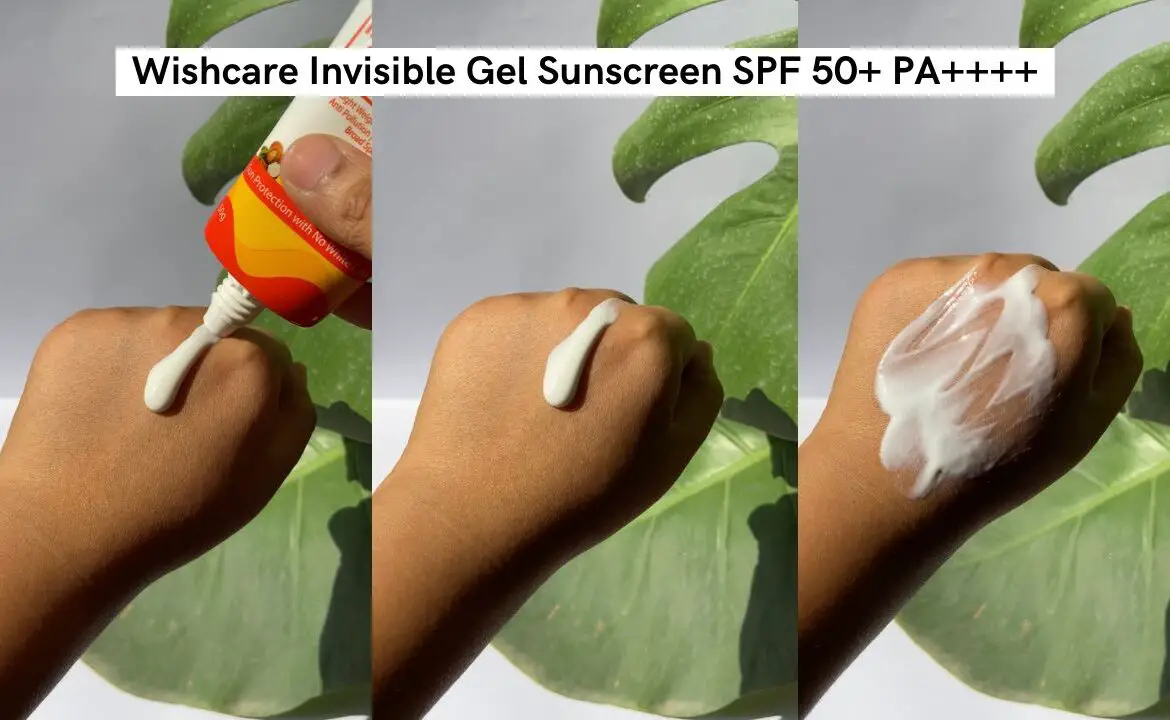 WishCare Invisible Gel Sunscreen comes with a unique milky gel-like texture that disappears onto the skin in a few seconds upon application. It has a lotion-like consistency that's very lightweight on the skin.
Does It Have Added Fragrance?
It does not have any added fragrance but it does have a faint hint of jasmine scent. Their previous March batches had a strong jasmine scent but the newer re-formulated batch has a faint smell of jasmine. It does not irritate the skin at all. But if you are not a big fan of jasmine scent, then you may re-think about buying this sunscreen.
My Final Verdict on the WishCare Invisible Gel Sunscreen
WishCare Invisible Gel Sunscreen SPF 50 is a multitasker sunscreen you would love to wear 365 days. It's hybrid sunscreen so it contains both physical and chemical sunscreen agents. It protects the skin from both UVA and UVB rays and also infrared rays. Being a high-protectant sunscreen makes it the optimal choice. The brand has also released its SPF lab test. You can check it here.
I have dry skin but I always reach out for lightweight sunscreens that have a non-greasy formula. So this Wishcare Invisible Gel Sunscreen makes the application truly enjoyable. I love that it blends into an invisible skin-like finish. There's no white cast, so it's brown skin girl friendly!
I use the 3-finger method for all sunscreen applications and it gives a non-greasy finish which makes it suitable for all skin types in all weather conditions. It also contains other great ingredients like 1% hyaluronic acid, squalane, and shea butter which makes it quite hydrating. It also contains soothing anti-oxidant-rich ingredients like Green Tea and Goji berry which makes it the perfect option for hot and humid summers.
I found this sunscreen very easy to reapply. All you need to do is apply with a tapping motion or blend it with a beauty sponge. I even tried it on top of makeup and it applied excellently, but be careful not to rub it in or you might end up pilling your makeup.
It does have a faint smell of jasmine scent which I don't mind at all. For people with sensitive skin, you might have to patch test before applying.
I have noticed that it turns milky when I'm sweating a lot. So even though it's a great sunscreen for the summers, it is not water-resistant. So it's not the ideal fit for beaches or swimming.
This sunscreen is free of harmful toxins such as OMC, Oxybenzone & Homosalates. It is 100% cruelty-free, vegan, paraben-free, sulfate-free, and mineral-oil-free. I do have to say that it is one of the best sunscreens available in the Indian market!
Also Read:
The Review
Wishcare Invisible Gel Sunscreen
PROS
Skin-like invisible finish
No white cast
Blends instantly
Very lightweight and non-greasy
Provides broad sun protection
Review Breakdown
Effect

Blendability

Reapplication