Soulflower Herbal Vitamin C Under Eye Cream With Rosehip DEALS
I'm a forgetful user in terms of under-eye cream, which explains my new dark circles due to late-night studies and of course Netflix series. This Soulflower Herbal Vitamin C Under Eye Cream With Rosehip claims to lighten and de-puff your under-eye circles. It is infused with rosehip oil, liquorice, seaweed and a lot of good ingredients. Let's see if this Soulflower Under Eye Cream can live up to the expectations!
About The Product:
This Under-eye Cream is an innovative moisturizing formula, specifically designed for the delicate skin around your eye area. Supercharged with natural active extracts of Rosehip Oil & Licorice that help in reducing the appearance of dry & dehydrated lines and Vitamin C that helps prevent & treat ultraviolet (UV)-induced photodamage. It also plays an active role in collagen synthesis along with Vitamin E that restores damage caused by free radicals. The ingredients used here are absolutely natural and melt into your under-eye skin seamlessly giving a non-greasy afterlook.
This is a Do-It-All eye cream that blends with every skin tone & skin type perfectly, with 4 in 1 benefits that renews your skin's surface around the eye area, reduces the look of dark circles, puffiness, & fine lines, provides deep moisturization, visibly increases radiance and brightens your skin tone over time and firms your skin for a youthful appearance.
This fast-absorbing, non-oily, non-greasy eye cream is light enough to even apply under your makeup as a hydrating de-puffer yet nourishing enough to help fight the look of wrinkles. It works to revive tired & puffy eyes and reduces all signs of ageing for a smooth, renewed, younger look.
Claims:
Lightens dark circles and reduces puffiness
Firms and tones the area around the eyes
Calms dry, dehydrated lines, and Reduces the appearance of crow's feet
Makes the eye area cleaner & brighter and keeps it moisturized & nourished
Slows down and prevents signs of ageing around the eye area
Improves uneven skin tone
Ingredients: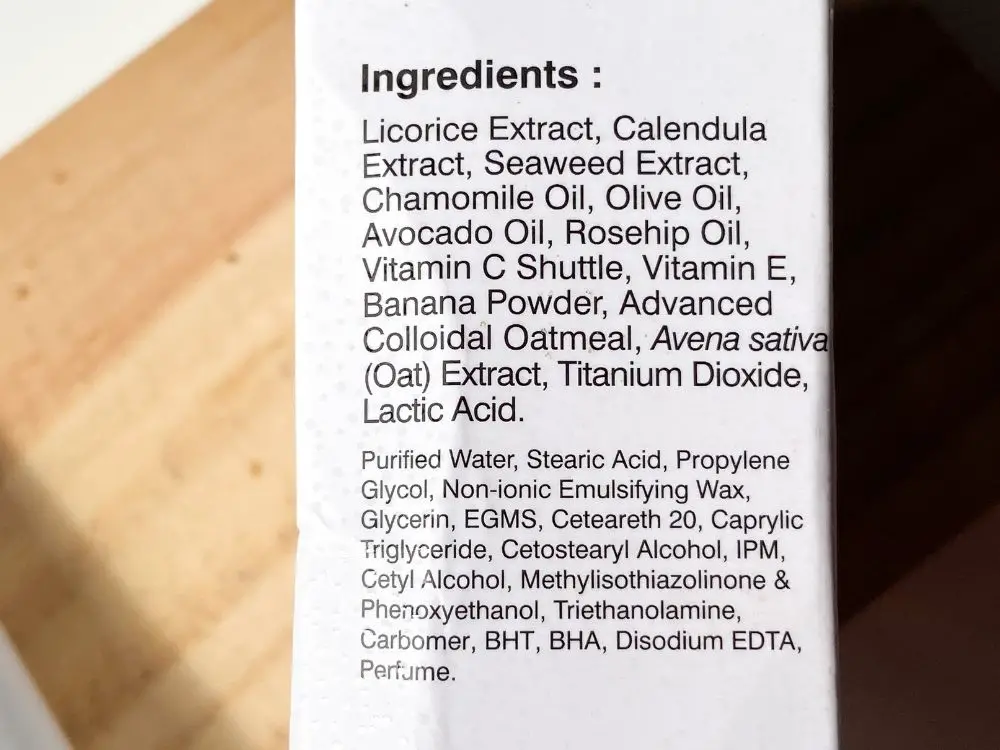 Price: Rs.450
BUY HERE [Use Code TRISHNA for 10% Off]
Packaging: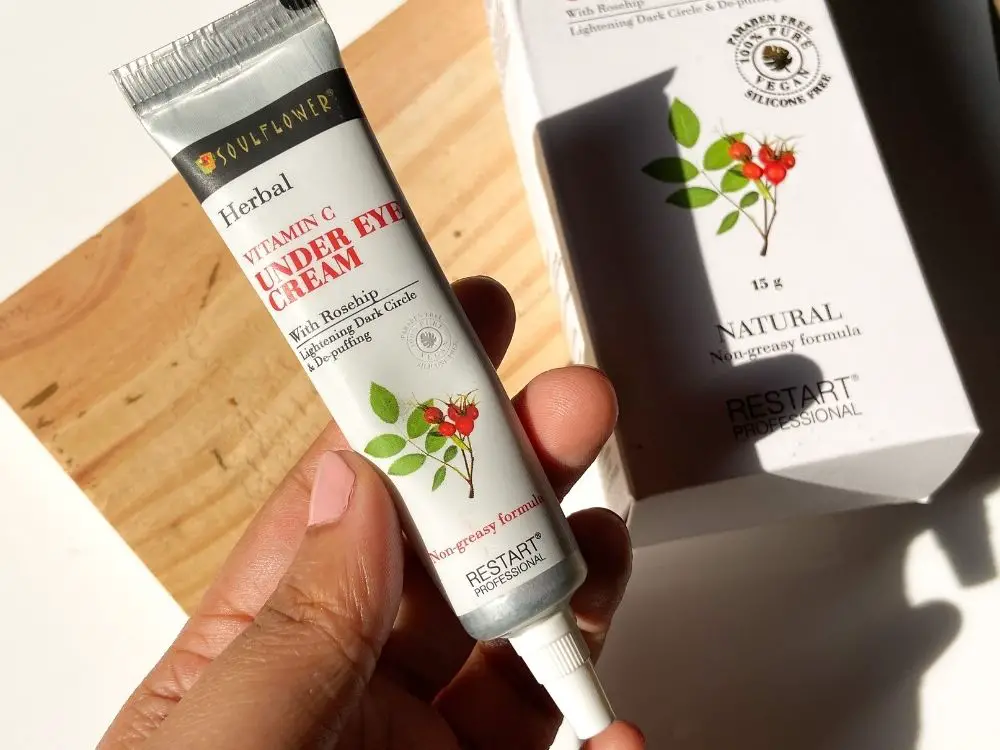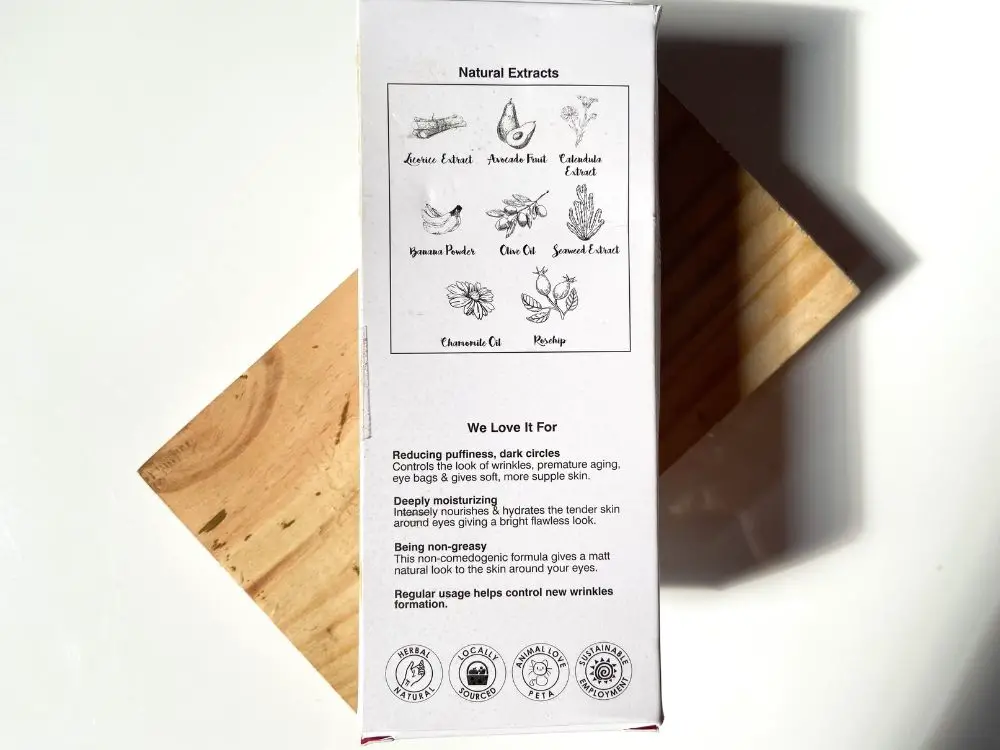 This Soulflower Herbal vitamin c under eye cream comes in a small tube with a pointy nozzle. It's quite convenient for an eye cream as the application is very precise. You get 15g of product which is quite standard for any eye cream. I loved that they have disclosed all their ingredients in the outer cardboard packaging and have all the necessary information as well.
Consistency & Texture of the Under Eye Cream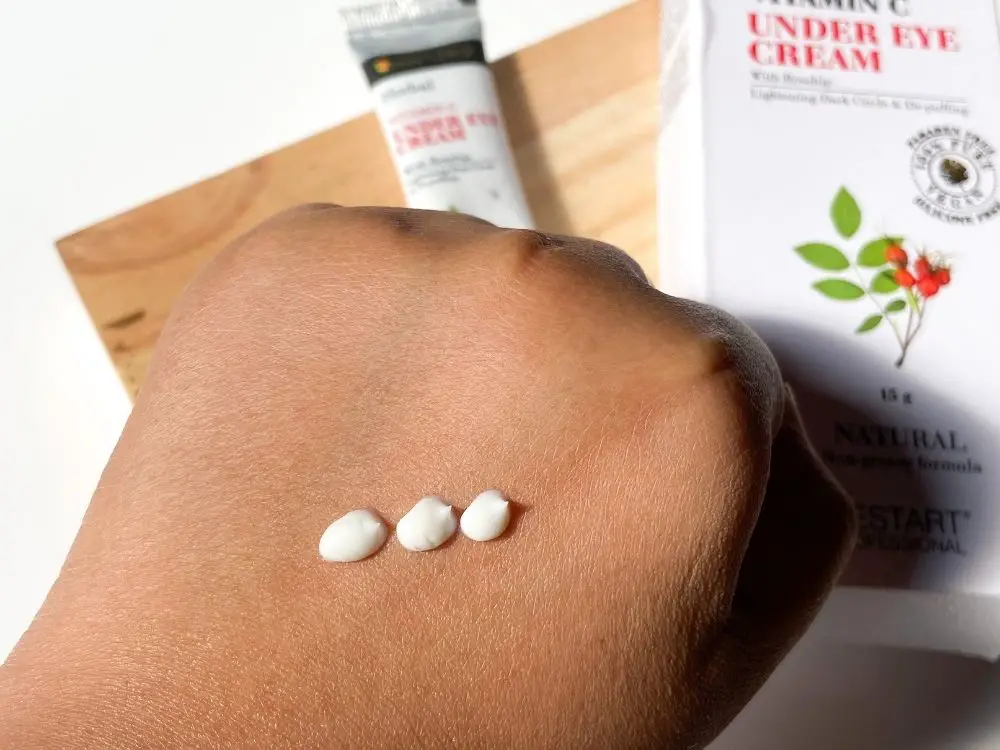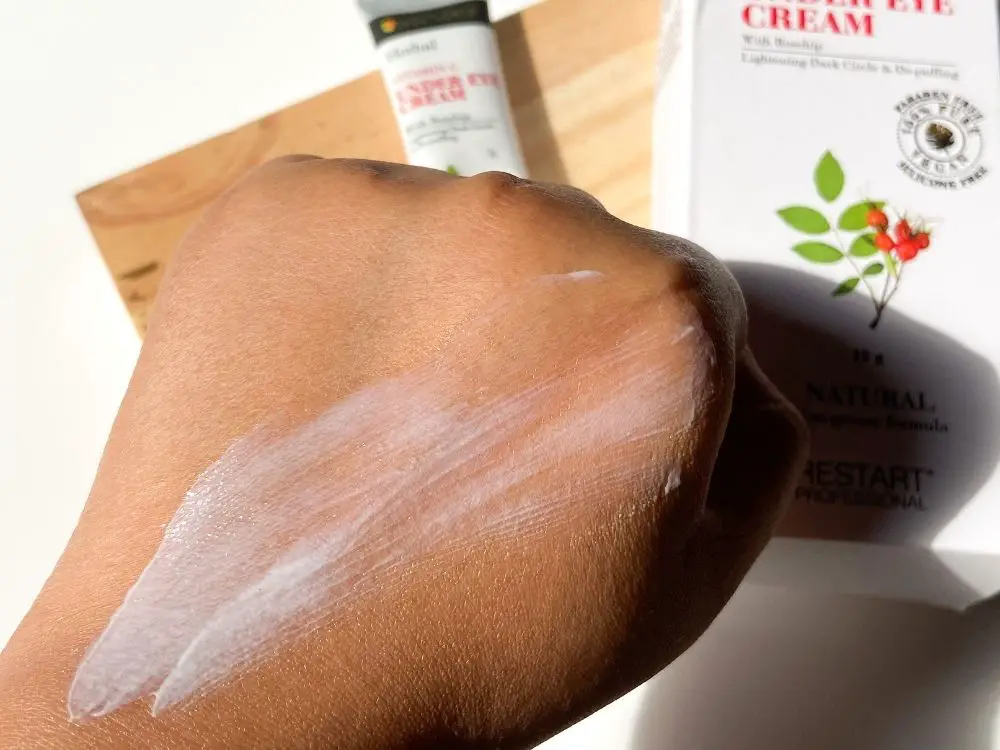 The Soulflower Herbal Vitamin C Under Eye Cream With Rosehip has a creamy consistency that is neither too thick nor thin. It has a beautiful in-between texture that gets easily absorbed into the skin. The skin around our under eyes is very delicate and this consistency is perfect for it.
You can easily blend it with your ring finger by lightly tapping it. That's how you should blend so that the product gets absorbed easily and in a gentle manner.
My Final Thoughts On The Soulflower Herbal Vitamin C Under Eye Cream
This Soulflower Under Eye Cream has a very calming and moisturizing effect. It is great if you have dry under eyes and need something that will cause less creasing after using a concealer. So I'd definitely recommend you to use it before applying your makeup. It is enriched with Licorice and a lot of antioxidants, so I did notice that my under eyes have brightened a bit and had a radiance after repeated usage.
The cream is very light-weight, non-oily and not at all greasy. It's very hydrating because it contains a lot of humectants and emollients like Seaweed extract, Propylene Glycol, Glycerine. Avocado Oil, Rosehip Oil, Oat extract, to name a few.
I don't believe a cream can fully eradicate or reduce your dark circles because of a lot of factors. First of all, dark circles can be genetic. They can be due to increased screen time or due to less sleep and insomnia. So I believe a good sleep cycle and a change in your lifestyle can definitely help you reduce your dark circles. But you can definitely see a brightened under eyes after using it for 1 or 2 months.
I don't have fine lines, wrinkles and puffy under eyes, so I cannot comment on that factor. But as the cream is very moisturizing, visible softness was seen in 2 weeks. I believe you should see a positive result after 1-2 months of repeated usage.
Also, it does contain preservatives, which is something I think all brands should have. Preservatives are good, they increase the longevity of your products, they make sure the natural ingredients are all protected!
Do I Recommend It? Yes! It's very inexpensive, always on discount and perfect for someone who needs a moisturizing and brightening under eye cream.
Related Reviews:
(Sponsored Post)
The Review
Soulflower Herbal Vitamin C Under Eye Cream With Rosehip
This under eye cream is very lightweight with a creamy texture. It absorbs quickly and helps to brighten your under eyes after repeated usage. I don't have fine lines so I cannot vouch for that claim. It does help to even out your skin tone and make it very moisturized.
PROS
Very light-weight & fast absorbing
Calms, moisturizes and hydrates the under eyes
Brightens your under eyes a little after repeated usage
Can be used under makeup to reduce creasing of concealer
Very practical packaging with good applicator
Review Breakdown
Effect

Packaging

Formulation