Soulflower Pure & Natural Kumkumadi Tailam Night Beauty Elixir DEALS
My mum has always been a fan of Kumkumadi Tailum or Kumkumadi Oils as we generally speak. I've reviewed my fair share of Kumkumadi Oils in the past and today I'll be reviewing the Soulflower Pure Natural Kumkumadi Night Beauty Elixir. These oils are like a ritual, a therapeutic experience. This Soulflower Kumkumadi Oil contains 26 pure exquisite oils and herbal extracts that are meant for repairing hyperpigmentation, treating skin discolouration and blemishes.
Price: Rs.1800 for 30 ml
Availability: Soulflower, Nykaa, Amazon
Claims:
Brightens skin complexion
Saffron gives a shining ethereal glow
Almond Oil reduces the look of fine lines and evens skin tone
Red Sandalwood reduces the look of pigmentation, dark circles, and blemishes
Rich, heavy aromatic infusion of saffron, fresh fragrant flowers & herbs
Light oil, quick absorbent, doesn't give a sticky after-feel
Ingredients:

This Soulflower Pure Natural Kumkumadi Night Beauty Elixir is the best formulated Kumkumadi Oil I've ever used. It contains:
Anti Acne/ Anti Microbial ingredients like Berberis Vulgaris Root Extract that has significant antibacterial and anti-inflammatory properties.
Antioxidants like Prunus Cerasus Fruit Extract (Sour Cherry) that helps in the reduction of age spots, Chamomilla Recutita Flower Extract that helps to binds moisture to the skin and also softens and makes the skin supple
Skin brightening agents like Glycyrrhiza Glabra Root Extract (Licorice) that is a superstar ingredient because it helps to depigment pigmented spots
Emollients like Seasame Oil, Sweet Almond Oil and Humectants like Opuntia Ficus-Indica Fruit Extract helps to keep the skin hydrated and plump.
It also contains soothing ingredients Licorice, Barberry, Saranankara.
Luxurious Packaging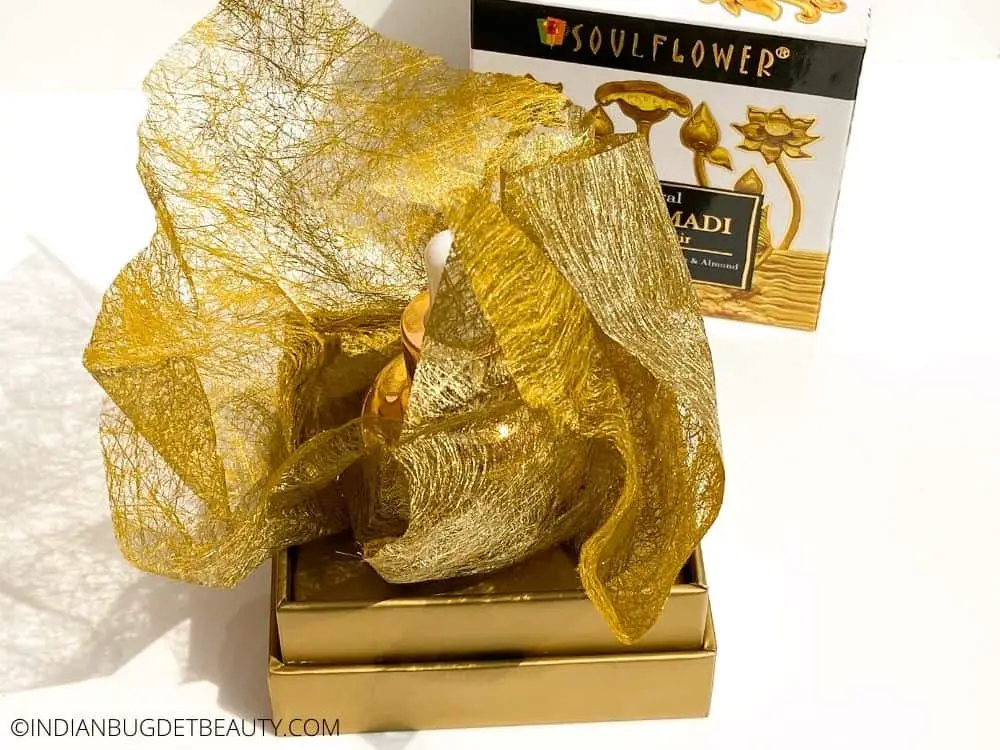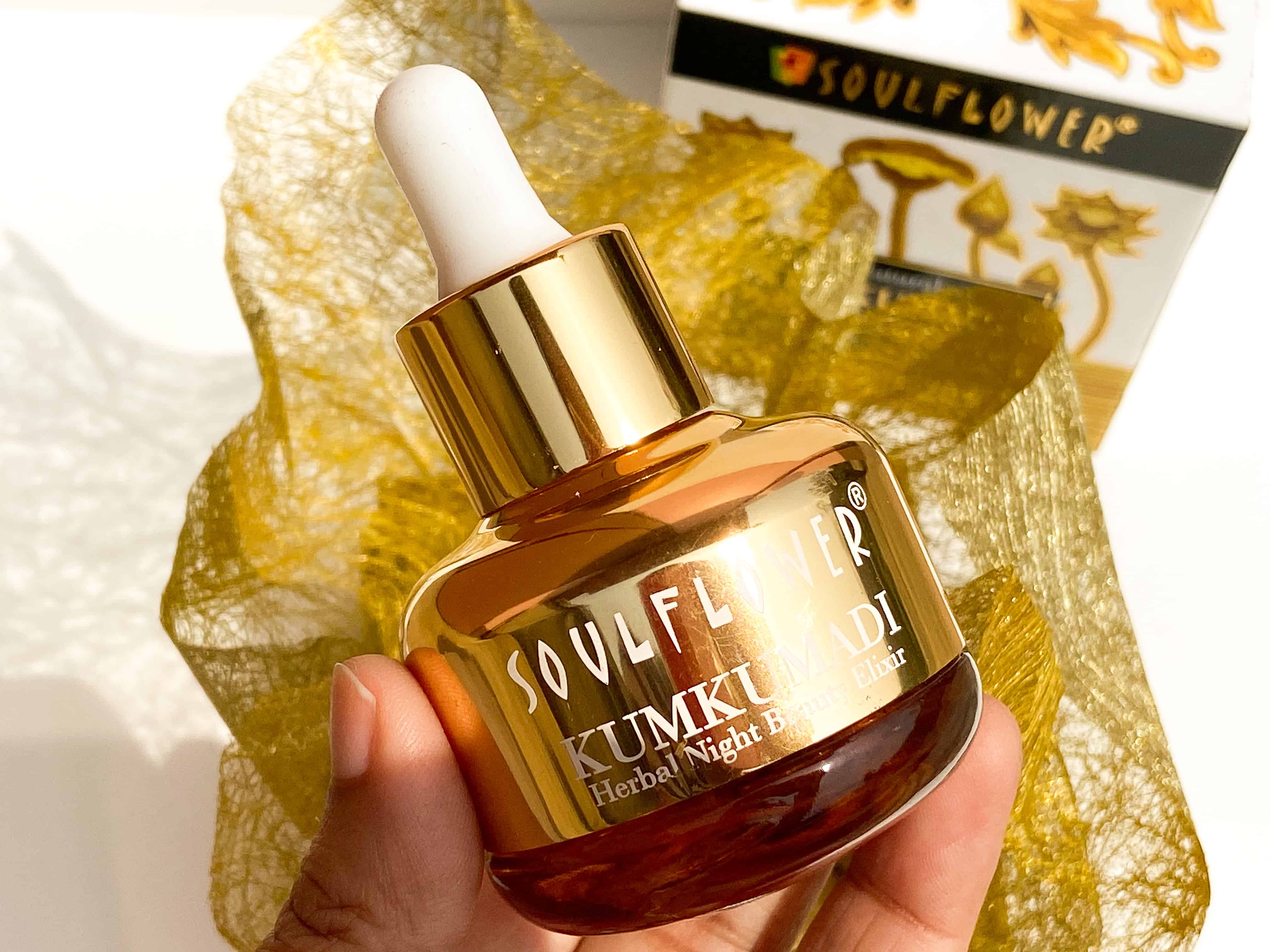 Being priced at Rs.1800, I did expect a super luxurious packaging and Soulflower lived up to the mark. The kumkumadi oil is housed in a fancy white cardboard box with golden motifs and accents. As you open the box, a mesh-like golden cloth unwraps just like you open a precious gift. You will be able to see a glass bottle with saffron shaded oil in it.
The whole experience makes it look and feel luxurious. The dropper is packed in a separate cardboard box, affixed on the upper side of the outer box. It never spilled nor leaked. The whole packaging is thoughtfully designed so that there's no spillage or product wastage while travelling.
Consistency, Color & Fragrance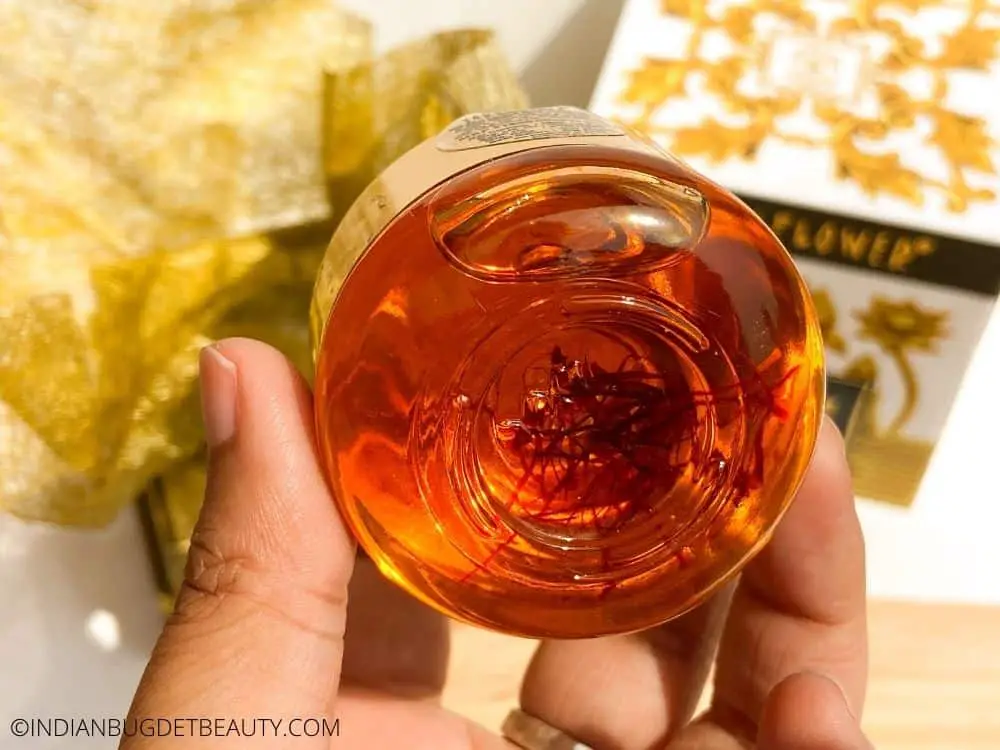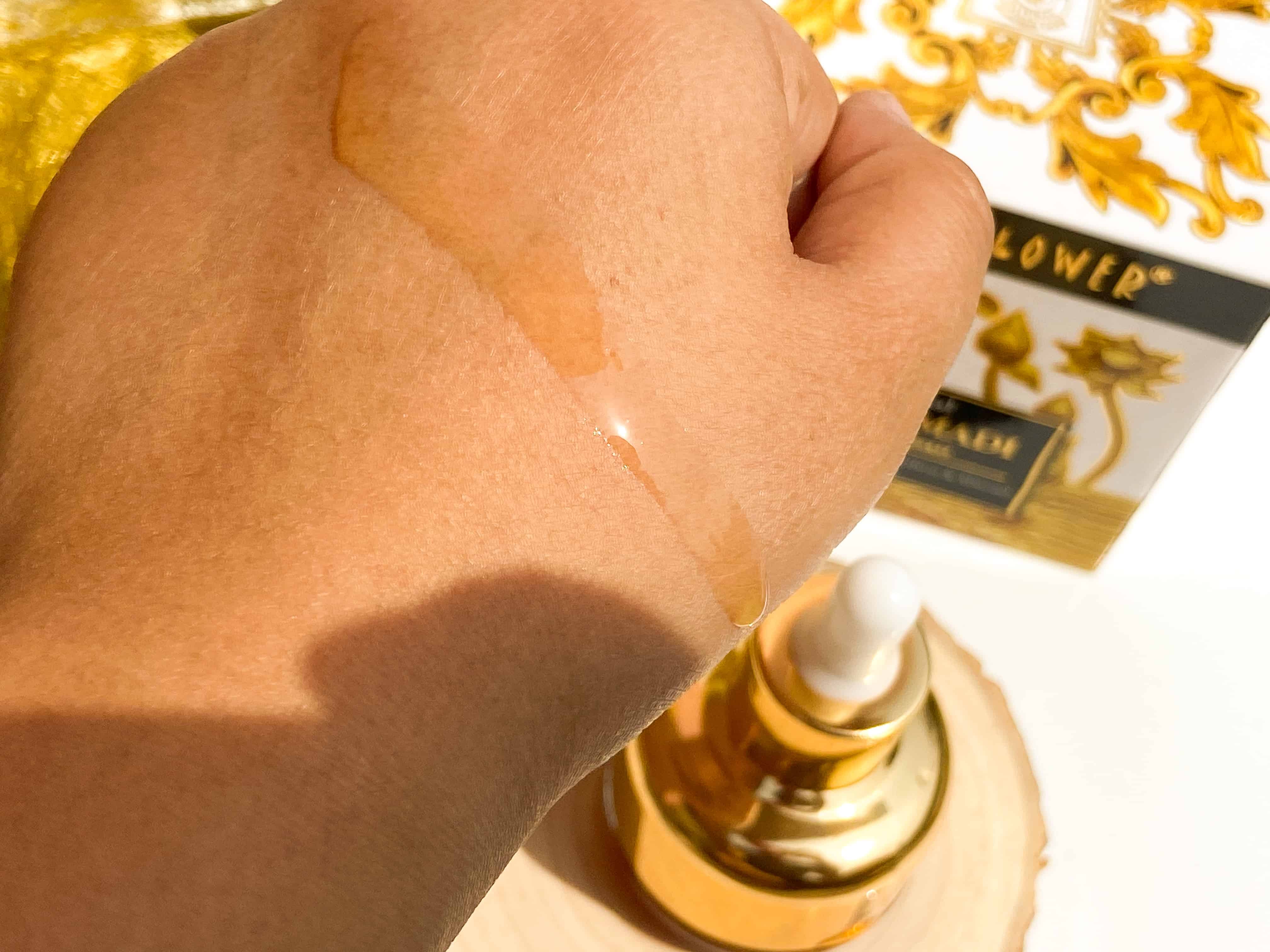 The Soulflower Herbal Kumkumadi Night Beauty elixir has a runny consistency with few flecks of saffron thread in it. The oil is light golden in colour and absolutely heavenly, just like saffron threads. I believe the fragrance is due to the presence of Saffron essential oil.
Overall, the oil is very light-weight, non-sticky and gets absorbed after 15-20 minutes.
My Experience with the product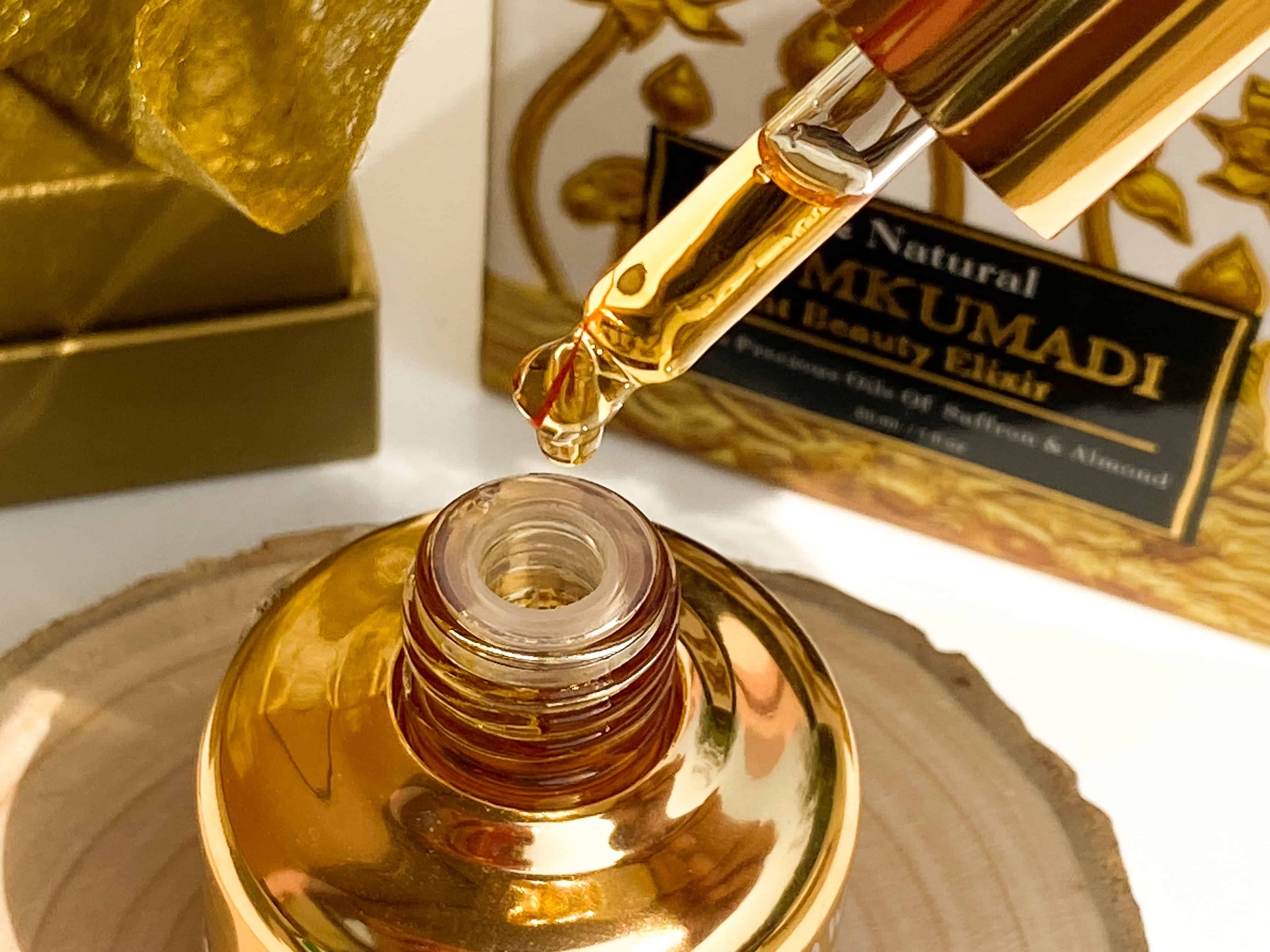 This Soulflower Pure Natural Kumkumadi Night Beauty Elixir is by far my favourite Kumkumadi oil. Its non-sticky does not sit on top of your skin and gets absorbed for the perfectly hydrated and plump skin. Also, with regular usage, you can see a bit of difference in your skin. Whenever I apply it, I wake up with glowing skin.
Since spring is here in my city and it's starting to get quite hot, I generally like to use this oil in my nighttime skincare routine because I feel it works best in the PM. Due to constant laboratory work, my skin started to become dull and uneven. This kumkumadi tailum did stay true to its claim and helped to improve my skin a bit.
I've been using it for 15 days and I did not notice any reduction in pigmentation but I think it needs at least 2 months of continuous usage to see any such effect. It also depends on different skin types. But I can definitely vouch for glowing, hydrated skin and also for the revival of dull and uneven skin.
Update: My mother used and completed the serum. She noticed that it helped reduce the sunspots on her forehead and along the hairline. It made her mature skin glow, adding radiance and also brightening her overall complexion.
This serum can also be used before makeup application as it helps the foundation glide on smoothly. Also, you do get an even application. I've used it as part of my skincare routine before makeup and it did an excellent job in making my base look natural.
Overall, this Soulflower Kumkumadi Tailam is suitable for all skin types. It's also great for someone with oily skin as the oil is not heavy or sticky. Personally, I don't have an issue with fragrance and essential oils as my skin can tolerate them easily and they never showed any side effects. But if you are someone who is sensitive to essential oils then this might not be for you.
Also Read
Partnered Post
The Review
Soulflower Pure & Natural Kumkumadi Tailam Night Beauty Elixir
PROS
Helped reduced sunspots and hyperpigmentation
Helps to brighten skin tone
Light-weight, non sticky oil that absorbs quickly
Helps to revive uneven skin tone
Helps to treat dull skin tone
Very luxurious packaging
CONS
Contains essential oils that might be a problem for people with sensitive skin