I've bought the Good Vibes Watermelon Gel along with the face masks and the orange gel. Today I'll be sharing my Good Vibes Watermelon Gel review. I'll also mention the different uses of this Watermelon Gel
Watermelon has high water content so it an excellent hydrating agent. This product is great for hydrating your dry and dull ski
Good Vibes Watermelon Gel Ingredients
Purifies Water, Carbomer, glycerine, disodium – EDTA, triethanolamine, methylisothiazolinone, ethylhexylglycerin aqua, 2-phenoxyethanol, xylityglucoside anhydroxylitol, xylitol, olive oil PEG-7 esters, polysorbate-20, Citrullus Lanatus (Watermelon) Fruit Extract, fragrance, C.O No.15985,C.I.No.16255 & C.I. No.42090, C.I. No.16185
Price: Rs.145 for 50g
Available At Purplle.com and Amazon
Packaging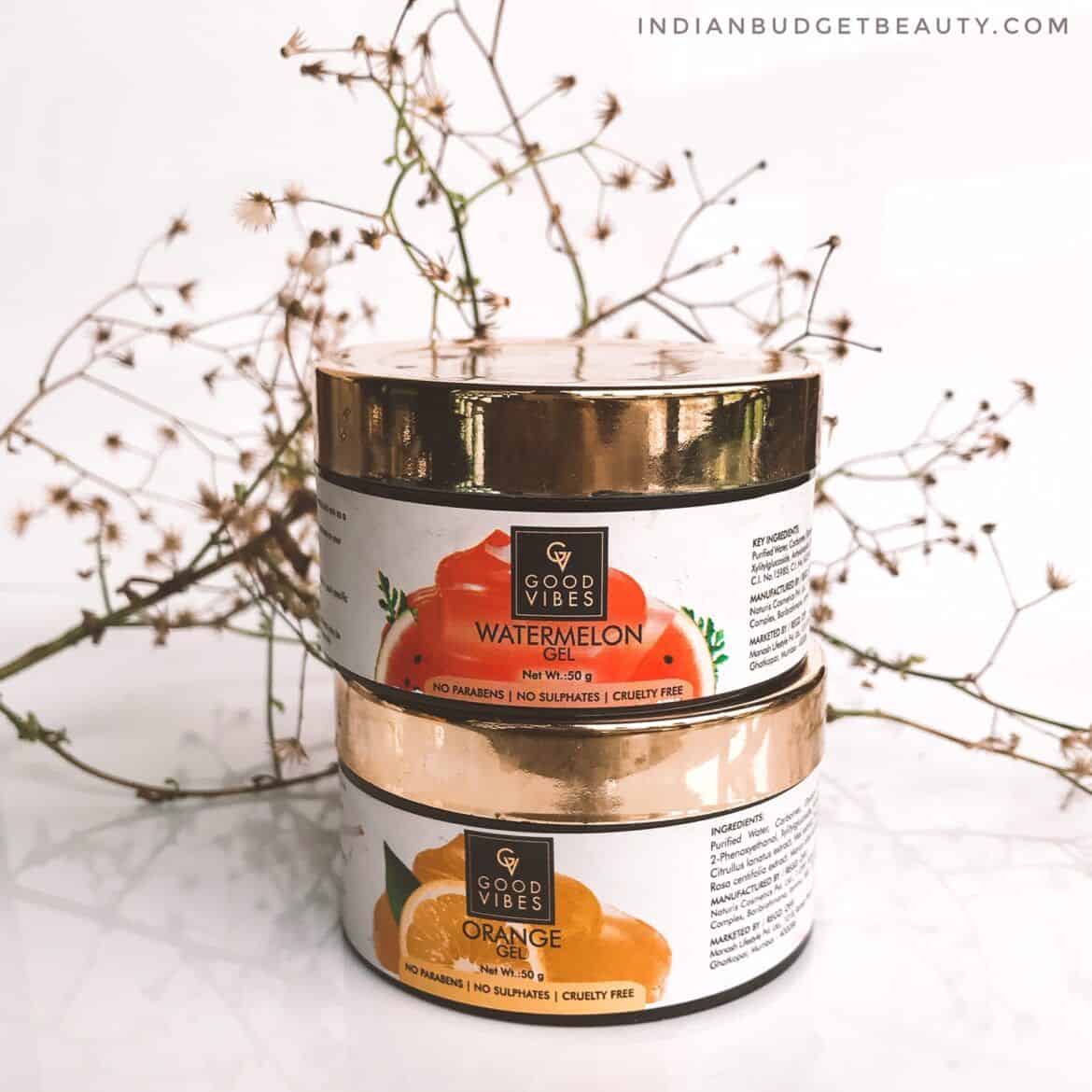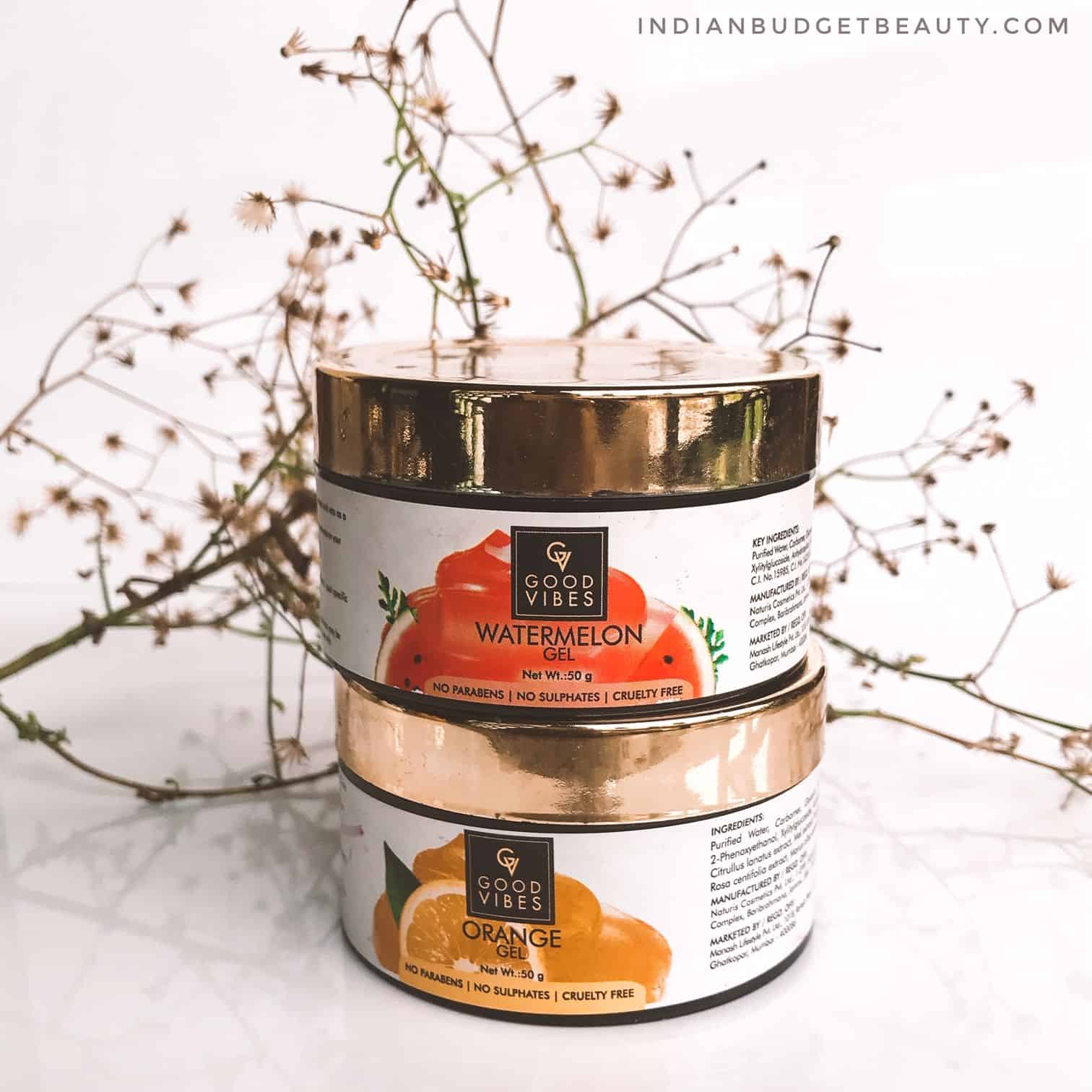 The Good Vibes watermelon gel comes in an acrylic tub packaging. This packaging is like their orange gel and face mask. It is very simple but has a gold cap and a product separator.
Consistency, Colour & Fragrance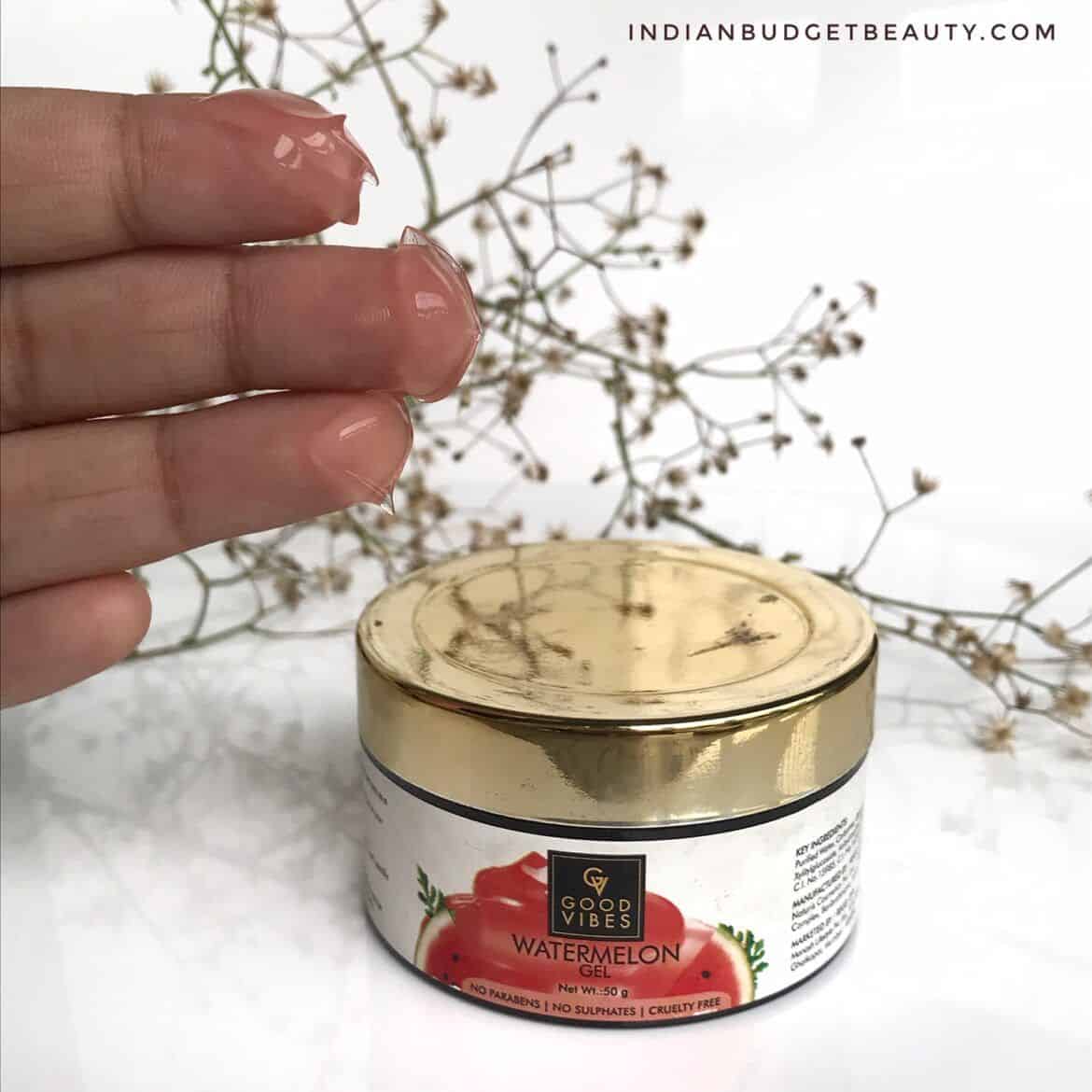 The watermelon gel has a soft gel texture with a pink hue to it. It does have a fruity watermelon smell. The consistency is quite thick but soft. I like how light-weight it is.
Good Vibes Watermelon Gel Uses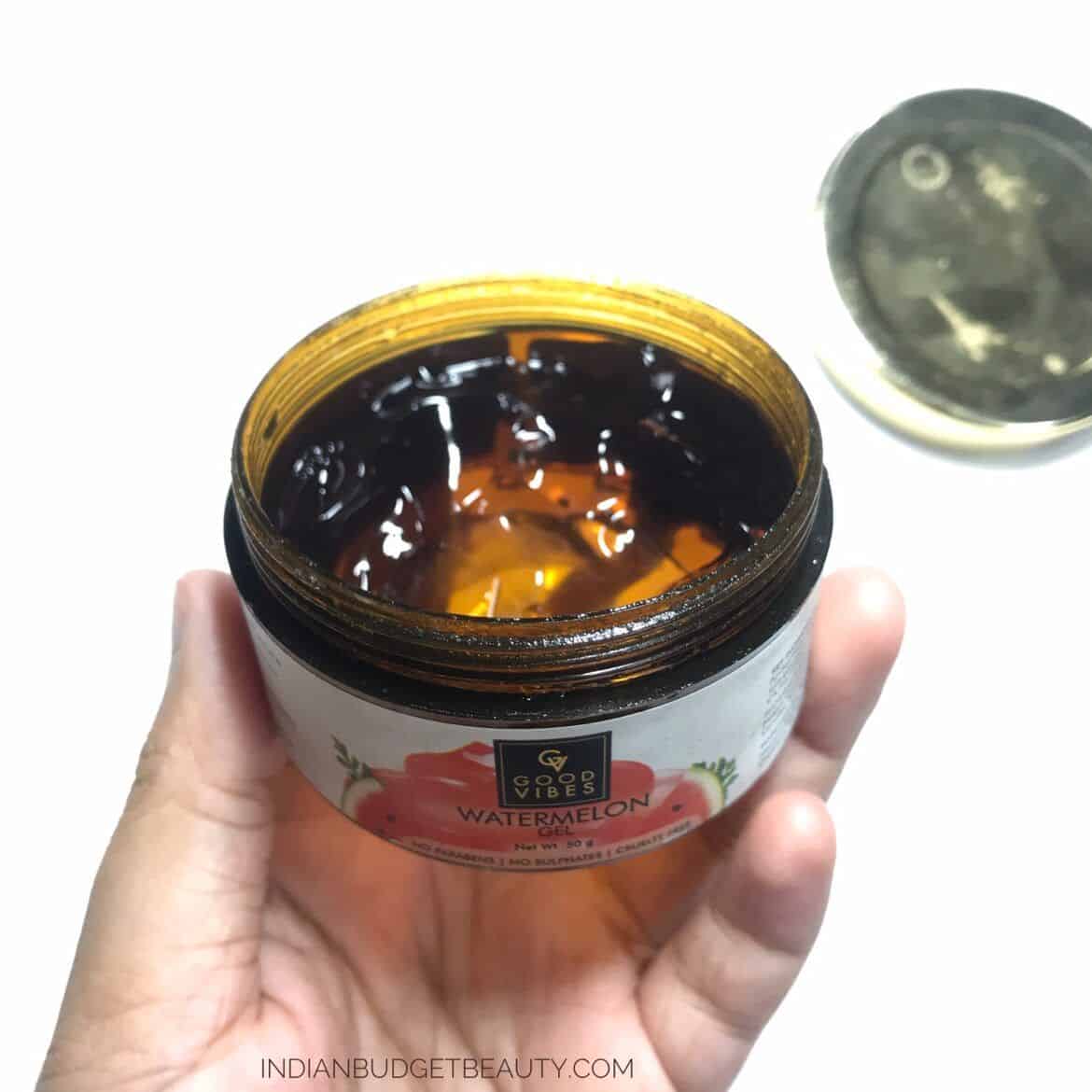 I got this watermelon gel because it reminds me of the Glow Recipe Watermelon Mask. So I use it in the following ways:
I use it as a sleeping mask. It gives me a beautiful glow the next day when I wake up.
I use it as a face moisturizer for the spring and summer season because it's quite suitable for this season.
It uses it before along with my eyebrow razor.
How Does It Feel on The Face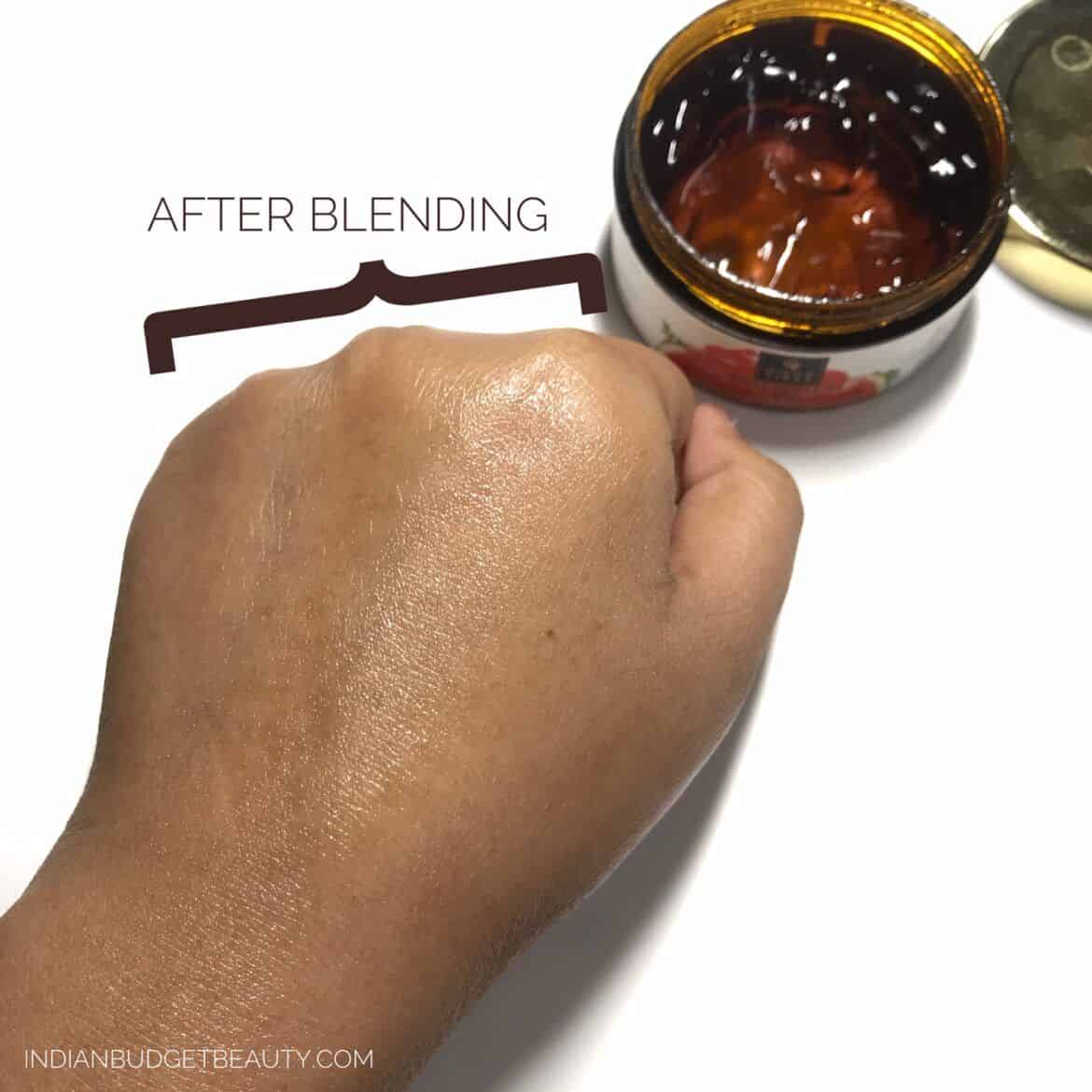 This watermelon gel is a lightweight water-based moisturizer that helps in brightening your dry and dull face. It also keeps it quite hydrated. It made my skin soft and supple.
It feels quite soothing on the skin. After you apply, it gets absorbed and gives a slight glow. I've used it as a sleeping mask where I've applied a bit extra and washed it off the next day. It gave me a hydrated glowing skin.
I've also used it as a moisturizer as its a light-weight moisturizer, great for summers. If you have oily skin, this will be your new favorite moisturizer. It is not sticky but it keeps your skin hydrated with a slight glow.
Are you using an eyebrow razor to shape your brow? If so, then you can also use it before shaping your brows as a cooling agent. The best part is that this watermelon gel acts as a great makeup base.
There's not a thing that I don't like about this gel.
Do I Recommend It?
Yes I recommend it. It is a great light-weight water-based moisturizer for every skin type. People with dry skin can use this during spring and summers.
Pros
Light-weight water-based Gel that soothe skin
Helps in skin brightening
Helps in rejuvenating the skin
Hydrates the skin and provides a glow
Can be used as a makeup base and smoothen out your skin
Can be used as a moisturizer, sleeping mask and also as soothing gel
Ratings: 5/5
Also Read:
Good Vibes Orange Gel Review |How To Use, Ingredients, Price
Ponds Super Light Gel Moisturizer Review | Oil-Free Moisturizer
Pixi pHenomenal Gel Review | New Pixi Moisturizer
Good Vibes Face Mask Review – Activated Charcoal, Papaya, Green Tea, Havana Mango
PIN ANYONE THAT YOU LIKE