Vaunt Multivitamin Super Hydrator DEALS
So I've been hearing a lot of Vaunt Skincare lately. I wanted to try their Vitamin C Water and a few other skincare as well. So when I was gifted the Vaunt Multivitamin Super Hydrator and their Barrier Boost Face Formula by the brand, I had to test the Multivitamin Super Hydrator first. Because it's meant to give you that "super boost of hydration". Few of my blogger friends were loving this a lot, so I wanted to check whether it will give me the amount of hydration that my dry skin craves for.
What the Brand Says About The Product?
This elixir-like serum breathes life and radiance into your skin with just two to three drops of application a day. With a super boost of hydration and protection provided by Aloe Vera, Hyaluronic Acid and Antioxidants like Vitamin B3, Vitamin E, Vitamin C and Vitamin A this formula is a perfect blend of ingredients that repairs and nourishes and helps with daily maintenance. Your skin will thank you!
For protection and reparation
Blend with any cosmetic product for long-lasting hydration
Quick Absorbing
Water-Based Serum
Note: Products with natural extracts may change colour over time. The efficacy remains unchanged.
Price: Rs. 645 for 30 ml
Where To Buy?
Ingredients: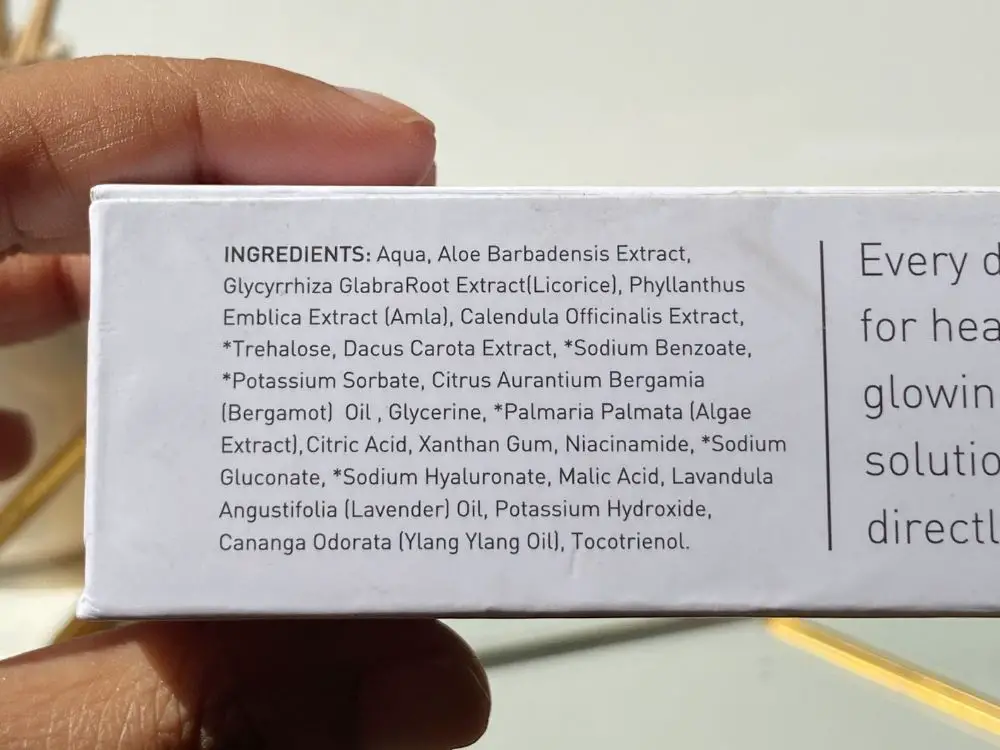 It contains a lot of soothing ingredients like Aloe Vera, Licorice, Calendula Extract. This hydrator also contains a good mix of emollients and humectants like Aloe Vera, Hyaluronic acid, Glycerine. Superstar ingredients like Niacinamide (vitamin B3) which is a great multitasker is also present in this serum.
Packaging: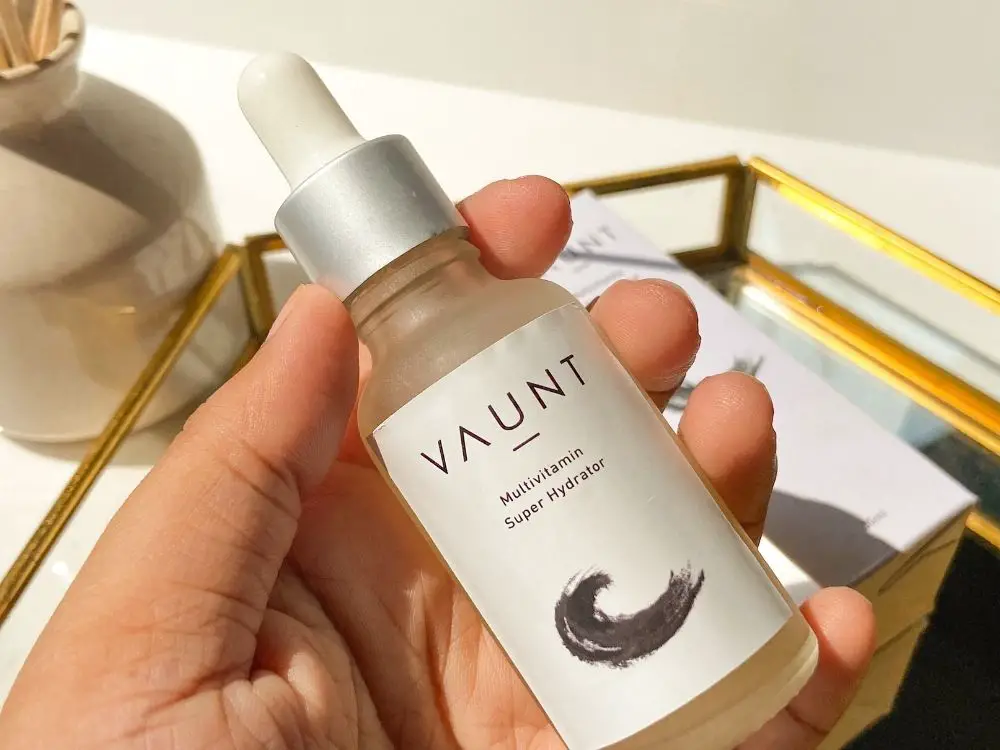 The Vaunt Multivitamin Super Hydrator comes in a minimal glass bottle with a dropper applicator. I absolutely love this packaging. It's easy to use and looks great on my skincare shelf. The frosted glass bottle makes it look very luxe and the white dropper dispenses the product easily.
The Consistency & Fragrance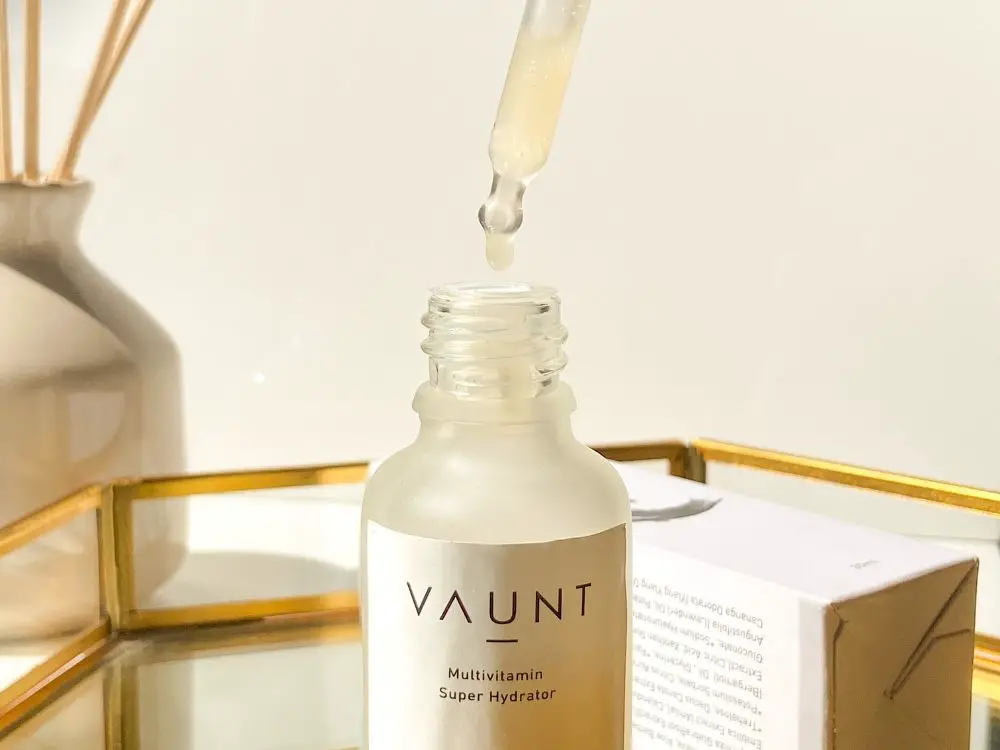 This elixir-like serum has a thin water-like consistency with slight viscosity. It's almost comparable to the Luxurious Adore Saffron Elixir in terms of consistency. It's very lightweight and almost feels like I'm rubbing water. I love the texture, it gets absorbed quickly into my skin.
Earlier a lot of bloggers used to mention the funky scent of the product, but I guess they have re-formulated it because it smells quite good. I can notice a few perfuming ingredients like Daucus Carota Sativa Extract, Citrus Aurantium Bergamia Fruit Oil, Lavandula Essential Oil, Cananga Odorata Flower Oil. These essential oils can be irritating for sensitive skin.
How I Use It?
The Vaunt Multivitamin Super Hydrator is a water-based serum with Aloe Vera, Hyaluronic Acid, Niacinamide in it. I've noticed it worked the best on my damp skin and I'd recommend the same. You can layer it with your other water-based serum but I'd not recommend you to layer it with AHAs or BHAs. I've used it twice with my Pixi Glow Tonic and it irritates my skin. I've also used it once with my Deconstruct Skincare Pore Control Serum that contains 2% Salicylic Acid and 3% Niacinamide and it again irritated my skin. So it's best to use it alone without other exfoliating actives.
Cleanse your face
Apply the serum on damp skin
Apply your moisturizer or directly
My Thoughts On The Product:
This Vaunt Multivitamin Hydrator is an elixir-like serum with a runny consistency. It's a blend of Hydrating, Skin Repairing and Soothing Ingredients like Aloe Vera, Hyaluronic Acid and Antioxidants like Vitamin B3, Vitamin E, Vitamin C and Vitamin A. It's very lightweight and absorbs easily into the skin. I'd say the consistency is perfect for a humid climate for dry skin and it's perfect for someone with oily or normal skin throughout the year

It's hydrating but non-greasy. But you would need to apply a good moisturizer after using it. Like any other hydrating serums, I've noticed plump and healthy skin after continuous usage. My mother noticed a slight glow after using it for 2 weeks. So it's also good for mature skin if you want a good hydrating serum that repairs dullness. It gives a nice soothing effect.

I found that it's not hydrating enough for my dry skin. So if you have oily, combination or normal skin and want a good lightweight hydrating serum that won't be greasy, then it's a good one to go for. For dry skin, you would need to apply a good moisturizer to seal the product.
It has a slightly fruity fragrance which I believe is due to the presence of few essential oils. I don't have sensitive skin so I don't mind it, but if you are sensitive to essential oils, you may skip it.
Overall Vaunt Multivitamin Super Hydrator is a good hydrating serum that gives a nice glow every time I use it. It definitely did bring in moisture into my skin and made my skin quite plump and hydrated. It did repair my dull skin.
Vaunt is made with Natural, *Eco Certified/ COSMOS ingredients and is free from Parabens/SLS/PEG/Silicones/Petrolatum, Phalates, DEA & Synthetic Fragrances & Colours. Hence make sure to use it within 3 months of opening the product.
Will I recommend it?

Yes definitely! I've been enjoying it a lot. I might not use it during dryer months but will be using it for the summers. If you have oily, normal or combination, then you can give this a go. It's an affordable hydrating serum that will repair your dull skin. I found Vaunt Skincare to be quite promising and would definitely try out a few more products from them.
Also Read:
The Review
Vaunt Multivitamin Super Hydrator
PROS
Very light-weight and absorbs easily into the skin
Gives a nice glow every time I use it
Provides good hydration
Non-greasy after application
Repairs dull skin
CONS
Contains essential oil that irritates sensitive skin
Not hydrating enough for dry skin
Review Breakdown
Effect

Packaging

Formulation