Vasu is an Indian ayurvedic and herbal brand that has sent me over their Vasu Facial Beauty Oil With Kumkumadi Tailam & Aloe Vera Gel. These products are a blend of ayurvedic goodness with herbal extracts that claim to offer "a composite package of not only cure but prevention without any side effects". Read my Vasu Kumkumadi Tailam Review and the Vasu Aloe Vera Gel review below to know what I feel of the products.
Vasu Facial Beauty Oil With Kumkumadi Tailam Review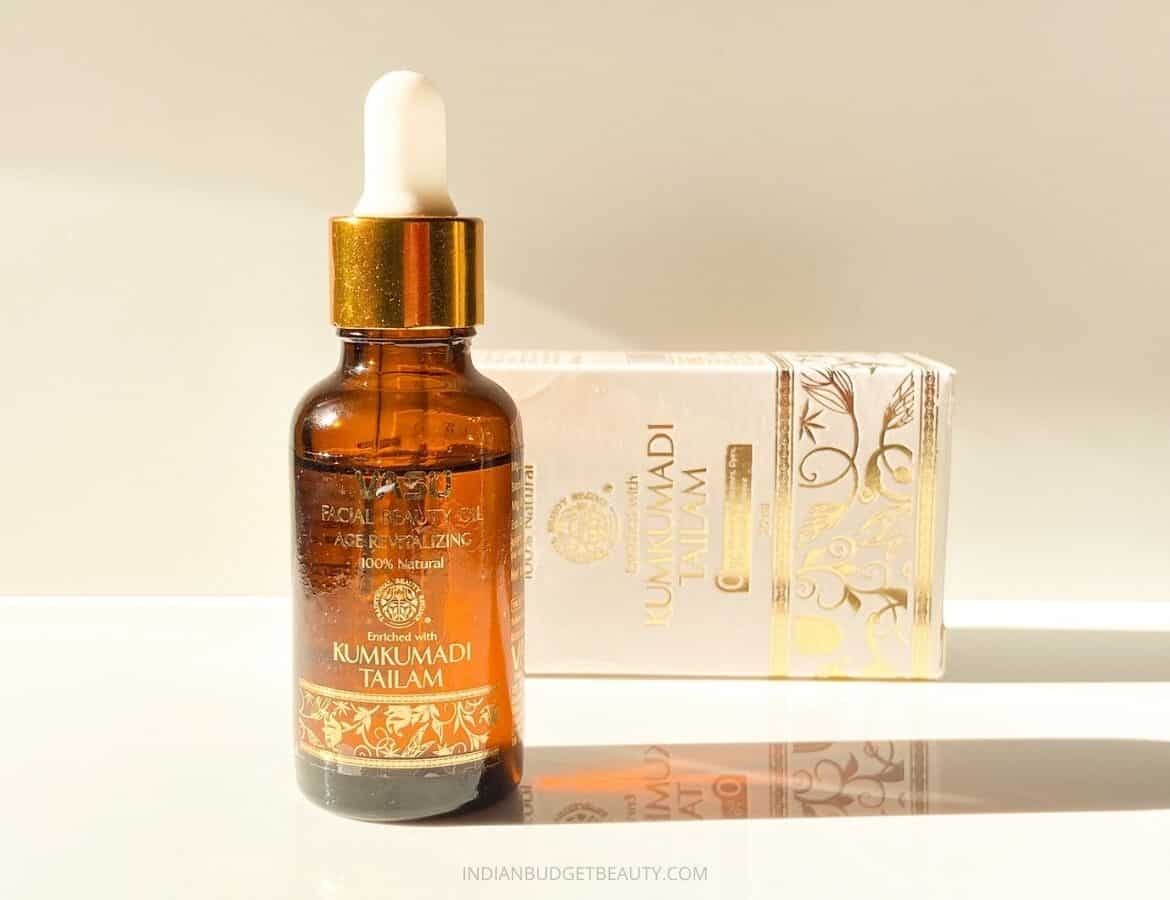 The Vasu Facial Beauty Oil With Kumkumadi Tailam comes in a 25ml tinted glass bottle. It also has an information card and an outer cardboard box with a cap. The bottle in itself has a luxurious look to it. It retails for Rs.550
What The Brand Says About The Product: Vasu Facial Beauty Oil or the Vasu Kumkumadi Tailam blends the Traditional Beauty recipe of Kumkumadi Tailam with clinically- proven Natural Plant Actives to offer a unique product that gives a Natural Glow to face, overcoming hyper-pigmentation, age spots, wrinkles and blemishes.
The Claims of Vasu Facial Beauty Oil:
100% natural Oil – A unique blend of skin-loving herbs and 5 different oils like Kumkumadi tailam, Avocado Oil, Argan Oil, Lavender Oil, Rapeseed Oil        
Quickly absorbs and nourishes the skin from within
Helps to reduce hyperpigmentation, blemishes, dark spots and premature wrinkles        
0% Artificial Fragrance & 100% Natural
Made In India        
100% Natural      
Ingredients: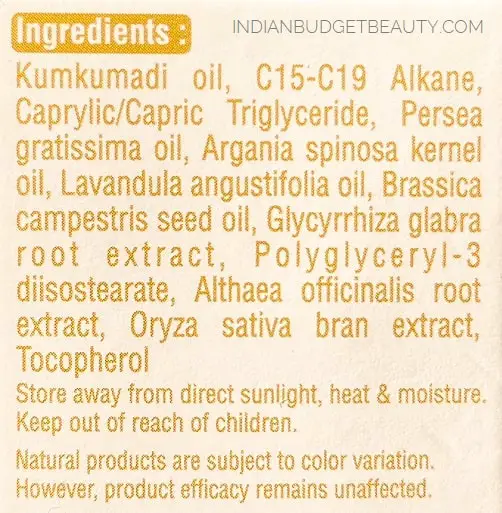 Even though the brand claims it to be 100% natural, it does contain C15-19 ALKANE which is a synthetic skin softening solvent.
My Thoughts On The Product: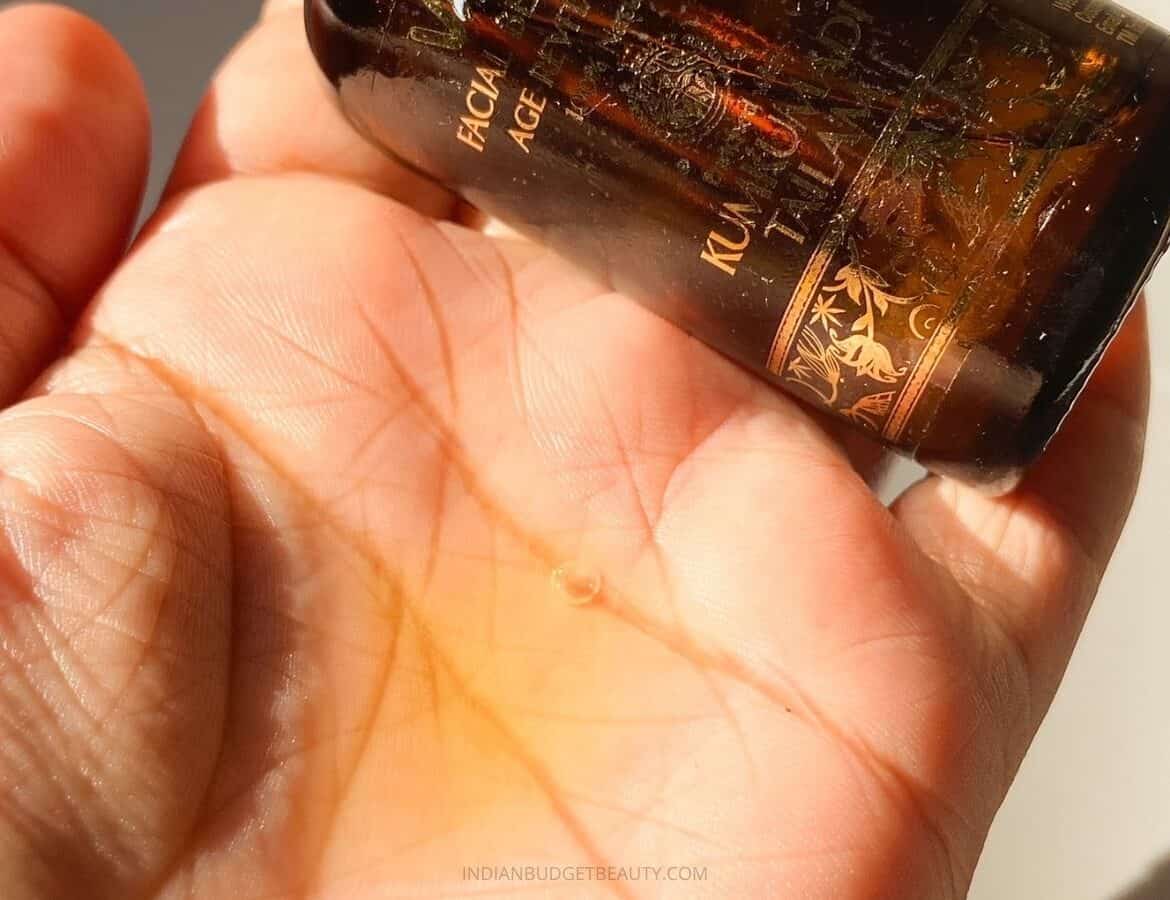 I've used Kumkumadi Tailum in the past. It is claimed to be a miracle oil but I never seem to see any effect other than hydration. This Vasu Facial Beauty Oil With Kumkumadi Tailam has a thinner consistency which is very much water-like. It's not at all heavy on the skin, nor sticky. I like how it gets absorbed onto the skin very quickly but it does give a light yellow tint to the skin. So I'd recommend that you use it in your PM routine.
I usually use this Vasu Kumkumadi Tailam as my last step of skincare, after using moisturizer so as to seal the moisture in. So far I've noticed that it did slightly brighten up my skin. I've been using it for about 2 weeks now and every time I use it, I wake up with glowy brightened skin.
It does nourish the skin well but for my dry skin, I do require an extra moisturizer. So far, It did not reduce any hyperpigmentation or dark spots. But I do feel you need to use it at least 2-3 months to see its full effects. Also it might work on premature wrinkles as it is quite nourishing.
The smell is a bit strong but with every usage, you get used to it. I do like the smell as it does somewhat smell like Ubtan. It is not 100% natural like it claims to be as it does contain a few other chemicals and preservatives. I do not mind the preservatives as it does extend the life of the product.
Overall, I'm loving this Vasu Facial Beauty Oil in my night time skincare routine.
Pros:
Very light-weight, water-like consistency
Gets absorbed quickly and nourishes the skin
Brightens skin slightly
Gives a nice glow post usage
Non sticky oil.
Affordable
Cons:
Has a strong fragrance
Does nothing for dark spots and hyperpigmentation
---
Vasu Aloe Vera Gel Review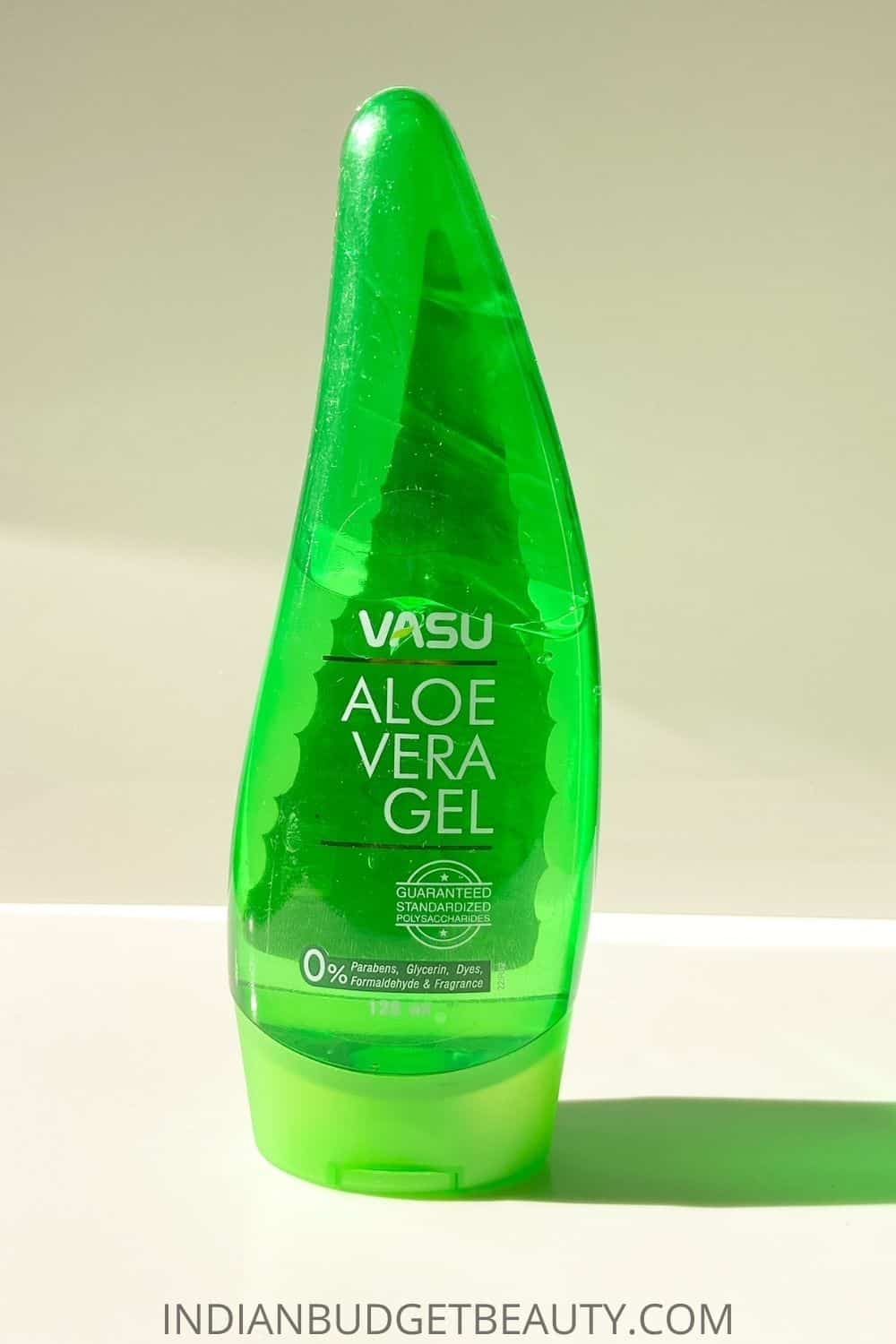 Vasu Aloe Vera Gel comes in an Aloe leaf-shaped plastic bottle. The shape of the container is quite unique. You just need to squeeze the bottle to dispense the product. It retails for Rs.180 which is quite affordable.
What The Brand Says: The Vasu Aloe Vera Gel formulated using a unique patented process, contains superior-quality, 98.3% natural aloe vera.
The Claims of Vasu Aloe Vera Gel:
Hydrates & Nourishes skin & Hair        
Soothes itchy skin & scalp        
Moisturizes chapped hands, cracked feet and lips        
Protects hair against environmental damage        
Ingredients:

My Experience With The Product: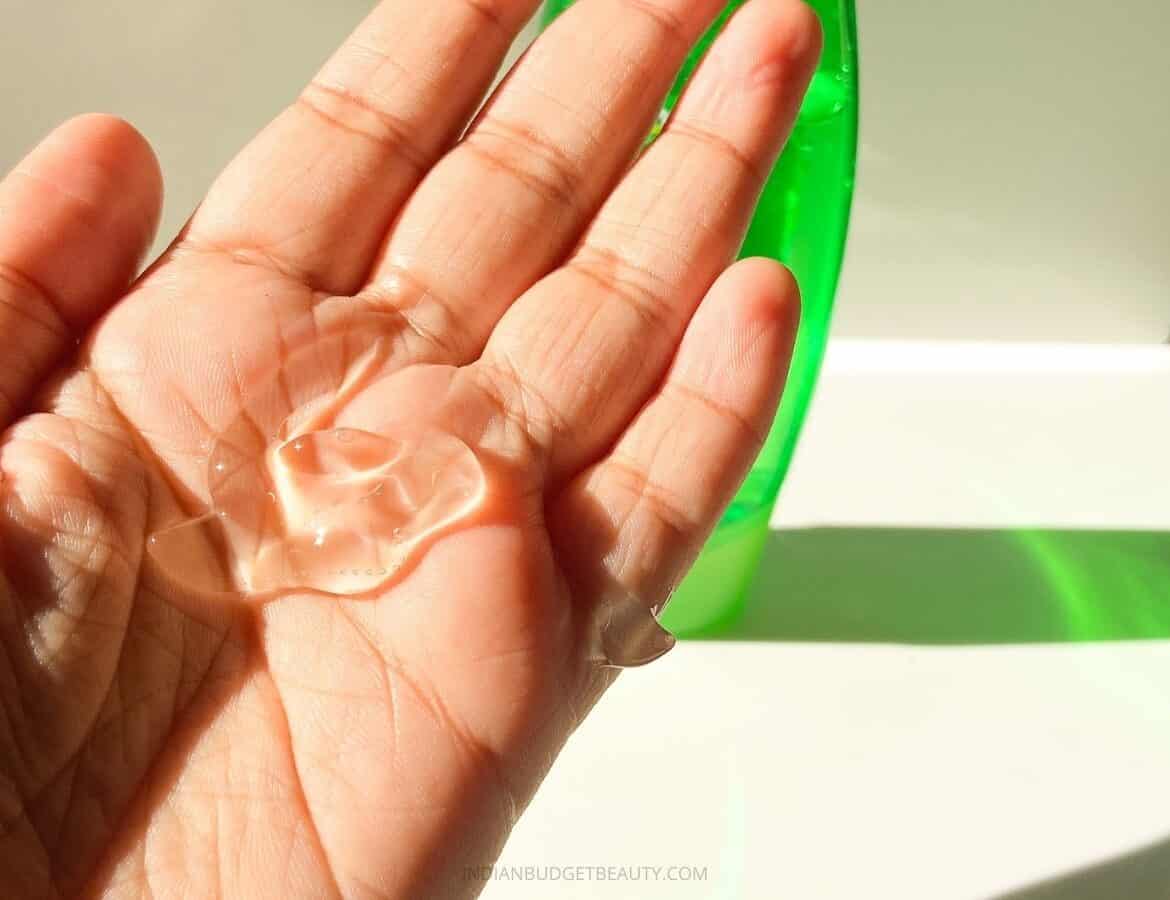 Vasu Aloe Vera Gel has a soft gel-like consistency with a clear base. Note that pure aloe vera gels are always transparent. I love how the brand did not add any colourant or dyes. It does not have any fragrance so it makes it better for people with transparent skin.
I've used this Aloe Vera Gel with my Deyga Rose Face Mask and it did not dry down my skin at all. You can also use it for a simple DIY Hair Mask.
DIY HAIR MASK: Mix 3 Tablespoon of Coconut Oil, 1 tablespoon Castor Oil, with 2 Tablespoon of Vasu Aloe Vera Gel. Mix it till you get a white homogenous mixture. Apply it all over your hair. Leave it on for 1 hour and wash it off with your favourite shampoo. You'd notice that your hair would be very soft, smooth and shiny. It helped to soothe my itchy and flaky scalp.
If you have oily skin, you'd love this Aloe Vera Gel as a moisturizer because it dries down to a matte finish. Since I have dry skin, I usually use it for my hair and as a mixer for my powder masks.
I did notice that it does help in soothing the skin. So, if you have dry skin, you can apply a thick layer of this aloe gel as a mask on your face for 5 mins and then wash it off.
I love this aloe vera gel a lot and would totally recommend you to get it. If you are searching for an affordable Aloe Vera Gel, this is the one to go for.
Pros:
Can be used with powder masks as an activator
Helps to nourish hair
Helps to soothe the skin
Helps to soothe the itchy and flaky scalp
Cons:
Not super hydrating for dry skin.
---
Also Read:
(PR Product)