Nykaa Naturals Amla and Curry Leaves Haircare Range Review DEALS
Nykaa Naturals started to launch their haircare range earlier this year in March. I've already reviewed their Apple Cider Vinegar & Ginger Range before. Here's their latest launch, the Nykaa Naturals Amla and Curry Leaves Haircare Range that consists of a Shampoo, Conditioner and Hair Mask.
Claims:
SLS/SLES Free
Paraben-Free
Mineral Oil-Free
Cruelty-Free
100% Natural Actives
Phthalate Free
No added colour
Benefits of Using The Amla & Curry Leaves Hair Care Range
Amla
Rich in vitamins, minerals, iron, amino acids and phytonutrients that increase blood circulation across the scalp ensuring enough oxygen and nutrition to the hair follicles, which in turn strengthen hair fibres and bring an end to hair fall.
Contains essential fatty acids that strengthen hair follicles, reducing hair loss and providing lustre.
Rich in vitamin C that helps to create collagen protein – an essential part of hair structure that makes strands more elastic and less prone to breakage.
Antifungal and antiviral properties that prevent dandruff and other scalp infections to reduce hair fall.
Ultimate benefit – Reduces hair fall by enhancing blood circulation in the scalp and strengthening hair fibre, follicles and shaft
Curry Leaves
Rich in beta-carotene and protein which prevent hair loss and reduces hair thinning respectively.
Contains iron and antioxidants that help strengthen hair roots and shaft while curbing hair fall.
Rich in amino acids and beta-carotene that strengthen hair follicles, regenerate dormant follicles and regrow new hair.
Vitamin B6 present in curry leaves act as a hormone regulator for preventing hair loss.
Ultimate Benefit – Reduces hair fall concerns by reducing hair thinning and accelerating hair growth while also strengthening hair roots, follicles and shaft.
The Packaging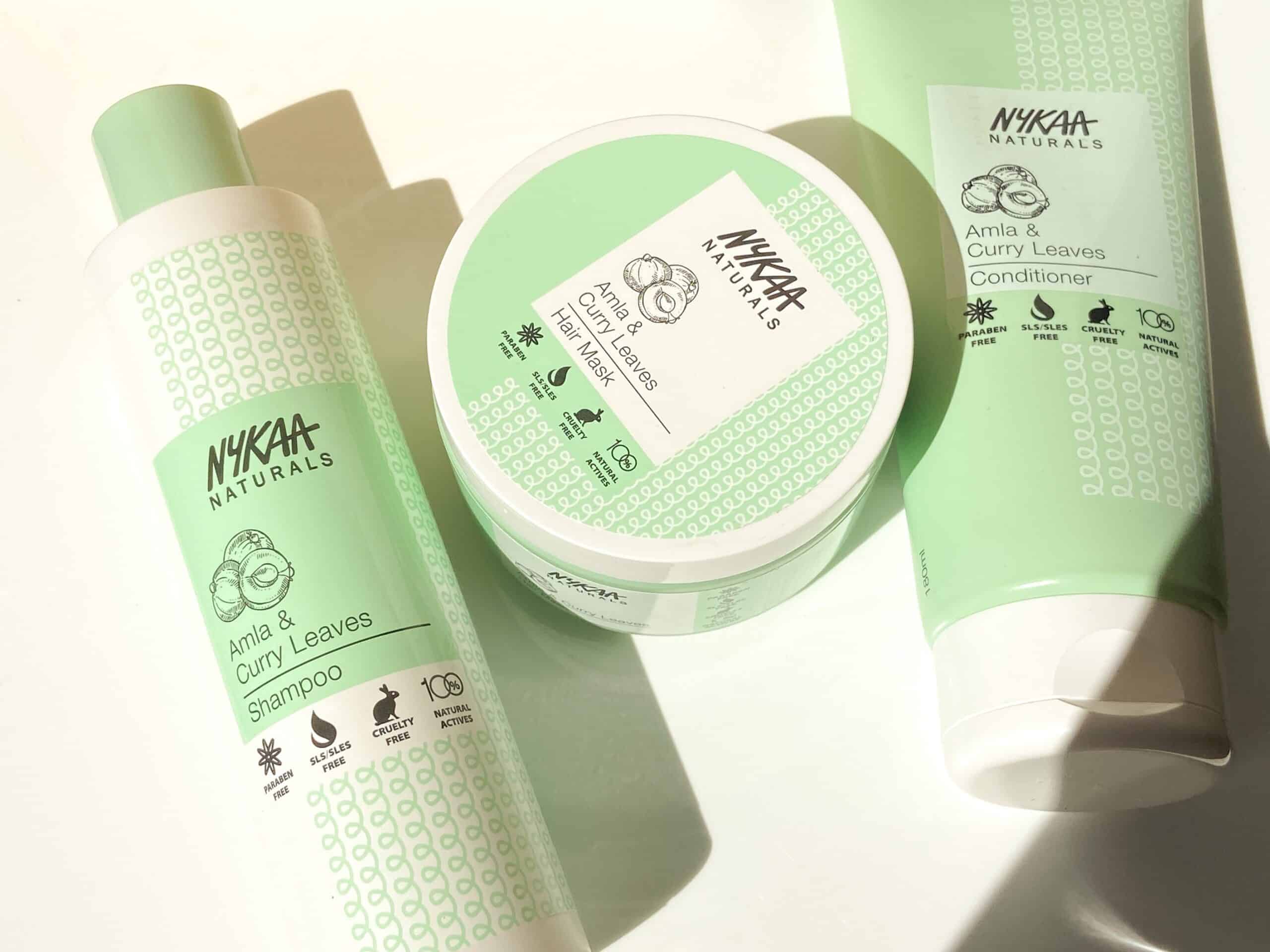 Nykaa always nails their packaging game. Their aesthetic is always on point. I love the pastel green packaging of these products. It gives a soothing vibe to it. This plastic packaging of Nykaa Naturals Amla and Curry Leaves Haircare Range is made of HDPE plastic containers that are recyclable just like their Apple Cider Vinegar & Ginger Range. The pastel shade is very similar to their Love Struck Perfumes.
The shampoo bottle has a push-up nozzle that gets blocked every time you use the shampoo. Though it's easy to use, I'd have loved a normal packaging because it's quite a task to take the shampoo out.
The Nykaa Naturals Amla and Curry Leaves conditioner come in a huge squeeze-tube packaging. I actually love how it's easy to use and looks pretty on the bathroom shelf. But be a little careful while squeezing the product because you might end up dispensing more than you needed.
The Nykaa Naturals Amla and Curry Leaves hair mask is packaged in a plastic tub but it does not contain an extra lid like other hair masks. It's simple and easy to use. You can use your hands or any spatula as you like.
Consistency, Texture & Scent
The conditioner has a soft creamy consistency whereas the Shampoo has a runny consistency yet creamy texture. I absolutely love the scent of the products. It smells so good and makes my hair smell great throughout the day. The hair mask is a thick creamy consistency that is very easy to apply along your hair lengths.
There's no added color or dyes in this range. It has plain white color.
Nykaa Naturals Amla and Curry Leaves Shampoo Review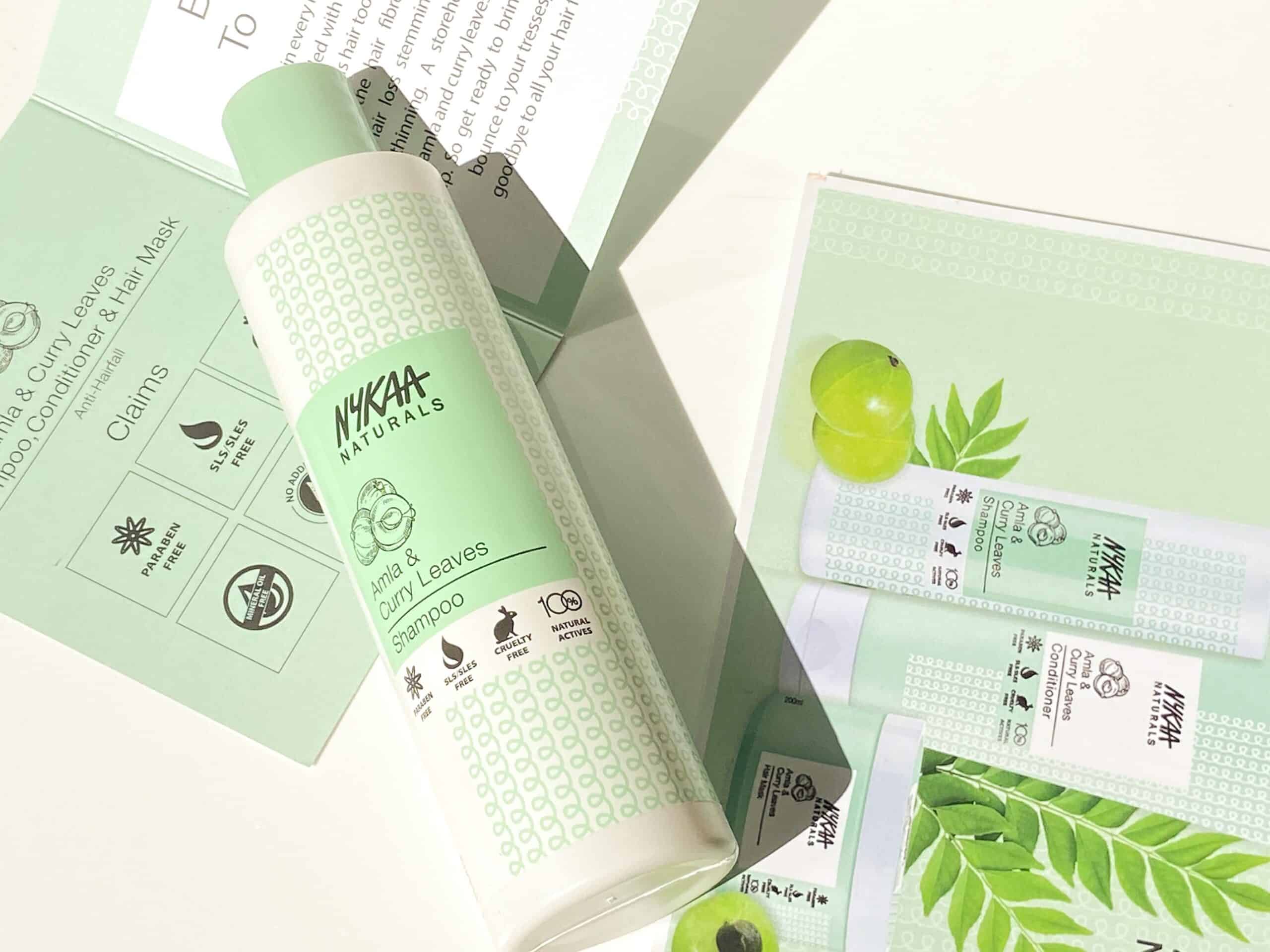 Price: Rs.399 | Buy Here
This Nykaa Naturals Amla and Curry Leaves Shampoo help to cleanse the scalp gently. Just like its counterpart Apple Cider Vinegar Shampoo, it left my hair quite smooth and manageable. I can even skip the conditioner and it would not dry my hair. I found this shampoo to lather a lot and make my hair quite voluminous. I have completely straight hair that tends to limp down if my scalp is quite dirty during humid climate, but this shampoo does remove all the oil and dirt in 1 wash. If you like deep oiling your hair, then you will need to wash your hair twice. A HIT!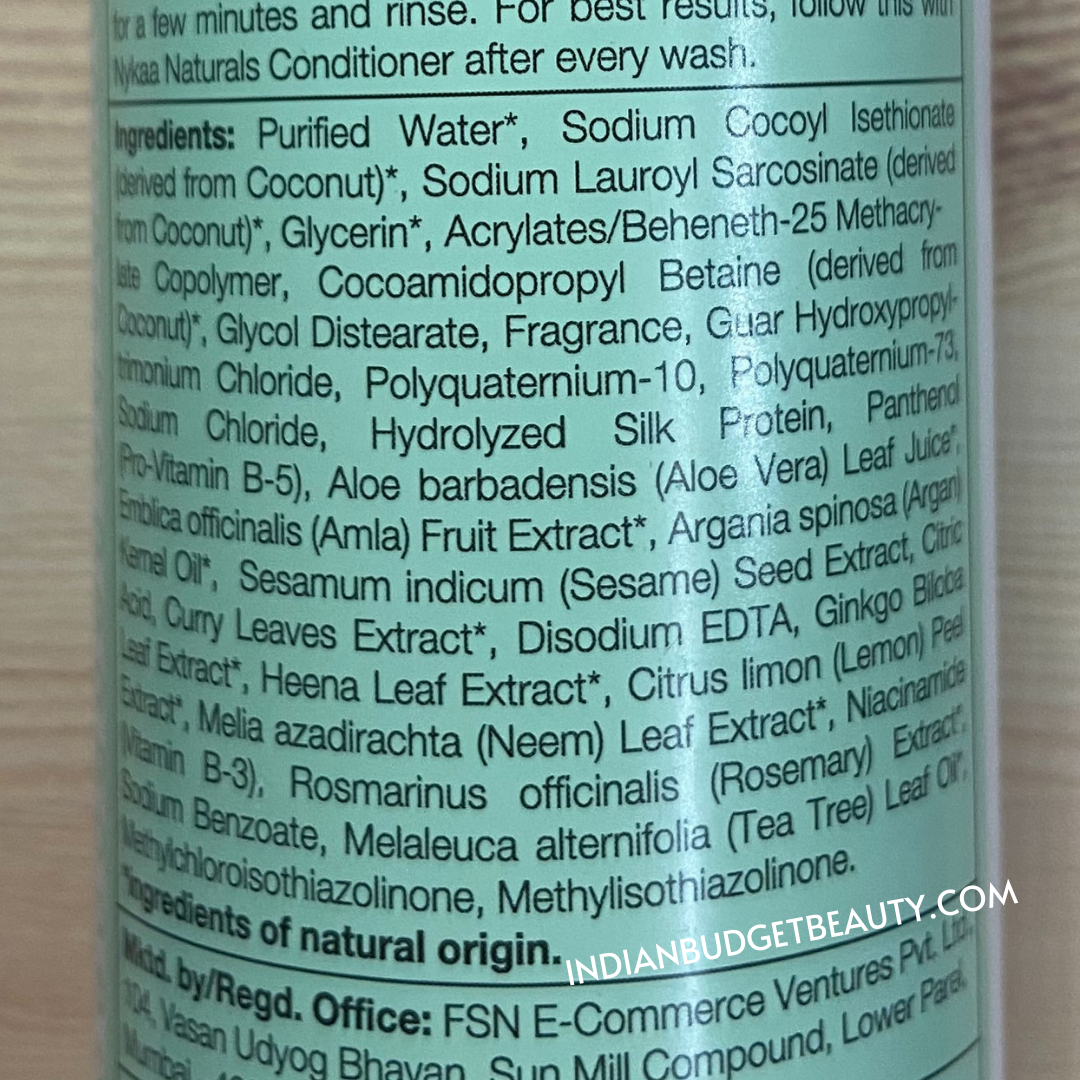 Just like the Apple Cider Vinegar range, this Nykaa naturals shampoo contains organic surfactants like Sodium Lauroyl Methyl Isethionate which is an organic, water-soluble, sulphate free surfactant derived from Coconut. It's very mild and safe to use for the scalp.
This shampoo also contains other mild cleansers like Sodium lauroyl sarcosinate and Cocamidopropyl betaine (a naturally derived organic surfactant from Coconut)
Like the other variants in this range, both the shampoo and conditioner are enriched with Hydrolyzed silk protein which supplies the hair with new keratin protein and helpful for someone who is suffering from hair fall and weak hair.
Apart from these, the Nykaa Amla and Curry Leaves shampoo are enriched with Pro-vitamin B5, Aloe Vera, Amla Fruit Extract, Argan Oil, Sesame Seed Extract, Ginkgo biloba (used for hair loss treatment), Heena Leaf Extract (boosts hair growth), Neem Extract (treat hair loss, dandruff and encourages hair growth), Niacinamide (improves hair texture), Rosemary & Tea Tree Extract (antimicrobial extract).
Nykaa Naturals Amla and Curry Leaves Conditioner Review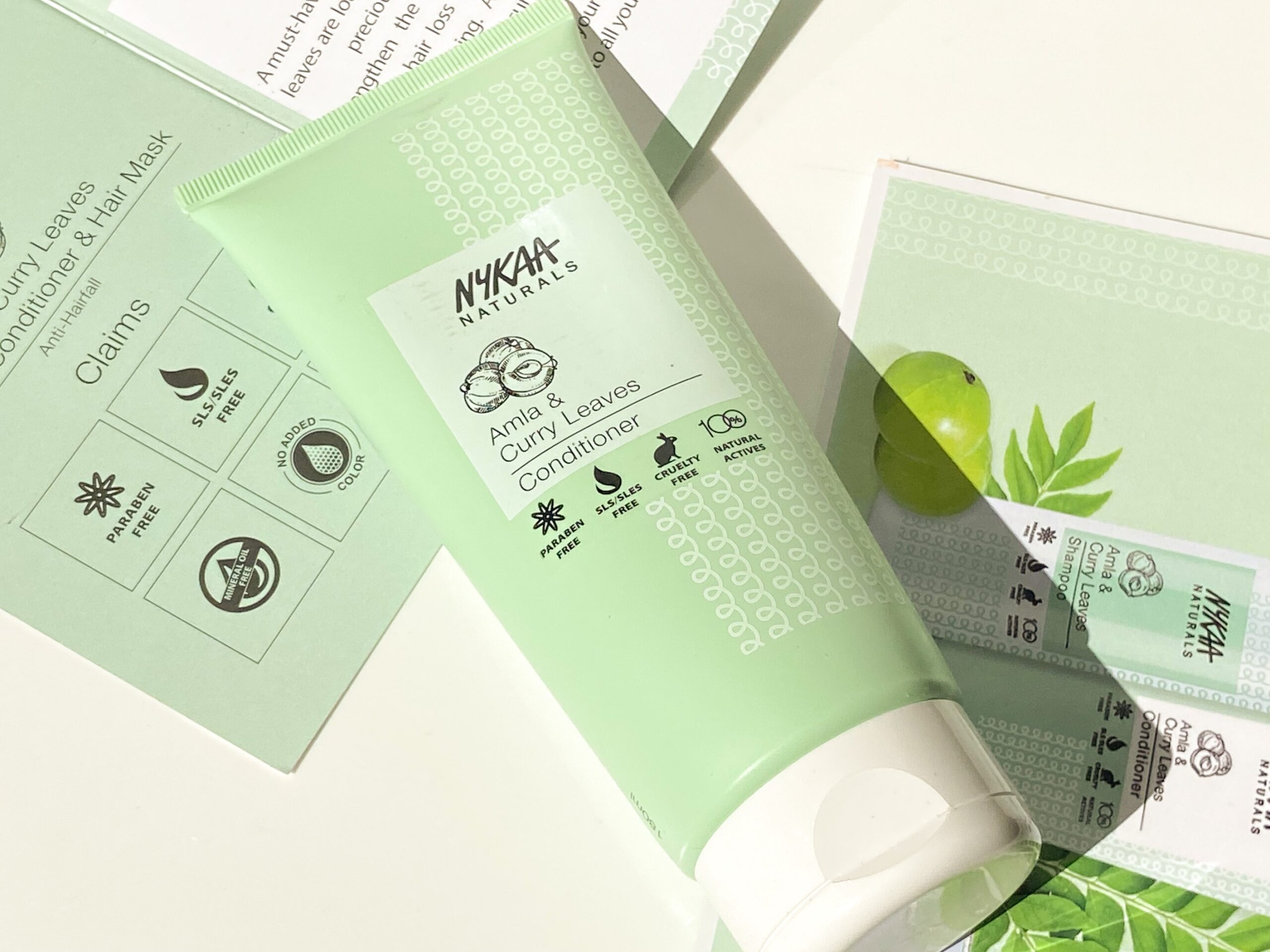 Price: Rs.399 | BUY HERE
This Nykaa Naturals Amla and Curry Leaves Conditioner contain a lot of hydrating ingredients like Glycerine, Shea Butter, Pro-Vitamin B 5, etc. It does give life to your damaged hair. I found this conditioner to be quite a decent one. You can use this along with the shampoo and it would give your hair the right boost of nourishment that it requires. I like it a lot but not something extraordinary)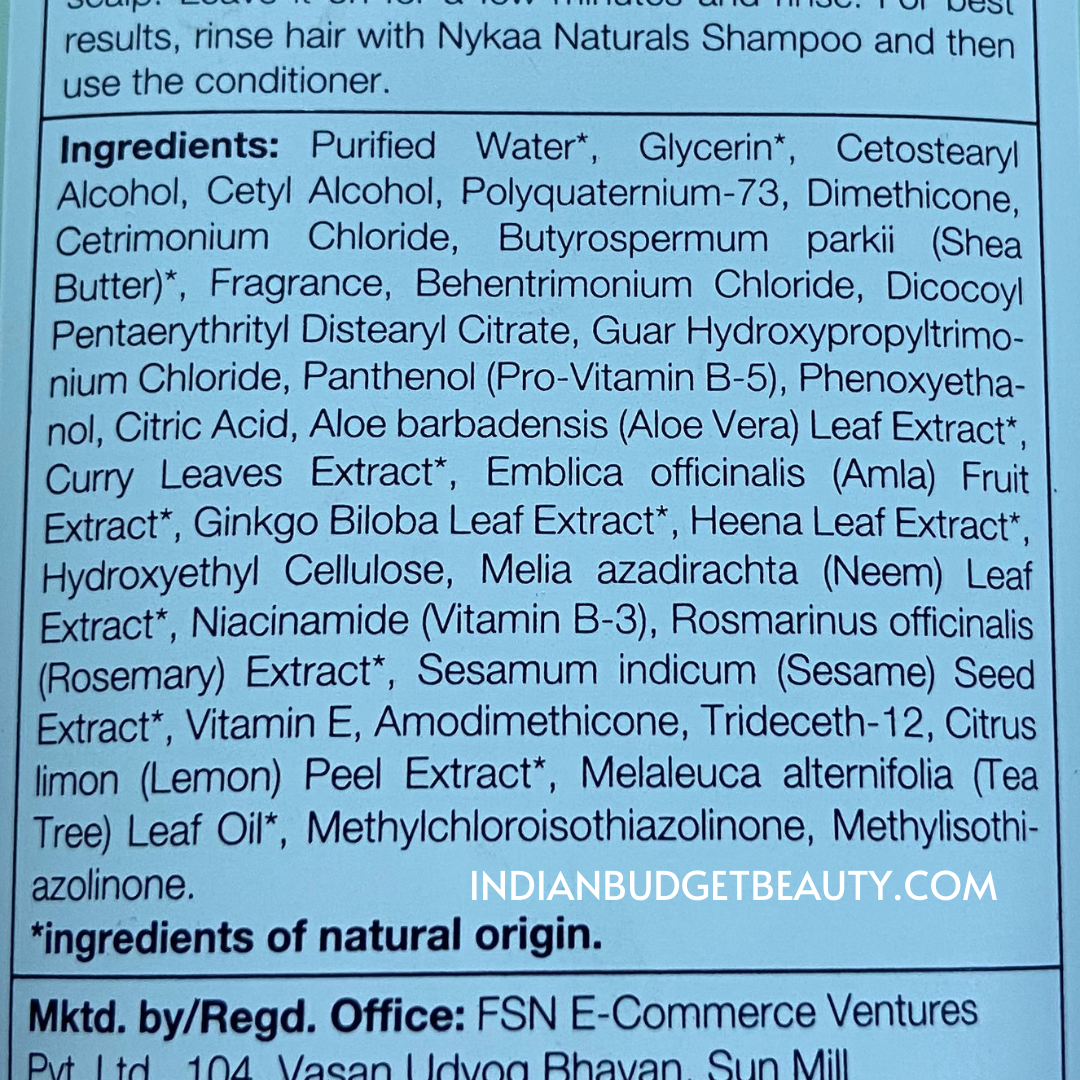 The ingredients are similar to other Nykaa Naturals Conditioner. It contains great ingredients like Glycerin and Shea butter which helps to make your hair soft and non-drying.
Formulated with ingredients Hydrolyzed silk protein, panthenol, jojoba seed oil, vitamin E for increasing hair strength, lustre and smoothness just like its counterpart shampoo.
Though it contains silicons it did not cause any buildup on my hair. It did help to smoothen my dry and frizzy ends. Moreover, I'd recommend a clarifying shampoo twice a month in case you suffer from any buildup.
Just like the shampoo, it contains a lot of raw natural ingredients.
Nykaa Naturals Amla and Curry Leaves Hair Mask Review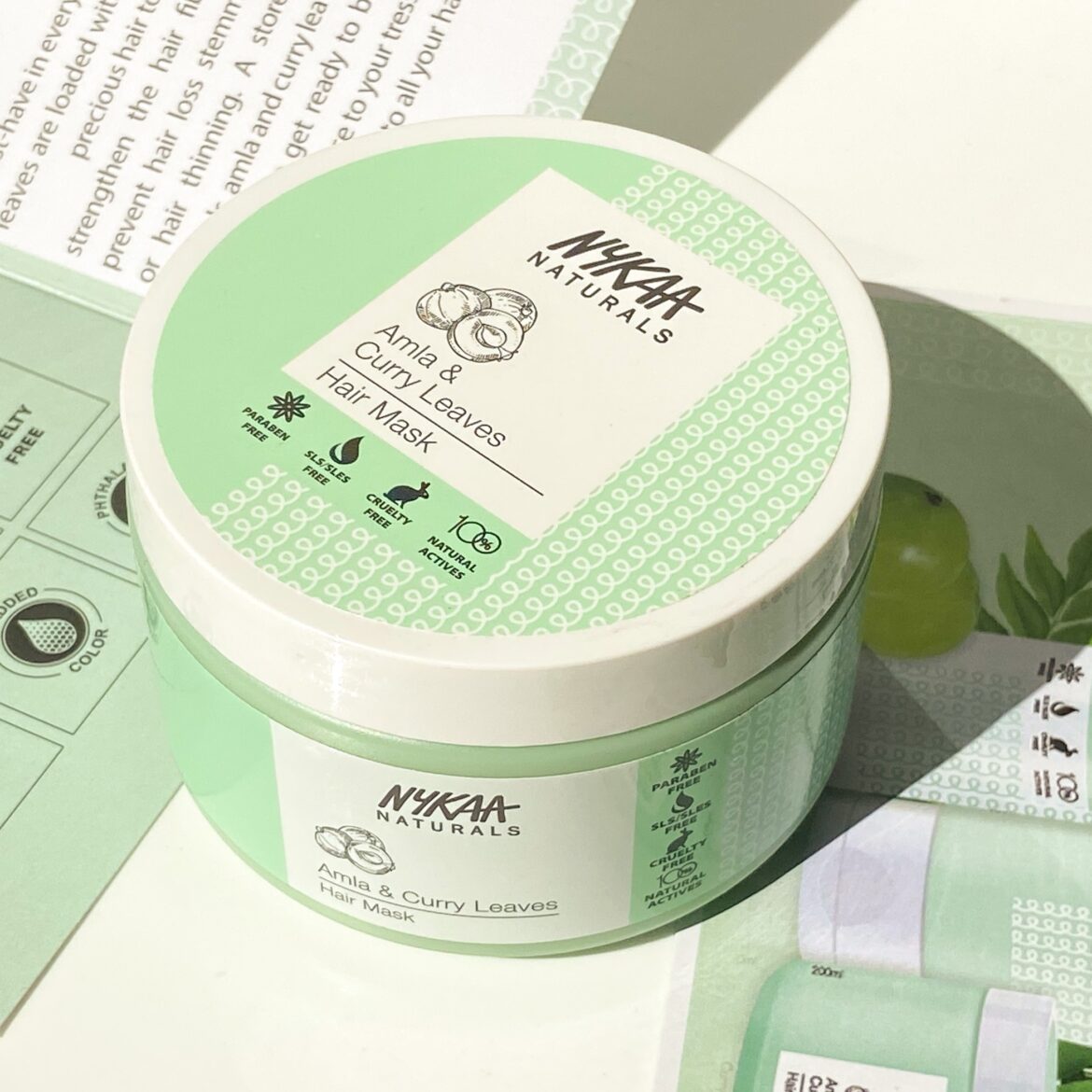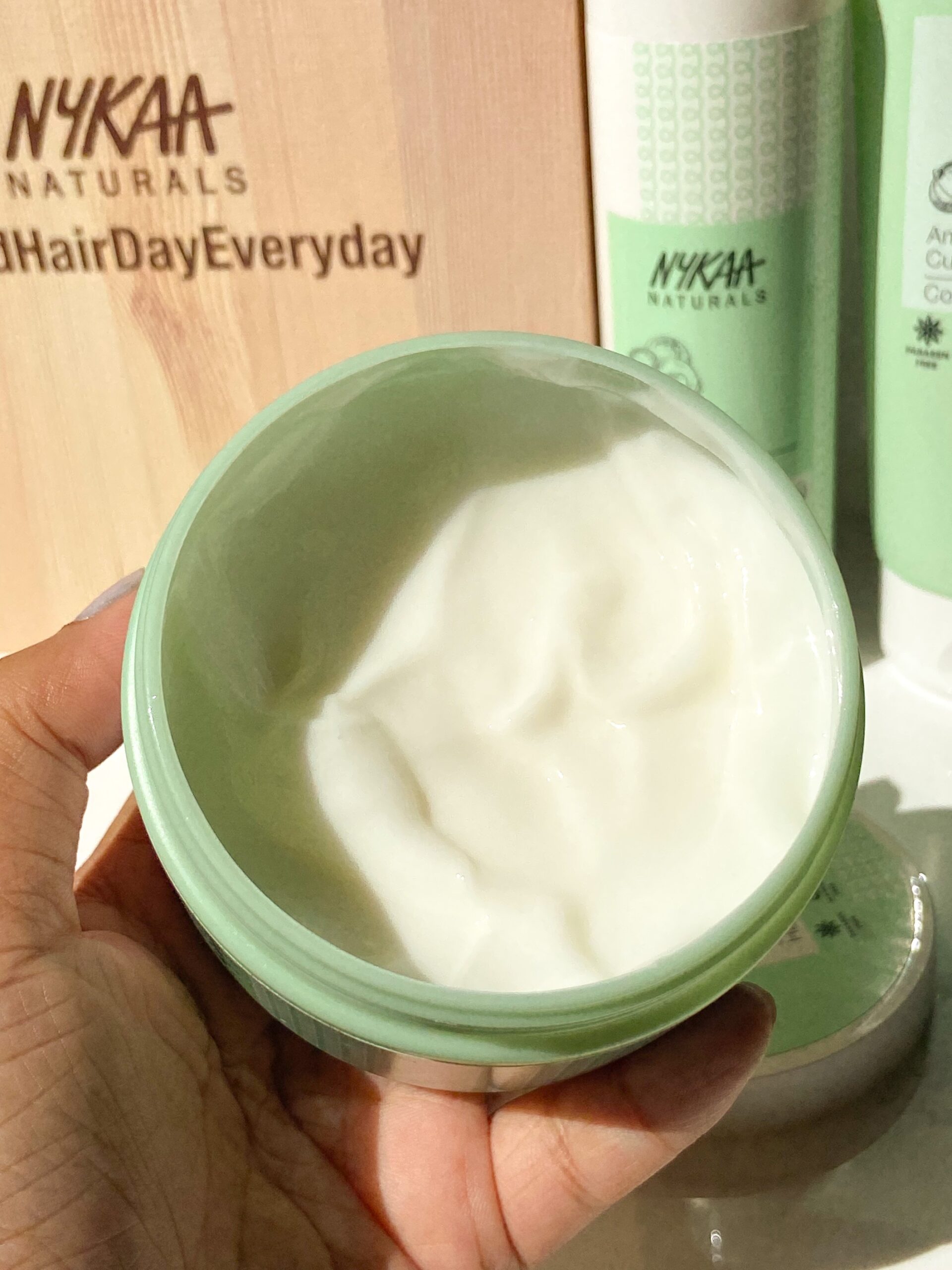 The star of the show is this Nykaa Naturals Hair Mask! It's priced at Rs.599 and contains 200 ml of product. This hair mask makes your hair smooth, silky and manageable. The brand mentioned the mask to be kept for 10-15 mins but I've used it for 30 mins and the result was so good. I use it on my clean sectioned hair and then apply it evenly from my root to the tip.
My mother has very dry hair with thin ends and a lack of shine. When she started using the hair mask religiously every week, her hair condition has improved and also she did notice lesser hair loss.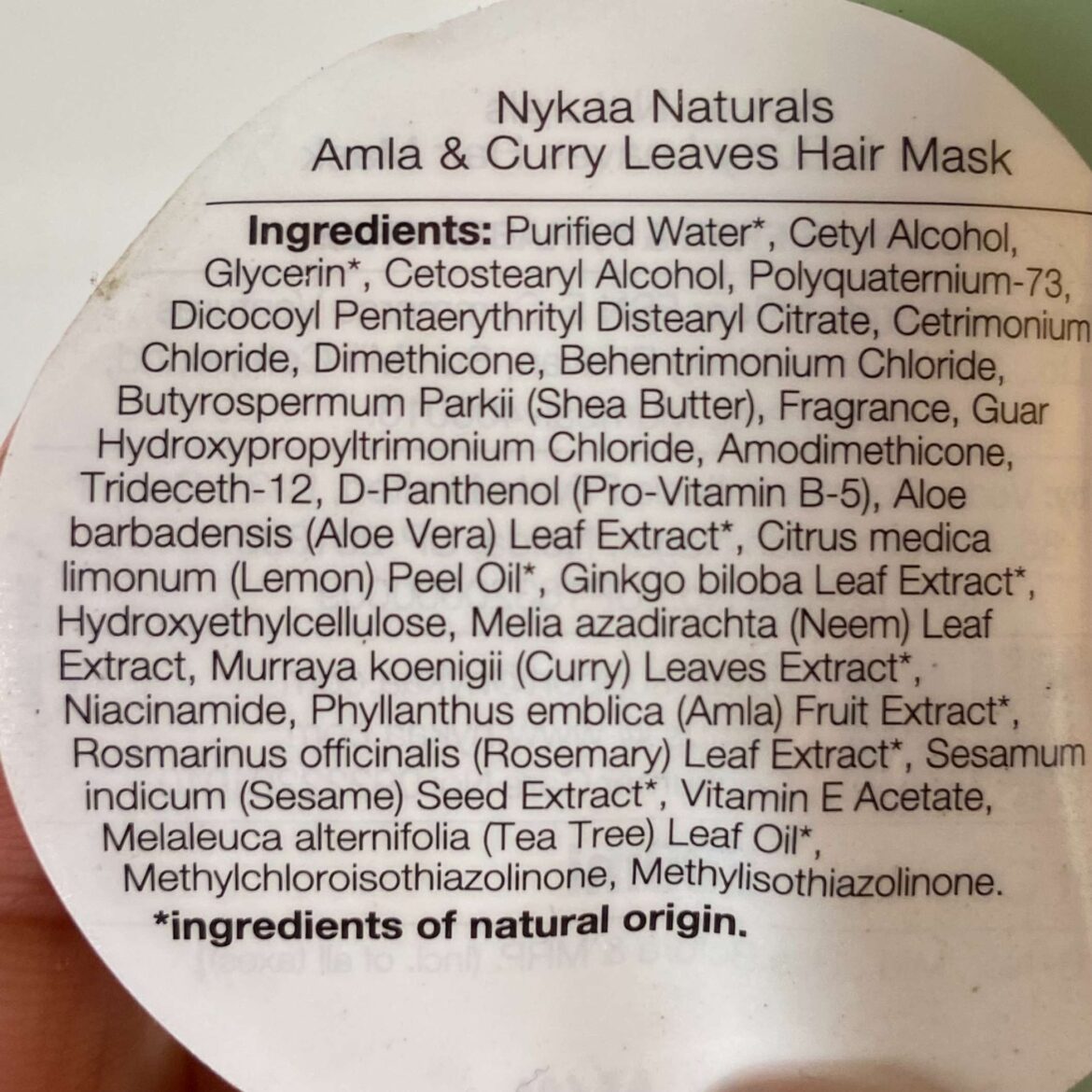 It contains a lot good moisturizing ingredients like Glycerine, Shea Butter, Pro vitamin b5, aloe vera leaf extract, leem extract,curry leaves. It's made of rich emollients and humectants which ensure that the moisture is transferred deeply into the hair.
Final Verdict:
When I used all the 3 products from this range, my hair was smooth, silky and voluminous for 3 days straight. I felt like it gave a hair spa effect for real
When I used only the shampoo and conditioner, my hair was smooth, manageable and voluminous but the effect died down the next day.
So if you are searching for a range of hair care that contains Amla, Curry Leaves, Aloe vera Seaseme, Heena, Neem, Niacinamide, and a lot of good ingredients, definitely check out this range.
Related Articles:
The Review
Nykaa Naturals Amla and Curry Leaves Haircare Range Review
The shampoo and hair mask was a big hit for me. This whole range is made for people who have issues with hair fall. I have considerable hair fall whenever I wash my hair and it did minimize the hair fall a bit. Compared to other ranges, I found the hair mask to be very effective in case of minimizing hair fall and also providing hair lustre.
Review Breakdown
Nykaa Naturals Amla and Curry Leaves Shampoo

Nykaa Naturals Amla and Curry Leaves Conditioner

Nykaa Naturals Amla and Curry Leaves Hair Mask
Nykaa Naturals Amla and Curry Leaves Haircare Range Review DEALS
We collect information from many stores for best price available
Best Price
₹399