Dr Sheth's Amla VC 20 Vitamin C Serum DEALS
I was super impressed by Dr Sheth's skincare after trying out their Cica & Ceramide Serum, which changed the way my skin felt and looked. So when I received their Clinic @ Home range, I was ecstatic! This Dr Sheths Amla VC 20 Vitamin C Serum is formatted with 20%  3-o-Ethyl-Ascorbic Acid, which is a stable form of Vitamin C used for skin brightening and reducing any pigmentation from acne scars. Read the review to know more.
Product Description:
This serum, formulated especially for sensitive Indian skin is power-packed with 3-o-Ethyl-Ascorbic Acid which evens out pigmentation and gives you glowing bright skin. Ferulic Acid and Amla Extract help reduce fine lines, spots, and wrinkles. Vitamin E and Sodium Hyaluronate soothe and hydrate skin.
Key Benefits:
Evens out skin tone
Reduces fine lines and wrinkles
Hydrates and soothes skin
Reveals a more radiant complexion
Paraben-Free, Vegan, Pregnancy Safe, Sulphate Free
Ingredients:
Purified water, 3-O-Ethyl Ascorbic Acid (Vitamin C), Propanediol (penetration enhancer), Diethylene glycol monoethyl ether (penetration enhancer), Polysorbate 20 (solubilizer), Sodium Hyaluronate (humectant) , Tocopheryl Acetate (Vitamin E) (antioxidant), Emblica Officinalis Fruit (Amla) Extract (antioxidant), Ferulic Acid (antioxidant), Hydroxyethylcellulose (co-solubilizer), Diazolidinyl Urea (co-preservative), Sodium gluconate (heavy metal chelator), Iodopropynyl Butylcarbamate (co preservative)
Percentage of Key Ingredients:
20% Vitamin C
0.5% Ferulic Acid
1% Vitamin E
1% Sodium Hyaluronate
Price: Rs. 999 for 20ml
Available on Nykaa, Amazon, Dr Sheth's, Vanity Wagon(Use Code TRISHNA for 20% Off)
Packaging: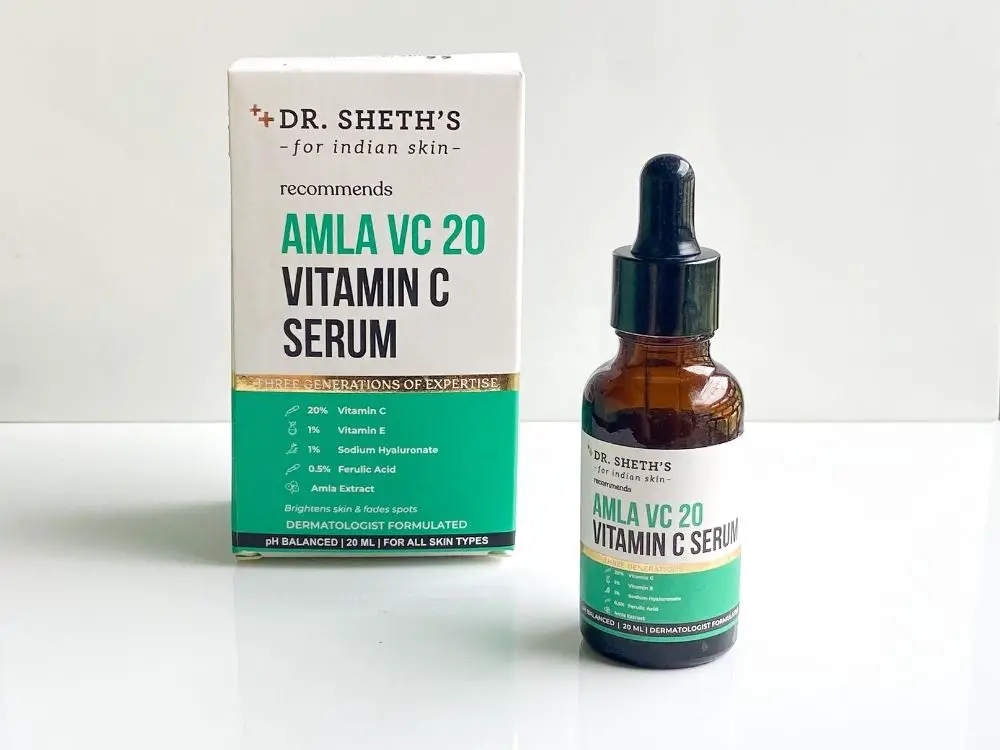 This Amla VC 20 Vitamin C Serum comes in their latest packaging with green accents over it. You need to insert the dropper after removing the cap and stopper. Overall, the packaging is leak-proof and the dark glass bottle is quite sturdy. To be honest, I loved their minimal neutral packaging because I found that quite classy and elegant. But I do like the idea of the outer cardboard box packaging as it contains a lot of information and will be beneficial for any new users. All the necessary information like the full ingredients lists, manufacturing dates, instruction on usage are listed on the product packaging so you may throw away the cardboard box.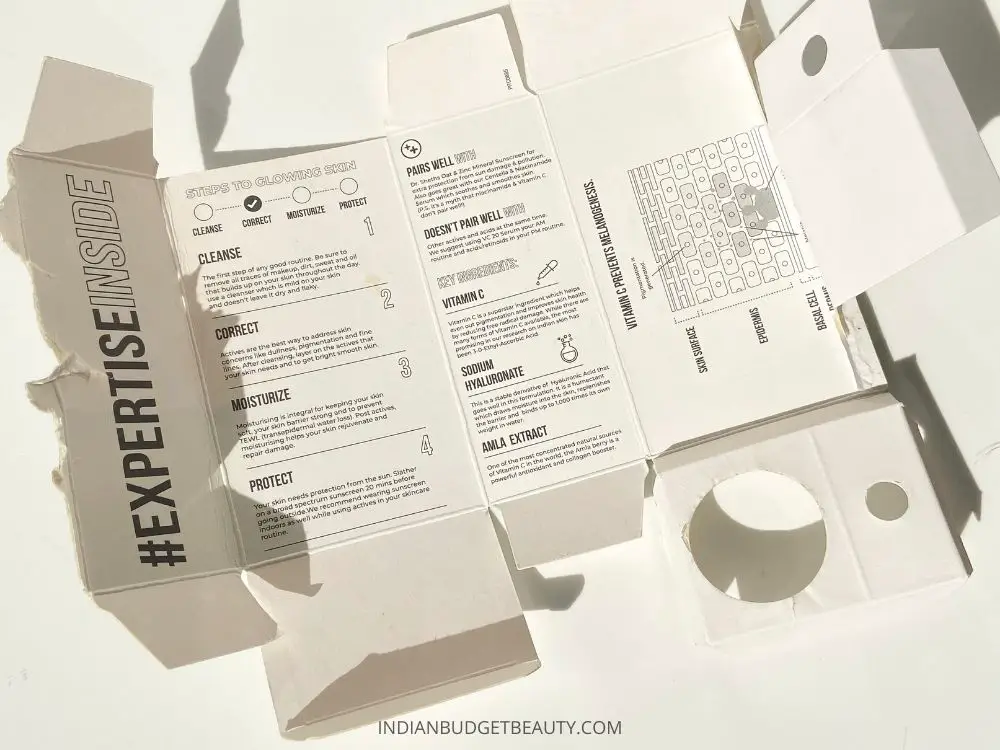 Consistency, Formulation of Dr Sheths Amla VC 20 Vitamin C Serum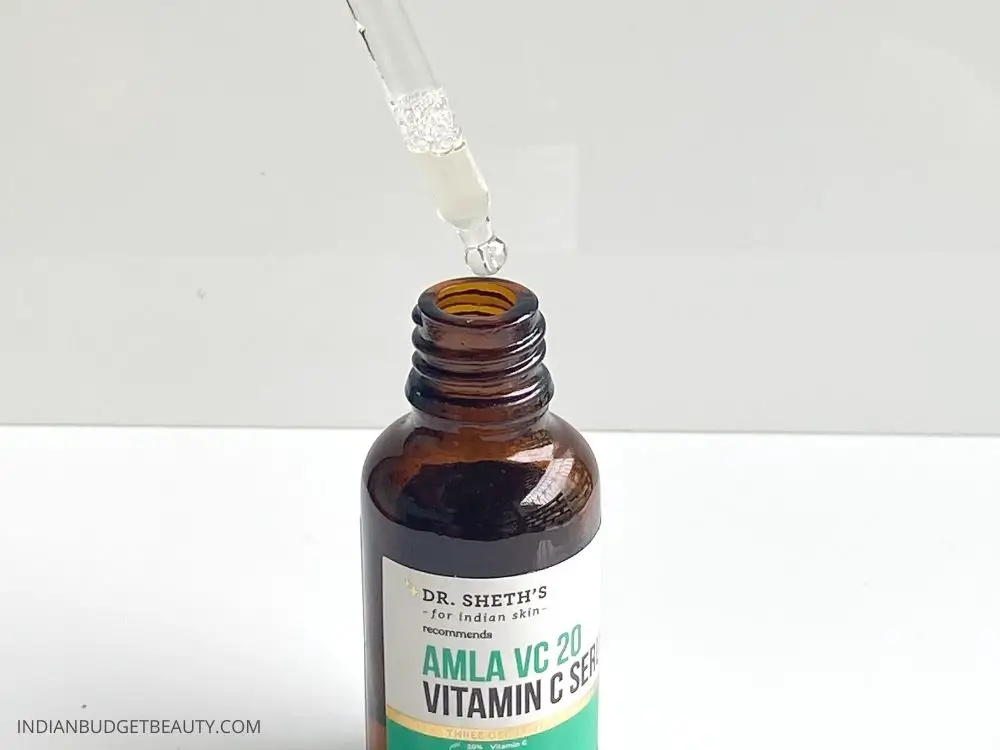 The consistency of Dr Sheth's Vitamin C Serum is very watery with slight viscosity. It's very lightweight and absorbs in the skin quite quickly. I like to use it on my damp skin because of the 1% hyaluronic acid and it does not sting at all. For a 20% Vitamin C Serum, it did not irritate my skin at all except for the first two usage where it did itch a bit but after repeated usage, it adapted to my skin.
I'd say it's very hydrating and gives you a dewy finish. During humid climate, you might find it a bit tacky but I don't mind it all. For my dry skin, it's the perfect formulation and I do top it off with a moisturizer and sunscreen. If you have super oily skin, you might wanna skip the moisturizer and go straight for the sunscreen.
Quantity
Most people might have concerns regarding the quantity which is 20ml in this case. It's 10ml less than other standard serum quantity. But surprisingly, even after using it straight for 1 and half months, I'm yet to finish the bottle. For your reference, I use 3-4 drops every day. I think it's quite good that they have kept the quantity 20ml because most vitamin c serums do get oxidized after 2-3 months. I feel I'll be able to finish this bottle before it gets oxidized.
Does it oxidize?
One of my major concerns in Vitamin C serums is the oxidation part. My previous Vitamin C serums have oxidized tremendously in my skincare cabinet and most of them were new purchases. I've not faced any issues of oxidation in this Dr Sheths Amla VC 20 Vitamin C Serum. I found it quite stable. It does not oxidize easily like the Pixi Vitamin C Serum.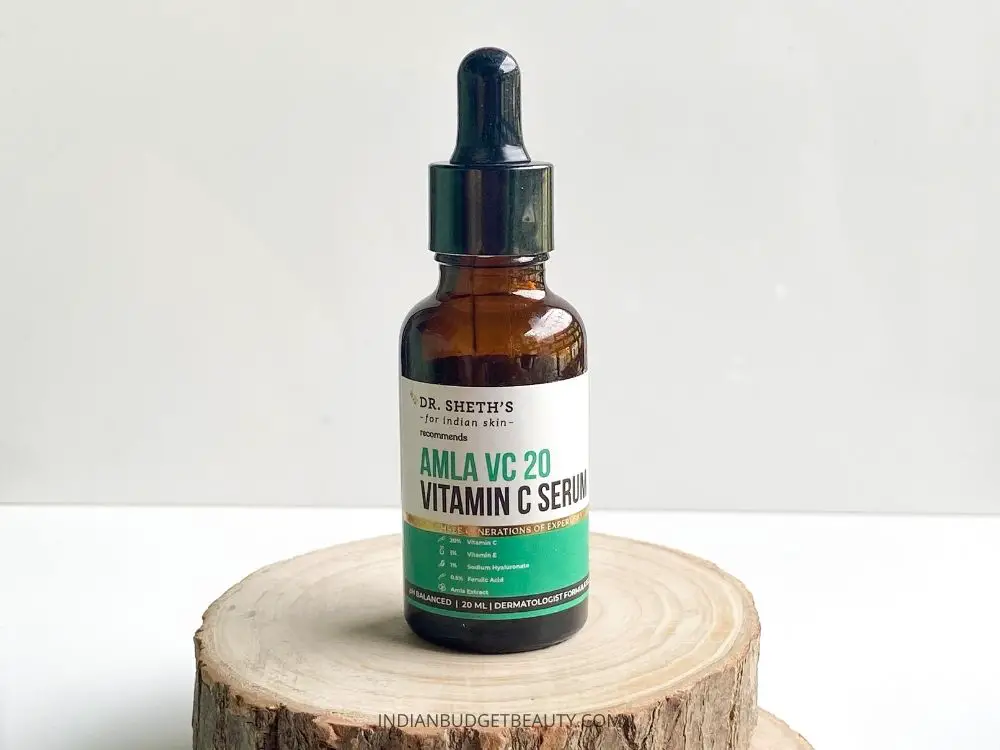 How I Use It?
I mainly use it in my AM routine. Cleanser > Juicy Chemistry Aloe Vera Water > Dr Sheth's Amla Vitamin C Serum > Moisturizer
My Thoughts On The Product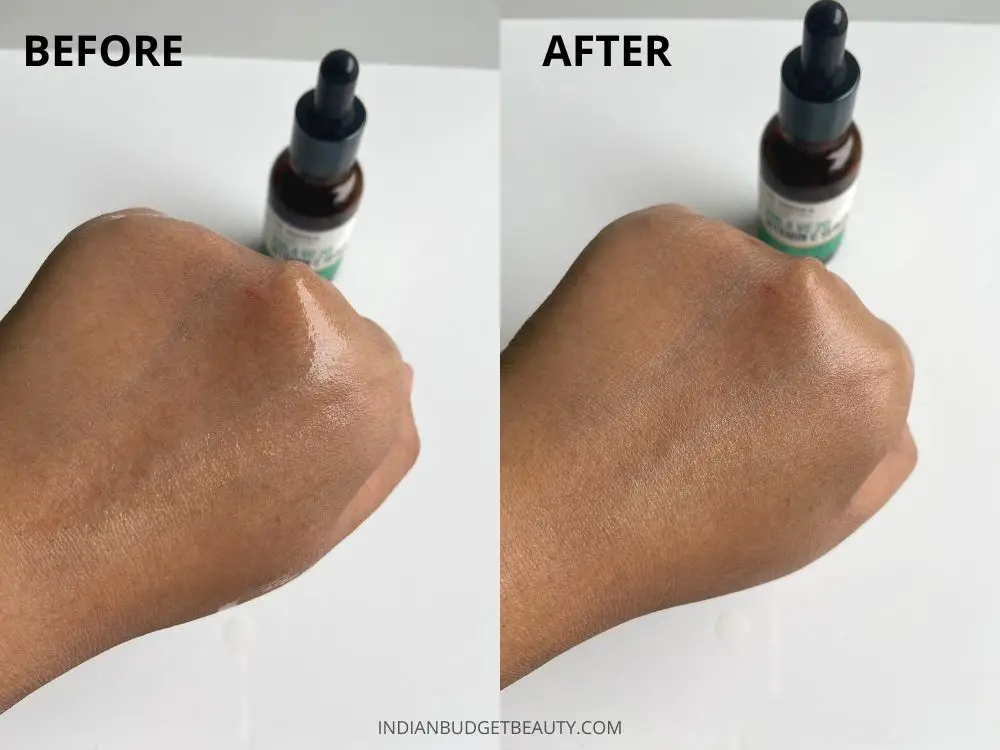 I've been using it for almost more than a month daily in my AM routine. Usually every month I do get 1-2 hormonal breakouts on my chin and it often leads to hyperpigmented spots. I've noticed a sufficient reduction in those spots on my chin. So I do believe you need to use it continuously to see any changes.
The serum is quite hydrating on its own as it also contains 1% hyaluronic acid. It instantly soothes down your skin and gets absorbed very easily. It's very lightweight and you won't feel it lying on top of your skin. I found it more hydrating than the Goodal Green Tangerine Vita C Dark Spot Serum. I can notice a slight glow every time I use this serum. It provides an overall brightness. So if you have dull skin, just get this one.
It does contain a lot of antioxidants like 3-o-Ethyl-Ascorbic Acid, Ferulic Acid, Vitamin E, Amla, which help in overall brightening of the skin, healing any damaged areas or reducing inflammation. I do love the Vitamin, Ferulic Acid and Vitamin E combination because Ferulic does stabilize Vitamin C and E.
The brand mentions this serum to be compatible with their Oat & Zinc Mineral Sunscreen and Centella & Niacinamide Serum. I'd highly suggest that you use this vitamin serum in your AM routine and use any sunscreen with SPF 30 or more PA+++. Vitamin + Sunscreen is a power couple! Vitamin C helps to increase the efficacy of the sunscreen does help to add extra protection and helps to neutralize free radical damage from sun exposure.
Mixing it with Niacinamide: As for the Niacinamide Serum, I'd not recommend that you mix Niacinamide with Vitamin C because it can irritate your skin a bit. It depends on your skin's tolerance. I don't have that and it irritates my skin whenever I use them together so I'd suggest that you use your Niacinamide Serum in the PM routine instead.
Mixing it with AHA/BHA: Never use it with any other actives like AHA/BHA
I feel like it is one of those serums that you need to consistently use for 2-3 months to see any change in wrinkles and fine lines. I don't have any prominent wrinkles or fine lines so I cannot vouch for that.
Overall, I do really love this Vitamin C Serum a lot, even more than my Pixi Vitamin C Serum and the Goodal Green Tangerine Vita C Serum. I've seen noticeable changes by using it for 30 days straight and the fact that it does not oxidize easily is a dream for any Vitamin C Serum. I'd definitely repurchase this and highly recommend it to everyone.
The price and quantity might be an issue for most people. But you can definitely use my code TRISHNA for a 20% off at Dr. Sheth's and Vanity Wagon.
Also Read:
The Review
Dr Sheth's Amla VC 20 Vitamin C Serum
PROS
Very light-weight formula that absorbs easily
Gives an instant glow or a dewy look
Very hydrating and soothes down the skin
Helps in reducing hyperpigmented spots
Provides an overall brightness and Rejuvenates dull skin.
Does not oxidize easily
Does not sensitize the skin
Love the packaging with the informative cardbox box
CONS
Not for those who needs instant results
Review Breakdown
Packaging

Formulation

Effect