During the lockdown, I was dying to try out Dr Sheth's Cica and Ceramide Overnight Repair Serum because this brand intrigues me to another level. So I bought this Dr Sheth's Cica & Ceramide Overnight Repair Serum and Dr. Sheth's Moringa And Vitamin C Cleansing Oil. So here I am writing my review of the cica and ceramide serum after using it continuously for a month both in the AM and PM.
My skin got damaged in the process of trying out different skincare so my main expectation from this serum was to repair my skin barrier. Did this serum really repair my skin barrier? Did it help to make my skin go plump and healthy? Read till the end to know more.
---
Price: Rs. 950 for 30 ml | Click here To Buy At 20% Off
Use code TRISHNA at Dr Sheth's Website & Vanity Wagon to get 20% Off
Shelf Life: 24 Months
---
pH: 5.5
Skin Type: Combination-to-dry
---
Dr Sheth's Cica and Ceramide Overnight Repair Serum Review
Ingredients:
Purified water, Shea butter esters, Caprylic-capric triglyceride, Glycerin, Olive squalane, Wheat and oat sugars, Niacinamide, Ceramide-3, Cholesterol, Deoxyphytantriyl Palmitamide MEA, Sodium polyacrylate starch, Centella asiatica extract, Allantoin, Narcissus tazetta extract, Cannabis sativa oil, Marula oil, Sodium acrylates copolymer, Lecithin, Rose oil, Phenoxyethanol, Chamomile extract, Calendula extract, Wheat germ oil, Almond oil
The brand mentions this product as fragrance-free but it does smell of rose oil and contains it as well. They have mentioned it as a skin conditioning agent but I'm not sure about it. So if you are allergic to essential oils then you might have to do a patch test before.
Packaging: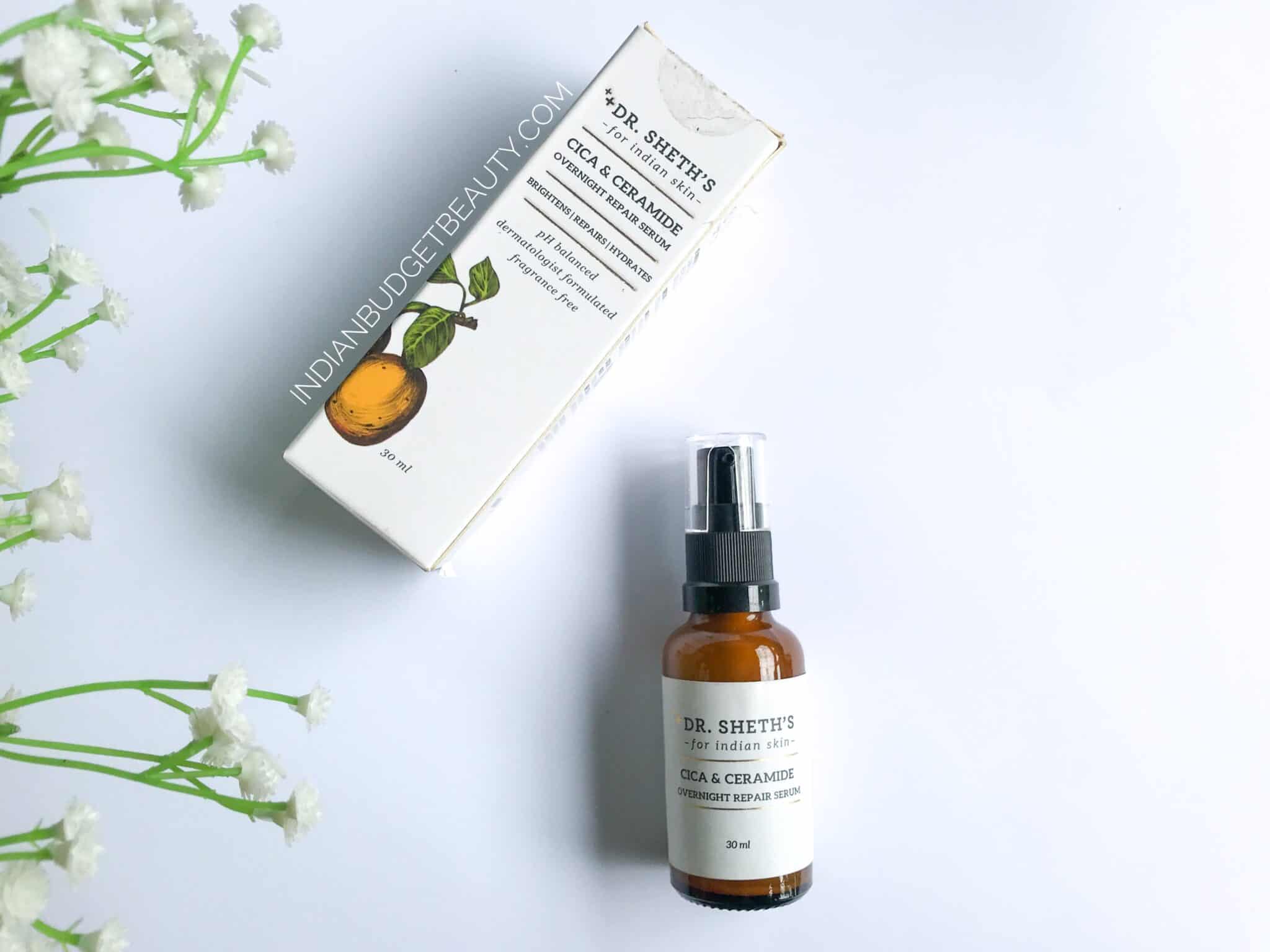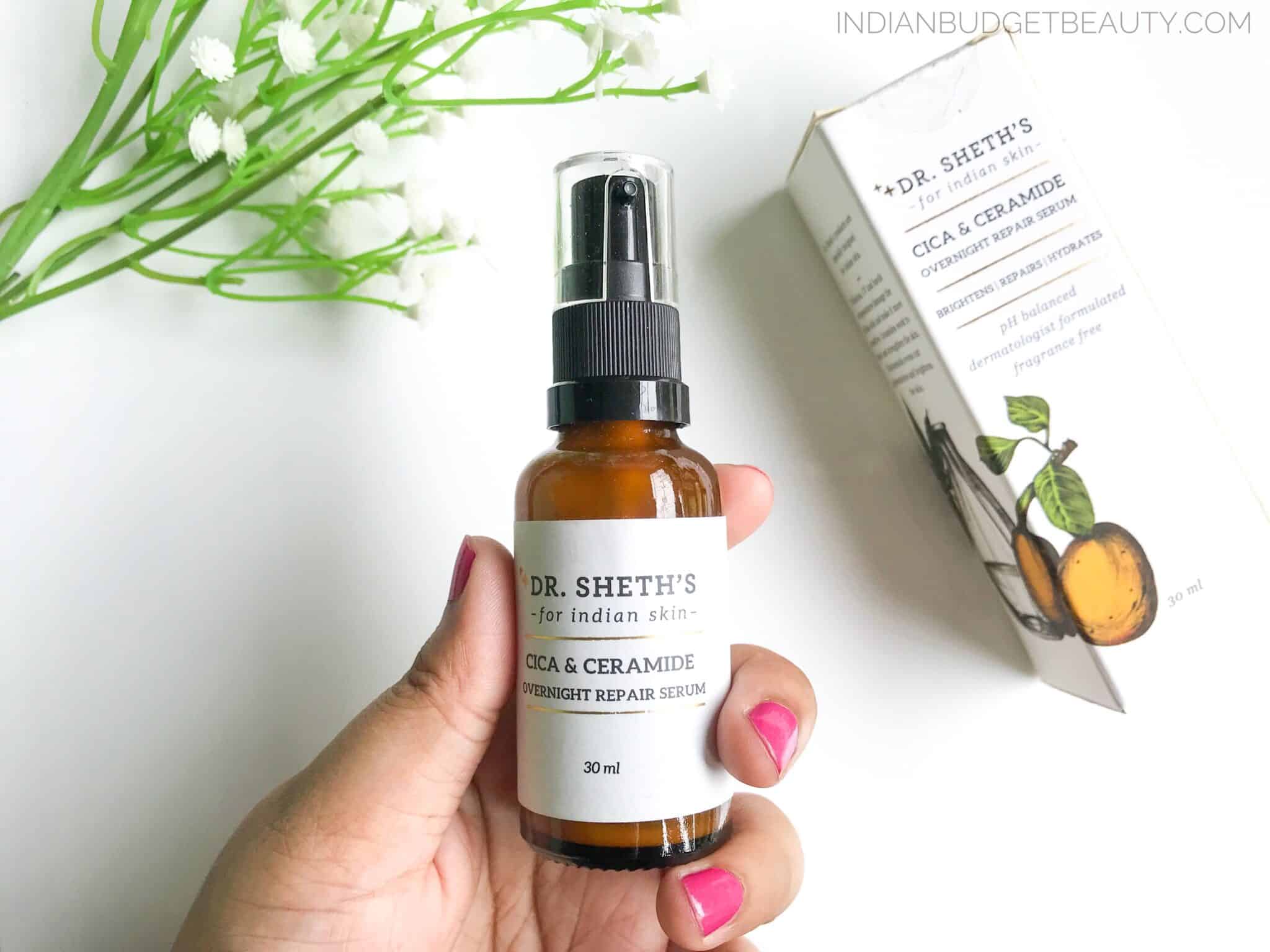 The Dr Sheth's Cica and Ceramide Serum comes in a tinted glass bottle with a pump dispenser. This small 30 ml bottle is made of thick glass that did not even break when it accidentally dropped from my hand. So I'd deem it as travel-friendly. This serum also has an outer cardboard box that is very minimalist in appearance but with a twist of few illustrations.
I'd have been happier if they would have listed their full ingredients instead of their key ingredients in their packaging. You can find their full ingredient list on their website.
Consistency, Texture & Smell
This Dr Sheth's Cica and Ceramide Serum serum is more like an emulsion with its white lotion-like consistency and smooth texture. It gets absorbed very easily. I can smell a hint of rose oil and it does contain rose oil which is an essential oil. So it's not exactly fragrance-free like the brand claims it to be.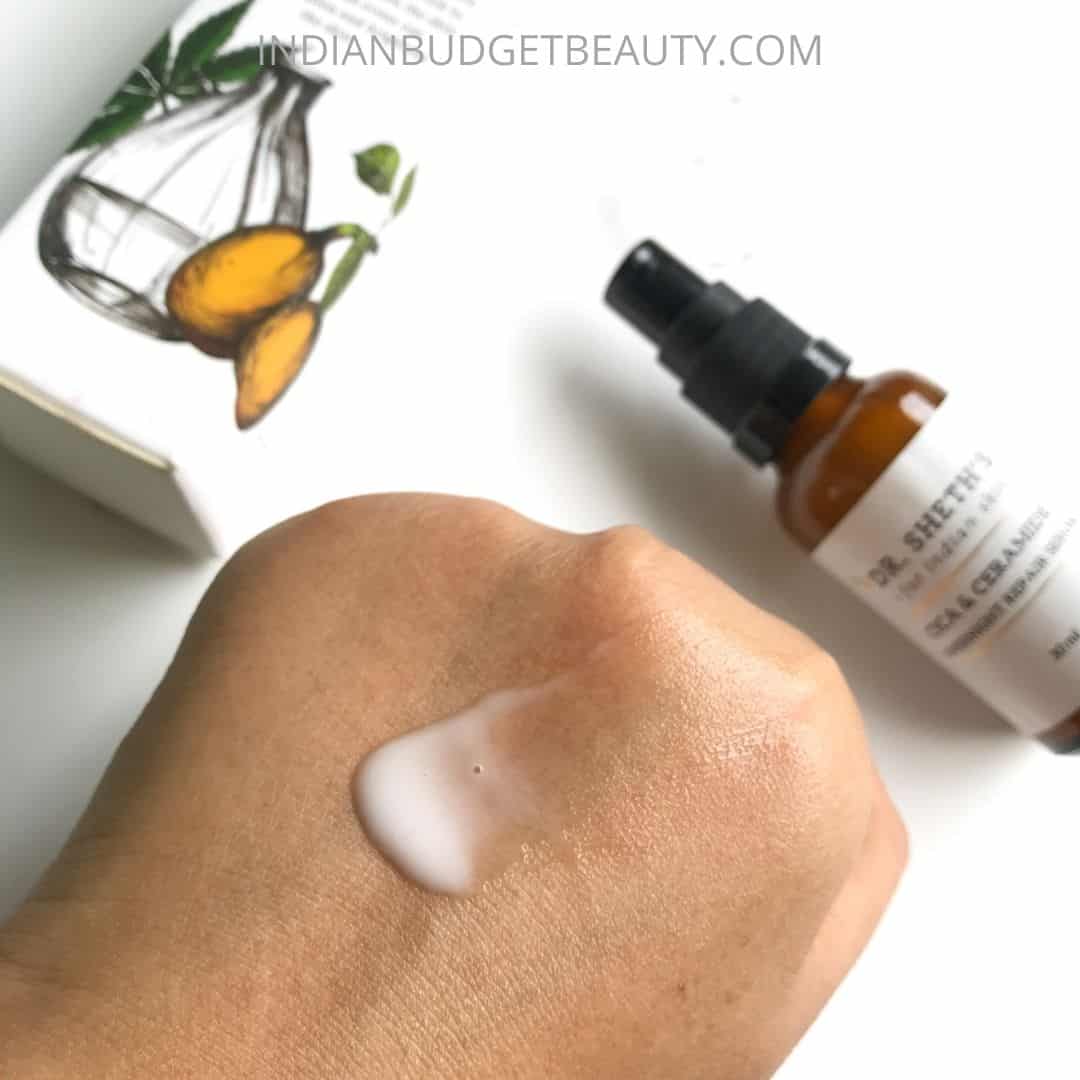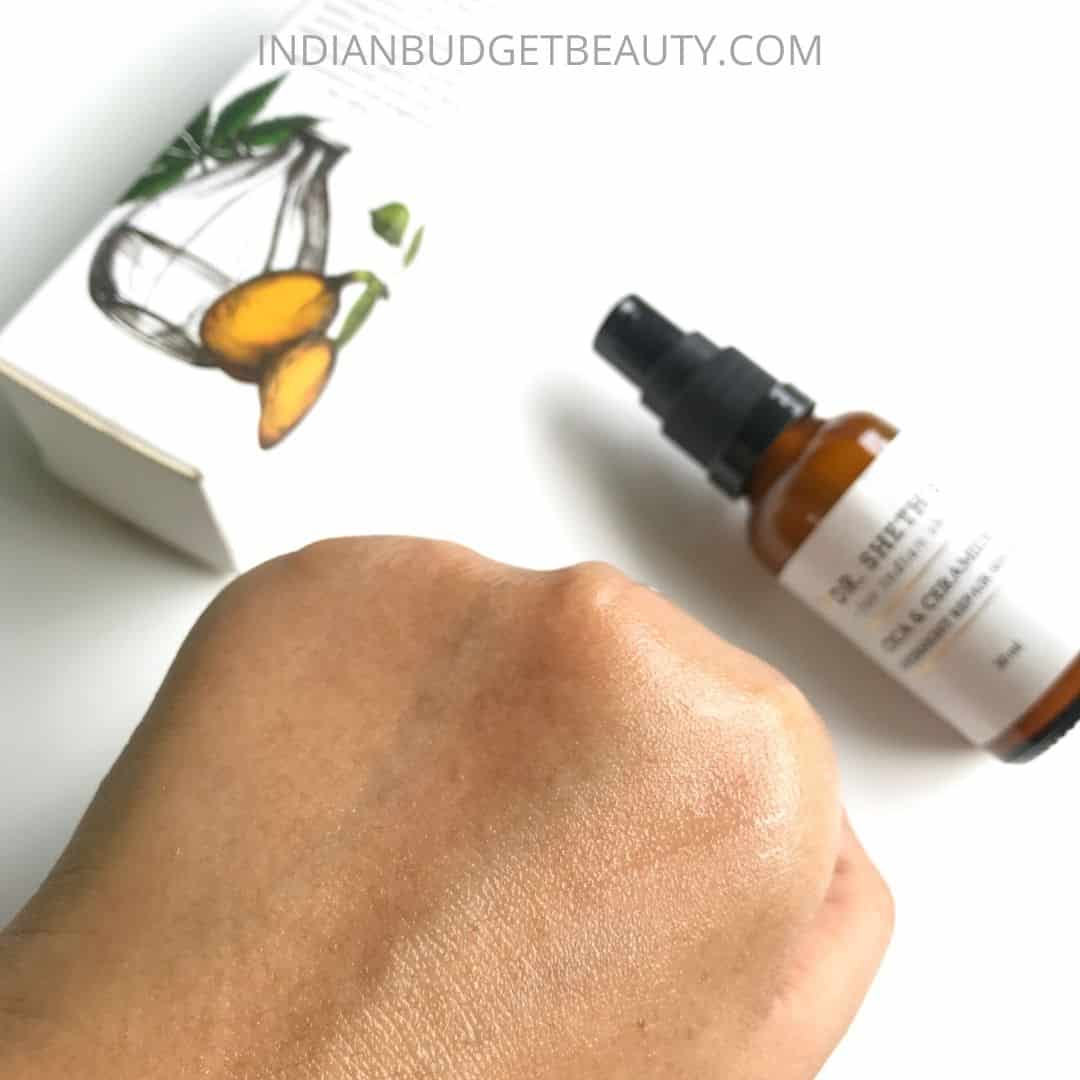 How Does It Feel On the Skin?
It feels just like a light lotion that absorbs as you rub it into your skin. Provides instant hydration and nourishment while calming and soothing your skin.
My Final Thoughts On the Product
During the end of July, my skin's barrier was damaged due to excessive product testing and frequent product changes. That's when I got this Dr Sheth's Cica and Ceramide Overnight Repair Serum because of its skin repairing claim and the presence of my favorite ingredients Centella Asiatica (Cica), Ceramide-3, Olive Squalene, and Niacinamide. In the month of Aug, I used this every day in my AM and PM routine to see if it actually works.
The ingredient formulation is perfect for dry and damaged skin but I've also seen a few of my friends with oily skin loving this. People with oily skin can use this as a moisturizer because of its lotion-like consistency. They do have rose oil which is mainly an essential oil but it did not break me out.
How I Incorporate It In My Skin Care Routine?
AM Routine: I start with a cleanser/ face wash, follow it up with any toner or mist, then Dr Sheth's Cica and Ceramide Serum, and seal it with my favorite moisturizer and Sunscreen (for AM)
PM Routine: I start with a face wash, followed by a Toner, then Dr Sheth's Cica and Ceramide Serum, and then seal it with either a moisturizer or face oil.
NOTE: If you have oily skin, you can stop with the serum but since I have dry skin so I do need an extra moisturizer.
I found this serum to be quite soothing and hydrating on the skin and also very lightweight. It absorbs quickly and it layers beautifully. I've also used it after using my The Ordinary 7% Glycolic Acid Toning Solution and it went on great and soothed my skin. I've started layering it with COSRX Advanced Snail 96 Mucin Power Essence, it did break me out when I used an extra moisturizer on top of it so when I skipped the moisturizer and used the Cica & Ceramide serum alone as a lotion, it did work very well. I woke up with the most amazing dewy and plump skin.
It is meant for the nighttime usage but I also do prefer to use it in the AM. I use 2-3 pumps of it for my whole face. Whenever I use it in the AM, sometimes I even skip my moisturizer depending on the weather condition.
Overall I noticed that it repaired my skin barrier within 2 weeks of continuous usage and also made my skin very plump and dewy. I always notice how my skin seems to have a glow and plumpness every time I use this. Hence I even featured it on my August favourites.
Do I have any issues with it? No, I don't. A little bit Fragrance is not my issue until it is very strong and overall, the smell is due to Rose Oil which I don't mind at all. The price is a bit high but you can always use my code TRISHNA at VanityWagon to get 20% off and this 30ml bottle will last you about 2.5 months if you use daily in the AM and PM. I'll also have to mention that it contains incredible ingredients and its vegan, cruelty-free, gluten-free, mineral-oil and silicon-free
---
Do I Recommend It?
I highly recommend this Dr Sheth's Cica and Ceramide Overnight Repair Serum to all skin types. People with sensitive can also use this if you are not allergic to rose oil.
---
Pros
Helps in repairing the skin barrier
Helps to hydrate your skin
Helps in soothing and calming the skin
Makes your skin feel soft and plump
Can be used after chemical exfoliator
Travel-friendly & sleek packaging.
Cons
If you are sensitive to fragrance then do a patch test before as it contains fragrance (Rose Oil).
---
Dr Sheth's Cica and Ceramide Overnight Repair Serum
Packaging

Effect/Performance
Final Verdict
I absolutely love and recommend this serum to all skin types. It helps in repairing the skin barrier, provide hydration, and helps in giving smooth and plump skin. 
---
Related Reads: