Recently I've reviewed the Minimalist Hyaluronic Acid 2% Serum where I've mentioned using the Minimalist Sepicalm 3% Oat Moisturizer along with their Squalane oil. This Minimalist Sepicalm 3% + Oat Moisturizer is described as " A lightweight moisturizer that hydrates, soothes, and softens skin, without oily, shiny or heavy residual feel". The brand mentions it to be "A perfect blend of hydration, emollients, and occlusives for all-day moisturization that is suitable for Normal, Acne-Prone & Sensitive Skin".
What The Brand Claims:
Formulated for Normal & Oily Skin in mind, this moisturizer is super lightweight, absorbs quickly, and does not gives a shiny finish
Boosted with Sepicalm which combines Amino Acids with Minerals to soothe irritations and calms redness caused by UVA / UVB and comforts skin
Polyglutamic acid for skin hydration. It's a new generation hydration molecule that can hold 4 times more water than Hyaluronic Acid and reduces transepidermal water loss as well at the same time
Also contains Oat extract, Colloidal Oat, Squalane, Vitamin B5, and Amino acid to further nourish & calm skin
High-quality ingredients including Sepicalm sourced from Seppic, France and Squalane sourced from Sophim, France
---
Price: Rs. 349 for 50 ml
---
Ingredients:
Aqua, Avena Sativa (Oat) Kernel Extract, Squalane, Glycerine, Xylitylglucoside, Anhydroxylitol, Xylitol, Sodium Cocoyl Aminoacids, Sarcosine, Potassium Aspartate, Magnesium Aspartate, Caprylic/Capric Triglyceride, Panthenol, Pentylene Glycol, Avena Sativa (Oat Kernel) Flour, Sodium Polyglutamate, Undecane, Butyrospermum Parkii (Shea) Butter, Tocopherol Acetate, Arginine, Glycine, Alanine, Histidine, Sodium Lactate, Arachidyl Alcohol, Behenyl Alcohol, Arachidyl Glucoside, Tridecane, Aluminium Starch Octenylsuccinate, Trehalose, Polyacrylate Crosspolymer-6, Phenoxyethanol, Ethylhexylglycerin, Citric Acid, Trisodium Ethylenediamine Disuccinate
Packaging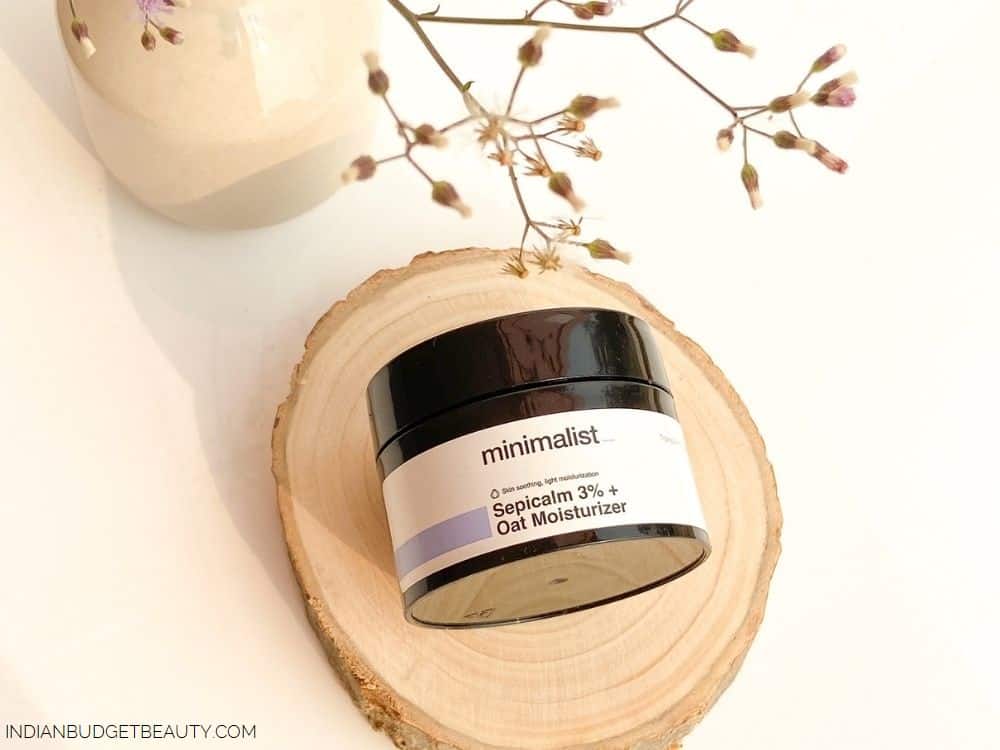 The Minimalist Sepicalm 3% + Oat Moisturizer comes in a small plastic tub packaging with an inner stopper lid and a black cap. It travel-friendly considering its size. But I don't find this packaging very hygenic because I have to dip my finger over and over.
Consistency, Smell & Color:
It has a creamy yet jelly like consistency. I'd say it has a similar texture like the Palmer's Coconut Water Moisturizer but in a creamy form.
Coming to its colour, it's plain white, no added dyes whatsoever. The brand mentions it as fragrance-free but I can smell a whiff of something, which might be due to an ingredient called Tridecane but it's nothing that you cannot bear.
I love it's consistency, it's very easy to work with. But the only issue is the piling situation.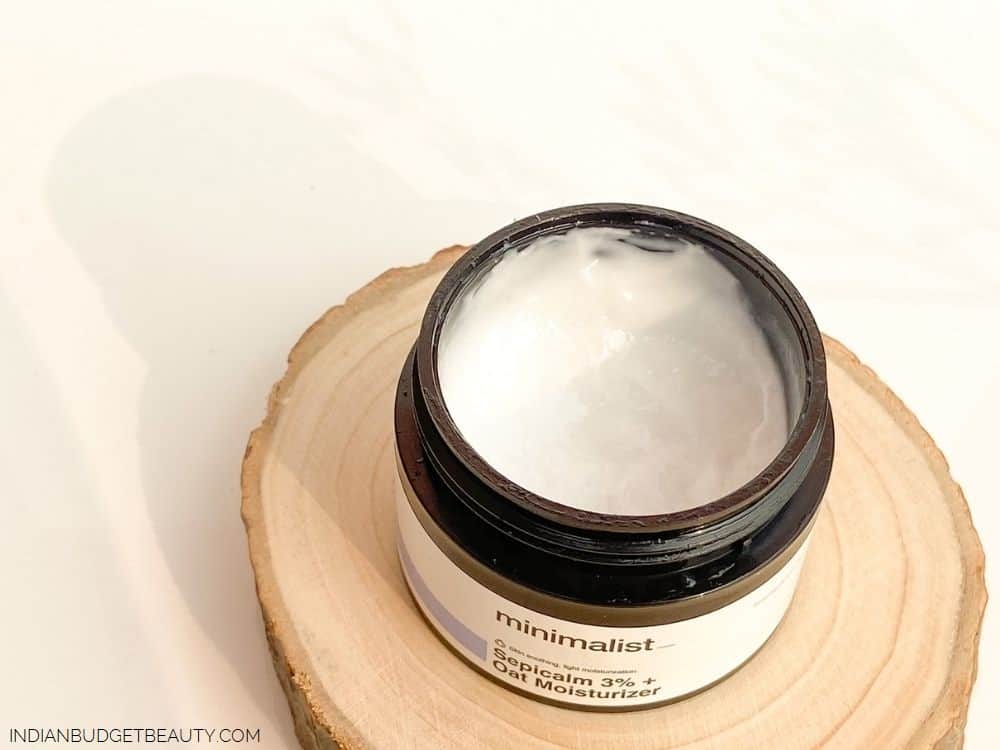 How Does It Feel On The Skin?
The Minimalist Sepicalm Oat Moisturizer has a soothing and calming effect on the skin. This product does provide enough moisturization for people with dry skin. But during winters, the moisturization can fall short so you will need to add 2-3 drops of your facial oil. I prefer to pair it with my Squalane Oil.
My Review of the Minimalist Sepicalm 3% + Oats Moisturizer
I feel the Minimalist Sepicalm 3% + Oats Moisturizer works best if used with their Squalane Oil. You may want to skip the oil if you have oily skin. I've paired it with their Hyaluronic Acid Serum and also with the Niacinamide 5% +HA Serum and it paired very well. This moisturizer is very light-weight yet very moisturizing and hydrating.
I love that it has a soft texture which gets easily absorbed into the skin without making it oily or greasy. Whenever I get a stretchy dry feeling, I use this moisturizer to soothe the skin and it does a great job in soothing any dry patches. Though it cannot remove any dry patches over-night, it can surely heal it by a week or so.
This moisturizer is suitable for all skin types but its usage depends on the quantity you are applying. For my dry skin, I use 1-2 scoops while if you have oily skin, you may want to use a lesser amount. The brand also mentions it to be safe for sensitive and acne-prone skin, even for people with fungal acne. But it's always better to patch test for those with fungal acne.
It did not break me out but I observed a bit of product pilling on my forehead which I believe is an issue noticed by a few other people on the internet as well. It is not a massive issue for me since I use it as my last step of skincare. But I'd not recommend you to use it under makeup because it does pill a lot when used with any compact powder or foundation.
Overall, this moisturizer is formulated in the best way by including Humectants, Emollients, and Occlusives. It contains some of the best ingredients like
3% Sepicalm, which helps to soothe the irritation, calm the redness, and also relieve the stinging sensation.
Avena Sativa (Oat) Kernel Extract, helps to soothe irritation and repair skin barrier, good for dry, sensitive, eczema-prone skin
Squalane, which is the perfect ingredient for dry skin that helps to hydrate the skin and provides protection against UV radiation by protecting the skin's sensitive lipids.
Polyglutamic Acid, great for hydration that can hold up to 4 times more water than hyaluronic acid.
Glycerine, a natural moisturizer that protects the skin barrier
Xylitylglucoside, works in 2 ways- helps to increase natural moisturizing factors but also reduces water loss by improving skin barrier
Shea Butter, an emollient that is rich in antioxidant and soothes the skin by protecting the skin barrier
Panthenol (Pro Vitamin B5), a humectant that helps in moisturizing the skin and improve skin barrier
Tocopherol Acetate (Vitamin E), an antioxidant that prevents skin damage from UVA/UVB.
Amino acids like Glycine, Alanine, Arginine, Histidine which help to repair wounds, increase hydration, reduce wrinkles and lot more
(Product was sent to me for review)
Also Read:
The Review
Minimalist Sepicalm 3% + Oat Moisturizer Review
Overall, it is one of the most beautifully formulated moisturizers with great hydration power. I absolutely love its texture and the way it absorbs into the skin without making me oily. But the only problem is the product piling which the brand needs to find a solution.
PROS
Very moisturizing & hydrating
Light weight moisturizer
Easily absorbed into the skin
Helps to soothe irritated skin
Helps to heal flaky skin and dry patches
Does not make the skin oily.
Affordable & travel friendly
CONS
Product pilling on forehead
Packaging is a bit unhygenic
Review Breakdown
Packaging

Effect

Price Point