Goodal Green Tangerine Vita C Dark Spot Serum Set Review DEALS
Last month, I took the 2 weeks challenge with Maccaron India. They have gifted me their bestseller, the Goodal Green Tangerine Vita C Dark Spot Serum Set that I was super excited to try out. Nowadays Korean skincare is somewhat easily available in India. We might not have a huge range but we do have access to some of the best Kbeauty brands. This Goodal Green Tangerine Vita C Dark Spot Serum+ Set contains:
Goodal Green Tangerine Vita C Serum+ 30ml
Goodal Green Tangerine Vita C Serum Mask
Goodal Green Tangerine Vita C Serum+ 5ml
Goodal Green Tangerine Vita C Cream 5ml
The set retails for Rs.1850 in India & $23.66 in US
Available on Maccaron India, Yesstyle
Ingredients:

Goodal Green Tangerine Vita C Dark Spot Serum Review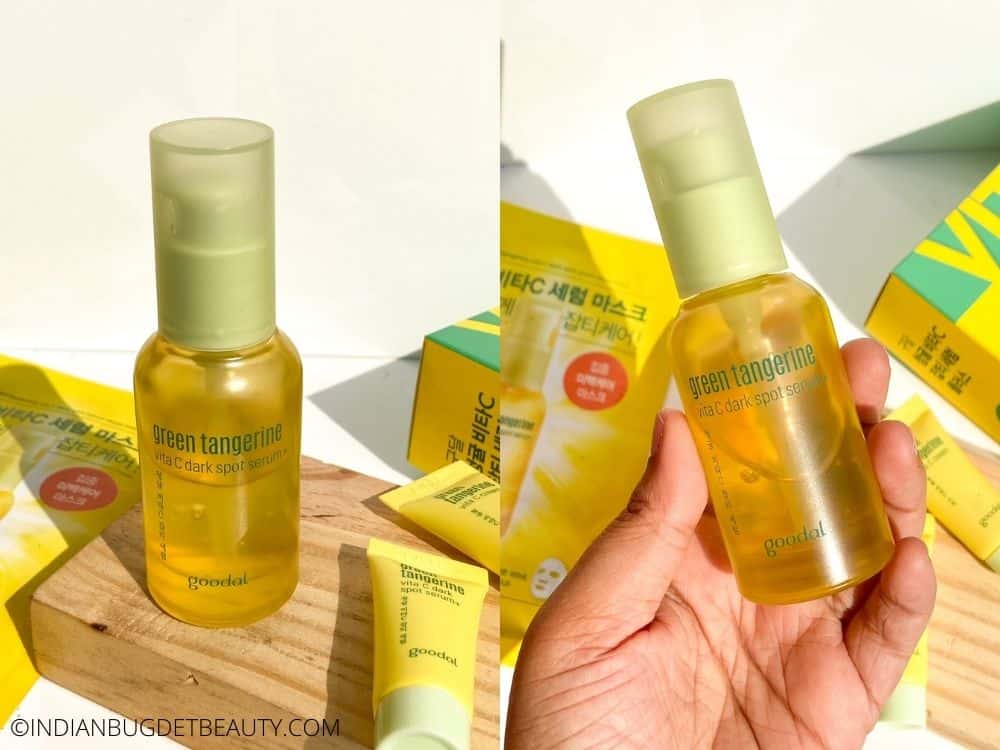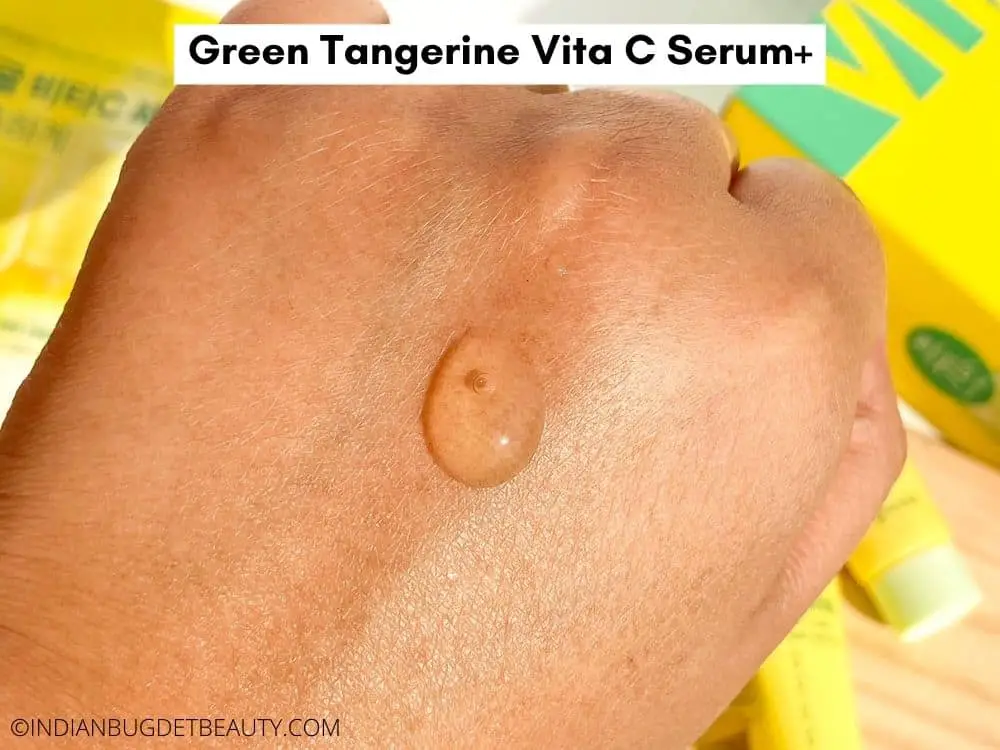 The Goodal Green Tangerine Vita C Dark Spot Serum claims to helps brighten dark spots, freckles, and blemishes in 2 weeks. It also boosts the usage of 70% Green Tangerine extract that fades the look of dark spots and improves skin dullness. I'd say that's a pretty strong claim for a serum.
Packaging:
This Goodal Green Tangerine Vita C Serum comes in a frosted yellow glass bottle with a pastel green cap. The packaging is quite heavy and sturdy but that makes it not fit for travelling. But the good thing is, you also get a 5ml tube of this serum in the set. Overall I do love that it comes with a good pump that helps in dispensing the product evenly. Also, the packaging is quite pretty.
Texture & Consistency
It has a gel like texture with somewhat viscous but light consistency. It gets absorbed very quickly into the skin, very hydrating but not at all sticky.
My Thoughts on the product:
It is a hydrating Vitamin C Serum which does help to reduces dark spots and helps to brighten the skin. This product boosts 70% Green Tangerine content which is believed to contain 10x more Vitamin C than other Vit C sources. This Vitamin C serum is perfect for any beginner as it has a non-irritant formula.
It contains ingredients like Green Tangerine, Alpha Arbutin, Ascorbyl Glucoside, Niacinamide, Curcuma Longa Root Extract (Turmeric), Scutellaria Baicalensis Root Extract, Camellia Sinensis Leaf Extract (Green Tea), Glycyrrhiza Glabra Root Extract (Licorice) that are excellent antioxidants and helps in skin brightening and fading dark spots.
I love how it's formulated to give hydration and yet at the same time help on reducing skin dullness. I've used this serum for over 20 days and thereafter helped in significantly brightening my complexion and reducing a few pigmented areas around my mouth and chin. I feel it works best on acne marks if you consistently use it work at least 2 weeks to see any noticeable difference.
The gel-like consistency makes it easier to absorb into the skin. It does have a faint citrus smell that does not bother me at all, it's quite pleasant. The serum is not only great for fading pigmentation but also helps to soothe the skin and keep it well moisturized. But I'd advise you to use only 2 pumps for your entire face else it might feel sticky.
I'd also like to mention that it does contain a few skin-sensitizing ingredients like Citrus Aurantium Bergamia Fruit Oil, Lavandula Angustifolia Oil, Cananga Odorata Flower Oil. So if your skin is sensitive to these oils, you might want to rethink before purchasing, but I did not get any reaction so it's quite safe for dry, oily or normal skin.
How To Use?
I use all my Vitamin C Serums in my AM routine.
Just after cleansing my skin, I spritz some of my favourite Toner (Juicy Chemistry Aloe Water Toner). Slightly pat it.
Then apply 2 pumps of the Vita C Serum on my damp skin
Follow it with a moisturizer and sunscreen
Will I Recommend it?
If you are a beginner that wants a Vitamin C Serum that helps to brighten skin, reduce hyperpigmentation, hydrate and soothe your skin, then this is the right one for you. Though it contains 70% Green Tangerine, it is non-irritating and safe for any beginner or an expert user, to begin with.
Goodal Green Tangerine Vita C Cream Review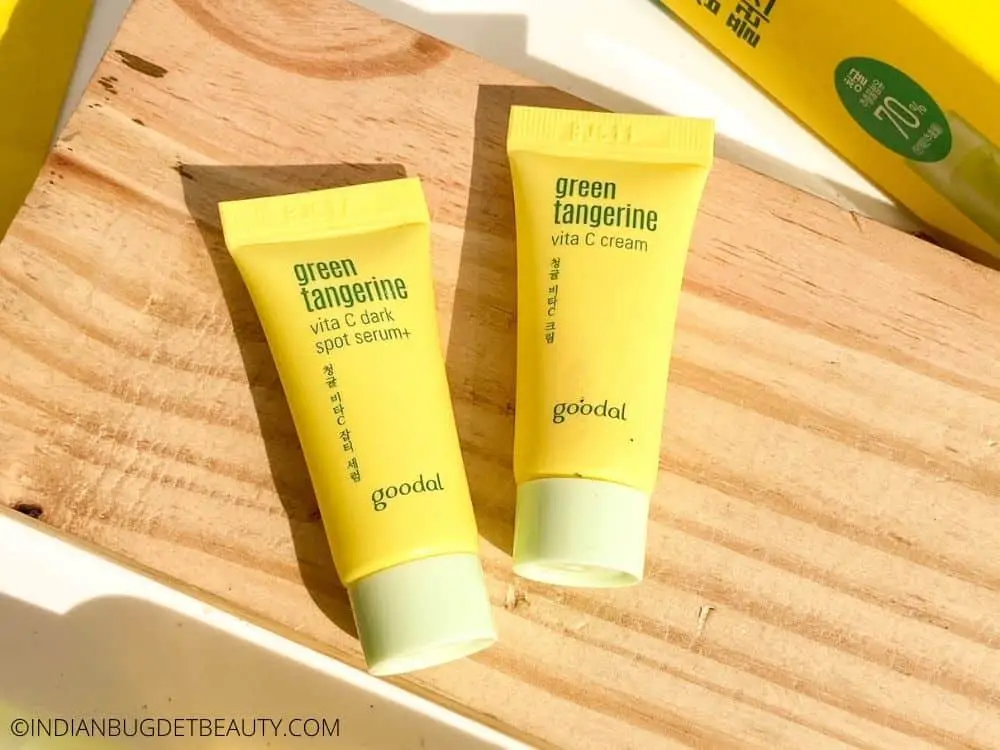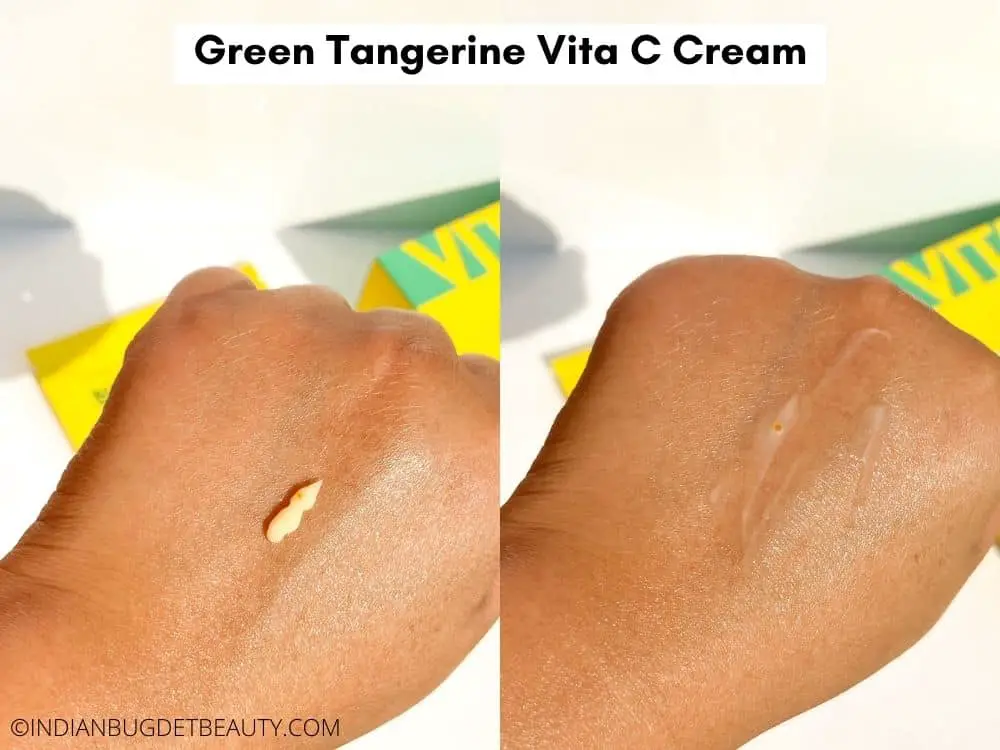 The Goodal Green Tangerine Vita C Dark Spot Serum Set includes the Goodal Green Tangerine Vita C Cream which is very similar to Pixi Vitamin C Caviar Balm but less thick than the Pixi one. It also contains encapsulated Vitamin C beads that burst as you apply.
This Vita C Cream contains 68% Green Tangerine extract as well as other superstar ingredients like Niacinamide, Alpha Arbutin, Licorice, Green Tea, Centella Asiatica. Though I've received a mini size of the cream, I enjoyed the product thoroughly. It is not at all sticky and a great addition to the AM routine. If you need a light-weight Vitamin C based moisturizer, this is the one to go for.
Goodal Green Tangerine Vita C Serum Mask Review
If there's one sheet mask that would give you a brightening effect instantly, then this Goodal Green Tangerine Vita C Serum Mask is to go for. It is super hydrating, gives a nice glow and brightens up your skin temporarily. It's a quick fix for all those last-moment important days that you need some pampering for.
Also Read:
The Review
Goodal Green Tangerine Vita C Dark Spot Serum Set Review
This set is great for beginners who want to try out Vitamin C skincare. I'd recommend the Serum to anyone who needs a non-irritating, hydrating Vitamin C Serum and the Sheet mask to someone who needs instant hydration, glow and brightening effect. The moisturizer is okay but not something extraordinary.
Review Breakdown
Goodal Green Tangerine Vita C Serum+

Goodal Green Tangerine Vita C Cream

Goodal Green Tangerine Vita C Serum Mask
Goodal Green Tangerine Vita C Dark Spot Serum Set Review DEALS
We collect information from many stores for best price available
Best Price
₹1850