List of 10 Best Sunscreen for Face Available In India
  I am a type of person who never takes the effort to apply sunscreen whether in my body or face because we all have a preconception that if our moisturizer, bb cream or foundation has SPF in it then we don't require to wear sunscreen. Well, it is not true. Be it a sunny or gloomy day, we must wear sunscreen to prevent our skin from sun damage, premature wrinkles, etc. So, I've curated a list of 10 Best Sunscreen For Face which are for all skin types and is Under Rs.800  
Neutrogena UltraSheer Dry Touch Sunblock SPF 50+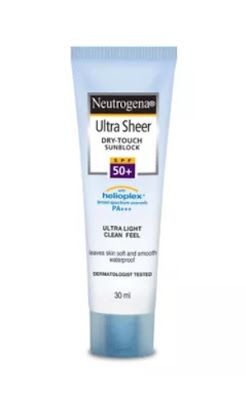 PRICE: Rs.199 for 30 ml, 88 ml for Rs.549 Availability: Amazon, Flipkart, Nykaa
This sunscreen provides broad-spectrum protection from the harmful skin aging UVA and burning UVB rays of the sun and contains SPF 50+
Contains HELIOPLEX® Technology remains effective even under the harsh sun.
It has ultra light, shin free finish and does not give off a white cast.
It has a waterproof and sweatproof formula
It is non-comedogenic
Free of oil and PABA
Lotus Herbals Safe Sun UV Screen Matte Gel Pa+++ SPF – 50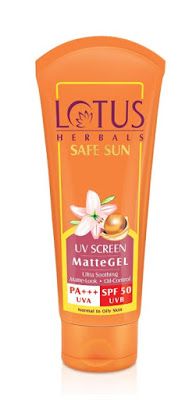 PRICE: Rs.315 for 50 gm, Rs.440 for 100 gm
Availability: Amazon, Flipkart, Nykaa
It is a gel based sunscreen so it would be a boon for people with oily skin type. People with dry skin must use a moisturizer first and then use it on top.
It contains SPF 50 along with PA+++
Gives a smooth and matte feel to the skin.
Ideal for normal to oily skin types.
Contain Horse Chestnut, Comfrey and Vanilla extracts, it protects your skin against varied forms of sun-induced damage like skin tan, sunburn, premature aging, and skin cancer leaving your skin with a smooth and matte feel.
Biotique Morning Nectar Ultra Soothing Face Lotion SPF 30+ UVA/UVB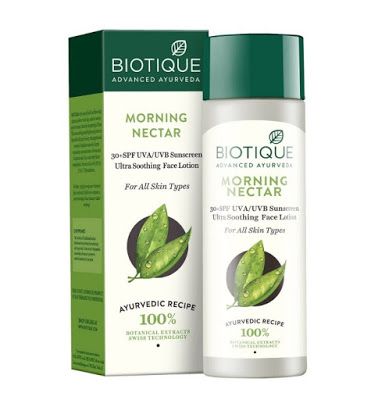 PRICE: Rs.199 for 120 ml
Availability: Amazon, Flipkart, Nykaa
Has a smooth creamy texture which nourishes your skin
Contains SPF 30+ with UVA/UVB
Perfect for dry skin as it deeply nourishes the skin
Does not leave behind a white cast
Free from chemicals and preservatives.
Nivea Moisturising Sun Lotion SPF 50+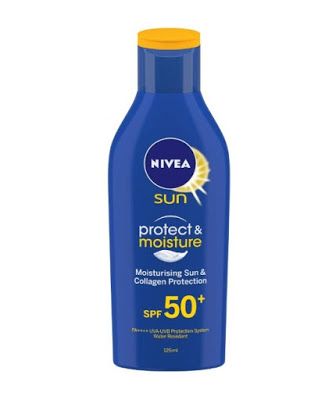 PRICE: Rs.379 for 79 ml, Rs.499 for 125 ml Availability:Amazon, Flipkart, Nykaa
It has a fast-absorbing formula 
It provides immediate protection against harmful UVA and UVB rays
Contains advanced collagen protection that prevents wrinkles. 
Has a non-greasy and non-oily formula which is also water resistant.
Has a light, nonsticky formula
Plum Chamomile & White Tea Sheer Matte Day Cream SPF50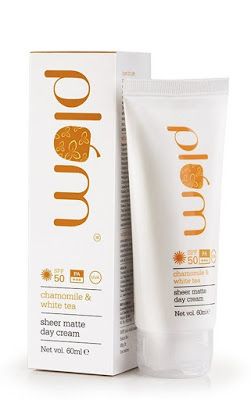 PRICE: Rs.520 for 60 ml Availability:Amazon, Flipkart, Nykaa
A 2-in-1 formula, it is a moisturizer + sunscreen
Has a creamy texture, not too thick, not too runny
Has a Sheer matte finish that stays matte for up to 6 hours.
the micro-emulsion formula helps distribute the sunscreen more evenly over your skin
Chamomile soothes and calms skin during and after sun exposure
Antioxidant-rich white tea, Gingko Biloba and olive leaf extracts help skin fight free radical damage.
A little quantity of cream provides full coverage.
Contains a soothing fragrance that calms your senses (phthalate-free).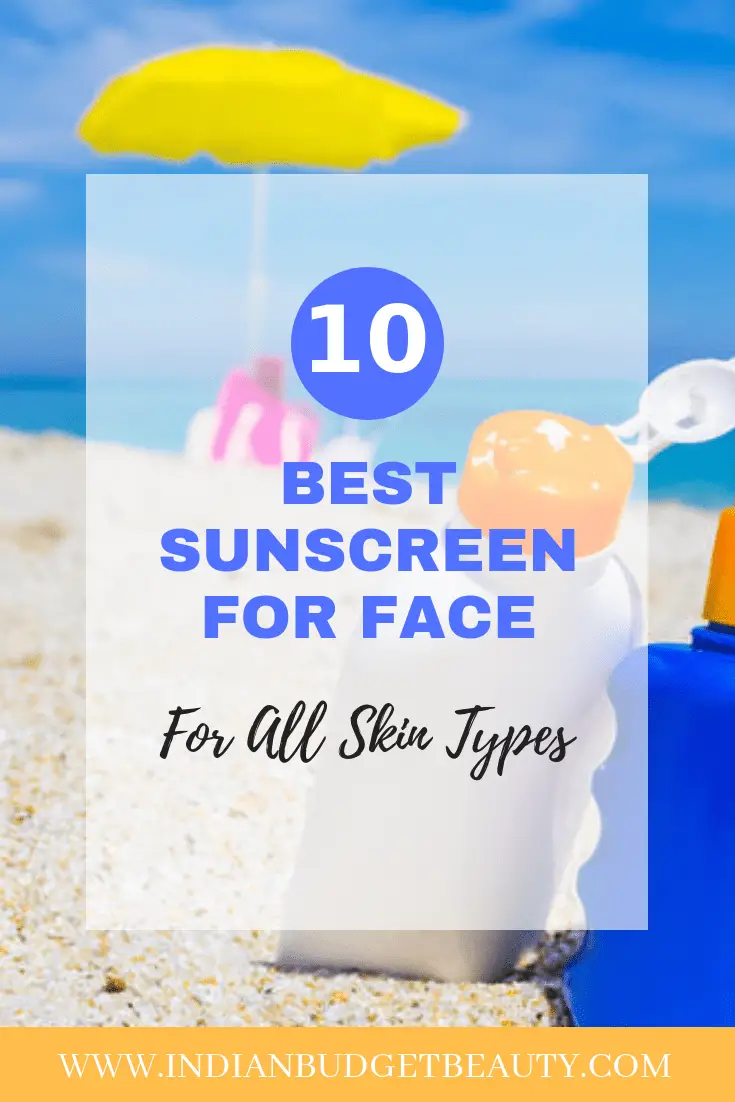 Nivea Sun Protect & Refresh Invisible Cooling Spray SPF 50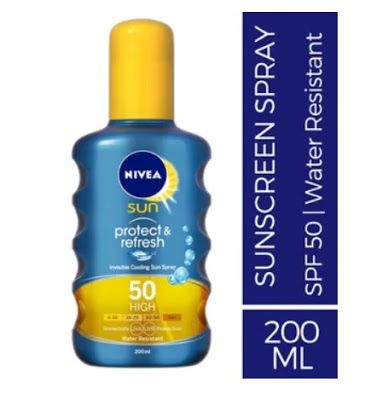 PRICE: Rs.699 for 200 ml Availability: Amazon, Flipkart, Nykaa
Contains SPF 50 with UVA & UVB protection
Has a transparent, non-greasy formula which gets quickly absorbed
It is water resistant and leaves no white marks.
The pleasurable cooling effect leaves your skin refreshed and silky
100% transparent formula with no white marks
Suitable for all skin types and dermatologically tested
La Shield Sunscreen Gel SPF 40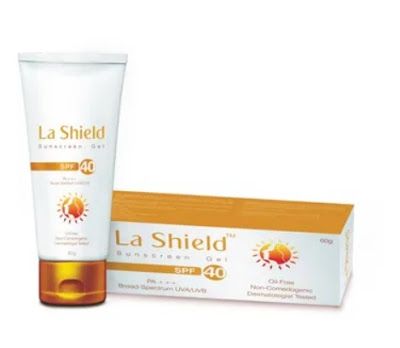 PRICE: Rs.730 for 60 ml Availability: Amazon, Flipkart, Nykaa
Contains SPF 40 with PA+++
Offers superior broad-spectrum protection against both ultraviolet A (UVA) and ultraviolet B (UVB) rays
Has a non-greasy, oil-free formulation which ensures the matte effect
Dermatologically tested, non-comedogenic and water-resistant
It is free from preservatives, fragrance, color additives and alcohol
Suitable for all skin types
LOreal Paris UV Perfect Super Aqua Essence SPF 50+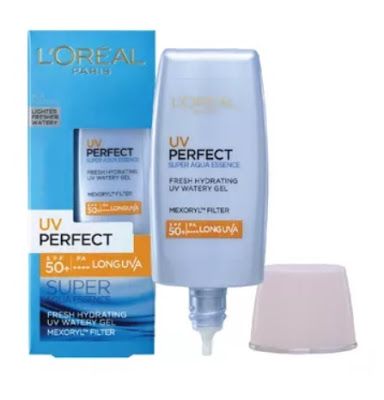 PRICE: Rs.515 for 30 ml Availability: Amazon, Flipkart, Nykaa
Contains SPF 50+ with PA++++
Provides protection against long UVA
Has a waterbased formula which is lightweight in texture
It is formulated with Mexoryl XL filter offering long-lasting sun protection against UVA1, UVA2, and UVB.
Non-sticky based
Innisfree Daily UV Protection Cream Mild SPF 35 PA+++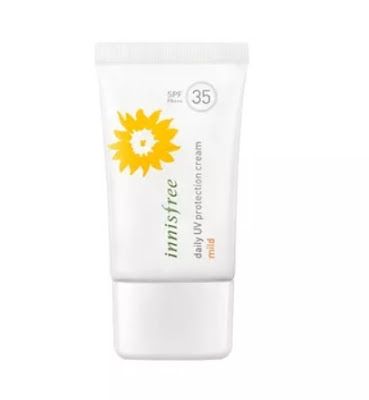 PRICE: Rs.630 for 50 ml Availability: Amazon, Flipkart, Nykaa
Contains SPF 35 PA+++
Has a moisturizing water-based UV protection cream
Contains Sunflower oil and Jeju green tea extract protects your skin against UV rays.
The water-based type UV protection cream improves skin absorption to keep your skin moisturized and refreshed.
Portulaca oleracea and Centella asiatica extracts soothe your skin that has been exposed to UV rays and other harmful environmental conditions and offers an astringent effect.
Sunflower oil keeps your skin healthy and safe from UV rays.
Free of animal ingredients, mineral oils, artificial coloring, tar dye, and talc.
Ponds Sun Protect Non-Oily Sunscreen SPF 50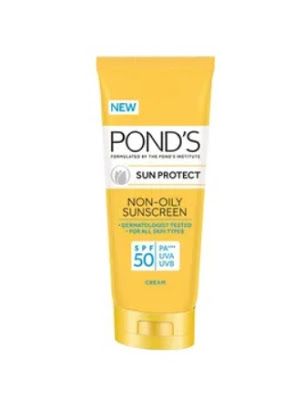 PRICE: Rs.169 for 35ml, Rs.329 for 80 ml Availability: Amazon, Flipkart, Nykaa
Has a non-oily formula which is perfect for hot and humid climate
It provides broad-spectrum protection from both UVA and UVB rays
Has a light-weight formula which is dermatologist tested
This is hypoallergenic tested against allergies and non-comedogenic does not block pores
Suitable for all types of skin
I hope you all like this list of best sunscreen for face. If you have any queries then you can DM me on instagram or comment down below.