Earth Rhythm is an Indian brand that is creating some phenomenal skincare products. Their latest launch is this Earth Rhythm Gel To Milk Cleanser that is available in 2 variants – Pumpkin Enzymes and Pink Pomelo. This cleansing jelly is described as a "Daily cleanser that easily removes makeup and impurities without over-drying. Upon contact with water, the translucent gel transforms to a soft, milk-like cleanser".
What The Brand Says About The Product
Pumpkin Enzymes bring antioxidant protection to the skin, preventing oxidative stress and the damaging effects of pollution and the urban environment. It is a potent ingredient that soothes away neurogenic inflammation and limits skin reactivity. 
Ingredients:
Glycerin, Caprylic/Capric Triglyceride, Aqua, Sucrose Laurate, Sucrose Stearate, Cucurbita Pepo (Pumpkin) Seed Oil, qua (and) Cucurbita Pepo (Pumpkin) Fruit Extract, Natural Tocopherol (Vitamin E), Salicylic Acid & Natural Oxides.
| Ingredient | Function |
| --- | --- |
| Glycerin | Acts like a moisturizer and solvent |
| Caprylic/Capric Triglyceride | A plant extract that acts as an emollient and skin-replenishing ingredient. It is derived from Coconut Oil and Glycerin |
| Aqua | Solvent |
| Sucrose Laurate | An emulsifier and surfactant |
| Sucrose Stearate | An emollient, emulsifier, and cleansing agent |
| Cucurbita Pepo (Pumpkin) Seed Oil | Plant extract that acts as anti-oxidant |
| Natural Tocopherol (Vitamin E) | Antioxidant |
| Salicylic Acid | A BHA that can exfoliate your skin and clean your pores. Great for people with acne-prone skin |
| Natural Oxides | Colouring agents (mainly Titanium Dioxide and Zinc Oxide are used) |
---
Price: Rs.1190 | 12 months Self Life
BUY HERE – Use Code TRISHNA to get 10% off
---
Packaging: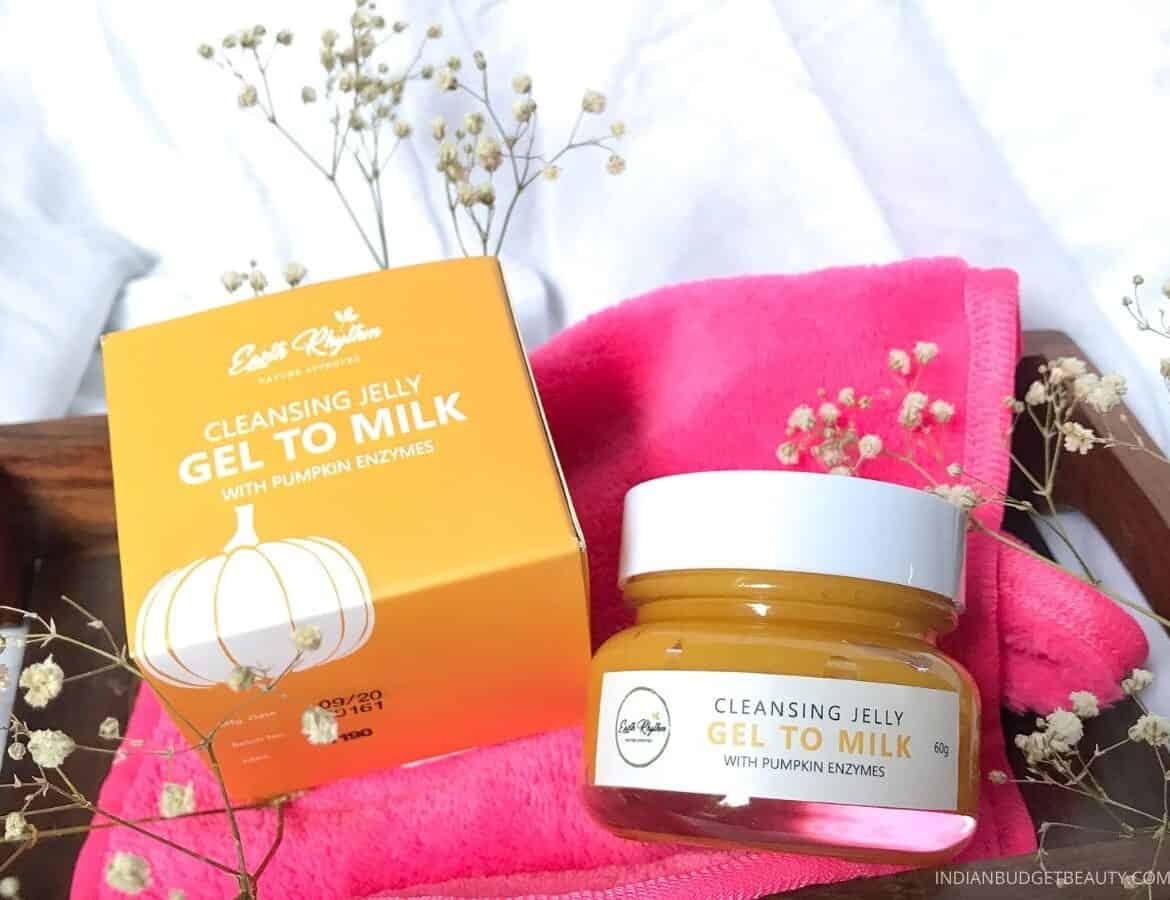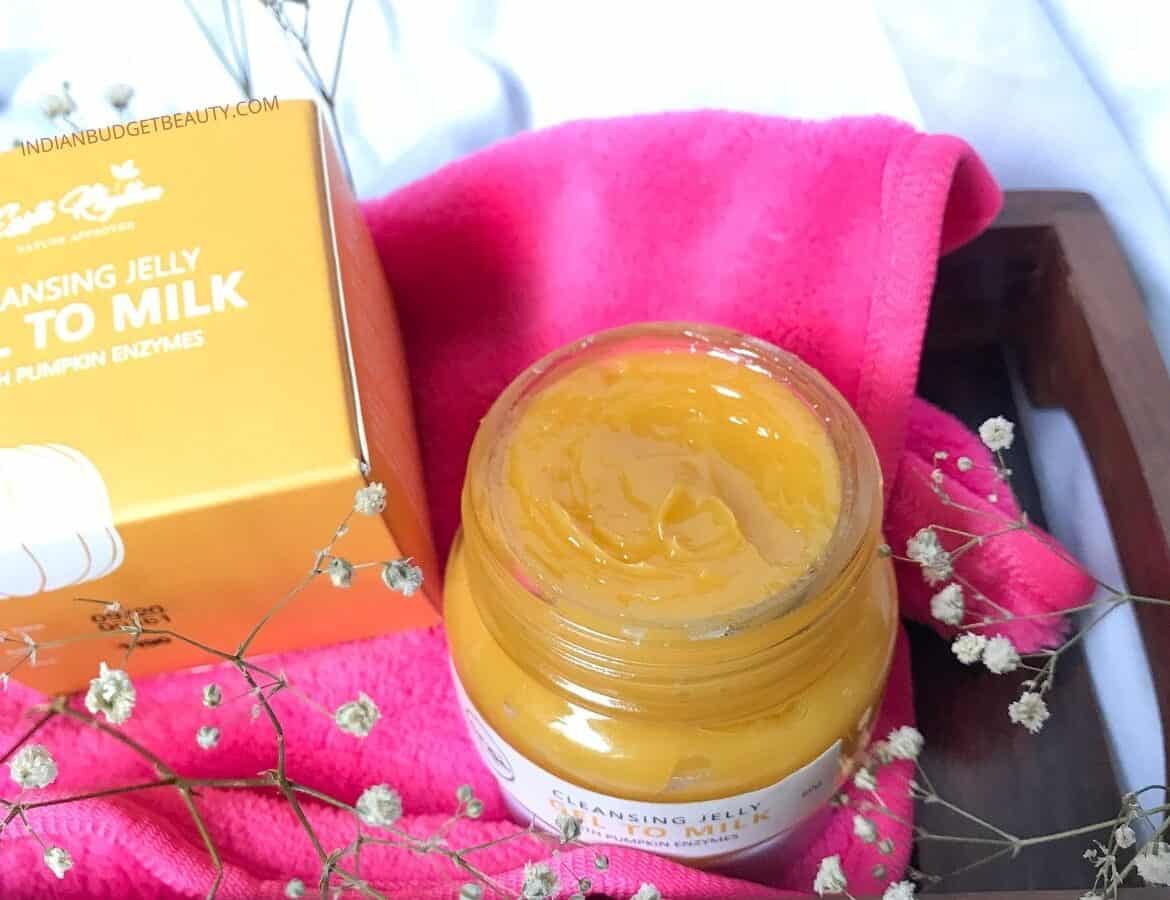 The Earth Rhythm Gel To Milk Cleanser comes in a small glass jar. The jar is made of thick glass with white detailing. The cleansing jelly is separated by a white lid and comes in a mustard yellow cardboard box. I found the detailing in the other cardboard box very cute and will not throw it away for sure as it contains all the necessary information.
They did mention that this Earth Rhythm Gel To Milk Cleanser is suitable for the removal of eye makeup. The packaging also reminds me of a honey pot because of its rounded structure. I wished they would have included a spatula as well for an easy and hygienic approach. Anyways, I don't mind the spatula as I do use my own for the purpose.
Read More: Earth Rhythm Cleansing Balm Review
Consistency, Texture, Color & Smell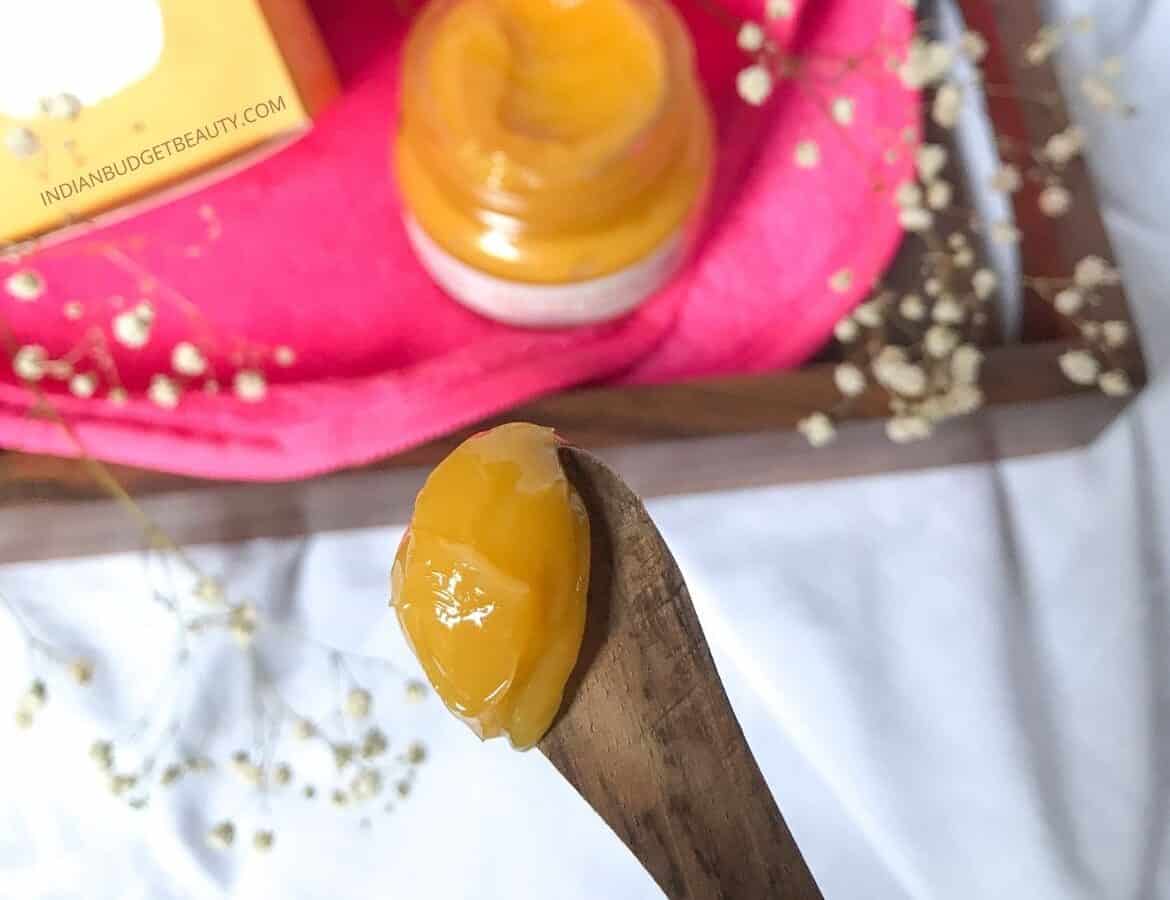 I absolutely love the texture of this cleansing jelly. It has a lush mustard yellow color with a translucent jelly-like consistency. It's so smooth and bouncy that it reminds me of Winnie The Pooh's honey pot. It is fragrance-free but I can smell a hint of unpleasant smell. I guess it's the smell of all the ingredients.
How To Use It?
To melt away makeup, use as a cleansing balm, massaging a dime-size amount onto dry skin, then rinse with warm water and watch as the gel transforms into a soothing milky cleanser. Follow up with a water-based cleanser, if need be.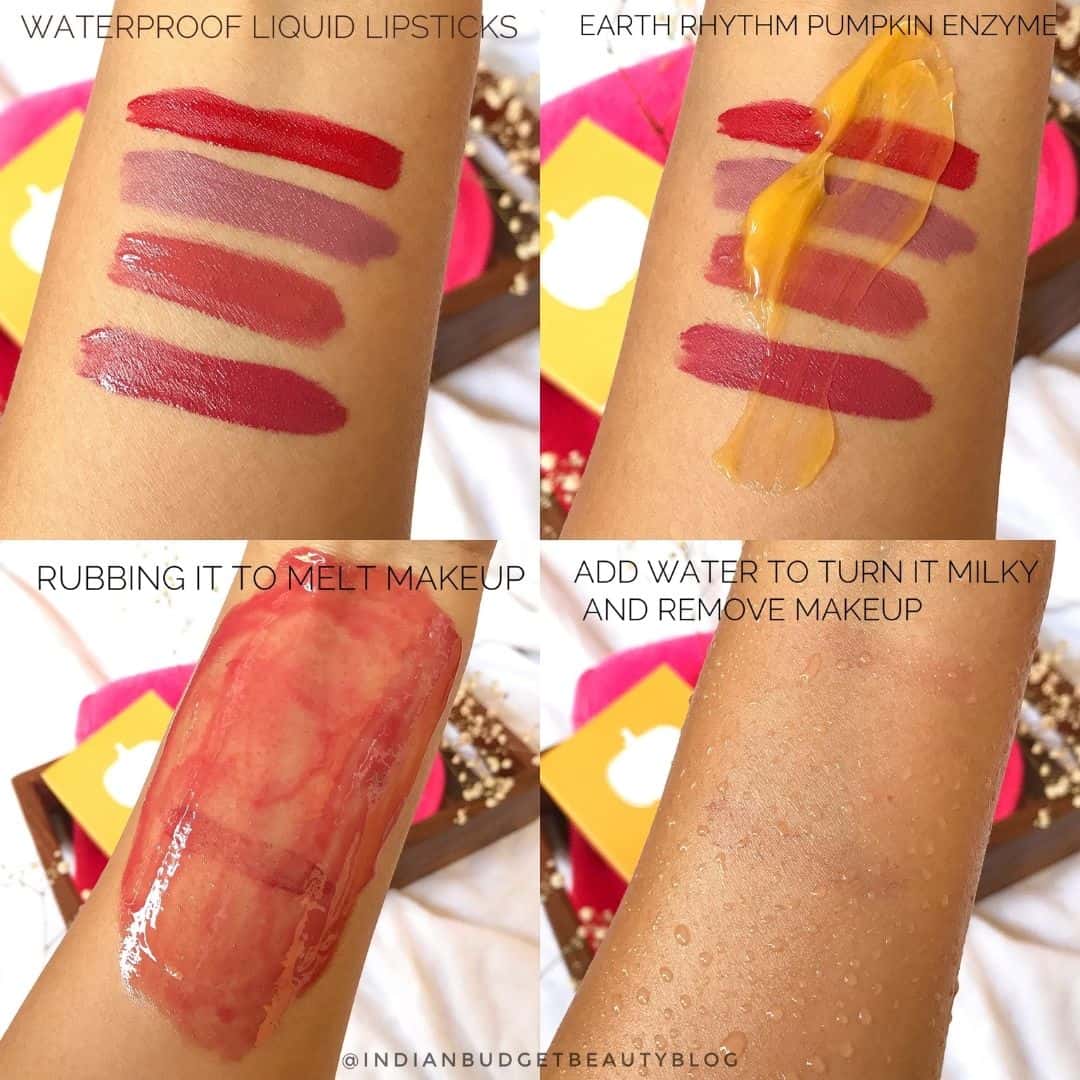 For the Demo, I've used Smashbox Always On Liquid Lipstick Bawse, Gerard Cosmetics Hydra Matte Liquid Lipstick Cher, Maybelline Superstay Matte Ink Ruler, and Colourpop Bumble. I've also tested it out with Maybelline Lash Sensational Mascara (Waterproof).
This is the only cleanser that removed my Maybelline Superstay Matte Ink and Maybelline Lash Sensational Waterproof Mascara. So it's the perfect waterproof makeup remover that removes makeup effortlessly but gently.
Also Read: Maybelline Clean Express Total Clean Makeup Remover Review
How Does It Feel On The Skin?
It's not thick and hard like a cleansing balm but it feels like a vicious soft jelly that you need to massage onto your dry face to remove makeup. It just melts all your makeup (even waterproof makeup) effortlessly and leaves your skin soft and plump. It also does not sting your eyes. You don't really need to follow up with a cleanser. But I do enjoy my double cleansing so I use a water-based gentle cleaner afterward.
My Final Thoughts On The Earth Rhythm Gel To Milk Cleanser
This Earth Rhythm cleanser was gifted to me by the brand. So when I got to know about the product I was quite excited. To be honest I was kind of sad by the price because Rs. 1190 for a 60gm cleansing jelly was quite high for me. So I thought about testing it with the most stubborn makeup and sunscreen. I'm so glad that it passed the test with flying colors.
This Earth Rhythm Gel To Milk Cleanser never stung my eyes when I used it to remove my waterproof mascaras, kajal, and it also effortlessly removed the Maybelline Superstay Matte Ink. I was totally shocked when it removed the Superstay Matte Ink because that formula is too stubborn. Only my Pixi Vitamin C Cleanser could remove the superstay matte ink but after rubbing and tugging for a while. But the Earth Rhythm Gel To Milk Cleanser in Pumpkin Enzyme made it seem like a child's play in removing the stubbornest makeup ever!
I'm very happy with the product because it's the one cleanser that you require. Whether you use waterproof makeup or not, it will come in handy. It also turns milky when you apply water and rubs it into your face. It makes my dry skin feel soft and plump. So I am quite happy with it. I usually use my water-based cleanser right away out of habit but this Earth Rhythm Gel To Milk Cleanser is sufficient to remove every dirt and makeup on its own.
The ingredient list is quite good. It contains glycerin as its first ingredient and also contain salicylic acid which is a BHA that helps in exfoliation and pore cleaning. I also love how it formulated with gentle surfactants and pumpkin enzymes and yet it helped in removing stubborn waterproof makeup.
The only thing that bugs me is the smell which is quite faint but not pleasant. But I can totally sidetrack that fact considering the product is too fabulous and I do have a sensitive nose.
Do I Recommend It?
I 100% percent recommend it. Its the best cleanser I've ever used.
Pros
Removes stubborn waterproof makeup including waterproof mascara and liquid lipstick
Removes sunscreen
Does not sting your eyes (so suitable for eyes)
Keeps your skin soft, supple, and clean without being greasy
Suitable for daily usage
Also suitable for acne-prone skin as it contains salicylic acid
Cute packaging
Vegan and cruelty-free
---
Earth Rhythm Gel To Milk Cleanser Review (Pumpkin Enzymes)
Packaging

Effect/ Makeup Removal
Final Verdict
If you are looking for a gentle cleanser or cleansing jelly that removes every bit of your waterproof makeup without making your skin dry, then this is the one to go for. I highly recommend this Earth Rhythm Gel To Milk Cleanser in the variant 'Pumpkin Enzymes'
I've been digging through Earth Rhythm Products and would definitely try to review more from the brand.
---
Also Read:
---
Disclosure: Contains affiliate links. I receive a small commission for purchases made via them.
---