Pixi Glow Tonic is one of my favorite Toners. This Pixi Glow Tonic Cleansing Gel is part of the Pixi Glow Story range and is quite a favorite of mine as well. It is a gentle exfoliating cleanser that soothes the skin as well. It is pure GEL in texture that does not foam at all. Here's my Pixi Glow Tonic Cleansing Gel Review
Price: Rs. 1950 ($18) for 135 ml
Product Description
 Purifying and Hydrating facial cleanser
Formulated with Moisclean & Glycolic Acid
Removes impurities and brightens the complexion
Retains moisture in the skin
Moislcean is a moisturizing cleansing agent that helps to remove impurities. It also help leave the skin hydrated
Ingredients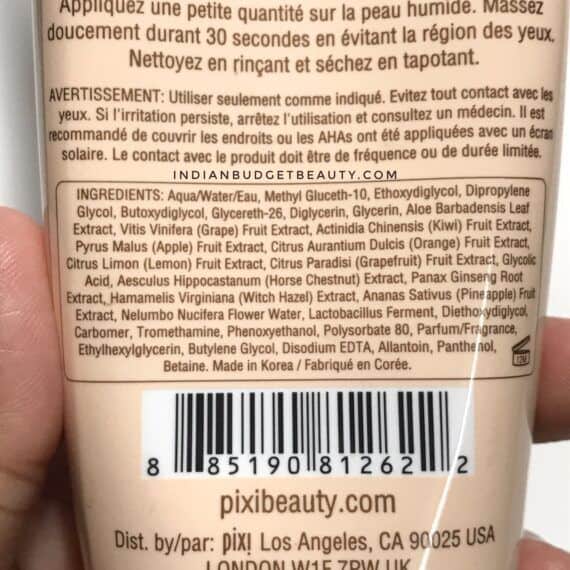 How's The Packaging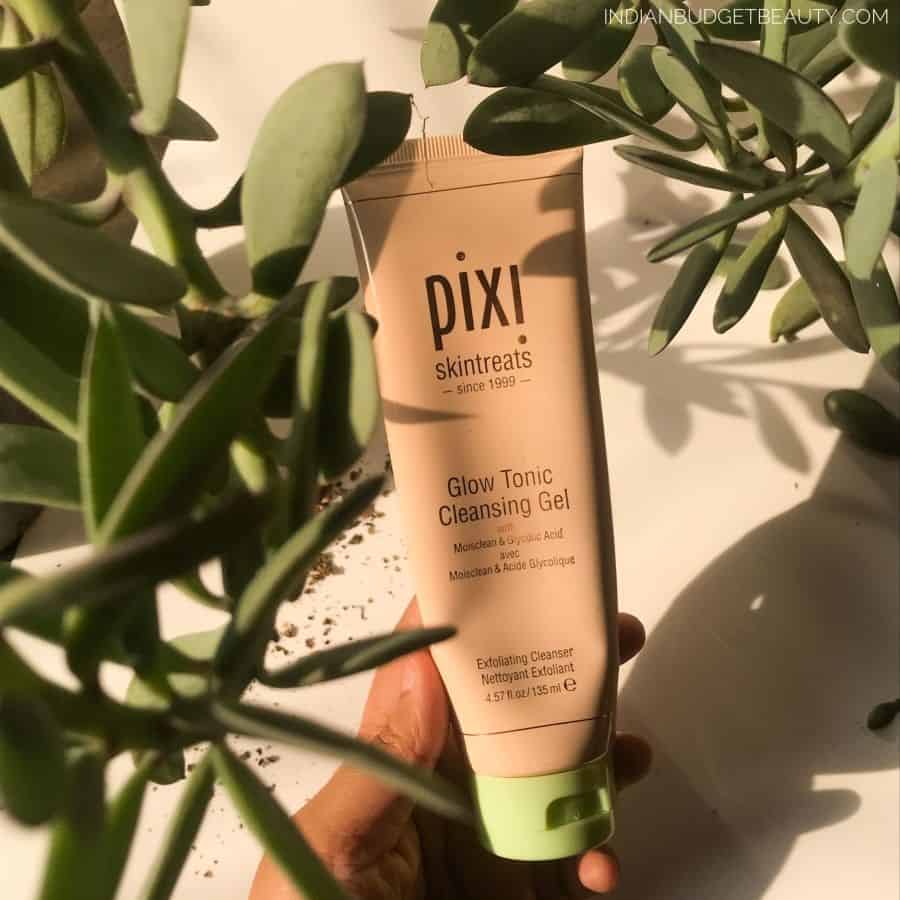 The Pixi Glow Tonic Cleansing Gel comes in a large classic Pixi pink tube packaging with a pastel green cap. It is quite big and can last you for 4-5 months.
I love the packaging of this cleanser. It never leaks and the cap is very sturdy. My cleanser even fell twice from my vanity but the cap never broke. So if you are clumsy like me and it manages to slip from your hand, don't worry, the cap won't break.
Consistency, Formula & Smell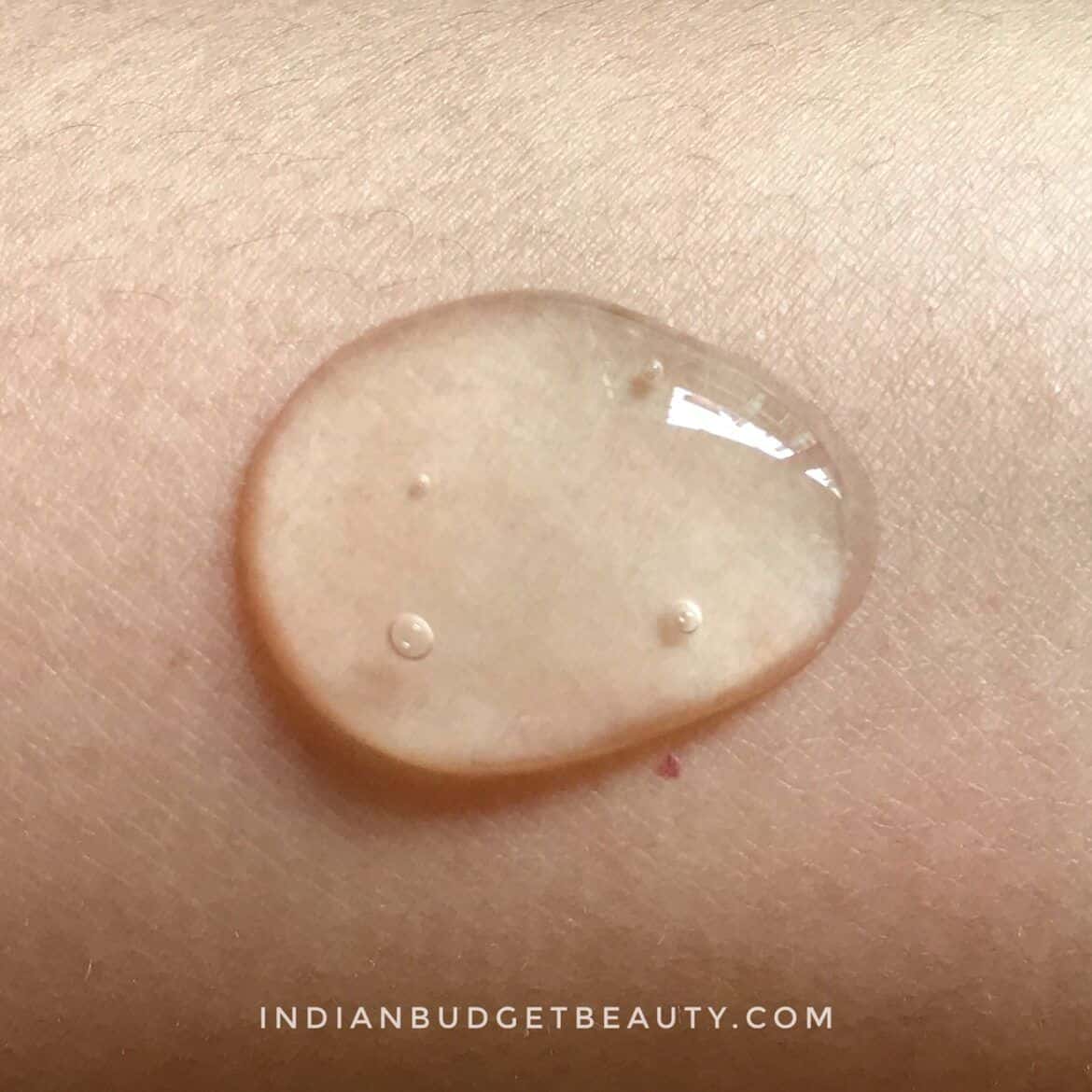 The consistency of the Pixi Glow Tonic Cleansing Gel is a runny transparent soft gel. This formula is very unique, it never foams or lathers. It is a pure gel texture.
It does have a fresh citrus-like smell which is very soothing. Its not at all overboard.
How To Use Pixi Glow Tonic Cleansing Gel
 Apply a small amount of cleanser to damp skin.
Massage into your skin for 30 seconds, avoiding the eye area.
Rinse clean and pat dry.
Follow with a toner, serum, and moisturizer.
Why I Love the Pixi Glow Tonic Cleansing Gel!
First of all, it feels like you are rubbing water on your skin because it does not foam or lather. It gives a cooling sensation that feels good. Pixi Glow Tonic Cleansing Gel is an exfoliating cleanser that contains glycolic acid.
The percentage of Glycolic acid is not mentioned but I think it's very low. So, you can definitely use it twice a day in the AM and PM routine. I've even followed it up with Pixi Glow Tonic and sometimes with the Ordinary Glycolic Acid. It never broke me out. But I'd recommend that you use a sunscreen after using this cleanser.
It did refine my skin texture and brightened it up. You will also notice that it never dries you down. It has a unique formula that hydrates your skin but at the same time brightens it up. I absolutely love this cleanser because it helped in smoothing my combination-to-dry skin. It does balance your skin pH and will suit every skin type.
You won't be able to remove makeup with this cleanser but its the best cleanser for double cleansing.
This is a gentle cleanser with mild exfoliation properties. I use it in the morning and it leaves my skin fresh and smooth. Then I follow up with my Plum Green Tea Toner, Pixi pHenomenal Gel, and Lotus Matte Gel Sunscreen.
In my PM routine, I use this cleanser then follow it up with the Pixi Glow Tonic or The Ordinary Glycolic Acid. Then apply Palmers Coconut Water Moisturizer. I wake up with brightened and glowy skin. Yes, this combination works for me.
Final Verdict
Pixi Glow Tonic Cleansing Gel is one of the best cleansers I've ever used. It refines my skin texture, brightens it up, never dries down my skin, and also helps in exfoliation. It contains fruit-based AHA which is gentle on the skin, balances ph, and will suit all skin types. Also Pixi is cruelty-free 🙂
Pros
Refines skin texture
Brightens up skin post usage
Makes the skin smooth
Non-drying on the skin
Mild exfoliator
Contains Fruit-based AHA
Pixi is cruelty free
Related Reviews
DON'T FORGET TO PIN THESE