Nivea Milk Delight Saffron Face Wash Review | For Normal Skin Type
Recently, Nivea has launched its Milk Delights Face Wash. The facewash combines the goodness of milk with home remedy ingredients to give you healthy-looking skin every day.
It has 4 variants – Precious Saffron (For Normal Skin), Fine Gramflour (For Oily Skin), Caring Rosewater (For Sensitive Skin), Moisturizing Honey (For Dry Skin). I've received the Precious Saffron variant and hence I'll be reviewing this particular face wash. Let's see whether it lives up to its claims or not?
PRICE: Rs.165 for 100 ml (Also available in 50ml)
Ingredients:

Product Description:
This face wash is specifically designed for normal skin-type, it gives you healthy-looking skin.
Features:
Cleansing cream face wash with milk proteins and saffron
Purifies, cleanses and soothes for a soft skin feeling
This unique formula is specially designed for normal skin
Protects the skin's natural moisture balance and prevents drying out
Nivea Milk Delight Saffron Face Wash Review
How is the Packaging?
This Nives milk delight face wash comes in a cute triangle-shaped bottle with a flattened body. It fits my palm perfectly and does not require massive space in your vanity. I found the cap and the bottle quite sturdy, there's no issue of spillage what-so-ever. But I feel it won't be travel-friendly due to its different shape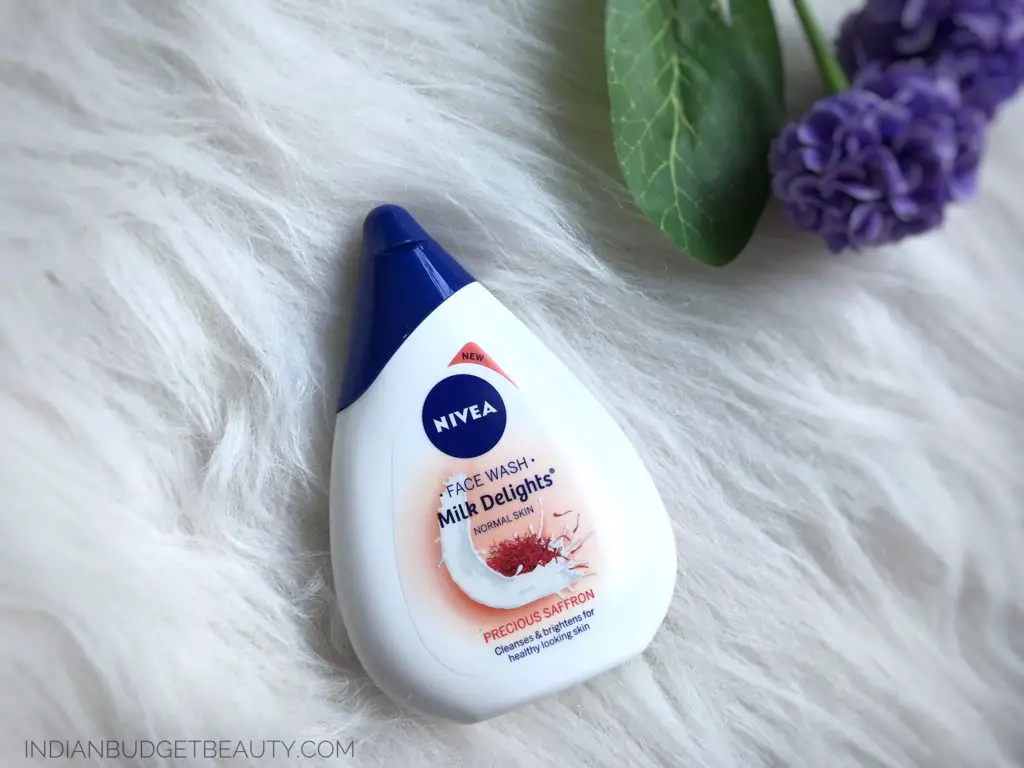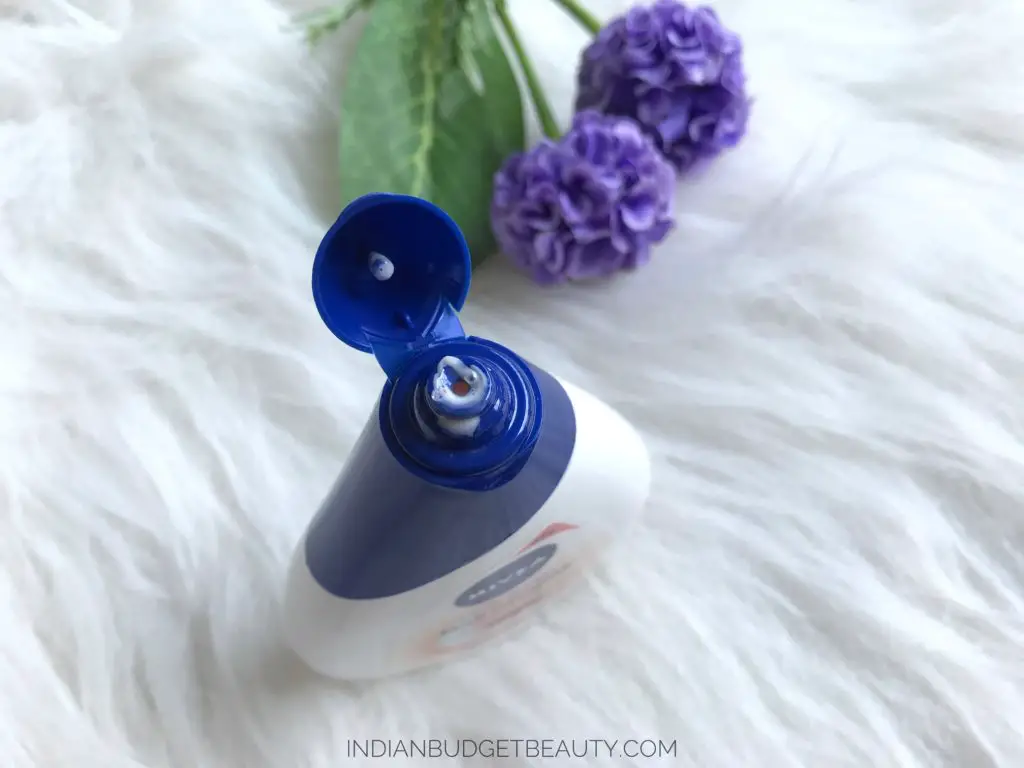 The consistency and color
It has a milky white consistency with few flecks of orange particles which I believe are the saffron particles. The consistency is like that of milk.
How is the Fragrance
The found the fragrance to be quite soothing. It is not at all overpowering.
How to use it?
Shake well before using.
Apply it on your wet face.
Massage it for 2-3 minutes
and then rinse it off with water.
How is the Nivea Milk Delight Saffron Face Wash?
This Nivea milk delight face wash does not strip your skin's moisture. I really like the creamy consistency which did not leave my face dry. I've heard a lot of bloggers not liking this product but I feel like maybe it did not work out for their skin type.
It foams a bit and a little amount is required for the whole face. I love the feel post washing as it makes my skin soft and brightens up my skin. It does clean out any oil and dirt but would not remove 100% makeup. So, you do need to use any makeup remover prior to cleansing.
ALSO READ: Nivea Micellar Rose Water Review
It does contain Saffron (Crocus sativus flower extract) which is an anti-inflammatory and soothes the skin. It also contains glycerin which moisturizes your skin post washing.
But I don't like the fact that it contains SLS, SLES and many other chemicals that might not be good for sensitive skin. So I'm quite confused if it is really soap-free?
Do I recommend it?
You can try it out.
Pros:
Moisturizing face wash
Cleanses any dirt or oil
Brightens up my skin
Contains Saffron extract
Need only a small amount
Easily available everywhere
Cute packaging
Affordable
Cons:
Contains SLS, SLES, and other chemicals
If you like this Nivea milk delight saffron face wash review, then make sure to pin the picture below.