Trousers for women come in many different types, shapes, and sizes. They are my go-to, my companion, my bosom buddy. This piece of clothing is so versatile that you can dress it up or dress it down, pair it for an office day or even style it for a date night, heck even for a party.  
All you need is the right fit or the right type and you are good to go. Nowadays people no longer go for those black, skinny standard pants. They go for color and different styles. So here's a guide on how to style different trousers for women! 
Trousers for Women
Chinos 
Chinos are basically perfect for a business casual outfit. They are less formal than any dress pants but are classier than jeans. They are made from lightweight fabric and can be styled accordingly. Always go for fitted Chinos which are neither too tight nor too baggy. You can Buy Trousers for women here.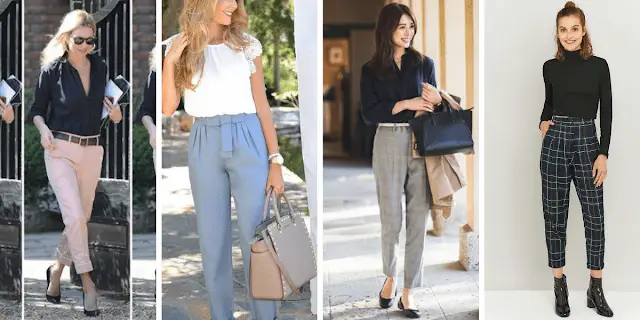 How to Styles Chinos for Women?
Chinos can be paired with blouses or shirts for a formal look. For a business casual outfit, pair solid colored chinos with a shirt or blouse. Make sure to balance the outfit and wear a pair of heels to complement the look. For a casual outfit, you can wear printed chinos for an edgy look and pair it with a solid fitted top and a pair of boots. Make sure to tuck it in.


Culottes
Culottes are cropped pants that are trendy and make you look cool. They are great trousers for women to wear to a brunch or lunch. It all depends on how you style them. You can totally get a cool look or can go for the polished look with Culottes.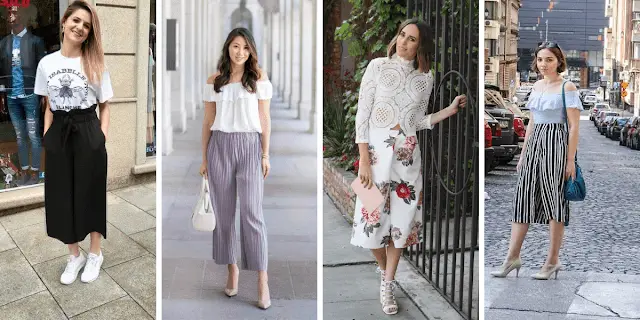 How to Style Culottes?
You can wear solid culottes with graphic tees and sneakers for a much laid back, cool look. Or you can pair them with lace tops and pair of pumps for a classier look. As for printed culottes, pair them with solid off-shoulder or cold-shoulder tops and you are good to go.

Also read: Five High Heel Shoes That Every Woman Should Own
Paperbag Pants/ Fashion Pants
These are the statement pants of 2019. They are very comfortable yet chic to wear. Paperback pants are usually high waisted pants that are worn above the belly and comes with an attached belt that pulls at your waist.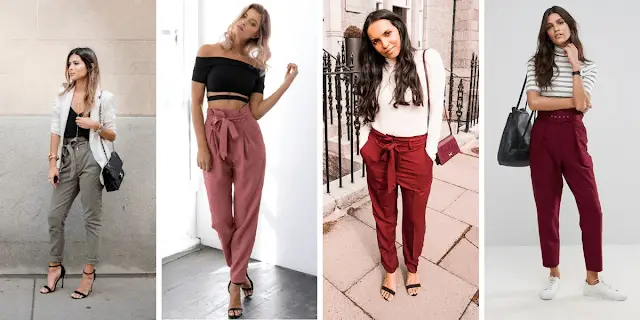 How to Style Paperbag Pants?
Since Paperbag pants tend to be baggy, you need a fitted top and you are good to slay the day. For a classy event, wear a pair of heels and put on some silver or gold jewelry. For a super extra look, Paperbag pants can also be styled with an off-shoulder top or a crop top.

You can even style this pair of trousers for a business meeting. Just throw on a well-fitted blazer over it and wear your favorite pair of black heels. 
Joggers
Joggers are not only great for jogging, but they are also the best comfortable, laid back pants that you can ever live in. 


How to Style Joggers?

You can totally make a statement with joggers! Yes, you heard it right. Either you can throw on a sweatshirt and a pair of sneakers for a cool laid back look, or you can tuck in a striped tee and throw on a denim jacket for a casual yet simple look. You can also wear an off-shoulder top with a pair of heels for an updated look and wear a neckpiece to give oomph to this look.


ALSO READ:
Wide leg pants, Flared Bell Bottoms & Palazzos
These three pairs of trousers for women are my personal favorites. They are very dressy and can be worn on any occasion. 
Wide Leg Pants & Flared Bell Bottoms: 
High waisted wide leg pants are coming back in style. Flared pants and palazzos which are high waisted are great for hiding your tummies. It balances your wide shoulders.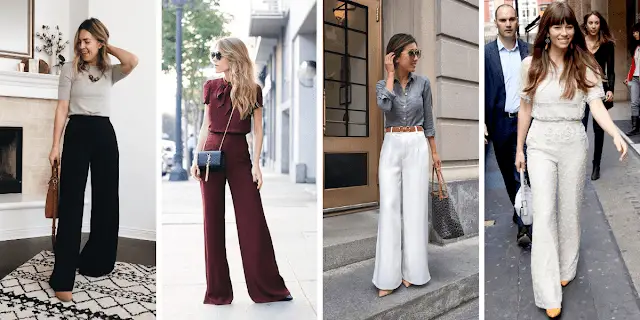 Bell bottoms flare are tight till the knee and flare out at the bottom. They are perfect to make you look tall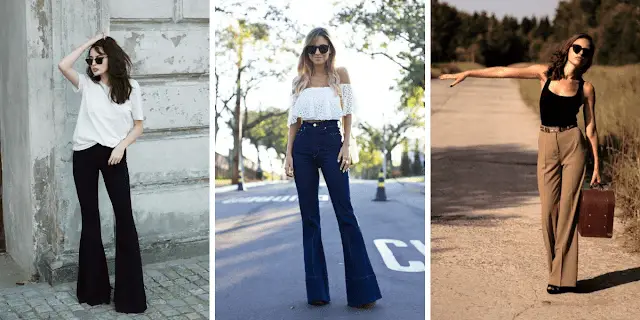 Styling Tips:
Wear a basic fitted top, tuck it in and wear your favorite neckpiece.
For a dressier look, go for a monochromatic look, wear a blouse which is in the same color as the pants.
Throw in a shirt and define your waist by adding a belt.
Experiment with textures. Go for a lace look or a stripped one.
To know more styling tips for flared pants, click here
Palazzos: 
Palazzos are flowy pants that look like long maxi when you stand up. These are widely popular in India as you can wear them with a traditional outfit and with western outfits as well. Palazzo pants are made of dressy fabric so they can be worn as an alternative to dresses.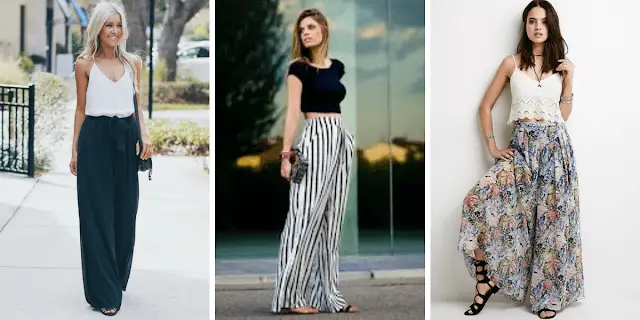 How to style loose pants?

Styling Tips:
For the summers, wear a cami top to makes the outfit appear dressy.
Go for vertical striped palazzo and wear it with a solid colored fitted top.
For a traditional look, wear a kurta over it and you are good to go.
Pair a printed palazzo with a white crochet top.
I hope this blog post could help you in styling different trousers for women. If you have any outfit ideas to add to, you can comment down below.