Nivea Micellar Rose Water Review  Nivea Micellar Rose Water is one of the best and affordable micellar water to remove waterproof makeup. Ever since Nivea launched its Micellar water collection in India, I was really intrigued by this particular micellar water.  
Nivea Micellar Rose Water claims to remove 100% of makeup with 0% product residue, contains rose water as an active ingredient, is suitable for skin, eyes, lips, and for all skin types. Wanna know why this micellar water has achieved my trust and why I love this more than my Garnier Micellar water? You can find out in the end.  
ABOUT Nivea Micellar Rose Water:
  NIVEA MicellAIR® Rose Water – 1st Natural Rose Micellar Water that removes even waterproof make-up and restores skin's radiance.
Product action:
Infused with natural rose water
Removes even waterproof make-up
Restores skin's radiance
Non-greasy
Result:
Skin is still radiant even make-up is removed
Infused with natural rose water
Removes even waterproof make-up
Restores skin's radiance
Non-Greasy
Skin compatibility dermatologically and ophthalmologically approved
Nivea Micellar Rose Water INGREDIENTS :
  Being a B.tech in Biotechnology student have its perks in the beauty blogging world. (All thanks to my professor for teaching me Natural Product Chemistry in 6th Semester). After looking at the ingredients, I can see that this micellar water not on contains Rosewater, but it also contains other natural ingredients like   
Linalool, which is extracted from the cannabis plant. It is a naturally occurring Terpene alcohol found in many flowers and spice plants.
Citronellol: It is found in Citronella oils, and also found in the oils of roses
Limonene: It is found in Lemons
Geraniol: It is a primary part of rose oil
  PRICE: Rs. 425 for 400 ml
  BUY IT FROM Amazon | Flipkart | Nykaa
PACKAGING: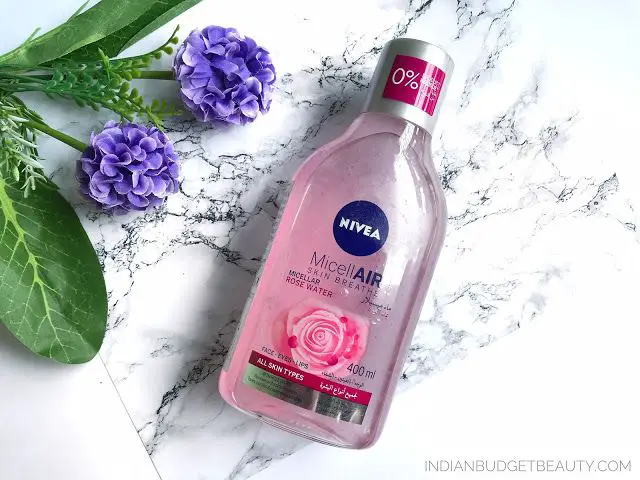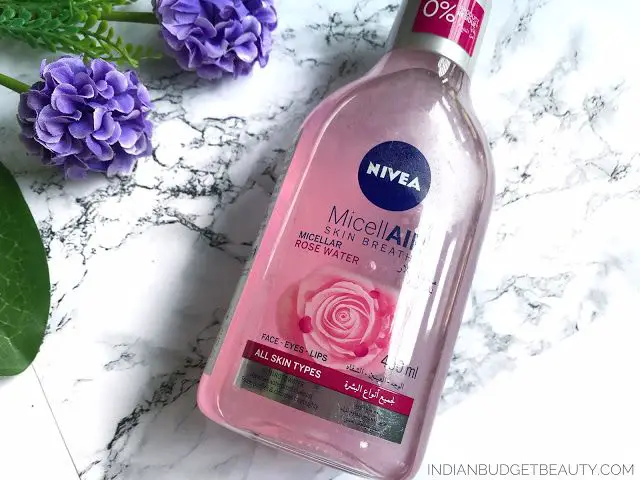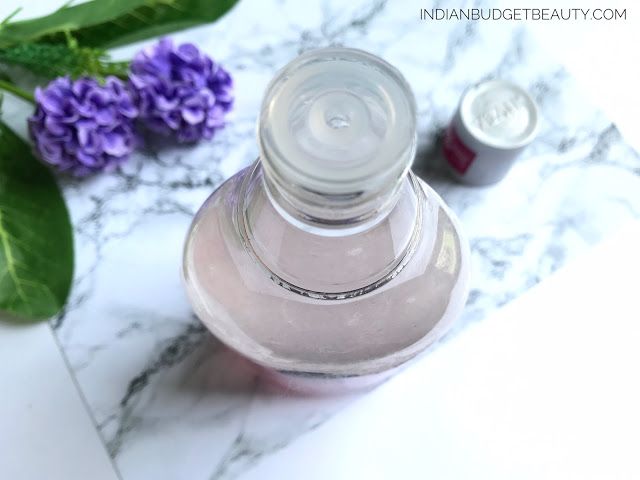 This micellar water comes in a big plastic bottle. The product can be dispensed evenly, all you need is to squeeze the bottle. Since it is a bi-phase product so you can see a layer of oil. So, before application, you need to shake the product.   This packaging is simple and basic, but you won't be able to carry it with you as it is not travel-friendly. But, for everyday usage, it is the perfect option as it contains a lot of product which will last for months.
ALSO READ: Garnier Skin Micellar Cleansing Water Review
CONSISTENCY OF THE PRODUCT: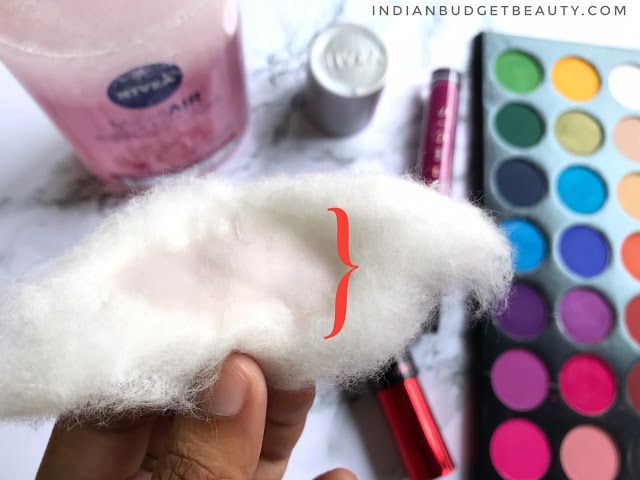 It has a liquid runny consistency. This micellar water won't strip your skin from its oils but will moisturize it as well. The product gets absorbed within seconds.   The product has a slight pink tint to it and does smell like typical Nivea moisturizers (Like the Nivea Soft Light Moisturizer).
HOW TO USE IT:
Take a cotton pad/ cotton ball, and soak it with this micellar water.
Gently press it on your eyes/lips and hold it for 10 secs to melt down the product and wipe it off.
For your face, just wipe your face with the cotton pad as you use it for a toner
DOES IT REALLY REMOVE WATERPROOF MAKEUP?
Absolutely yes! It took 2 cotton pads to remove my Maybelline Push Up Drama Waterproof Mascara, which is literally impossible to remove. It left no product residue what-so-ever.   It even removed my Maybelline SUPER STAY Full Coverage Foundation and Sigma Creme De Couture Lipstick in Fox Glove.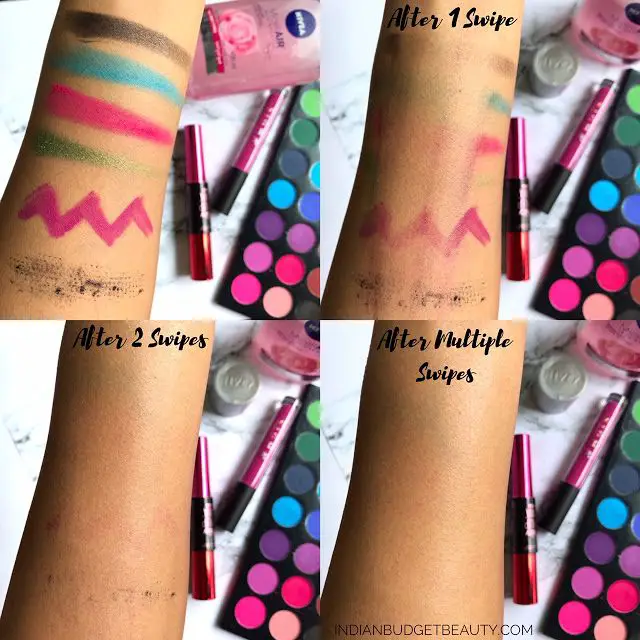 Product Used for Demo :
Beauty Glazed The Color Studio Palette
WHAT ABOUT THE CLAIMS? ARE THEY TRUE?
I've been using it for the past two months and I still have literally more than half of the bottle left with me. It breaks down makeup from your skin and removes it efficiently without any product residue. So, the 0% Product residue is true.  
Above all, it does remove waterproof makeup, including waterproof mascara (which can be hard to remove). So this claim holds true as well.   It also tones your skin, cleanses it, not sure about the purification part. But, let me tell you, it will make your face a little tacky, so make sure to wash it off with a face wash. I normally use my Clean and Clear Foaming Face Wash after using this micellar water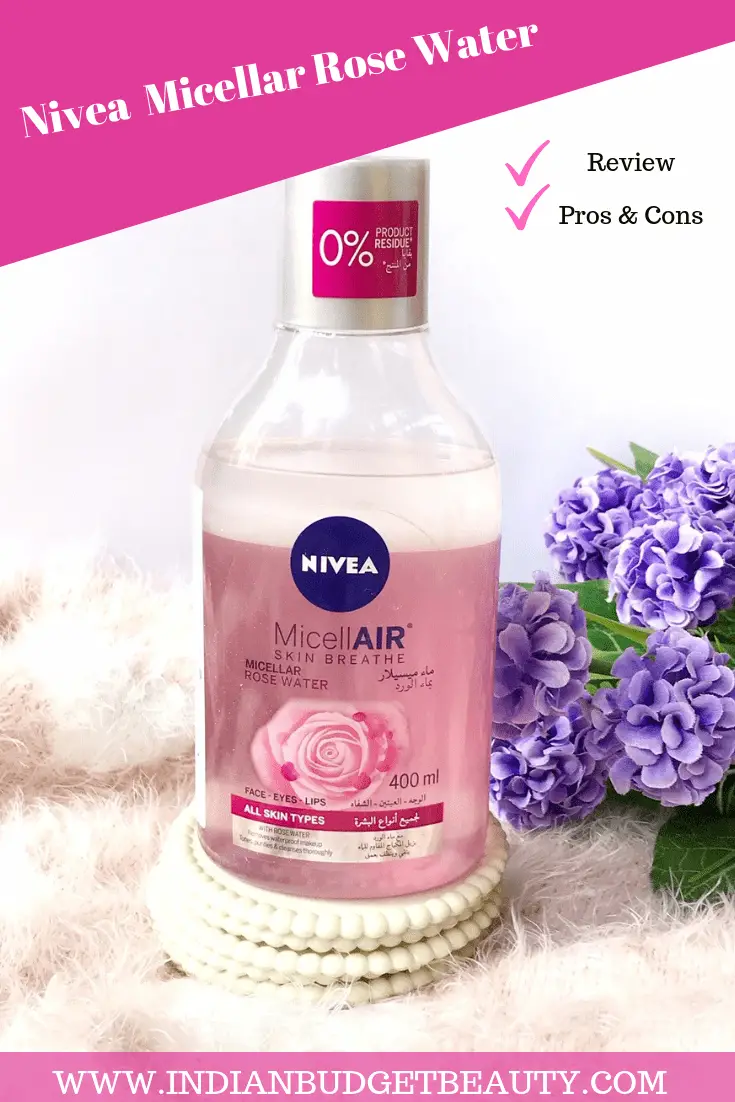 MY FINAL THOUGHTS ON THE PRODUCT:
Nivea Skin Breathe Micellar Rose Water is a good investment, to begin with if you use waterproof makeup because it acts as a makeup remover, cleanser, and toner. If the product goes into your eyes, then you might sense a little bit discomfort but nothing major, so make sure you do not drench your cotton pad with an excess product while using it on your eyes.
It is both dermatologically and ophthalmologically tested, so it is safe to use on the face, lips and eyes.   Since it is a bi-phase solution, so it does contain an oil part. So, after using it, your face will be slightly tacky, but well moisturized. Make sure to wash it off with a face wash to revive a clean face.
PROS:
Removes waterproof mascara
Tones your skin
Cleanses your skin
Contains a lot of natural products
Doesn't strip oils from your face
Quantity is enough to last for up to 5 months
Affordable (Since you can get it on discount online)
Suitable for all skin types
CONS:
Can leave the skin a bit tacky after usage
DO I RECOMMEND IT?
Absolutely yes!
RATINGS: 5/5