Hello everybody, I'm back with an affordable beauty product! I've had this Blue Heaven Sketch Eyeliner since last year, never got a chance to appreciate this beauty, so today I'm here to share my experience of this Blue Heaven Line And Design Sketch Eyeliner right here. This Blue Heaven Eyeliner Sketch Pen is one of the cheapest and best pen liner in India.
ABOUT THE PRODUCT:
This new-gen advanced eye writer pen delivers high color precision line around your eyes. Its fine felt tip applicator gives exact color which dries quickly and won't smudge or fade. Its water proof formula stays for longer.  
PRICE: Rs.225 for 1.0ml (3 year shell life)
INGRIDIENTS: 
WATER, COLOR & PIGMENT, ACRYLATES COPOLYMER, ISO PROPYL ALCOHOL, XANTHAM GUM, IMIDAZOLIDINYL UREA, METHYL PARABEN, PROPYL PARABEN
PACKAGING of Blue Heaven Line And Design Sketch Eyeliner:
The pen liner comes in green packaging with all the details mentioned in it. The liner has a glossy black pen-like body. You can get a good grip on this eyeliner. Totally travel friendly and easy to hold.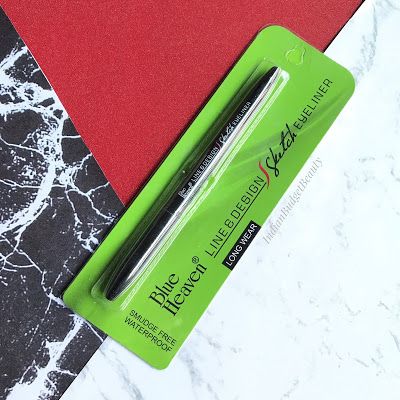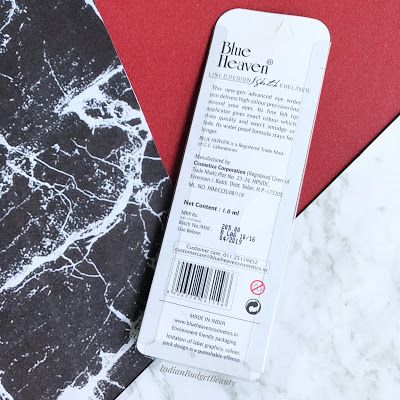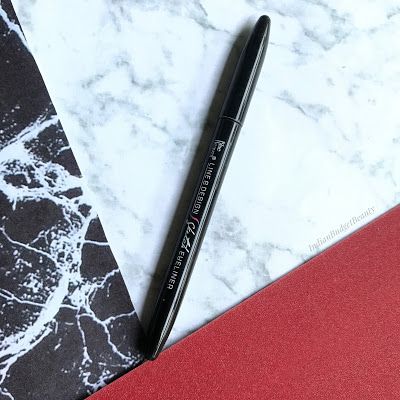 THE TIP:
The tip is very fine and gives good precision. You can totally wing your liner using this eyeliner. Its very easy to apply.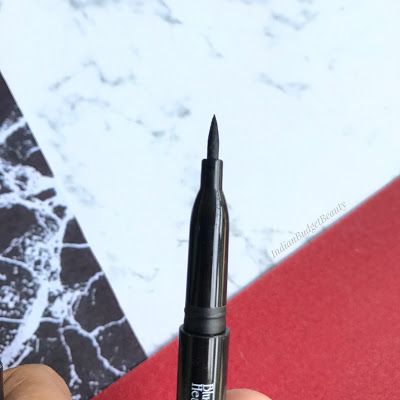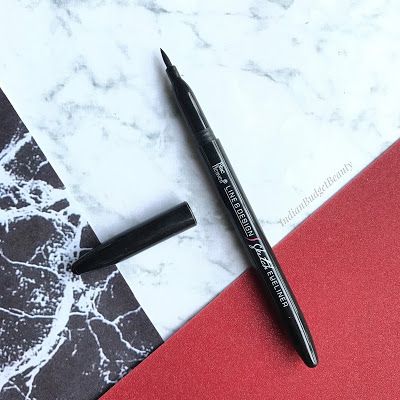 Swatches of the Blue Heaven Sketch Eyeliner: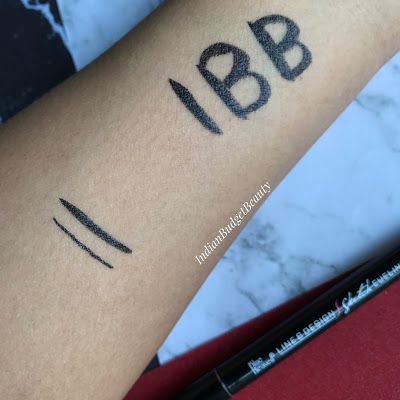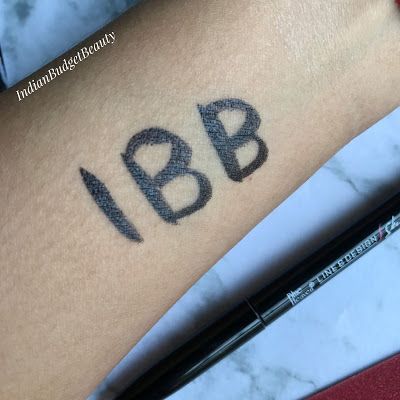 MY THOUGHTS ON THIS PRODUCT!  
First of all, this blue heaven eyeliner is very affordable! It is of very good quality and it's under Rs.500. It's very hard to find a good pen liner in the Indian market.  
I love the packaging of this blue heaven sketch eyeliner. It's very light, easy to grip and very travel friendly. Now coming to the tip of this liner, it's very fine, gives good precision, and allows you to draw a thin as well as bold eyeliner looks according to your wish.  
It is true to its claim. It is smudge-proof, doesn't fade, and water-resistant (Not waterproof!). It stays almost all day long!   The eyeliner dries quickly and gives a matte finish and its only Rs.225! Can we ask for more?? This is one of the best liquid eyeliner pen in India.
PROS:
Very affordable
Travel friendly
Very fine tip
Smudge-proof
Doesn't fade
Water resistant
Lasts all day long
Matte finish
Dries quickly
CONS:
RATINGS: 5/5
Related Reviews: