I've tried a lot of hand creams lately. Fuschia by Vkare Cherry Care Hand & Nail cream happens to be one of the many. Fuschia hand cream the hand soft and supple. It has a fruity fragrance to it. It is an organic hand cream. So let's just jump into the review
INGREDIENTS:
Aqua, Glycerin, Aloe Vera, Coconut Oil, Bee's Wax, Almond Oil, Cherry Extract, Mint Extract, Tea Tree Oil, Vitamin E, Allantoin.
PRICE: Rs.250 for 50 g (24 months)  
PACKAGING:
I'm in love with this packaging. It's very travel friendly. This fuschia hand cream comes in a tub that is made of good quality plastic and the tin lid gives this mask a lush look. Very Impressed!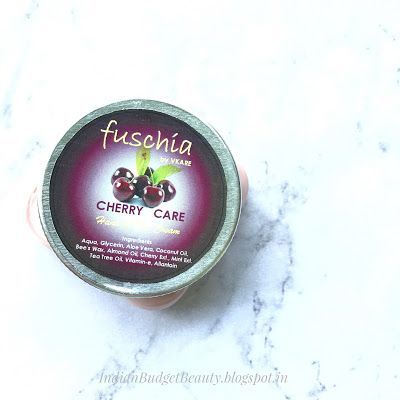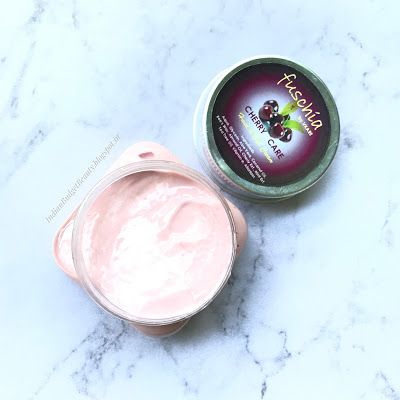 CLAIMS: 
SLS free, Parabin Free, Phthalate Free, Not tested on Animals
BENEFITS:
Glycerin: Moisturizes the skin 
Aloe Vera: It provides anti-inflammatory properties and heals the skin. It soothes and keeps your skin fresh.
Coconut Oil: It's naturally antibacterial and anti-fungal, coconut oil for skin is an excellent moisturizer
Bee's Wax: Helps soften and soothe the skin.
Almond Oil: It can be used to gently dislodge debris from deep within skin pores and follicles, and also may help prevent future acne because of its vitamin A content
Cherry Extract: Acts as an anti-inflammatory agent 
Mint Extract: mint oil is a good antiseptic and antipruritic material. It soothes skin and helps to cure infections and itchiness.
Tea Tree Oil: Antiseptic properties and can be used for the treatment of cuts, burns, etc
Vitamin E: Is an antioxidant, reduces wrinkles, heals the skin and prevents scares
Allantoin: Has a moisturizing effect and smooths skin.
MY EXPERIENCE:
First of all, can we please wait a moment and appreciate the packaging? I love Fuschia's packaging, its very simple yet classy. The hand & nail cream is light pink in color and is very light in consistency yet very heavy with its moisture content. I have really very dry hands but after applying this baby by fuschia, I can definitely see the results now.
It has a very pleasant fruity smell, which can be quite refreshing. Overall, you need to apply just a pea size amount for each hands and you are good to go for 4-5 hours straight. It is an organic hand cream that is completely safe to use on the hand.
And the fact that it is SLS free, cruelty-free, paraben and Phthalate Free, I'm totally digging this! I would highly recommend you all to try this one. I feel like it is one of the best hand cream for dry skin in India. If you want a hand cream for soft hands, then get this one.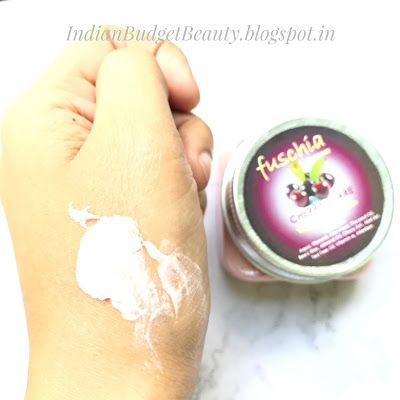 PROS:
Travel Friendly
Paraben Free
SLS Free
Cruelty Free
Very Moisturizing
Smells Amazing
CONS:
None  
RATINGS: 5/5
Also Read:
Fuschia by VKare Verve Face Mask (Kiwi & Asparagas) REVIEW
Good Vibes Face Mask Review – Activated Charcoal, Papaya, Green Tea, Havana Mango