No matter how much we love pretty and unique packaging, they always tend to harm the environment. Hence, its time that we make the shift to Shampoo Bars (if we can) so that we can reduce some plastic waste. These shampoo bars are not only environment friendly but are also organic which makes them super healthy for our scalp. I've included 10 Best Shampoo Bars in India that are made in India and are organic and it's one step into a sustainable approach.
There are different types of shampoo bars that cater to different needs and are formulated with different ingredients. I've covered 10 shampoo bars that I feel are some of the best shampoo bars in India.
---
Benefits Of Using Shampoo Bars
Zero Plastic Waste: The first benefit of using Shampoo Bars is no plastic waste. These shampoo bars are often warped in paper and do not contain any plastic containers. Few brands do send them in tin-based containers that can be easily re-used as a soap case.
Contains Natural Ingredients: Shampoo Bars are usually made using natural butter, essential oils, glycerin, carrier oils, muds, and clays. These bars are great for the environment and even better for your hair
Lasts Longer Than Bottle Shampoos: Shampoo bars surprisingly lasts longer than any bottle shampoos.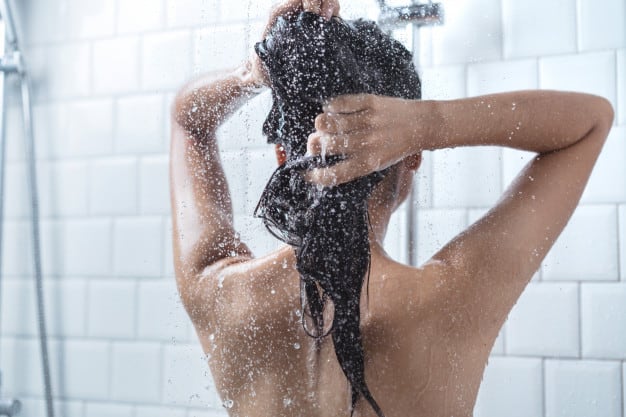 Cons Of Using Shampoo Bars
If you don't have your own bathroom and have to share it with others, then Shampoo bars can be a bit unhygienic if you start sharing it with others
Shampoo Bars can make your hair greasy if not used properly.
---
Best Shampoo Bars in India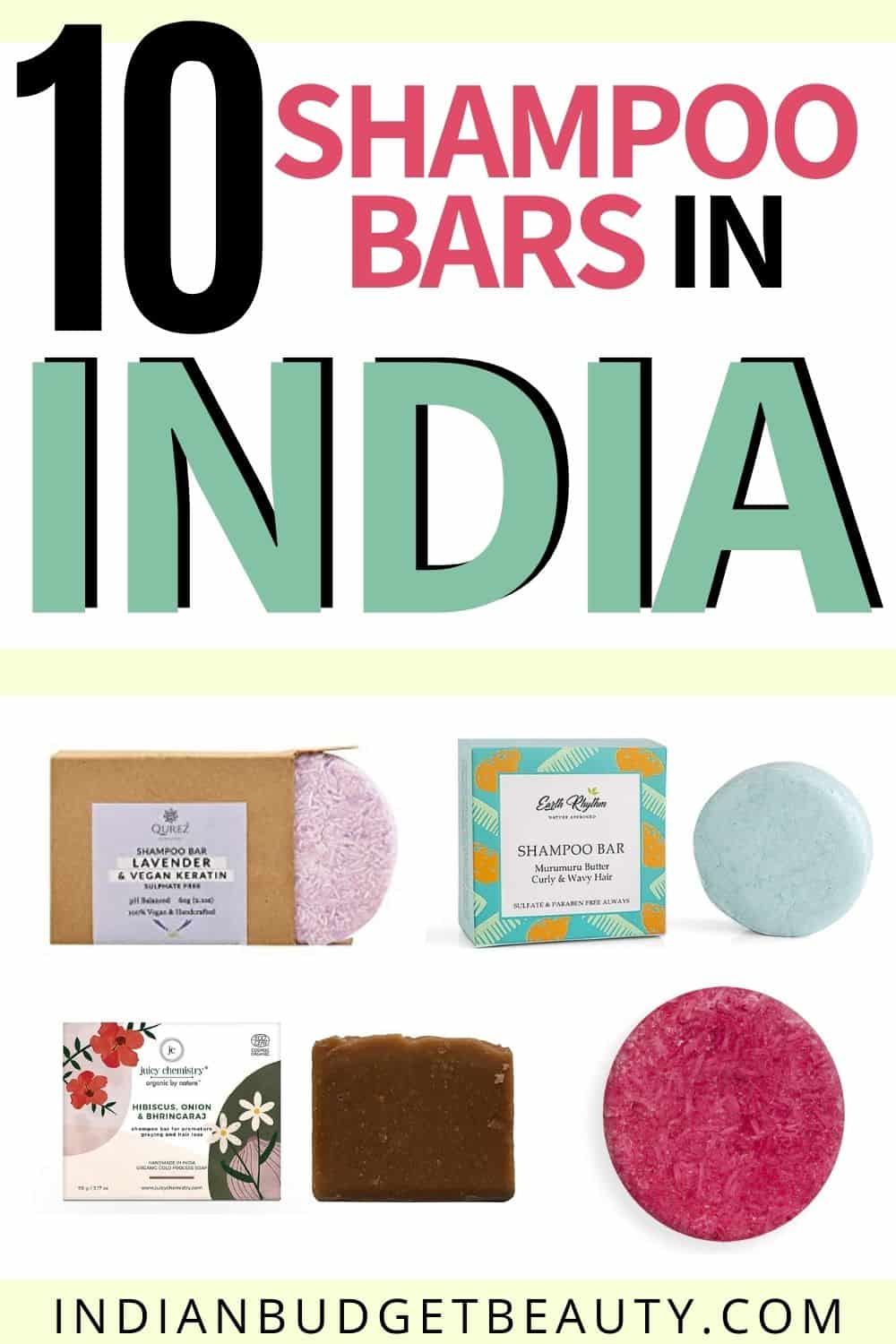 ---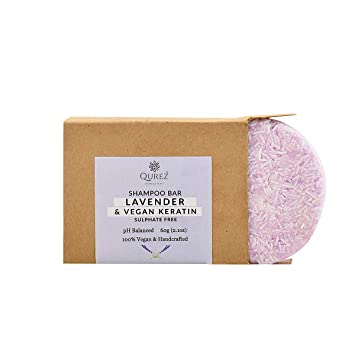 This Qurez shampoo bar contains Sodium Lauryl Sarcosinate as the foaming agent, that is derived from sarcosine, an amino acid present in our bodies. It also contains CAPB that is a gentle surfactant derived from Coconut Oil. It is one of the best shampoo bars in India that is very affordable.
This Qurez Lavender and Vegan Keratin Shampoo Bar come in a 60gm variant and the most affordable shampoo bar I've come across.
Contains Salicylic Acid that helps soothe an irritated scalp.
It also contains Vegan Keratin and Coconut oil that helps to make your hair smooth and shiny.
Buy Here (Use Code TRISHNA to get 20% Off)
---
Earth Rhythm Murumuru Butter Shampoo Bar comes in an 80g pack with a tin case for safe traveling.
It contains Murumuru Butter that helps in moisturizing the hair, controlling frizz, and defining the curls
It contains Plant Derived Surfactant that helps in better scalp cleaning without drying it out
It contains Vitamin E, has a natural antioxidant effect, that helps in maintaining a healthy scalp
Formulated Without: parabens, sulfates, phthalates, propylene glycol, mineral oil, PABA, petroleum, triclosan, DEA, and animal ingredients.
Buy Here (Use Code TRISHNA to get 20% Off)
---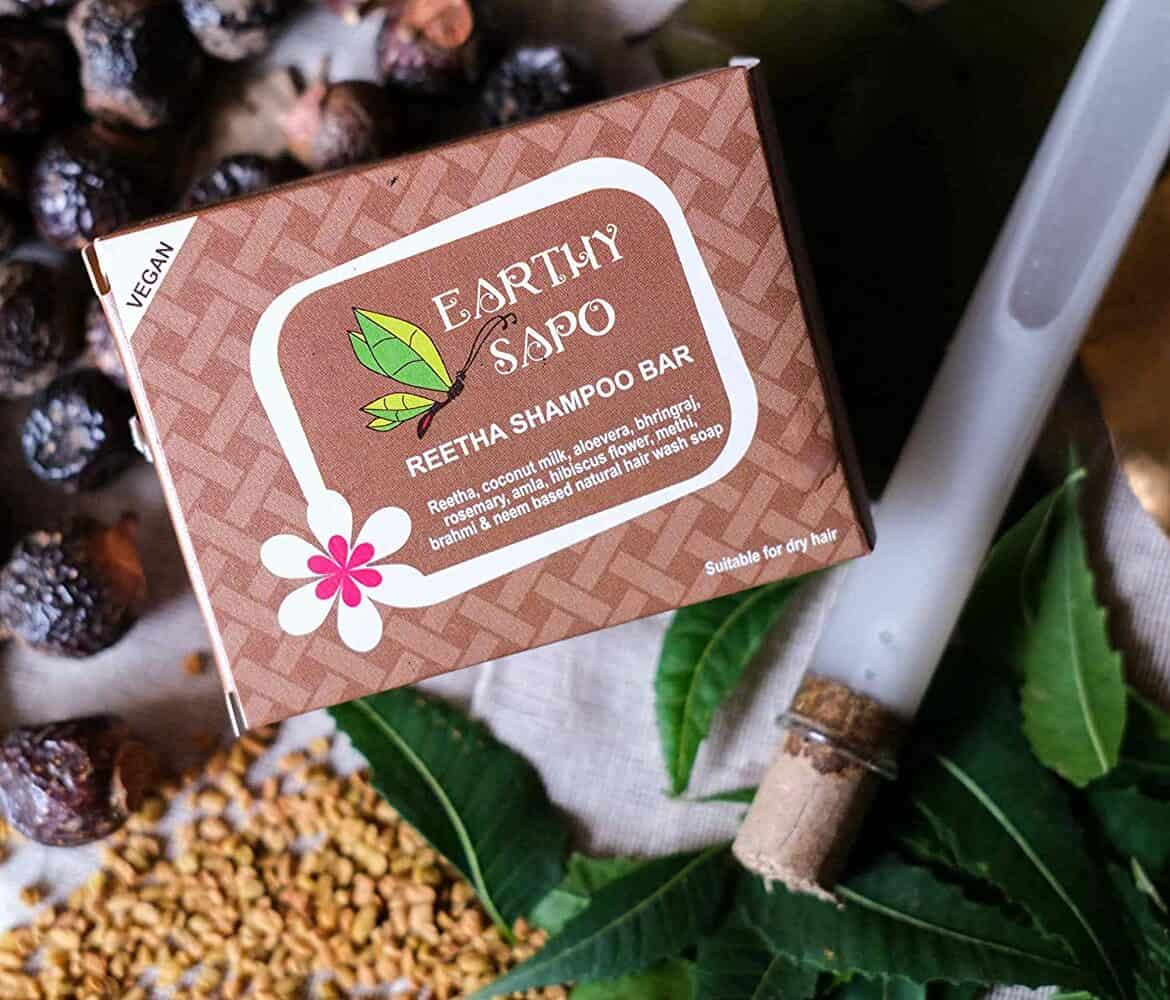 Earthy Sapo Reetha Shampoo Bar comes in a 100g pack and is suitable for dry and curly hair
It contains hair strengthening & softening herbs like reetha, coconut milk, aloe vera, bhringraj, rosemary, amla, hibiscus flower, methi, Brahmi & neem.
Can be converted into liquid shampoo by following a simple process.
Free from ready-made soap bases, artificial hardeners, artificial foaming agents, SLS/SLeS, synthetic colorants or artificial pigments
---
Juicy Chemistry is a certified organic brand and they provide some of the best organic shampoo bar in India. Their soaps are hand-crafted made by using traditional cold process methods . It contain a higher percentage of nutrient-rich oils, organic botanicals, therapeutic essential oils and ultra-moisturizing butters. They have two variants –
Buy Here (Use Code TRISHNA for 20% Off)
---
Soap Square Hibiscus, Lavender & Shea Butter Shampoo Bar (Vegan) – Rs.450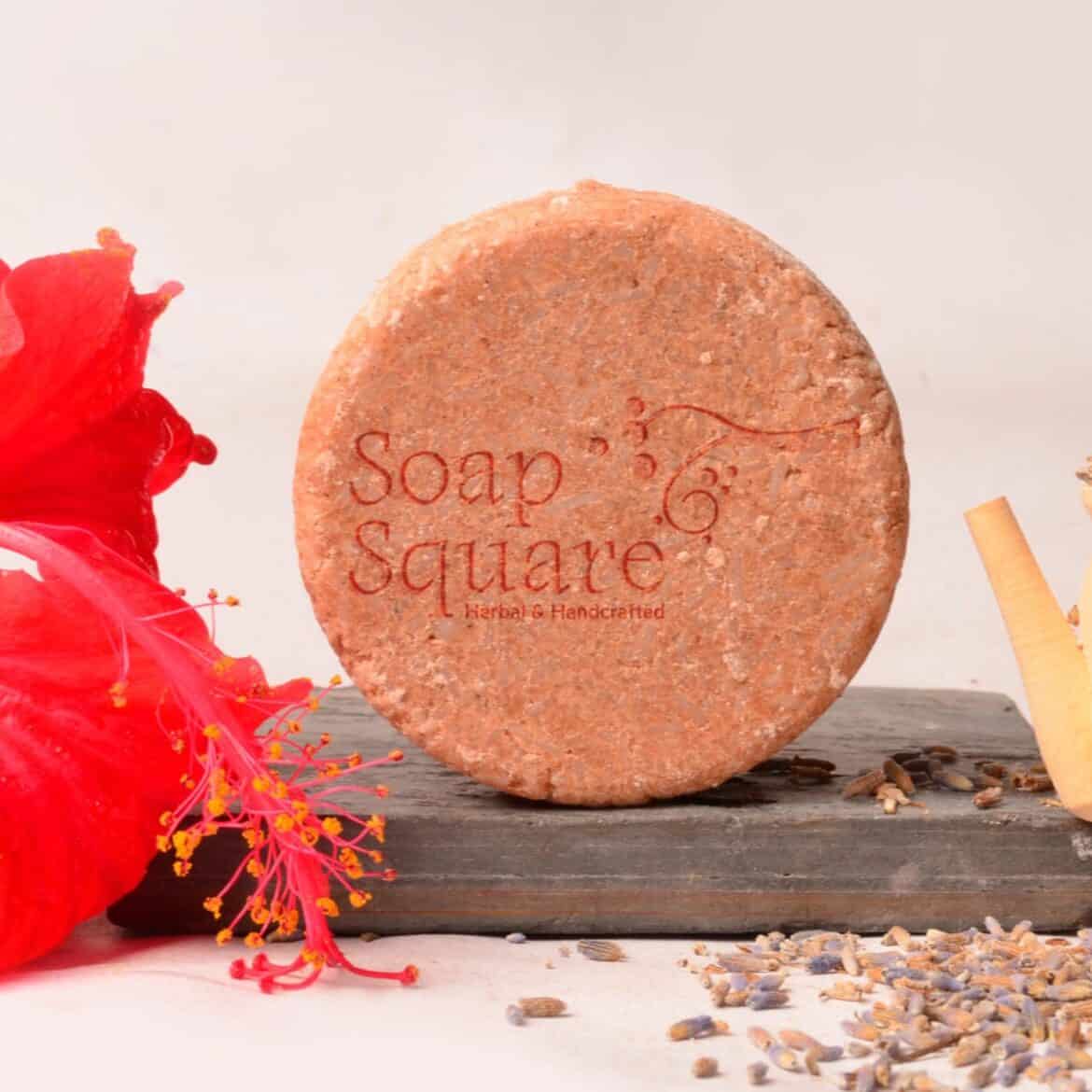 This Soap Square Shampoo Bar is rich in amino acids and vitamin C. Its main ingredient is Hibiscus and we all know how Hibiscus encourages healthy hair. It also contains Lavender oil and Shea butter for controlling dandruff and deeply conditioning the hair. They provide one of the best shampoo bars in India.
Contain Sodium Cocoyl Isethionate (SCI) as the surfactant, derived from Coconut Oil
Contains B5 or Panthenol that helps in locking moisture. Meant for dry hair
SIS, Paraben, Plastic-free
---
Rustic Art Amala Shikakai Hair Cleansing Bar (Rs.380)
Rustic Art Amala Shikakai Hair Cleansing Bar contains "Sodium Cocoyl Isethionate" as its organic sulphate.
It is a nourishing shampoo bar that contains Mango Seed Butter, Shikakai and Amla Extracts, Methi Seed, Aloe Vera, Vitamin E, Ginger Oil, and Neroli Flower.
Their shampoo bars are 100% soap-free & biodegradable, vegan, free of sulphates, paraben, and silicones.
---
Soulflower Shampoo Bar – Rs.400 (Vegan)
Soulflower creates 100% Pure, Natural, Vegan, and Cold-pressed shampoo bars that are Free from SLS, Chemicals. These soaps are made using essential oils, herbs and extracts for better nourishment. They have 4 variants of shampoo bars:
Soulflower Rosemary Lavender Hair Cleansing Bar With Jojoba Oil (For Oily Scalp)
---
Nature's Destiny Shampoo Bar (Rs.300)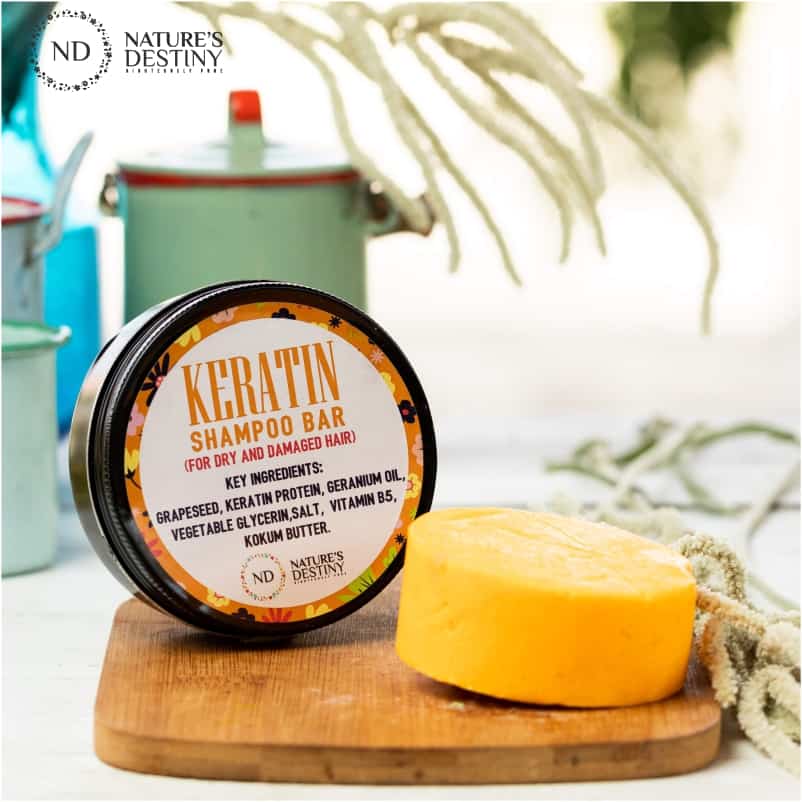 You might know that I discovered Nature's Destiny while searching for affordable cleansing balms. You can check out my Nature's Destiny Pomegranate & Vitamin C Cleansing balm review. They have 3 different variants of cleansing balms and all of them use SCI as their surfactant which is derived from Coconut Oil.
---
Nytarra Shampoo Bars (Rs.295)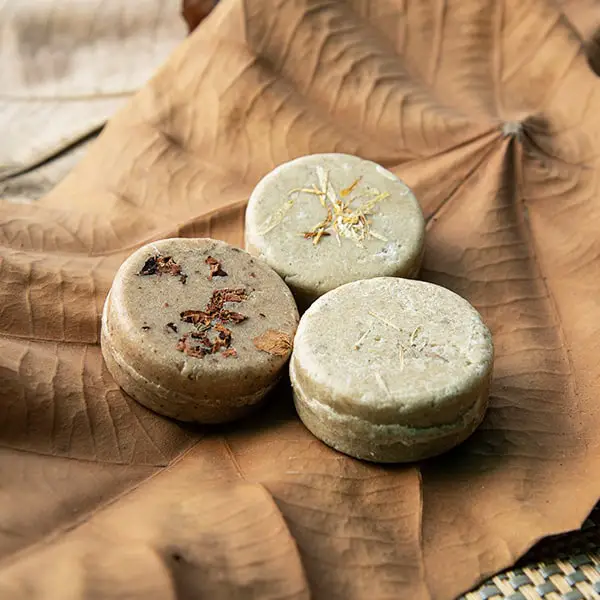 Nytarra creates affordable shampoo bars with SCI as the surfactant. SCI is a surfactant that is derived from Coconut Oil. It also contains  Cocamidopropyl Betaine or CAPB which is another gentle surfactant derived from Coconut Oil that provides a good lather.  BTMS 50 is used here as a conditioning emulsifier. They also contain fragrance oil which should not be an issue for a wash-off treatment. Nytarra shampoo bars are available in 4 variants:
Dry Hair: Rose Powder, Hibiscus Extract & Colloidal Oats
Normal/Oily: Moringa Powder, Moringa Extract & Colloidal Oats, 
Anti Hair Fall / Hair Growth: Neem Powder, Pine Tar, Extracts of Rosemary, Lavender, Nettle & Gingko Biloba
Damaged Hair: Hydrolysed Keratin
---
Kaura Shampoo Bars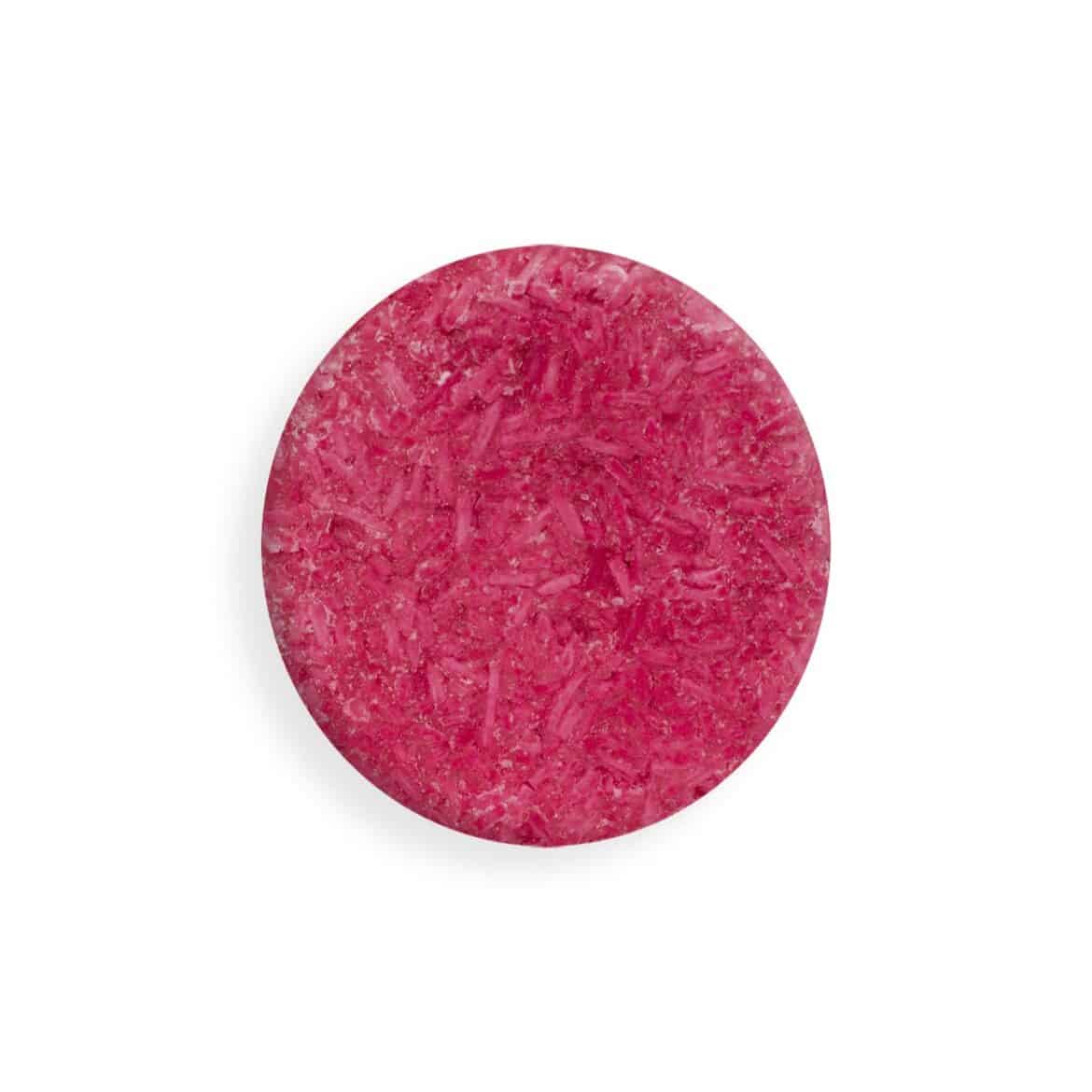 Kaura India is a beauty brand that creates natural and organic products. They have a good range of haircare, skincare, and body care products, that are all cruelty-free. Their Shampoo bars use Sodium cocoyl isethionate as their surfactant, which is a natural surfactant extracted from Coconut Oil. They have 5 different variants of Shampoo Bars:
Serenity Shampoo Bar (Dry, Damaged, Dandruff)
Therapy Solid Shampoo Bar ( hair fall + growth )
Shine Solid Shampoo Bar ( Adds volume + shine )
Warmth Solid Shampoo Bar (Problem + Oily Scalp | Thinning Hair)
Wisdom Solid Shampoo Bar (Repairing + Strengthening | Chemically-Treated Hair)
---
If you loved this blog post on 10 Best Shampoo Bars in India, then don't forget to share and subscribe to my blog for more updates.
Also Read: