Nykaa Beauty has recently launched the Nykaa InstaBlur Color Corrector Stick. They have created these 5 color correctors for Indian Skin that is formulated with a nutrition bullet in the center. Is this the best color corrector in India? Read till the end to know if I approve them or not.
About The Product:
Correct and blur imperfections instantly with this magic stick. Neutralize fiery acne or redness around your nose by tapping this creamy formula on the concerned area. This stick is infused with a nutrition bullet enriched with Pomegranate seed oil and Camellia extracts, which deliver great anti-aging benefits and a serious dose of nourishment whilst making your complexion flawless
Creamy, Blendable Formula
Enriched with Pomegranate Seed oil and Camellia extract nutrition bullet
Long-lasting formula.
Price: Rs.499 for 3.5gm | Buy Here
Shelf Life: 3 Years
Ingredients:

Since castor oil is the first ingredient it really helps in providing nourishment and hydration. I feel you don't really need an eye cream if you don't have dry under eyes.
Packaging: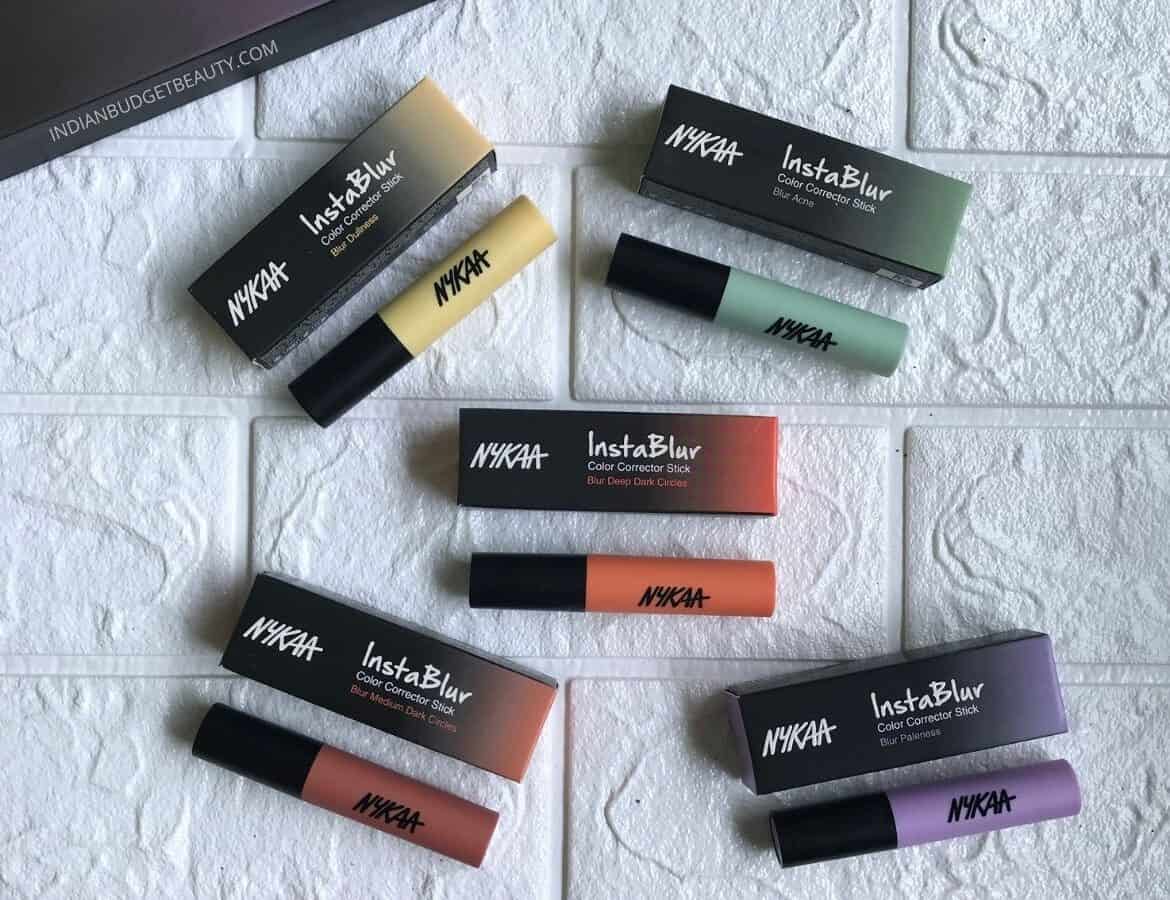 Nykaa InstaBlur Color Corrector Stick comes in a twistable stick format that is very similar to their Panstick Lipstick. It has a color-coordinated bottom. The best part is that the outer cardboard box mentions its usage so it's very beginner-friendly.
I found the packaging to very sturdy and travel friendly because all you need is to twist it up, apply and blend it. The color-coordinated lids make it easy to identify and its definitely something I really appreciate.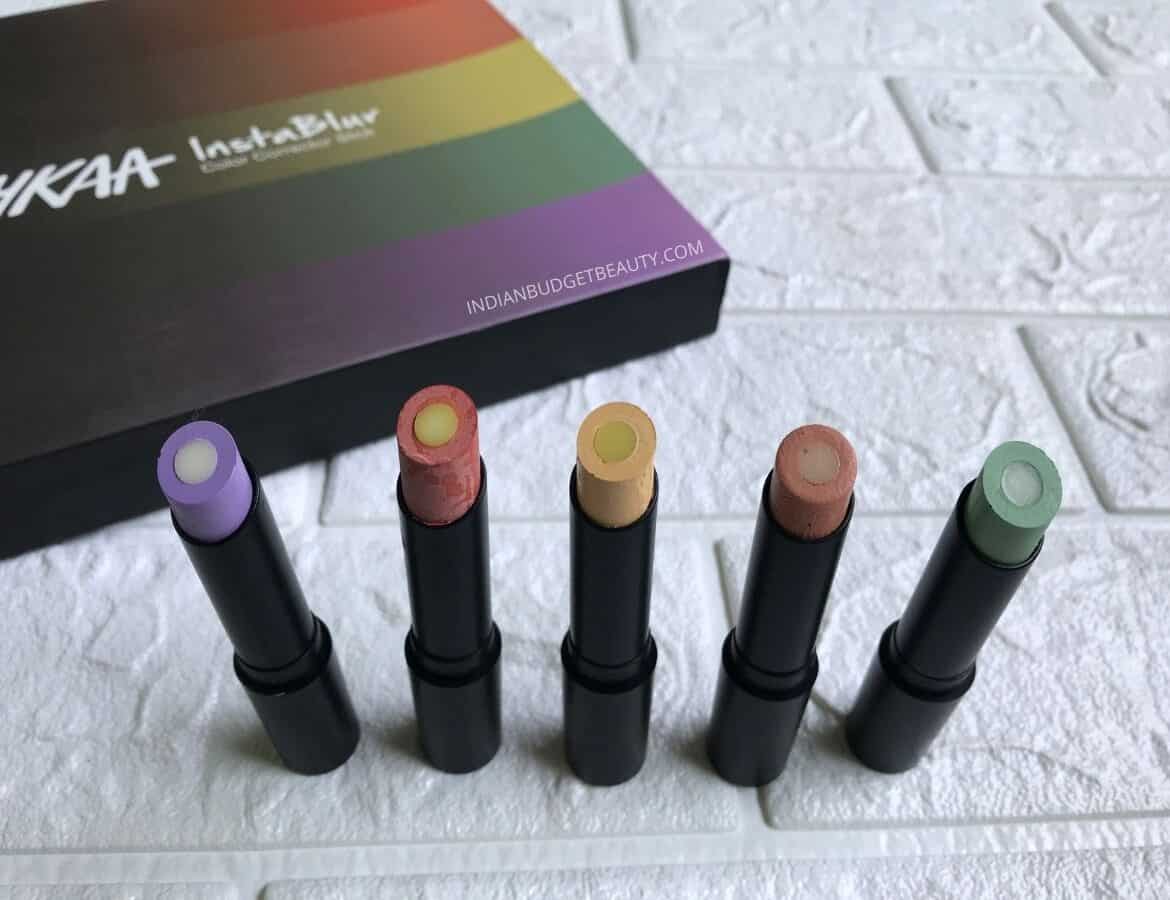 The color correctors have an inbuilt nutrition bullet that helps in nourishing your skin. It reminds me of those old-school Elle18 lipsticks that used to have a glossy circle in the middle.
Usages Of Different Color Correctors
Usually, Indian skin tones need the Peach, Orange, and Green color correctors for correcting various concerns. I've mentioned the usage of the different Nykaa color corrector sticks below so you can refer and buy one for your concerned area. You may need 1-3 color correctors depending on your concerns. I prefer single color correctors over a palette because of less wastage as you don't require all the shades.
| | |
| --- | --- |
| Shade | Usage |
| Peach | Blur Dark Circles (fair to medium)   |
| Lavender | Blur Pigmentation & dark spots  |
| Yellow | Blur Dullness  |
| Orange  | Blur Deep Dark Circles (medium to deep)  |
| Green | Blur Acne  |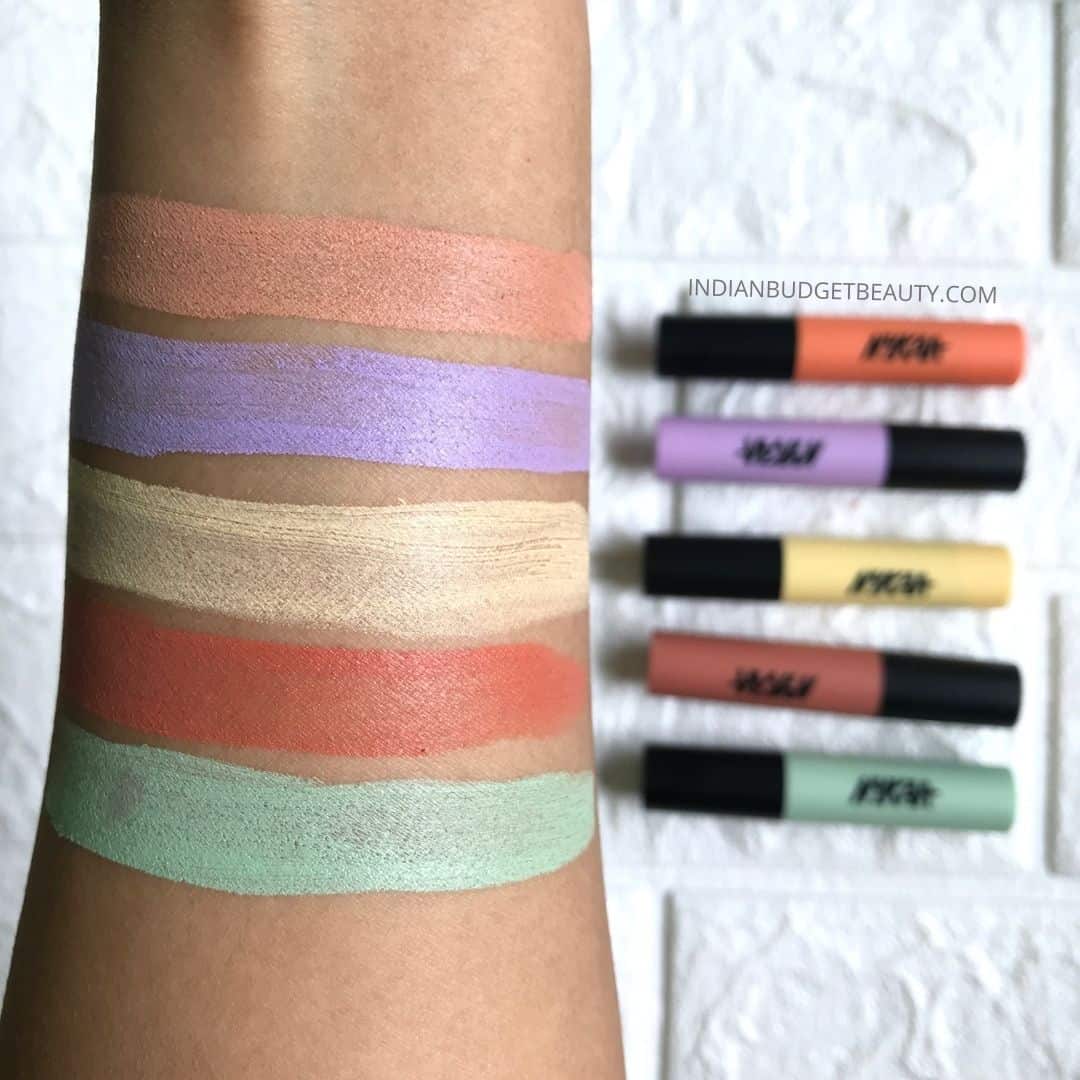 Pigmentation, Consistency & Bendability
These Nykaa Color Corrector Sticks have excellent pigmentation and creamy consistency that blends seamlessly. You can use your fingers or your beauty blender to blend them. I use my ring finger to blend them in place and it beautifully covers my concerned areas. The uniqueness of these Nykaa InstaBlur Color Corrector Sticks are the nutrition bullets that provide hydration, helps in easy blending, and do not become patchy after applying foundation or concealer. I found these Nykaa InstaBlur Color Corrector Stick to be creamier than the Nykaa Concealer Stick.
You just need a sheer wash of color for your targeted area. Don't apply too much or else the color might peak through your foundation or concealer.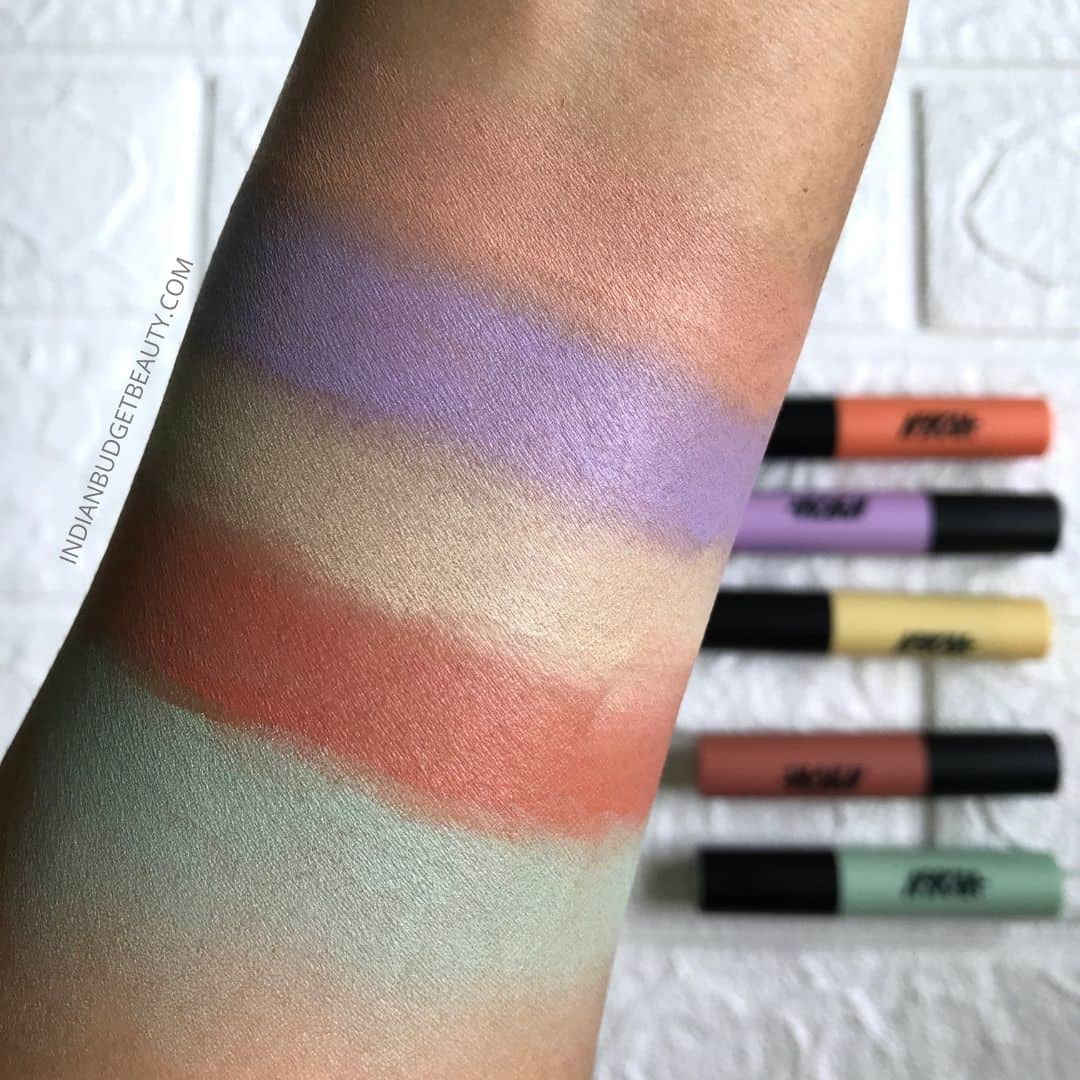 How To Use Them?
Apply your shade of color corrector to the concerned area and blend it with the help of your ring finger. Then use your favorite concealer or foundation over it and blend it with a beauty blender/ brush to cover your concern. Then set it with powder so that it does not budge.
My final thoughts on the Nykaa InstaBlur Color Corrector Sticks
I absolutely love how blendable and creamy these color correctors are. You don't really need a brush or a beauty blender for blending, all you need is the warmth of your fingers. They are quite affordable and priced at Rs.499 which I believe is very justified as you will get 3.5gm of product. Their unique nutrition bullet helps in keeping your skin nourished, so you can definitely skip a primer if you don't really have the need. They glide onto your skin very easily and you don't really need to tug it whatsoever.
Since these color correctors are very pigmented, so I'd advise you to only apply a sheer coat. A little goes a long way so do not go overboard as it may peak through your foundation if you apply too much. I have tried one liquid color corrector and I do prefer this Nykaa Color Corrector Stick over that because of its unique lightweight texture and better control. I feel it is one of the best affordable color correctors for Indian Skin.
I did found one con. If you have a lot of acne, apply the green color corrector and top it off with a BB Cream, then your acne will still peak through. I'd advise you to apply at least a medium cover foundation over them to blend it well.
I absolutely love these Nykaa Color Corrector Sticks but will I use them every single day? No. I feel like my foundation is enough for my skin as I don't really have a lot of concerns. I might use the Peach Color Corrector to cover up my dark circles if they stand out more, or the green color corrector if a pimple pops up. So my advice would be to buy these color correctors only if you have dark prominent concerns.
Do I recommend It?
Absolutely yes. If you are a beginner or want something under Rs.500 then search no more, get this one.
---
Pros
Very blendable
Creamy consistency
Unique nutrition bullet that does not dry down skin
Beginner-friendly
Travel-friendly packaging
Affordable
Lasts for up to 6 hours.
Cruelty-free, Vegan, SLS, and Paraben Free
Cons
Color Corrector might peak through if you use a sheer coverage foundation or BB Cream
Nykaa InstaBlur Color Corrector Stick
Packaging

Effectiveness

Pigmentation

Blendability
Final Verdict
I absolutely recommend these Nykaa InstaBlur Color Corrector Sticks as they are beginner friendly, very blendable, pigmented and, affordable. Their unique nutrition bullet does not dry down the skin and makes it very easy to blend.
---
Also Read:
(Product was sent for Review)
---
Disclosure: Contains affiliate links. I receive a small commission for purchases made via them.
---