Nykaa Pink Friday Sale 2019 has officially begun on the 29th of Nov, 2019 and will end on the 2nd of Dec, 2019! I've already curated a list of Best Deal at Nykaa Pink Friday Sale under Rs.1000. A few days back I've received the Pink Friday Box which was sent by Nykaa to a number of beauty bloggers and influencers.
I feel so privileged that I've received this huge goodie box filled with makeup and skincare and I'd like to review them later.
Unboxing My Nykaa Pink Friday Sale Box
Let's start with skincare first. I've received a huge amount of skincare items on this box. Skincare is expensive, so I was totally delighted to receive all of these.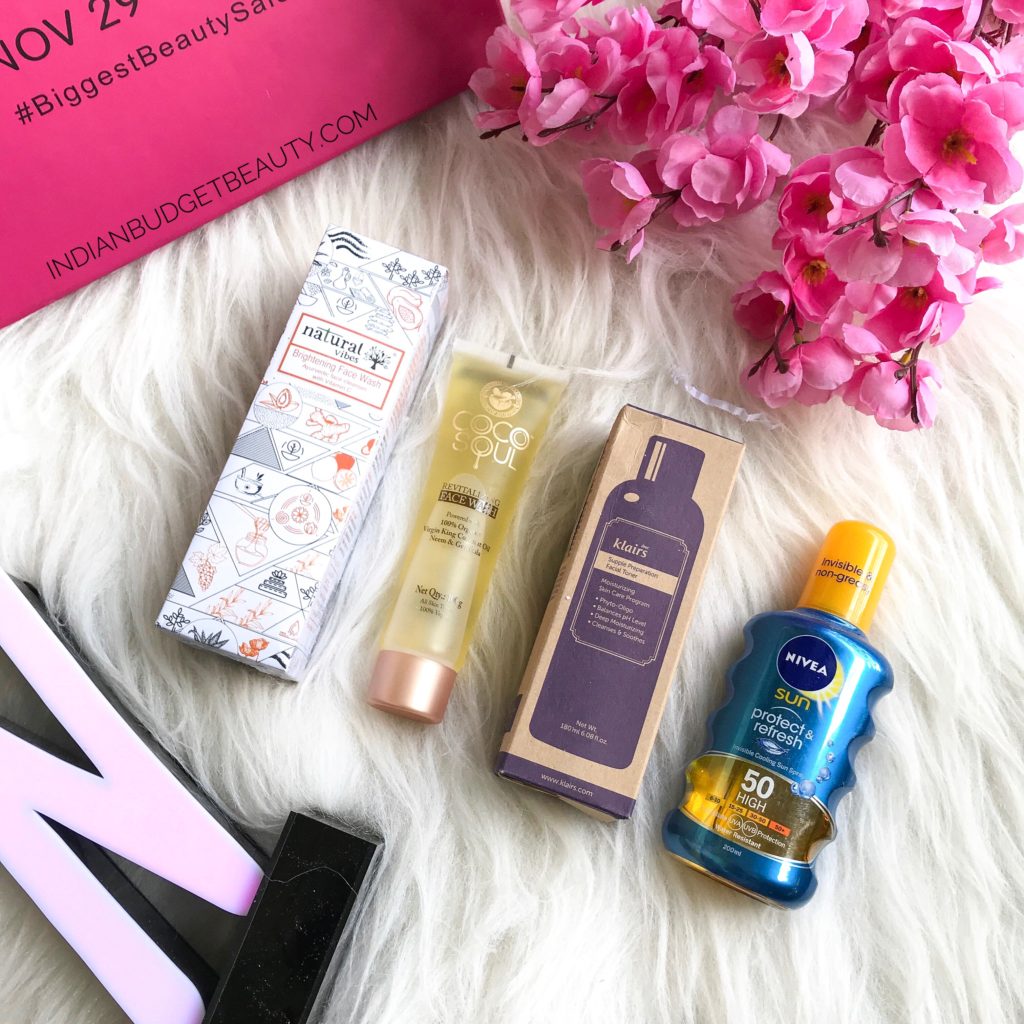 Natural Vibes Ayurvedic Vitamin C Brightening Face Wash
This face wash contains 120ml of product and contains all-natural ingredients. It has a DEP, DBP, DEA, silicones, and mineral oil-free formula. It is formulated with Peach, Lemon, Orange, Papaya, and Amla, and claims to be a brightening Face Wash.
Coco Soul Revitalizing Face Wash With Virgin King Coconut Oil
This face wash contains virgin king coconut oil and other good natural ingredients. It claims to be a non-drying face wash. The best part is that it is 100% Vegan and cruelty-free
Klairs Supple Preparation Facial Toner
The star of the show! I've been wanting to get this for so long now. Supple Preparation Facial Toner is one of the best sellers from Klairs. It removes all impurities from the skin resulting in clear skin.
NIVEA Sun – Protect & Refresh Invisible Cooling Spray SPF 50
I've already mentioned it in my 10 Best Sunscreen For Face blog post. You might want to check that article out for a mini-review. This is a spray sunscreen that is totally hassle-free and travel-friendly.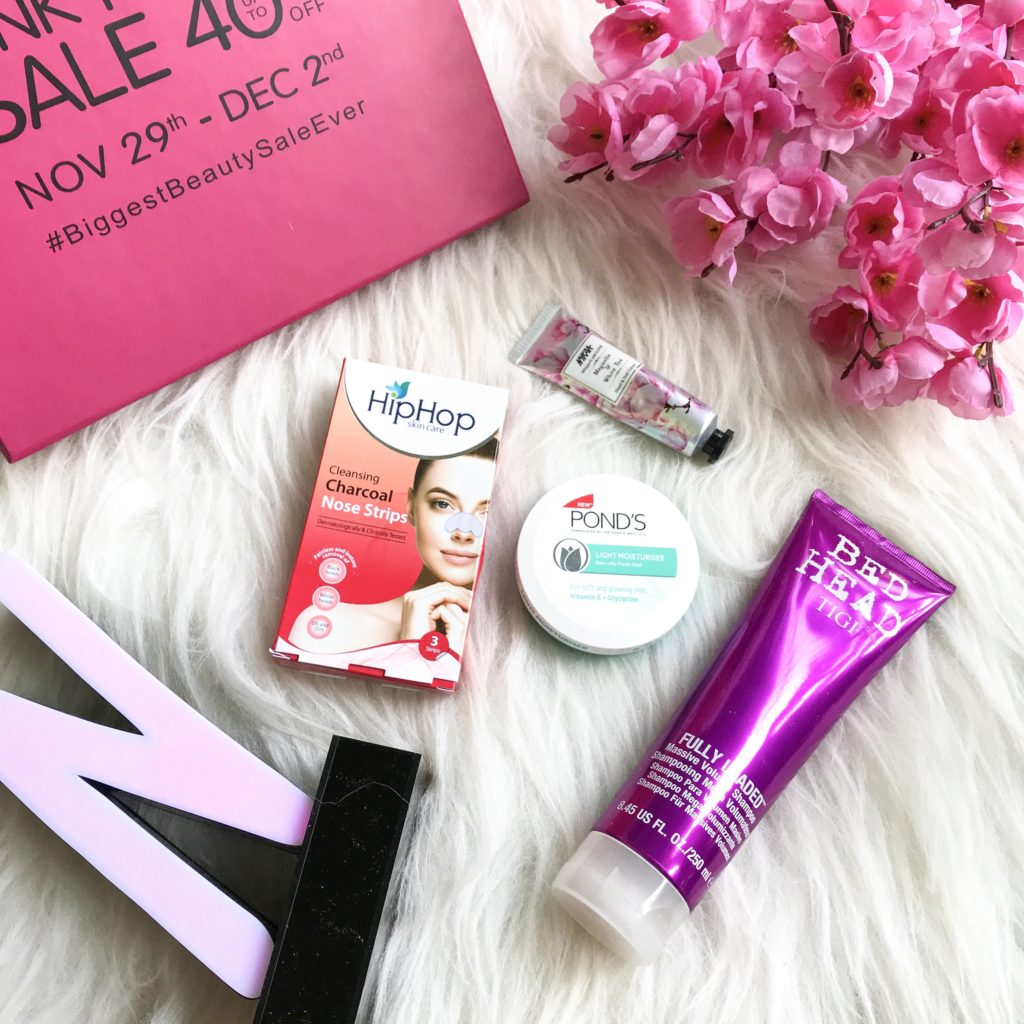 HipHop Charcoal Nose Strips for Women
I've been eying on Hip Hop's products for a while now. I don't have an issue of blackheads, but I'll still try it out. If it works then I'll let you know on my insta stories.
Nykaa Magnolia & White Tea Hand & Nail Creme
Magnolia & White Tea Hand & Nail Creme is part of Nykaa's skincare line. They have a huge variety of hand and nail creme. I'm not a fan of hand creams, so I'll probably gift this to one of my friends.
Ponds Light Moisturiser Non-Oily Fresh Feel
I've tried this in the past and quite like it. Its a great moisturizer for the summer season. But I'd not recommend it for the winter season as it gets absorbed within seconds.
TIGI Bed Head Fully Loaded Volume Shampoo
" Fully Loaded volume"? I'm sold at that! My hair needs volume at the moment and the fact that it's loved by bloggers all over the world, I think it will be an investment.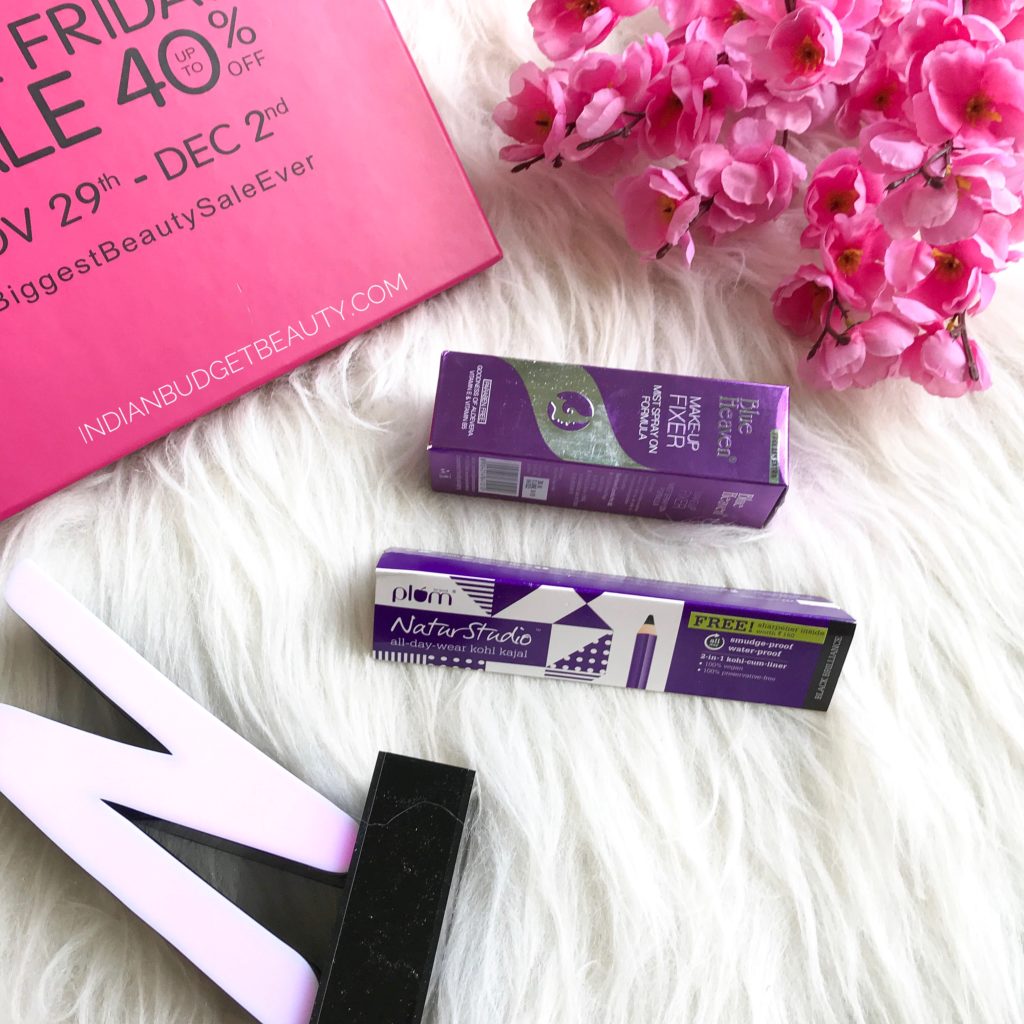 Blue Heaven Makeup Fixer
Its a super affordable makeup setting spray. This makeup fixer is a mattifying makeup fixer that instantly. takes away any cakiness from your full face of makeup
Plum Natur Studio All-Day-Wear Kohl Kajal
I wanted to try out this kajal for a long time now. It's so hyped about and I wanted to know why! I just tried it out and damn! this kajal glides on very smoothly, supremely dark, and does not smudge after its set. I feel like it gives somewhat a similar effect like a gel liner!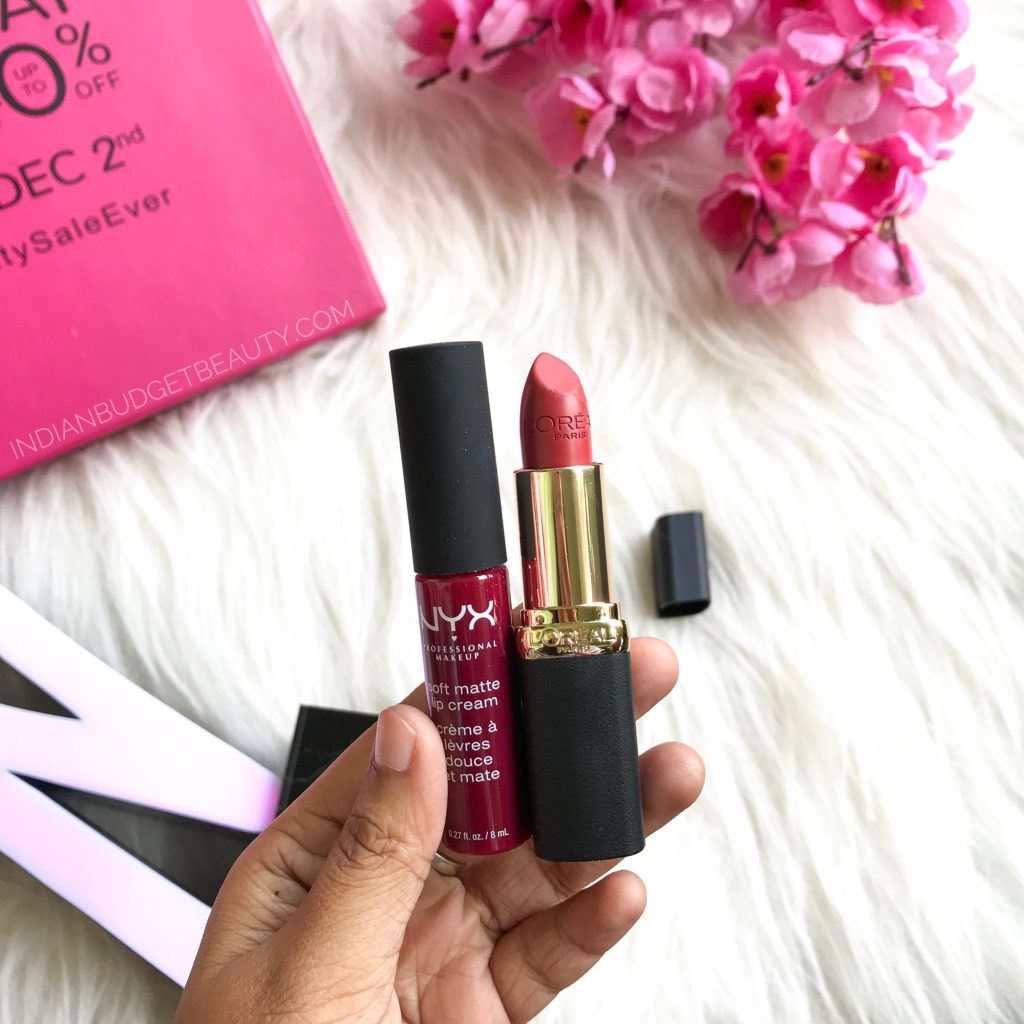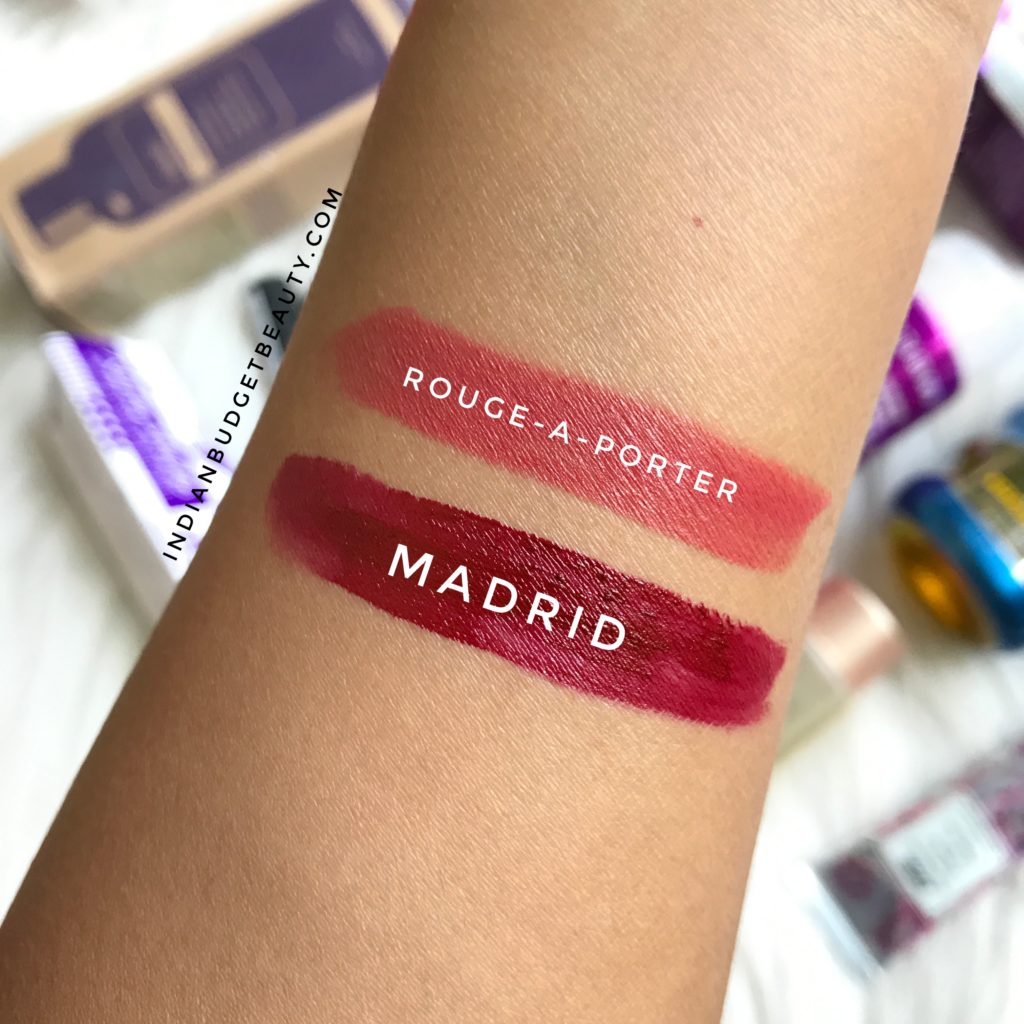 NYX Professional Makeup Soft Matte Lip Cream – Madrid
I've always loved NYX's Soft Matte Lip Creams. They have a wearable, moussy texture. I also have the shade Copenhagen, so I'll post a review soon. My mother loves this shade, so I've gifted it to her.
L'Oreal Paris Color Riche Moist Matte Lipstick – 233 Rouge A Porter
Rouge-A-Porter is my kind of shade. Its a pretty peachy-rose with a hint of brown. I love this shade and the formula.
ALSO READ: L'Oreal Paris Color Riche Matte Lipstick – Pink A Porter REVIEW
Makeup Revolution Re-Loaded Palette – Newtrals 2
BUY IT HERE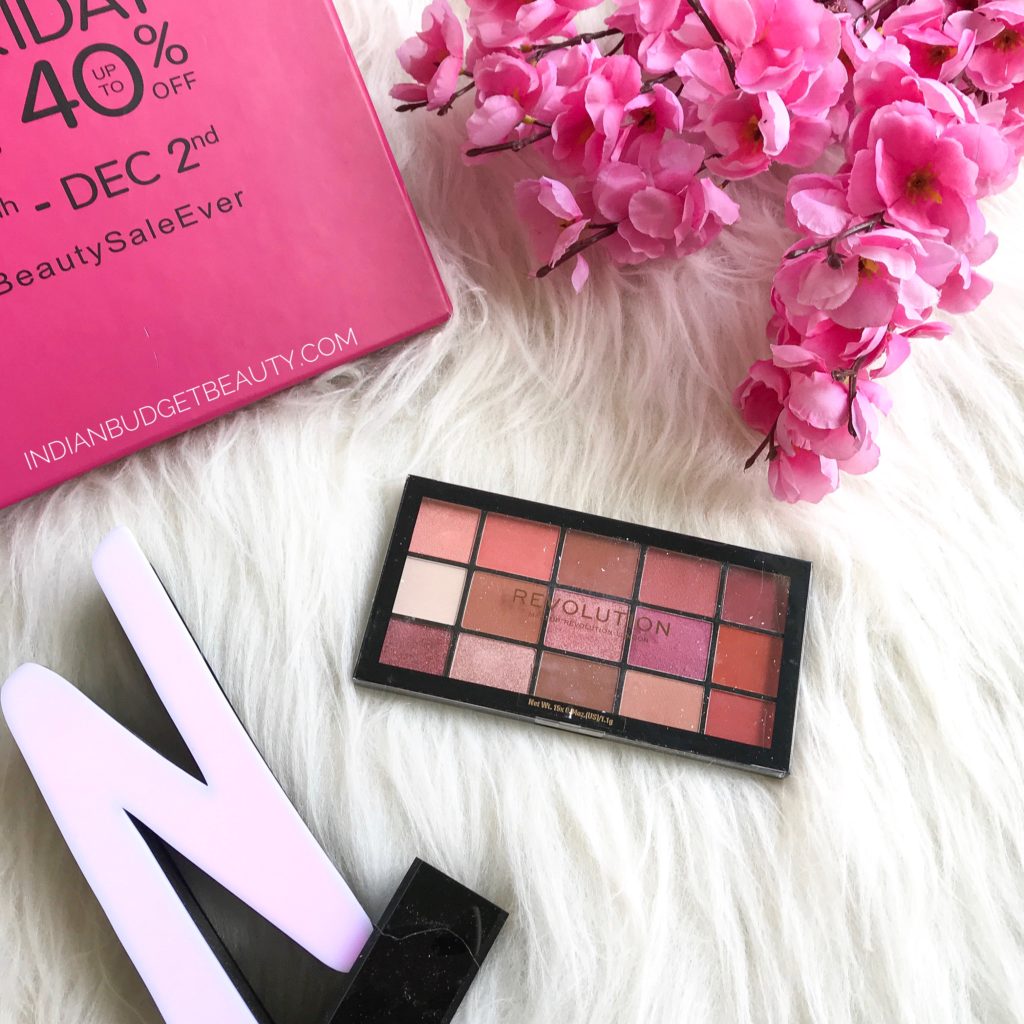 The last product is an eyeshadow palette. It is part of their Reloaded Series. I've recently purchased the Velvet Rose Palette from this series. So watch out for a review and looks using this palette. It's a very pretty fall-inspired palette which contains reddish and cranberry shades.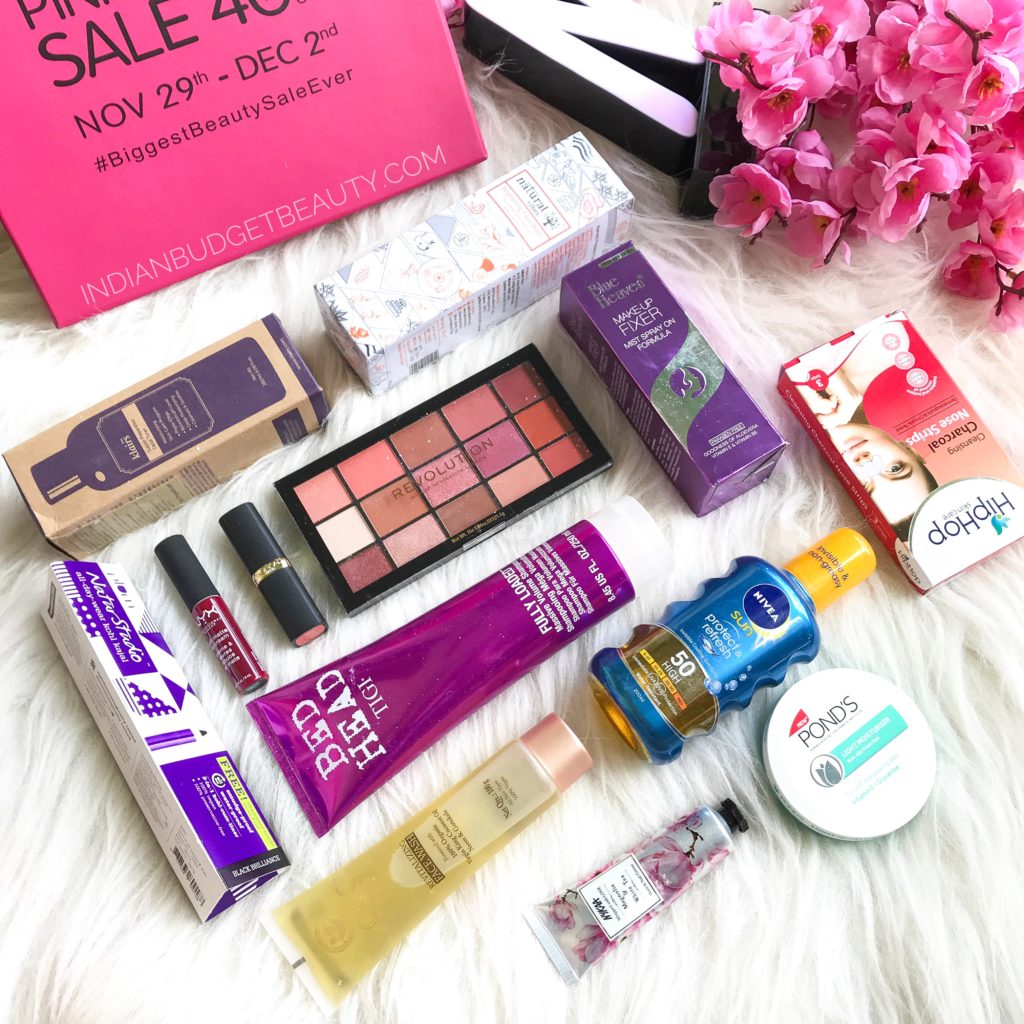 PIN THESE!