Having frizzy hair with fly-aways can be a problem for a lot of us. We often forget to oil our hair, use a lot of styling products that can lead to hair damage. If that's the problem you are facing then this L'oreal Paris Extraordinary Oil Serum can be the one for you. The L'oreal Paris Extraordinary Oil Serum is a multi-purpose hair serum. It claims to be the No.1 Hair Serum in the world and contains a unique blend of 6 different oils. Let's see if it does what it claims. Read this L'oreal Paris Extraordinary Oil Serum Review to know more.
---
Claims:
Infused with 6 flower extract oils: Lotus, Tiare, Rosehip, Flax, Chamomile, Sunflower
Lightweight
Non-Greasy
No way down
---
Price: Rs.499 for 100ml
---
Ingredients:
Cyclopentasiloxane, Dimethiconol, Chamomilla Recutita Extract / Matricaria Flower Extract, Cocos Nucifera Oil / Coconut Oil, Hydroxycitronellal, Helianthus Annuus Seed Oil / Sunflower Seed Oil, Nelumbium Speciosum Extract / Nelumbium Speciosum Flower Extract, Limonene, Benzyl Salicylate, Benzyl Alcohol, Linalool, Linum Usitatissimum Flower Extract, Isoeugenol, Caprylic/Capric Triglyceride, Geraniol, Gardenia Tahitensis Flower Extract, Rosa Canina Flower Extract, Bisabolol, Hexyl Cinnamal, Glycine Soja Oil / Soybean Oil, Parfum / Fragrance
Chamomilla Recutita Extract (Chamomile): It is a plant extract and also an antioxidant that is used mainly for treating oily hair, strengthening hair roots and hair growth.
Sunflower Seed Oil: It contains a lot of fatty acids like ceramides, phospholipids as well as Vitamin E and antioxidants. Helps to soothe and deeply nourish dry scalp and hair.
Nelumbium Speciosum Extract / Lotus: Helps in Hair conditioning
Linum Usitatissimum Flower Extract (Flax): Rich in Omega-3 Fatty Acids that helps in hair growth
Gardenia Tahitensis Flower Extract (Tiare): Helps to hydrate the scalp and hair cuticles.
Rosa Canina Flower Extract (Rosehip): Makes hair look shiny.
Dimethiconol: It is an emollient that replaces normal silicone because it is less greasy and helps in reducing frizz.
This serum also contains other oils like Coconut Oil and Soyabean Oil.
---
Packaging: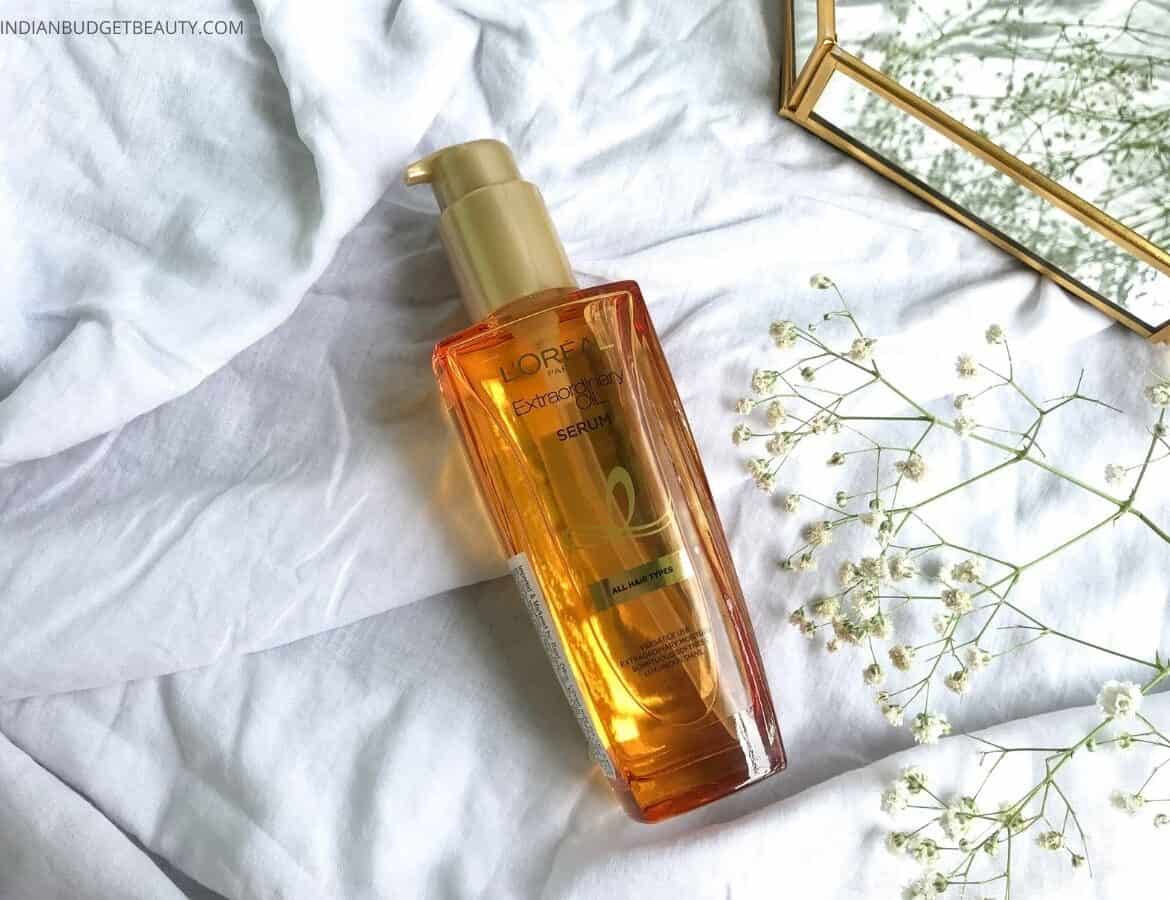 This L'oreal Paris Extraordinary Oil Serum comes in a luxurious glass bottle with gold accents. The twistable pump is made of plastic but of good hard plastic. It feels very heavy and luxe and looks great when you keep this in your vanity because of the amber-colored glass bottle,
For dispensing the product you need to twist the cap and pump out your desired amount of the serum. This might not be the most travel-friendly packaging since its made of glass but I'm definitely going to take it everywhere because of the quality.
---
Related Review: Satthwa Premium Hair Oil Review
---
Consistency & Smell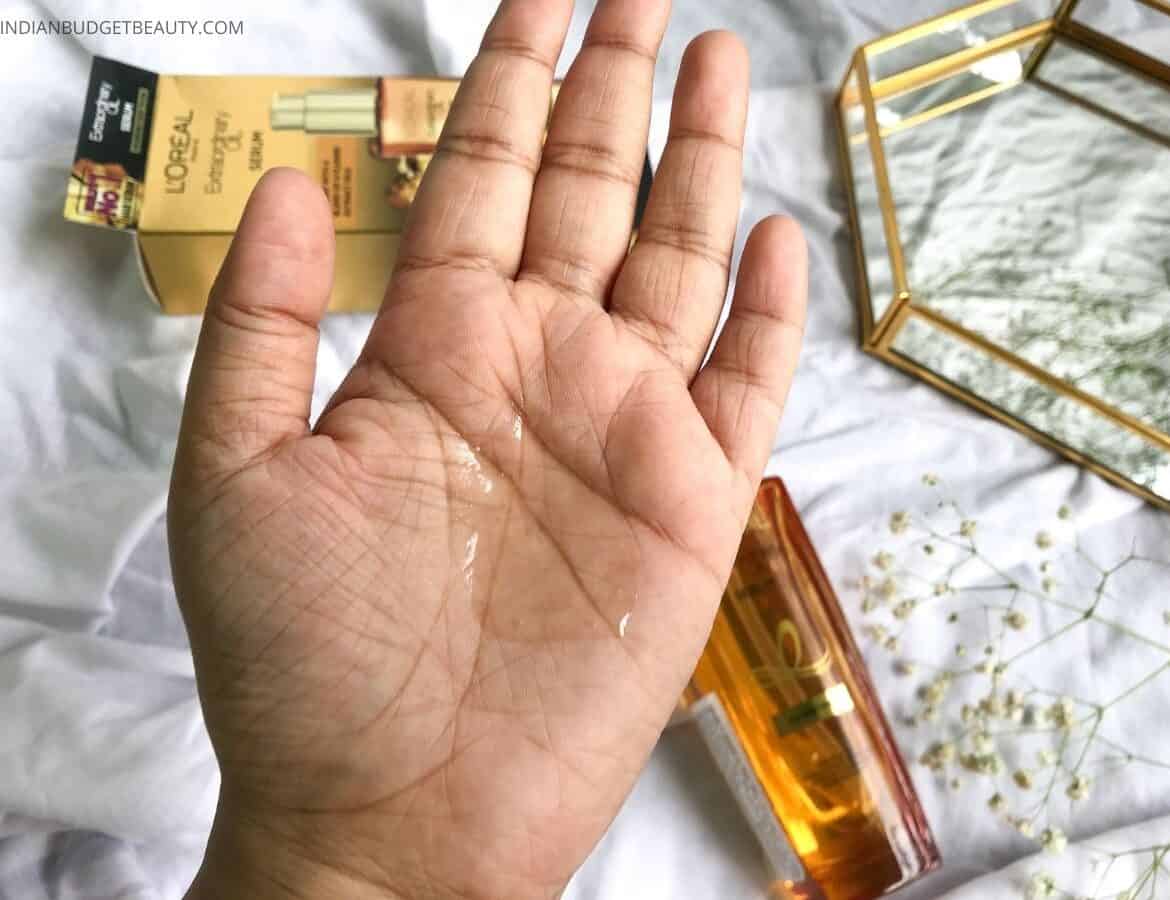 L'oreal Paris Extraordinary Oil Serum has a viscous liquid consistency but feels just like a runny serum. It is not sticky at all. The L'oreal Extraordinary Oil Serum has hints of fruity and floral scent that's not too overpowering. Its the perfect fragrance I'd want in a haircare product.
Different Ways To Use L'oreal Paris Extraordinary Oil Serum
Before Shampoo: I use 3 pumps of this serum throughout the lengths of my hair and on the ends. Then wash it off. If you don't like hair oils then this can be a great alternative as it is not sticky.
After Shampoo: I use 2 pumps of this serum on damp hair to tame down my frizz and also to act as a leave-in conditioner.
Before Styling: It can protect heat up to 230 °C. So I do use it before blow-drying and also before hair straightening.
As a Finishing Touch: I use 2 pumps of this serum on my hair to tame down any frizz and add a shine to my hair
As an Overnight Treatment: Use 3-4 pumps of this serum along the lengths of your and the ends. I'd suggest you skip the scalp as it does contain Dimethiconol. Then wash it off the next day.
My Experience With The Product:
Earlier I have used 2 hair serums and both of them worked perfectly but I prefer this L'oreal Paris Extraordinary Oil Serum over those because of its versatility. It can be used in 5 different ways and its not a clickbait, it does work in 5 different ways. I love how it tames down my frizz and also adds a beautiful shine to my hair. It also does protect my hair after using any heat protectant and does not fail to make my hair look and feel beautiful.
I have straight hair and I do not need to use any conditioner whenever I use this serum. All I do is shampoo my hair and apply it on damp hair to make it work just like a conditioner. I use it on dry hair whenever I feel like my hair is lacking the shine because it instantly adds a beautiful shine whenever I use it. It makes it easy for me to detangle my hair and also helps to make my hair manageable.
Being an oil-based serum, I did find it very lightweight, non-greasy, and does not way down or stick your hairs together. Overall, I also enjoy the fragrance, it's a beautiful fruity fragrance that's not over-powering at all.
I cannot find any cons to this L'oreal Paris Extraordinary Oil Serum and I love the luxurious glass bottle it comes it. It may not be travel-friendly but I'd take the risk to take it anywhere because it has become my favorite hair serum.
This is one of those hair products that I'd keep on repurchasing because it's worth it. You also get 100ml of serum for Rs.499, that's affordable because of the quality that you are getting. It is one of those few multi-purpose products that work in different ways, so I don't mind spending my money on it.
---
Pros:
Tames down your frizz
Helps to easily detangle hair and makes hair manageable
Adds shine to your hair
Non-greasy and light-weight
Does not weigh down your hair
Very versatile (Can be used 5 different ways)
Makes your hair smell good
Straight hair can skip conditioner if this serum is used
Cons:
I could not any con
L'oreal Paris Extraordinary Oil Serum Review
Packaging

Effect

Versatility
Final Verdict
I'd highly recommend this hair serum for all hair types. It does tame down your frizz and adds a shine to your hair. It can be used before and after shampoo, before heat treatment, as an overnight hair treatment, and also to add a finishing touch to your hair. 
---
Also Read:
---
Disclosure: Contains affiliate links. I receive a small commission for purchases made via them.
---