BeautyBigBang Review 
BeautyBigBang.com has sent me two makeup products which included an eyeshadow palette and a liquid lipstick. I'm very much impressed with their quality. Do you want to know which one loved and which one I didn't, then keep on reading. Here's my BeautyBigBang makeup Review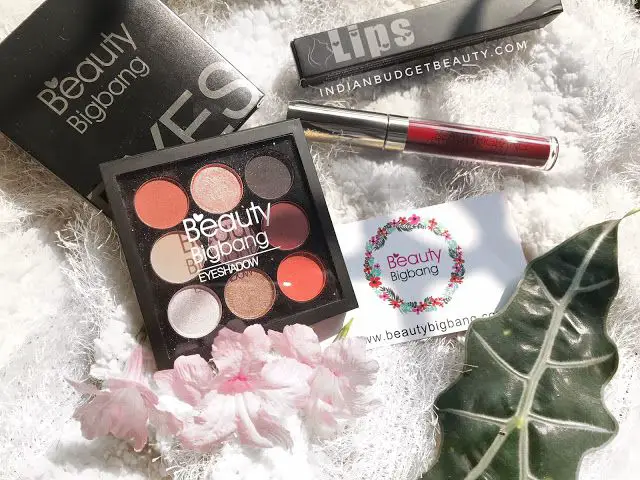 ABOUT BeautyBigBang.com
BeautyBigBang.com is a global online retailer for all things beauty, including cosmetics, nails, hair, health care and so on. Its motto is 'Make a big bang of beauty, you're the beauties'. The company is committed to providing a wide range of trendy and high-quality beauty collections at best price along with professional service to our worldwide community of customers. – source
I chose two products :
9 Colors Matte Eyeshadow Palette Earth Tone Naked Shimmer Pigment Glitter Eye Shadow (02) – Buy It Here
Matte Long Lasting Lip Gloss Velvet Waterproof Liquid Makeup Lipstick (01 Kathryn) – Buy It Here
Beauty Big Bang 9 Colors Matte Eyeshadow Palette Earth Tone Naked Shimmer Pigment Glitter Eye Shadow (02) Review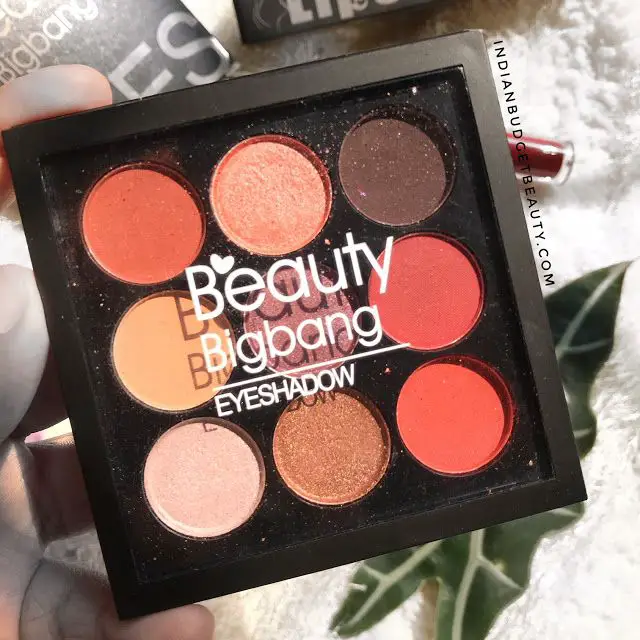 Price

 : $ 5.99 (Rs.443) |

USE CODE : TRISHX10 to get 10% off
INGREDIENTS: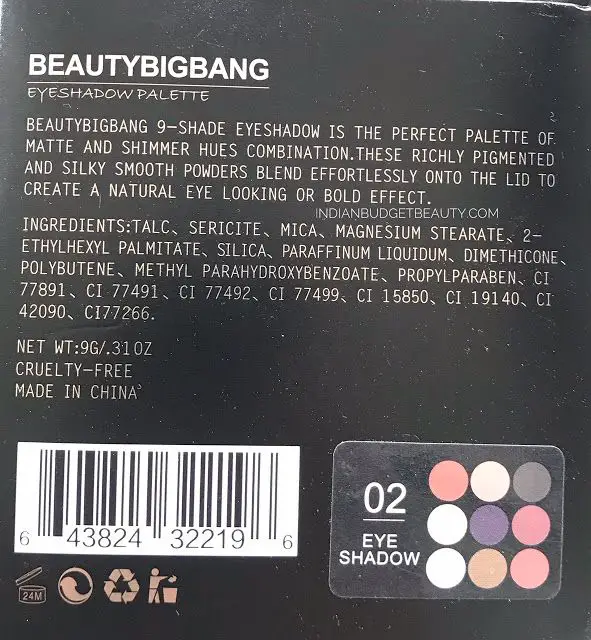 PACKAGING

: 
This eyeshadow palette comes in a sturdy packaging which is very much similar to the MAC Eyeshadow X 9 palettes. They do have an external cardboard box which has all the details written on it. It does not come with a mirror or an applicator and has a see-through packaging.



SHADES & SWATCHES

: 
This palette contains 5 matte shades and 4 shimmer shades.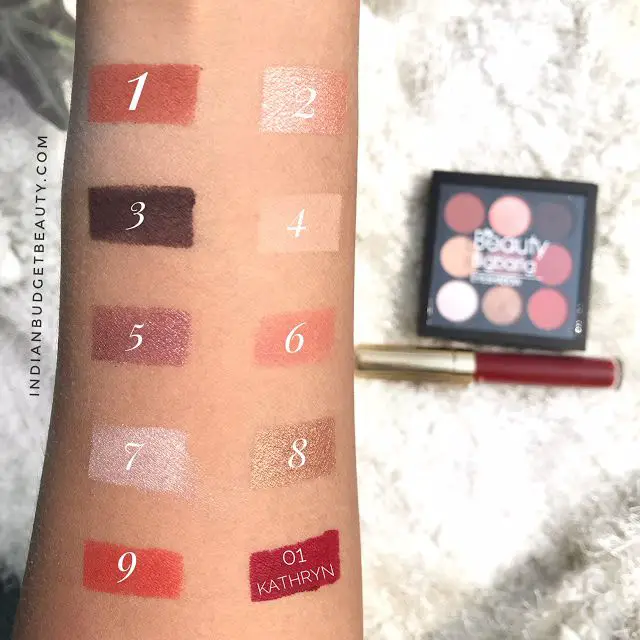 | | | |
| --- | --- | --- |
| Shade 1 | Matte | Burnt Orange |
| Shade 2 | Shimmer | Peachy |
| Shade 3 | Matte | Charcoal Brown |
| Shade 4 | Matte | Skin Tone |
| Shade 5 | Shimmer | Purple-ish Burgundy |
| Shade 6 | Matte | Muted orange |
| Shade 7 | Shimmer | Icey White |
| Shade 8 | Shimmer | Golden Bronze |
| Shade 9 | Matte | Bright orange |

The shimmer from this palette is very pretty and translates well on the lip. The mattes are pretty buildable and not chalky. All the shimmer are pigmented except Shade 6 which is not at all pigmented.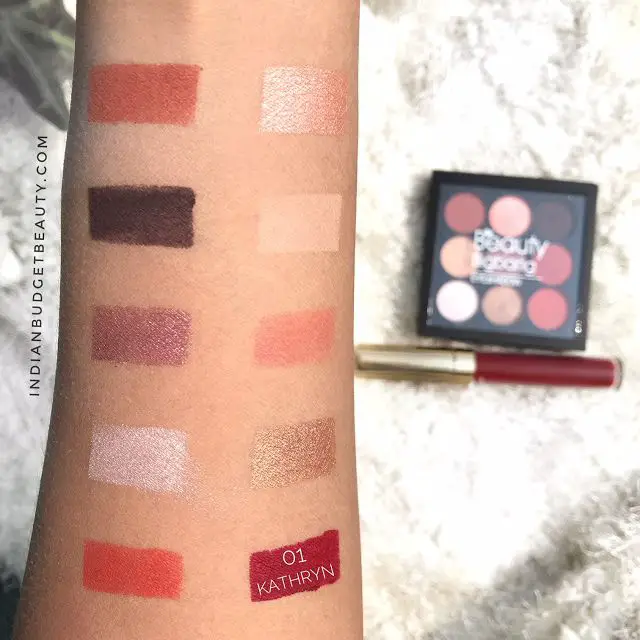 My Thoughts On the Product:

 
This palette has warm-toned shades which are very much in trend these days. It also has a good amount of mattes to shimmers ratio. You will be able to create very pretty eye looks starting from everyday looks to full-on glam eye makeup looks.

You get a skin tone shade to set your concealer/primer into place, two highting shade, three transition shades, a dark shade for smoking out your eyes and two beautiful lid shimmer shades. The shade selection is very intact and it will help you achieve any kind of look. 

Now, coming to their texture, the mattes, as well as shimmers, are very soft to touch. The mattes are blendable and do not have many fallouts. The shimmers do have fall outs. I would suggest that you use an eyeshadow base or primer underneath to make the eyeshadows pop. 
These shades last on me for 5-6 hours. 

PROS:
Contains Mix of mattes & shimmers

Eyeshadows are pigmented

Easily blendable

Can create multiple looks using this palette

Sturdy packaging

Affordable warm palette
CONS:
Contains Parabens

No Mirror and applicator included
RATINGS: 4/5
Matte Long Lasting Lip Gloss Velvet Waterproof Liquid Makeup Lipstick (1 Kathryn) Review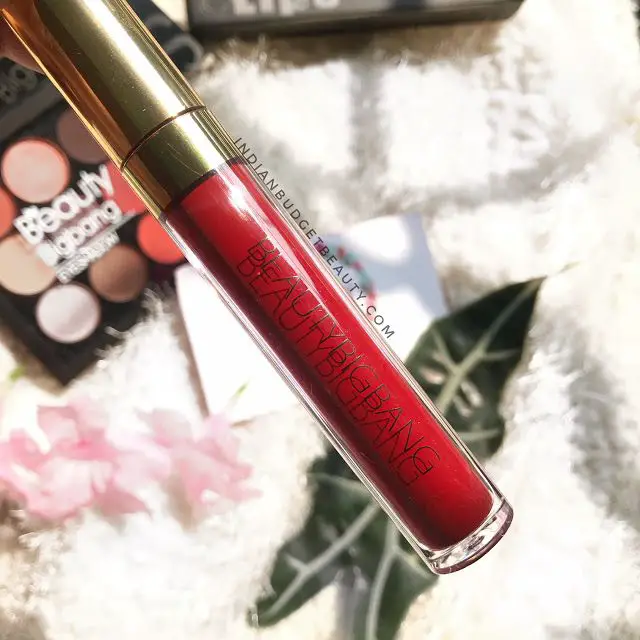 PRICE: $2.99 (Rs. 221)  | USE CODE :

TRISHX10 to get 10% off
PACKAGING: 
This lipstick comes in a pretty packaging with gold detailing on its cap. I find the packaging to be similar to Colourpop's packaging. It is pretty and convenient since it has a see-through body.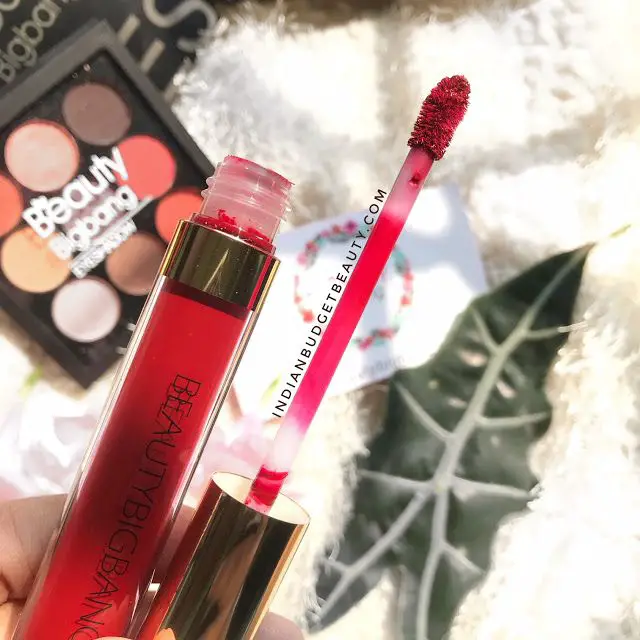 The wand:
It has a special wand with a curve in its applicator which leads to better application. 

SHADE & FORMULA:
Kathryn is a pretty blue-based red shade which is very bold. One swipe is enough to give opaque coverage. It just brightens up your face and will suit all types of skin tones.
It has a thin okay formula. I'd suggest that you prep your lips before application since liquid lipsticks are best applied after prepping your lips. One thing that I don't like is the fragrance. It is too strong and lingers for a while.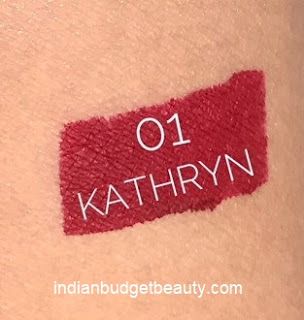 My Thoughts On the Product:

 
If you want a long lasting lipstick, then you should definitely check this out since it has a smudge-proof and waterproof formula. Kathryn is a beautiful red shade which is quite essential. Lastly, other than its fragrance, I love everything about this lipstick. But, it can not be removed with simple micellar water, you would need an oil-based makeup remover to do so.

PROS:


Good quality packaging

Great wand

Very pigmented

Smudge-proof

Waterproof

Long lasting 
CONS:
RATINGS: 3.5/5
Features about BeautyBigBang:
 BeautyBigBang.com provides FREE worldwide shipping.

They accept Paypal, Credit card, Western Union, and Wire transfer.

You can change the price according to your country.

They also have the price listed in Rupees.
SHIPPING: 
My products were shipped through the Chinese mail and it reached me approximately after 2 weeks. They also provide you with a tracking code and I haven't paid any customs.
My BeautyBigBang Makeup Review:
Overall, I loved the products. Their shipping was faster than I thought. All the products were bubble wrapped safely and were sent to me securely. I do have a 10% off coupon for you all. 


Just use my code

TRISHX10

to get 10% off on any order from beautybigbang.com