Loreal  Voluminous Lash Paradise Mascara took the beauty world by storm. I'm glad that I could grab this ASAP and review it for you all since it is pretty new in India. TBH Loreal makes some of the best mascaras, their Million Volume Mascara is still my most favorite mascara.
I'm a mascara freak, so if a new mascara is out there in the market, I just grab it before it's out of stock. SPOILER ALERT: I'm freaking obsessed with this baby!  Read this L'oreal Lash Paradise Mascara review to know more
ABOUT THE PRODUCT:
Take your lashes to paradise with voluptuous volume and intense length with L'Oreal Paris Lash Paradise Mascara. Its soft wavy bristle brush holds the maximum amount of formula. 200+ bristles catch every lash for a dramatic volumizing effect. Silky smooth formula glides on evenly and easily. This L'oreal voluminous lash paradise mascara is volumizing and lengthening mascara that delivers a full lash fringe that's feathery soft; no flaking, no smudging, no clumping.

Features Of Loreal Lash Paradise Mascara :
Volumizes lashes with intense effects.
Glides evenly and lengthens lashes.
No clumping, flaking, or smudging.
Leaves a long-lasting volumizing impact.
PRICE: Rs.799 for 7.6 gm 
PACKAGING: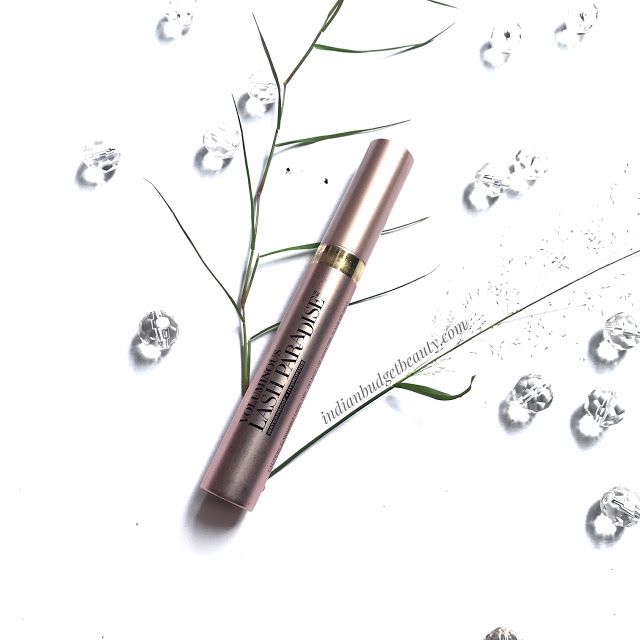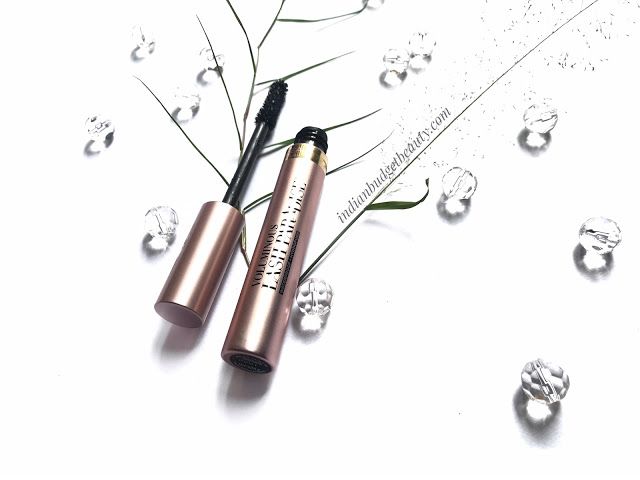 I absolutely adore this packaging of Loreal Voluminous Lash Paradise Mascara. It's pink and its rose gold. It looks so lux that you'll always want to display it on your vanity. Above all, it has a rich feel to it, which will make you think that it is some kind of high-end product.

It has gold detailing as well and is absolutely lightweight and can fit your purse perfectly. This mascara is packaged well and it is totally travel friendly and waterproof.    
  The packaging itself reminds me of Too Faced Better Than Sex Mascara. It has similar packaging and the wand is same as well. A lot of bloggers think that the Loreal Lash Paradise Mascara is a dupe of the Too Faced Better Than Sex Mascara.
First of all, if you compare the picture of both of them, then you can pretty much guess that they look similar. Both of them have a similar wand as well
THE WAND:
Loreal voluminous Lash Paradise Mascara's wand is very special. It has a hourglass shape and has over 200 bristles. I love this unique brush because it coats  all my lashes uniformly and provides great volume.
I feel it lengthens my lashes as well. But since the wand contains a lot of bristles, so you might want to be careful while applying on the lower lash line. It can transfer on your lash line if you are not careful.
Therefore, I recommend that you use a small mirror and take it above your head and then use that mirror to see and apply on the lower lash line.  
Also if it does transfer on your lid, you can always use a Q-tip with makeup remover and swipe away your mistakes. Furthermore, it can be compared with the Too Faced Better Than Sex Mascara wand.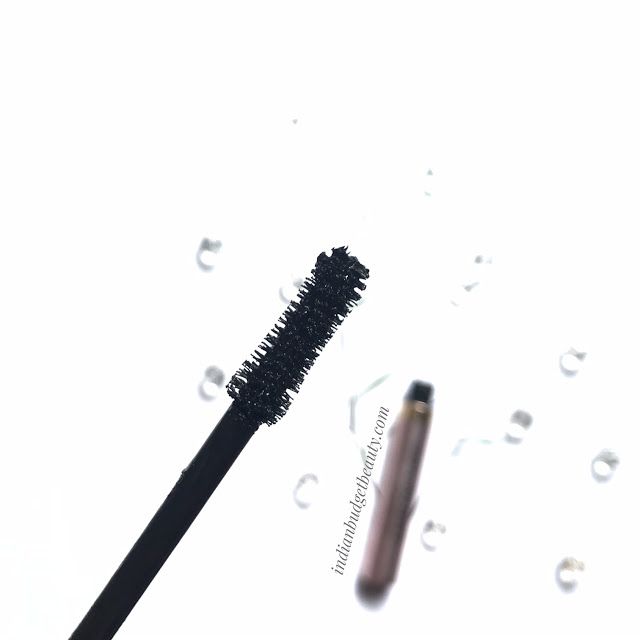 L'oreal Lash Paradise Before And After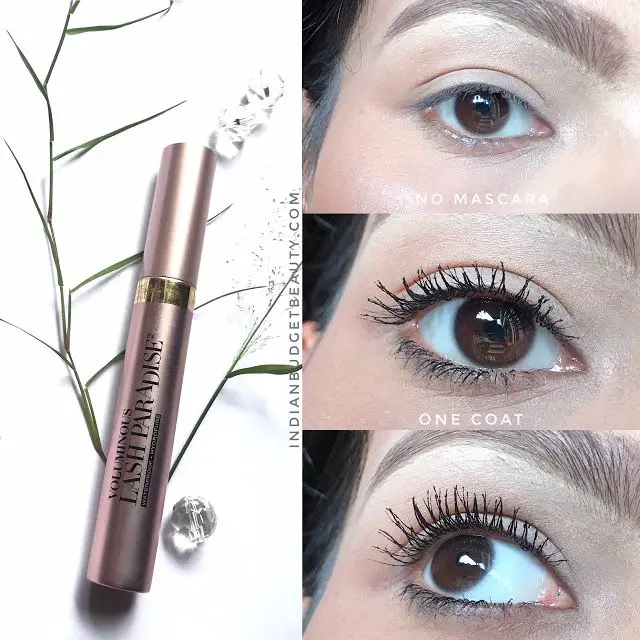 LOREAL VOLUMINOUS LASH PARADISE MASCARA IS MY NEW FAVORITE!
I absolutely love this mascara. It has even surpassed my HG mascara which is the Million Volume Mascara by Loreal. I just need two coats of this mascara, and viola! my lashes are on steroids!
It gives great volume, separates my lashes and even lifts them. In the above EOTD, I haven't curled my lashes (I never do).   One coat of this mascara gives you great volume, two coats makes it better.
I think two coats of this is enough for a 'false lash' effect. It definetly takes my lashes to paradise! It does not smudge at all and does not even clump after two coats.  
All the claims are 100% true! I wore this for about 6 hours straight and it did not smudge, it did not lose its lift as well. I feel like the wand is responsible for such good performance. It does not hurt your eyes while applying. As a result, it gives your eyes the claimed results.  
Since, it is a waterproof mascara, you need to remove it with an oil-based makeup remover or a cleansing balm. But it is not stubborn like the Maybelline waterproof mascaras.
I highly recommend this mascara, it is total value for money product and is a bang on dupe of Too Faced Better Than Sex Mascara. Furthermore, the Too Faced Better Than Sex Mascara cost US$ 24 (approx INR 1644), whereas Loreal Lash Paradise Mascara Cost only INR 750, which is almost half the price of the Too Faced Better Than Sex Mascara.
PROS:
Gives great volume
Lifts your lashes even without eyelash curler
Lengthens your lashes
Separates your lashes
Does not smudge or clump
Very beautiful packaging
Total Value for money
CONS:
ALSO READ:
RATINGS: 5/5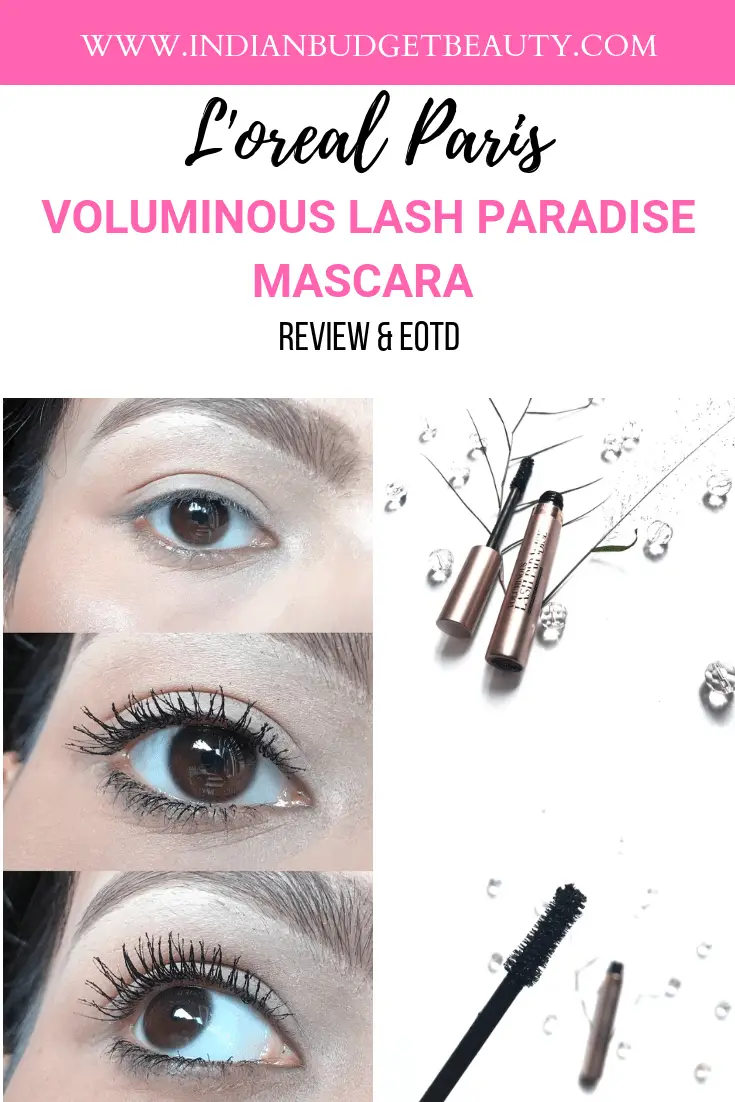 I hope you like this Loreal Voluminous Lash Paradise Review. I'll try to review more drugstore mascaras.