Essence Lash Princess Sculpted Volume Mascara Review
If you know me well, then you might be knowing how much of a mascara junkie I am. You might also know about my obsession with Essence I Love Extreme Crazy Volume Mascara! I freaking love Essence Mascaras! They are so affordable and so amazing. So, I have purchased the Essence Lash Princess Sculpted Volume Mascara, Essence Make Me Brows and the Essence Volume Stylist Lash Extension Mascara. Now, let's just jump into the review, shall we?
PRICE: Rs.355 for 12 ml
ABOUT THE PRODUCT:
Royal treatment! The lash princess sculpted volume mascara features a tapered brush that sculpts individual lashes for a defined look with dramatic volume
Features:
A mascara that gives you dramatic volume and defined lashes
Features a tapered brush that sculpts individual lashes
Vegan and cruelty-free
INGREDIENTS:

PACKAGING: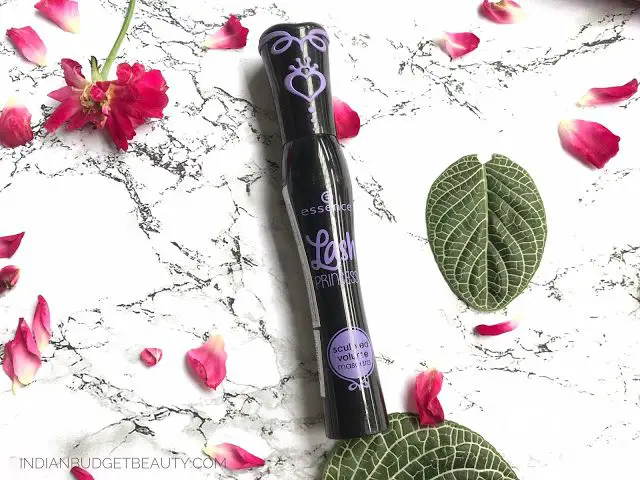 Essence Lash Princess Sculpted Volume Mascara comes in a cute black packaging with purple details on it. It has a royal feel to it which makes it very unique. The mascara tube has curves for a better grip. Overall, it has a fancy appeal to it, which I love a lot.   
Essence has three Lash Princess Mascaras, all of them have a similar packaging but with different color detailing. This mascara looks very pretty and quirky and is very travel-friendly as well.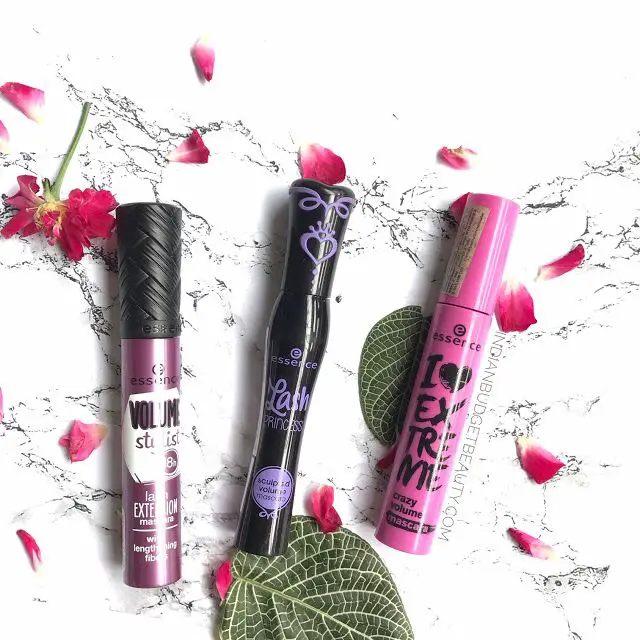 The Wand:
It has a pretty curved wand that instantly coats your lashes and fans them out. I never curl my lashes, so when this mascara instantly lifts my lashes and curls them as well, I'm SOLD at that moment!  
It defines your lashes, curls them and yet adds volume to it. If you curl your lashes beforehand, then you'll definitely achieve that false effect lashes for sure.  It even lengthens your lashes.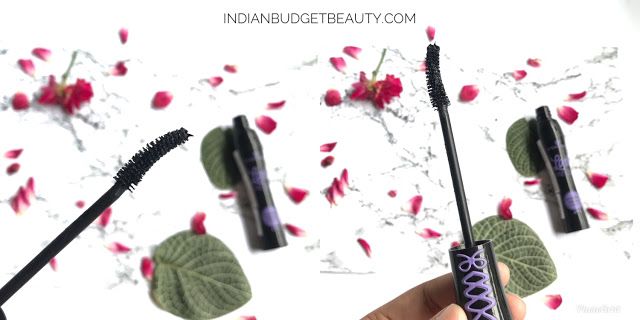 Texture:
It has a creamy-wet texture to it, which is unlike Essence mascaras. It takes a bit of time for it to dry down.
EOTD using Essence Lash Princess Sculpted Volume Mascara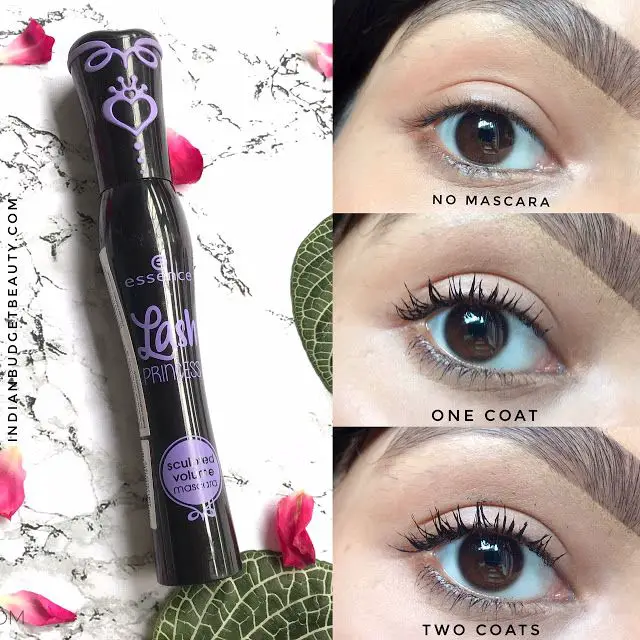 I feel like the best part of testing whether a mascara is worth it or not is by applying without curling your lashes. So, I follow that rule very generously. It will help you as a consumer to know whether investing in this mascara is worth it or not. Because, not everybody has an eyelash curler, and not everybody knows how to use it.
Is this mascara is worth the hype?
Yes! 100% yes! This is a total 'buy it or regret it' kind of mascara for me. Furthermore, it's for only Rs.310. It is not waterproof, but water-resistant. So, you can wear it daily for everyday use or even for any special occasion.
Personally, I like non-waterproof mascaras, as they are easy to remove and clumps less. This mascara will clump if you go for a third coat, so I suggest you only apply this twice for dramatic lashes.
Coming to its longevity, it stays for around 7-8 hours without flaking off. Even the curl stays in place for a long time. It is a huge deal for such an affordable mascara. Essence and Maybelline definitely know their mascara game for sure. I highly recommend this mascara!
PROS:
Curls your lashes and fans them out
Gives volume
Defines and Separates your lashes
Lengthens your lashes
Unique brush
Very long-lasting
Ultra-affordable
Pretty packaging
Vegan & Cruelty-free
The curl stays in place for a long time
CONS:
Clumps lashes after 3 coats
Wet texture
Ratings: 5/5
ALSO READ
Maybelline New York Magnum Barbie Mascara REVIEW
Maybelline Lash Sensational Mascara vs Maybelline The Falsies Push Up Drama Mascara
L'Oreal Paris Voluminous Lash Paradise Mascara REVIEW & EOTD
Essence I Love Stage Eyeshadow Base review
Essence Mosaic Compact Powder (01 Sunkissed Beauty) REVIEW
Essence All About Matt! Fixing Compact REVIEW
Essence I Love Extreme Crazy Volume Mascara Review