Nykaa Naturals Apple Cider Vinegar & Ginger Range DEALS
Nykaa has recently launched its haircare range, the Nykaa Naturals Apple Cider Vinegar and Ginger Shampoo and Conditioner. To be honest, I was expecting it to be priced above Rs.500 but they have kindly kept the price at Rs.399. Nowadays, I feel like all brands are hiking up their price and there's rarely any good haircare range under 500. Anyways coming straight to the review, the Nykaa Naturals shampoo and conditioner range are available in 2 variants: Apple Cider Vinegar & Ginger (Anti-dandruff), Onion & Fenugreek (Hair growth). Surprisingly, I was wowed by this range and here's why I love it and why you should definitely give this a shot:
CLAIMS:
Parabens Free
SLS/SLES Free
Cruelty-free
Mineral Oil Free
100% Natural active
No Added Colour
Phthalate Free
The Packaging: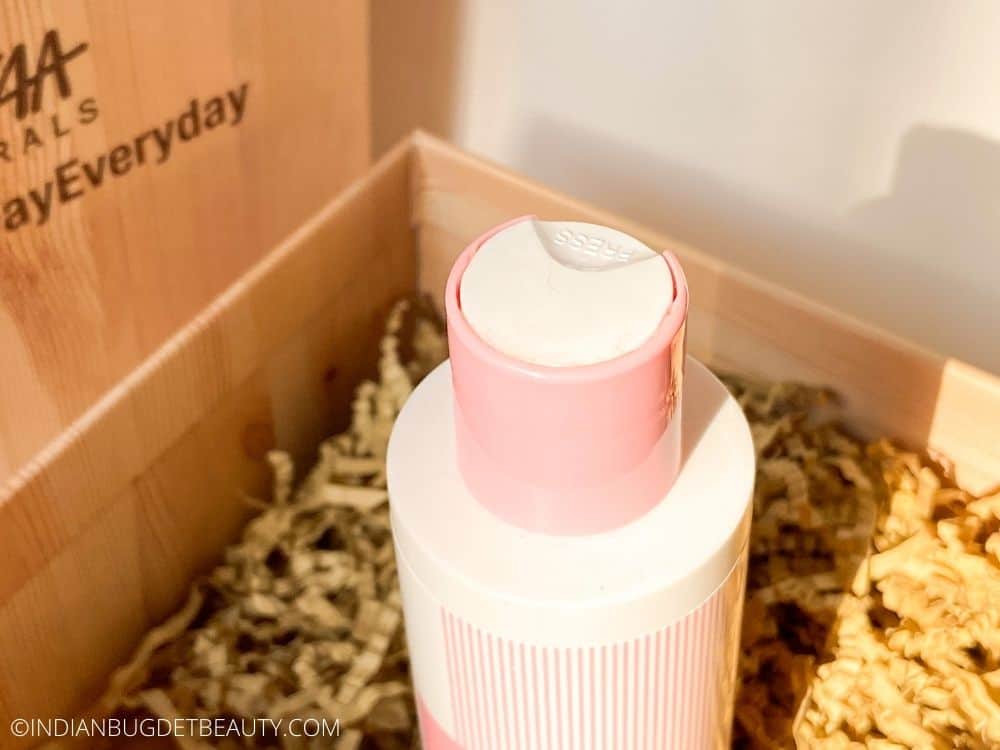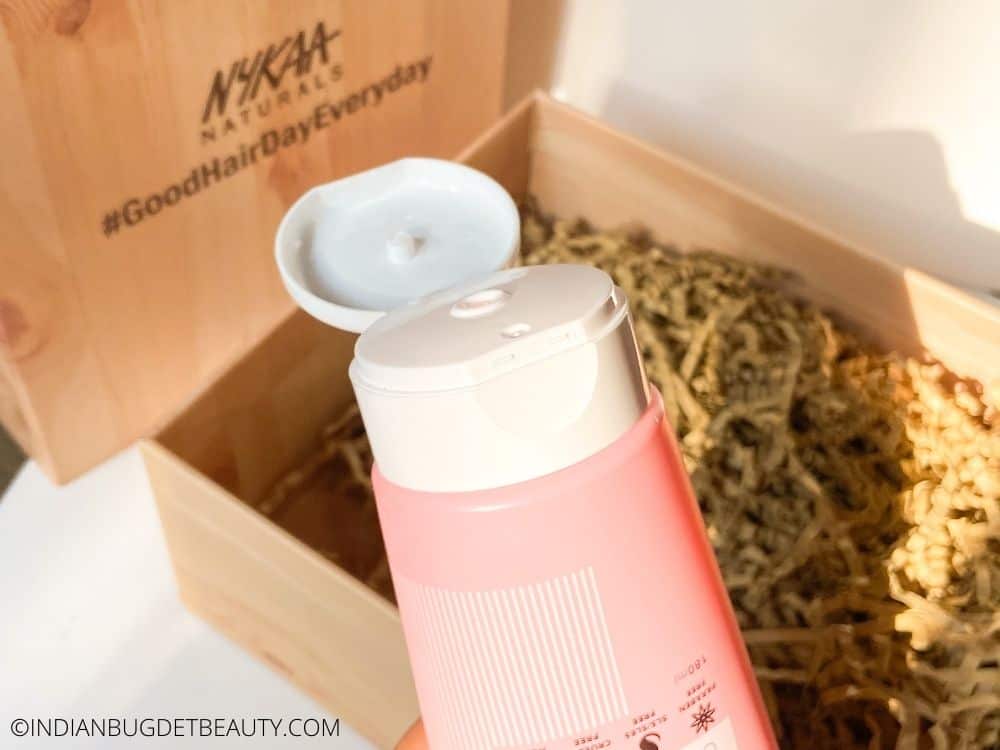 I've always been a fan of Nykaa's packaging. They try to provide good quality, aesthetically pleasing packaging that makes the product look and feels good. This Nykaa Naturals Shampoo & Conditioner comes in light pastel pink containers just like their love-struck perfumes. The packaging is made of HDPE plastic containers that are recyclable. So kudos to Nykaa for the enviro-friendly-approach.
The shampoo bottle has a push up nozzle which gets blocked every time you use the shampoo. Though it's easy to use, I'd have loved a normal packaging because it's quite a task to take the shampoo out.
The Nykaa Naturals Apple Cider Vinegar and Ginger conditioner come in a huge squeeze-tube packaging. I actually love how it's easy to use and looks pretty on the bathroom shelf.
Consistency, Texture & Scent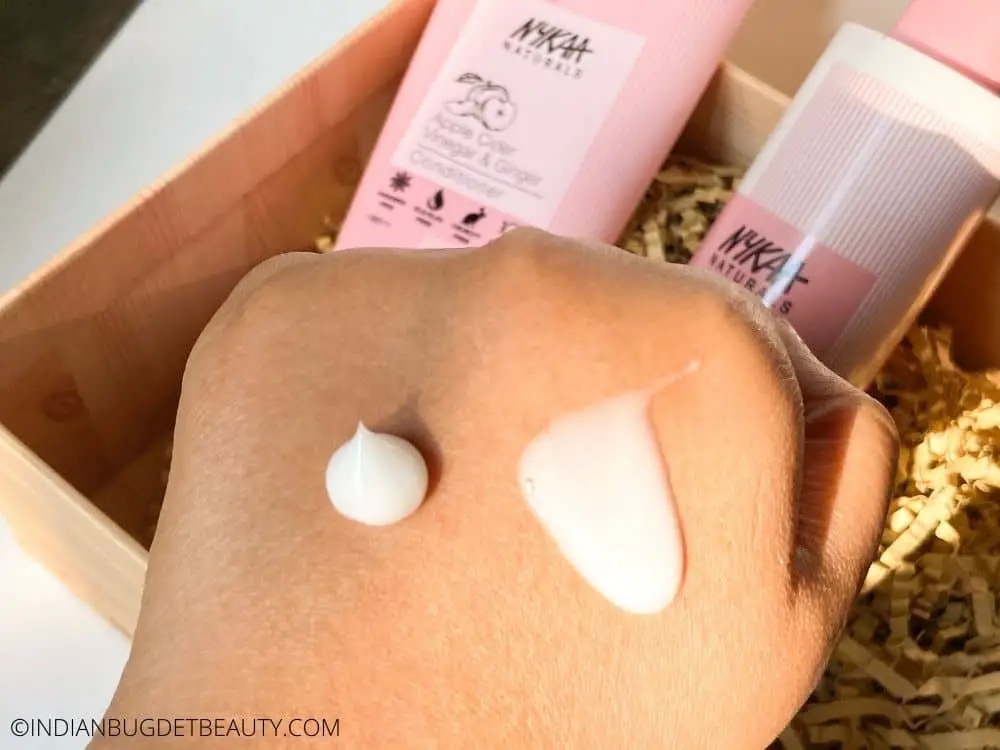 The Nykaa Naturals Apple Cider Vinegar & Ginger conditioner has a thick creamy consistency whereas the Shampoo has a runny consistency yet creamy texture.
I absolutely love the scent of the products. It smells so good and makes my hair smell great throughout the day.
Nykaa Naturals Apple Cider Vinegar and Ginger Shampoo Review
I found the Nykaa Naturals Apple Cider Vinegar and Ginger Shampoo to be a gentle cleanser that helps to clarify the scalp and remove any excess dirt or oil. But in case you apply any oil treatment, make sure to wash your hair twice as it won't remove the oil in the first wash.
I have straight hair and this shampoo was enough for making my hair soft and bouncy. So you can definitely skip using a conditioner if you are using this shampoo. Usually, I like to wash my hair and then use the Loreal Extraordinary Hair Serum on my damp hair.
I have moody hair that tends to be super soft or super frizzy, there's no in-between. Whenever I use this shampoo, it makes my hair quite soft and voluminous on its own.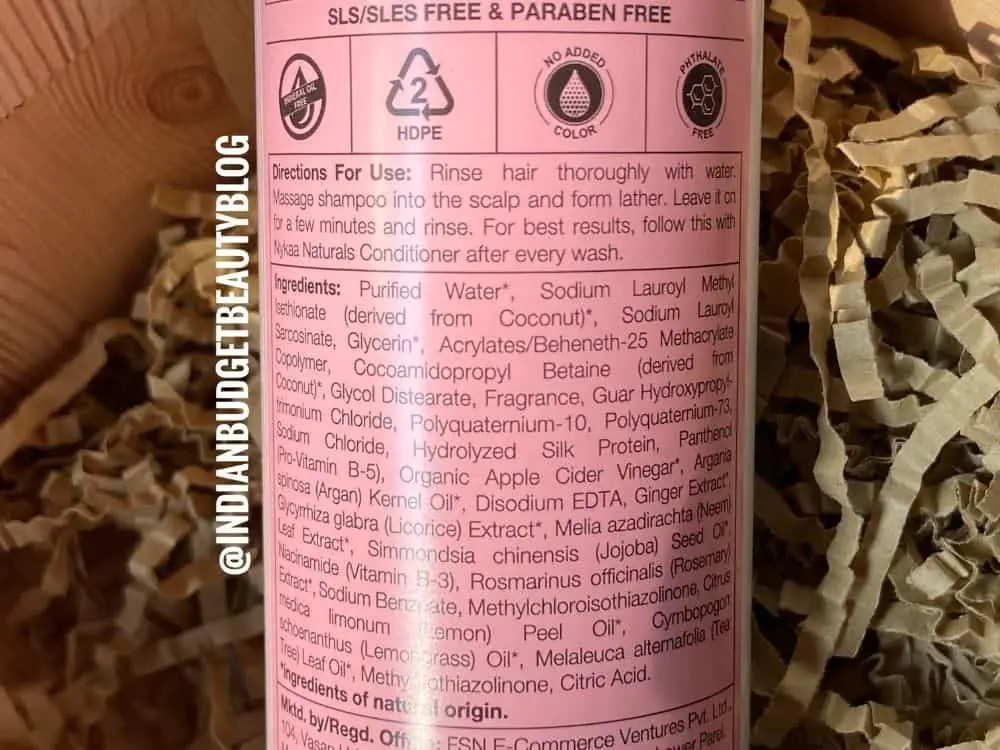 It contains organic surfactants like Sodium Lauroyl Methyl Isethionate which is an organic, water-soluble, sulphate free surfactant derived from Coconut. It's very mild and safe to use for the scalp.
This shampoo also contains other mild cleansers like Sodium lauroyl sarcosinate and Cocamidopropyl betaine (a naturally derived organic surfactant from Coconut)
Both the shampoo and conditioner are enriched with Hydrolyzed silk protein which supplies the hair with new keratin protein and helpful for someone who is suffering from hair fall and weak hair.
Apart from these, the Nykaa naturals apple cider vinegar shampoo is enriched with Pro-vitamin B5, organic apple cider vinegar, argan oil, ginger extract, liquorice, neem, jojoba seed oil, Niacinamide, Rosemary extract, lemon peel oil and Tea tree oil.
This shampoo is quite effective in removing scalp buildup and itchiness, which I believe is due to the presence of star ingredients like Ginger extract, neem, Niacinamide, Tea tree oil. The presence of Hydrolyzed silk protein, Pro-vitamin B5, organic apple cider vinegar, argan oil, makes sure that the hair is softer, stronger and voluminous. As for the dandruff reduction claim, I did not see such an effect but it did help in clarifying my scalp.
Overall, I love this shampoo and would strongly recommend.
Nykaa Naturals Apple Cider Vinegar and Ginger Conditioner Review
The Nykaa Naturals Apple Cider Vinegar and Ginger Conditioner gives a silky finish to your hair and makes your frizz manageable. It's a good conditioner, not the best in the market. It's a silicone-based conditioner that helps to tame down your frizz and also helps to make your hair feel soft. I'd not suggest you apply it onto your roots as it might weight down the volume, but it's best applied along the length of the hair.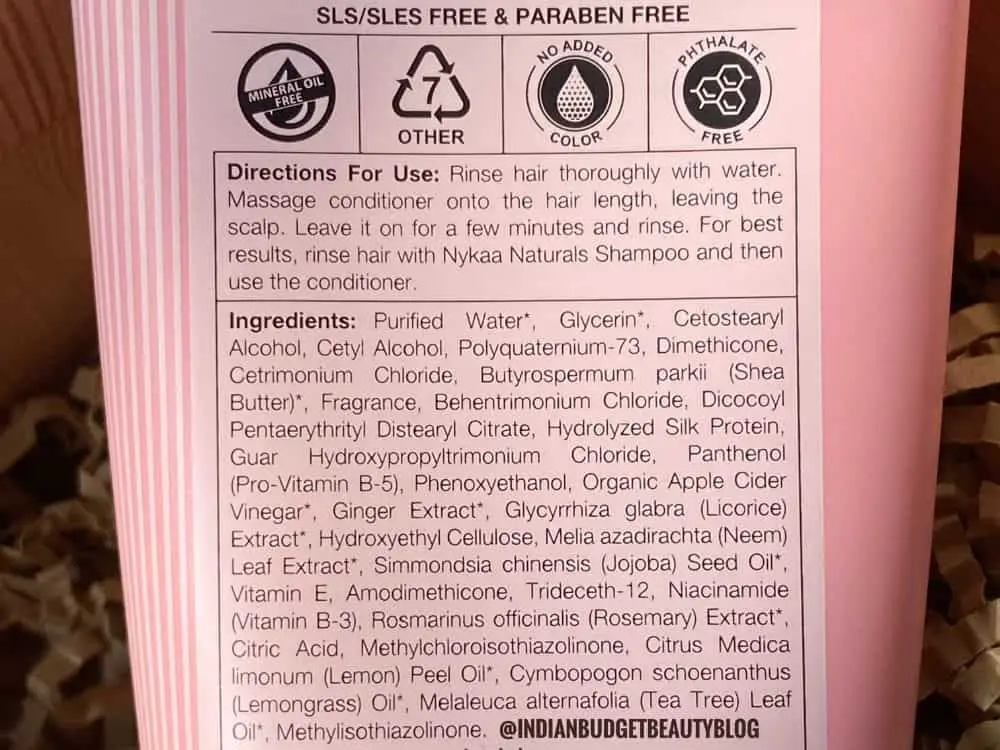 It contains great ingredients like Glycerin and Shea butter which helps to make your hair soft and non-drying.
Formulated with ingredients Hydrolyzed silk protein, panthenol, jojoba seed oil, vitamin E for increasing hair strength, lustre and smoothness just like it's counterpart shampoo.
Though it contains silicons it did not cause any buildup on my hair. It did help to smoothen my dry and frizzy ends. Moreover, I'd recommend a clarifying shampoo twice a month in case you suffer from any buildup.
Final Verdict:
Overall, I am quite satisfied with the range and especially more with the Nykaa Naturals Apple Cider Vinegar and Ginger Shampoo. The creamy texture did help to remove any excess grease which I wasn't quite sure of in the beginning. It gave me good volume with each wash, did not dry down my hair and helped in clarifying my scalp. Also, the formulation is quite splendid as it contains gentle surfactant derived from natural sources so it's an excellent shampoo for people with dry hair and also oily hair for that matter.
The Nykaa Naturals Apple Cider Vinegar and Ginger Conditioner did a good job at smoothing out my frizz that can make you skip any hair mask or serum post its usage. It did help in making my hair smooth and soft to touch. I did not face any issue while detangling my hair which is proof that the conditioner did it's magic because usually post shampoo my hair becomes knotted. I feel it's a good conditioner for the price you are paying so you can definitely check it out.
Also Read:
The Review
Nykaa Naturals Apple Cider Vinegar & Ginger Range
If you need a gentle volumizing shampoo with organic surfactants, then the Nykaa Naturals Apple Cider Vinegar & Ginger Shampoo is the one to go for. For people with frizzy, thin hair, the conditioner and shampoo is highly recommended
Review Breakdown
Shampoo

0%

Conditioner

0%
Nykaa Naturals Apple Cider Vinegar & Ginger Range DEALS
We collect information from many stores for best price available
Best Price
₹399