Satthwa Premium Hair Oil Review | Best Oil for Hair Regrowth
Happy Kati Bihu peeps! I hope you all are doing well. Hair fall is a serious issue and growing them back is yet another issue of its own. So, if you haven't heard of the Satthwa Premium Hair Oil till now, then here's a review about the premium oil which has the power of 9!  
ABOUT SATTHWA!
Satthwa means "pure" in Sanskrit and we stand by our motto "pure to the core"
Satthwa was started in 2016 with the introduction of the Satthwa Premium Hair Oil, since then the hair oil has benefited thousands of men & women and the success of which has paved the way to launching other natural beauty products. At Satthwa we believe in "pure to the core" and all our products are made from Grade A pure ingredients without the use of harmful chemicals and parabens. We bring out products which are not just for aesthetics but also poses the ability to make a real difference in our lives.
ABOUT THE PRODUCT:
Satthwa premium hair oil is formulated from a blend of over 9 oils that help control hair fall, fight dandruff, and promote hair regrowth. The oil should be applied 2 times a week overnight or 1-2 hours before shampoo. Give your scalp a gentle 3-4 minute massage with the oil and use the oil for 3 to 4 months for the best results. It contains Omega 6 & 9, Iron, Calcium, Magnesium, and rare Vitamin K from Sweet Almond oil. Ricinoleic acid from Castor oil which makes hair darker and stops premature greying. Has Lauric acid from E.V Coconut oil. Jojoba oil which is Anti-fungal & cleanses the scalp by unclogging pores. Vitamin E contains d-alpha-Tocopherol. Amla oil which is rich in Vitamin C. Grapeseed oil which delays skin aging. Emu oil stimulates dormant hair follicles and helps in new hair growth. E.V Olive oil treats dry and damaged hair.

PRICE: Rs.599 for 100 ml
BUY IT ON Flipkart | Amazon | Official Site 
INGRDIENTS: 
Almond oil, castor oil, coconut oil, grapeseed oil, emu oil, amla oil, jojoba oil, vitamin E, olive oil
PACKAGING:
This oil comes in a white plastic bottle with a flip open cap. It has all the ingredients and directions mentioned on the bottle.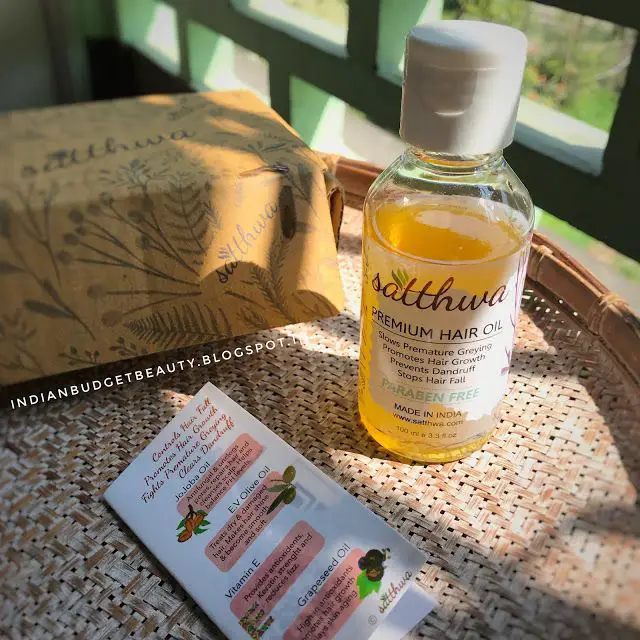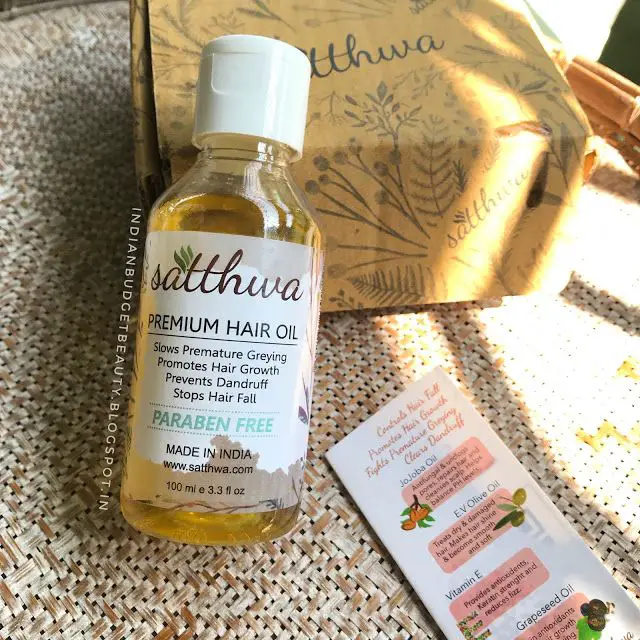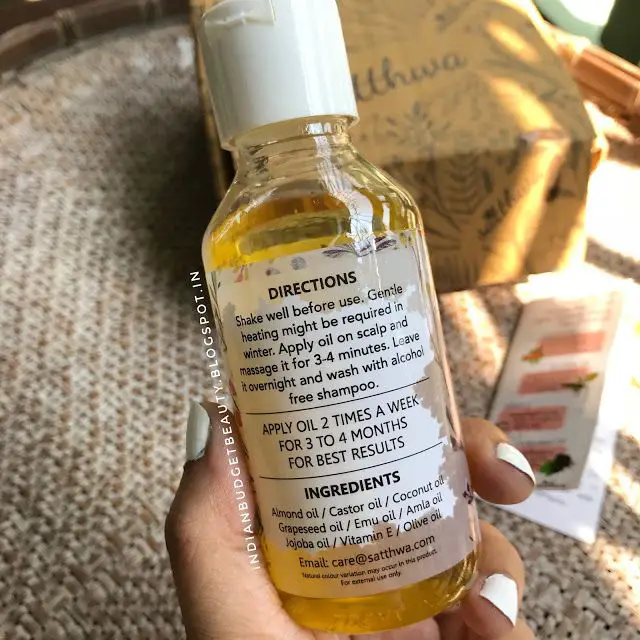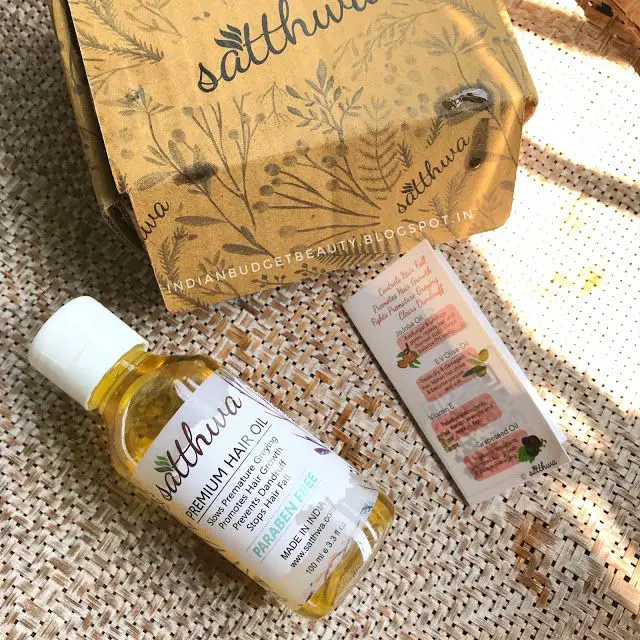 COLOR & CONSISTENCY:
Satthwa Premium Hair Oil is yellowish-golden in color and the consistency is quite runny. It absorbs easily onto your scalp and has a mild fragrance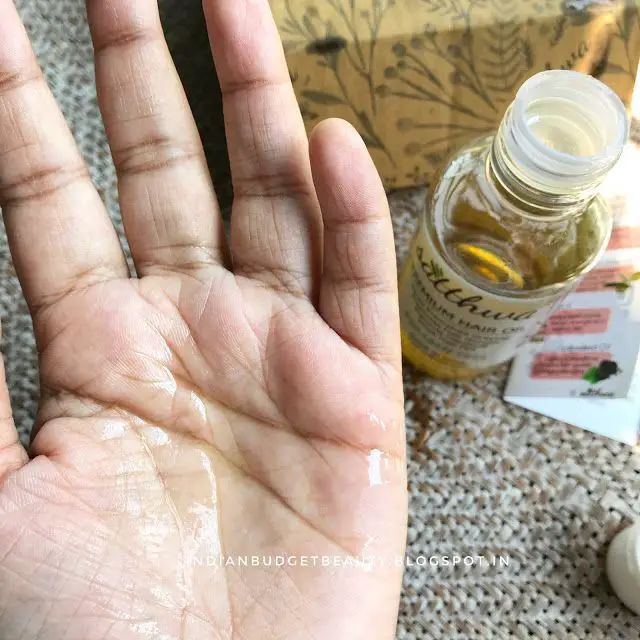 MY EXPERIENCE WITH THE PRODUCT: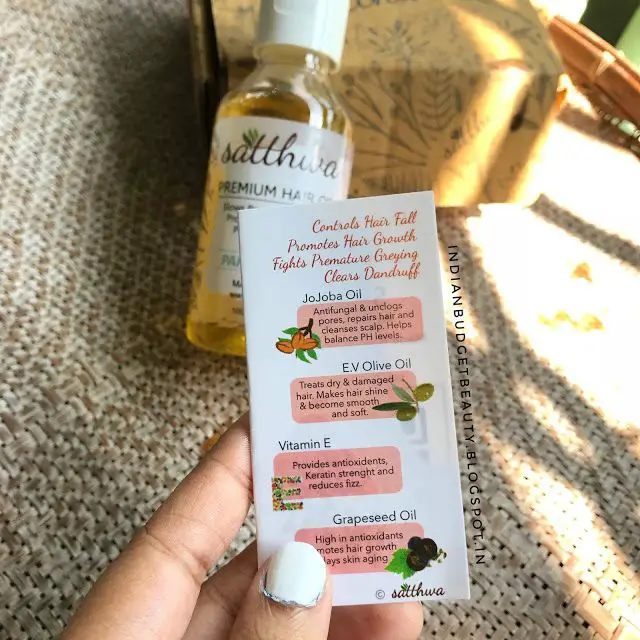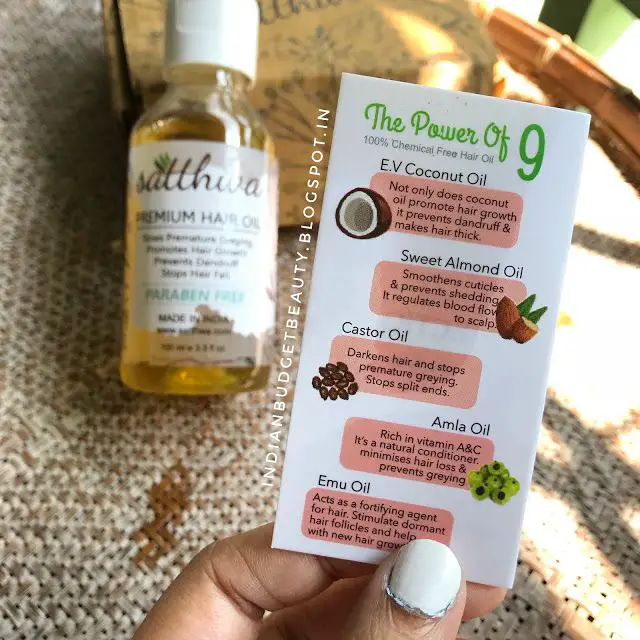 My hair is not in a good phase due to pollution and heat. It has dry ends and whenever I wash my hair without oiling them, it becomes a frizzy mess. So, when this product was sent to me, I used it overnight and washed my hair the next day. It worked. My hair felt less frizzy and my hair-fall reduced as well on the first application. So, instead of using it twice a week, I thought about trying it for like thrice a week. I'd recommend you to use it overnight and wash it off the next day, you'll definitely see good results after using it.
Since it contains a great natural mix, it moisturizes your scalp as well as your dry ends.   I don't have grey hair so I can't comment on the claim that it slows premature greying. But I definitely agree with the claims that it promotes hair growth, prevents dandruff and stops hair fall.
  Fun Fact: Use this oil as an eyebrow growth serum daily, it promotes hair growth there as well
PROS:
Paraben-Free
Controls Hair fall
Prevents Dandruff
Promotes Hair growth
Moisturizes scalp as well as hair
Absorbs quickly
CONS:
RATINGS: 4/5
(Part Of PR Kit)
 ALSO READ: 
Ryaal Essentials Organic Moroccan Argan Oil Review
Skinish Arabica Coffee Hair Oil & Five Clay Hair Mask Review
L'oreal Paris Extraordinary Oil Serum Review
How to color hair at home naturally using henna based hair color?