Pixi pHenomenal Gel Review | New Pixi Moisturizer from Glow Tonic Collection
Pixi pHenomenal Gel is part of the Pixi Glow Tonic Collection. Two months ago, Pixi has sent me their Glow Tonic Collection and I freaked out. I've been trying and testing their Glow Tonic Cleansing Gel, Glow Tonic and pHenomenal Gel for the past two months now and I'm finally sitting down today to share with you my review of Pixi pHenomenal Gel.
ABOUT THE PRODUCT:
Balancing and pH neutralizing moisture gel
Soothing gel helps to balance and stabilize skin pH
For all skin types.
PRICE: $24 for 50 ml/ 1.70 fl.oz
INGREDIENTS:
Aqua/Water/Eau, Glycerin, Glycereth-26, Betaine, Butylene Glycol Dicaprylate/Dicaprate, Isododecane, Sodium Acrylate/Sodium Acryloyldimethyl Taurate Copolymer, Cetyl Ethylhexanoate, Citric Acid, Tocopheryl Acetate, Ascorbic Acid, Aloe Barbadensis Leaf Extract, Cucumis Sativus (Cucumber) Fruit Extract, Retinyl Palmitate, Aesculus Hippocastanum (Horse Chestnut) Extract, Camellia Sinensis Leaf Extract, Panax Ginseng Root Extract, Vaccinium Angustifolium (Blueberry) Fruit Extract, Hamamelis Virginiana (Witch Hazel) Extract, Tocopherol, Isohexadecane, Trehalose, Panthenol, Polysorbate 80, Ammonium Acryloyldimethyltaurate/VP Copolymer, Phenoxyethanol, Allantoin, Ethylhexylglycerin, Xanthan Gum, Butylene Glycol, Disodium EDTA.
Buy it here: Nykaa | Pixi Beauty Site | CultBeauty
HOW TO APPLY Pixi pHenomenal Gel?
Apply a coin size amount daily after cleansing and toning.
PACKAGING: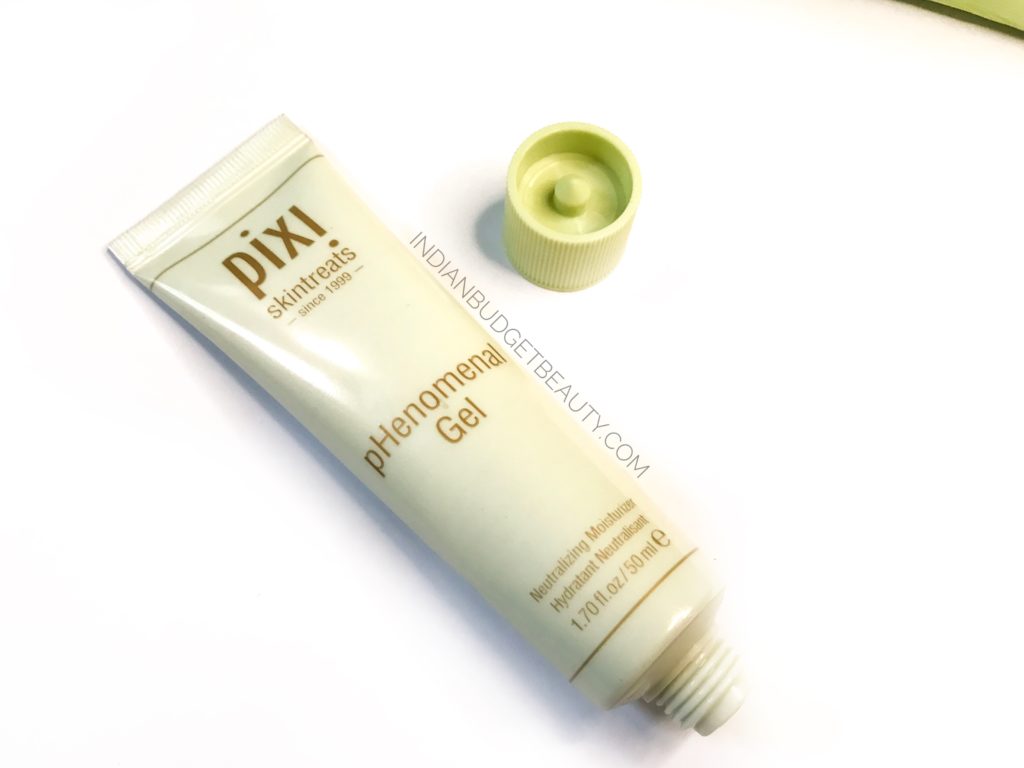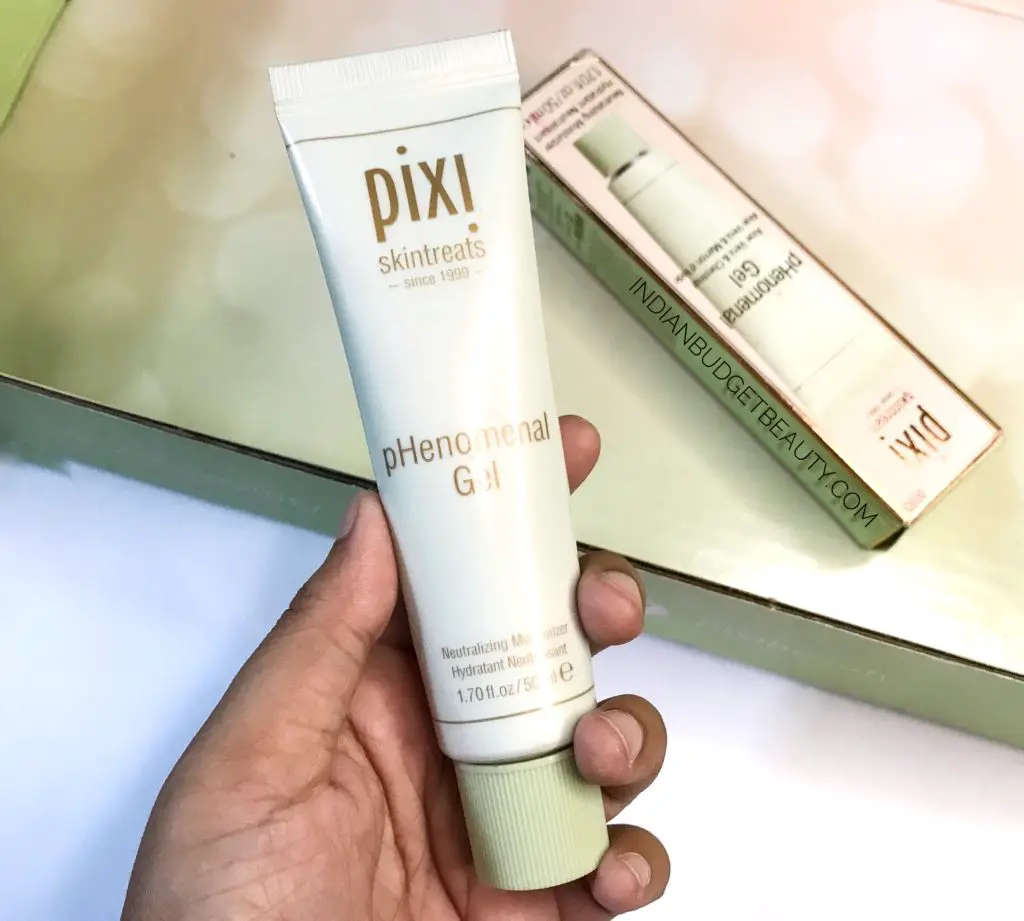 Pixi pHenomenal Gel comes in a light pastel green color tube and a matching cardboard box with gold detailing. I found the packaging to match Pixi's aesthetic which is simple and fabulous.
There's nothing too fancy about the packaging but it is quite travel-friendly and compact.
TEXTURE & CONSISTENCY: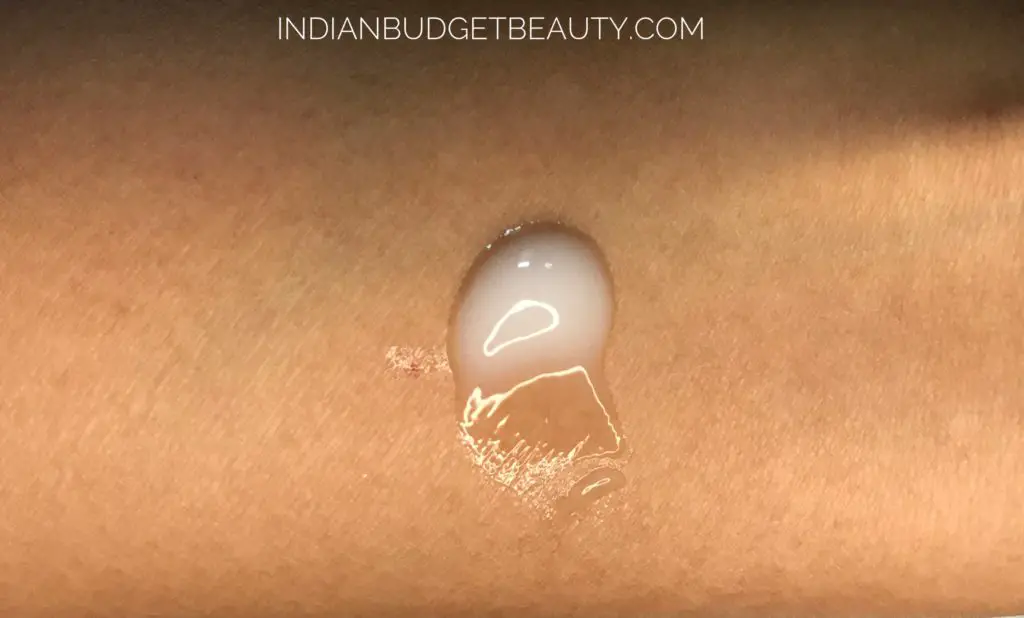 It has a gel-based consistency and its texture is very light-weight and thin. This gel gets absorbed into your skin within seconds.
MY THOUGHTS ON THE PRODUCT:
Firstly, it is an excellent product. It hydrates and soothes your skin within seconds. All you need is a coin-sized amount and then you are good to go. I do apply 1 rupee coin size amount on my face post cleansing and toning with my Glow Tonic. It is suitable for all skin types.
Secondly, the moment you apply it onto your face, it just gets absorbed into your skin and soothes any redness which is present. Pixi pHenomenal Gel is a neutralizing moisturizer that can also be used under makeup.
Thirdly, it contains ingredients like Aloe Vera, Horse Chestnut, Witch Hazel, Cucumber which helps in soothing your skin.
In addition, this gel also contains Ginseng Root Extract that acts as an anti-inflammatory agent, Citric Acid and Blueberry that helps in brightening and balancing your skin's pH.
I've had no issue of its fragrance, its not that strong that it'll irritate you but its quite pleasant. I haven't tried any pH meter on my skin so I don't know if it really balances your skin's pH. But I do know that citric acid balances skin's pH.
Also Read: Pixi Glow Tonic Vs The Ordinary Glycolic Acid Toning Solution
DOES IT MOISTURIZES YOUR SKIN WELL?
I use it as a part of my night time skincare routine. Since summers are really hot India, I sleep with my AC on. So, this moisturizer keeps me hydrated throughout the night. When I wake up, my skin keeps on glowing and stays plump and well moisturized.
But on a very humid day, I skip this moisturizer as its super hydrating and makes me a hot and sweaty mess
DO IT RECOMMEND Pixi Phenomenal Gel?
I highly recommend this pHenomenal Gel by Pixi because it soothes your skin, brightens it and also clears and redness or growing acne.
PROS:
Soothes your skin
Reduces redness and bumps
Contains Soothing, moisturizing and anti-inflammatory ingredients
Hydrates skin and keeps it well moisturized
Absorbs within seconds
Can also be used under makeup
Suitable for all skin types
CONS:
Not suitable for a very humid climate as it may make you a sweaty mess.
RATINGS: 5/5
Like it? Pin it