Lakme Lip Love Chapstick Review 
Lakme has recently launched the Lakme Lip Love Chapstick which is available in 7 shades – Purelipcare, Caramel, Cherry, Insta Pink, Apricot, Strawberry, Mango. I have purchased the shades – Strawberry and Caramel.
These chapsticks claim to moisturize your lips for 22 hours. If you want to know if they really last for 22 hours, then read the review to find out more about it.
PRICE: Rs. 150 for 4.5 g
Lakme Lip Love Chapstick – Strawberry (Buy it here) Caramel (Buy it here)
PACKAGING: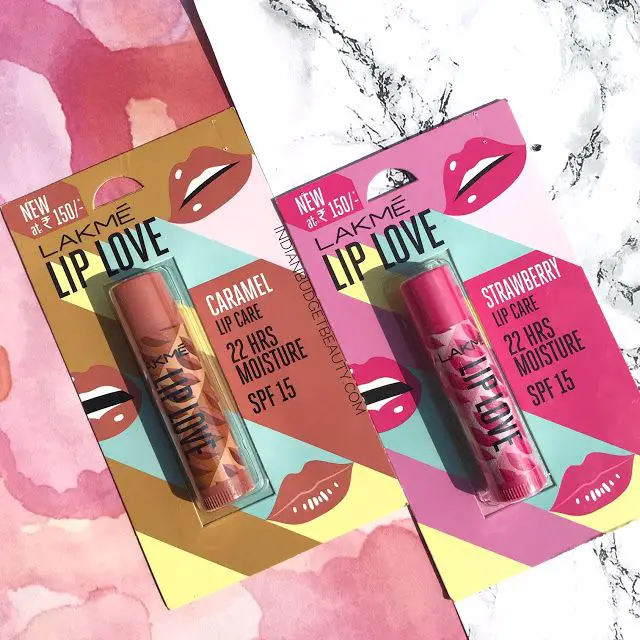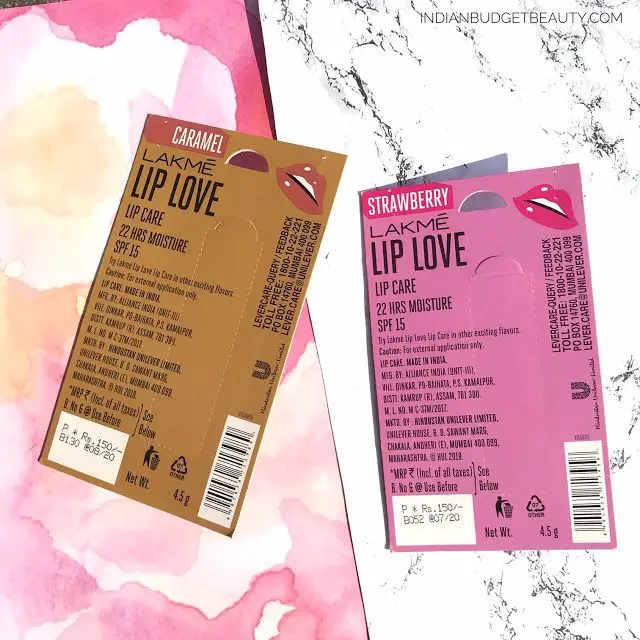 These chapsticks come in a revamped packaging which is very quirky and colorful. They have color co-ordinated packaging which contains 4.5 g of product. Their previous lip balms 'Lakme Lip Love Lip Care' contains 3.8 gm and had a simple packaging. So, I think this new launch has been revamped for better quantity and quality.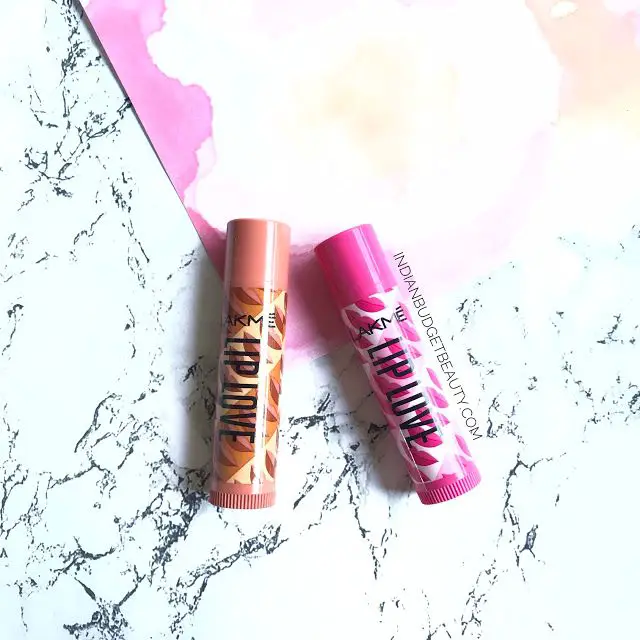 Overall, these chapsticks are small and compact, so you can pop into your purse and carry it anywhere. I really loved the packaging. But I do feel the packaging is somewhat inspired by Maybelline's Baby Lips lip balm.
ALSO READ: Colourpop Milk & Cookies Lip Set Review
CONSISTENCY & PIGMENTATION:
These lip balms have a waxy consistency. It is not glossy like the Maybelline Baby Lips lip balm, but they do make your lips soft. I'm not a big fan of this consistency as it does not feel very hydrating to the lips.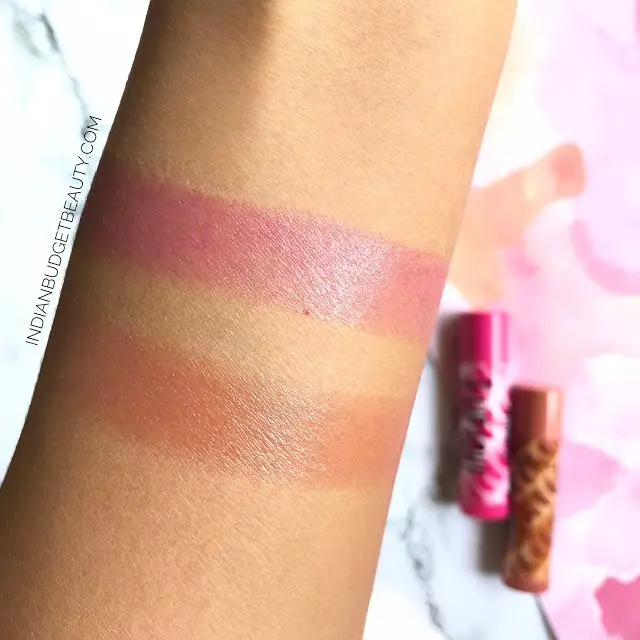 Coming to the pigmentation, Caramel is less pigmented than Strawberry. I love both the shades Strawberry and Caramel's pigmentation. But I do prefer the shade Strawberry over Caramel, as Strawberry gives a hint of Sheer Pink which looks very pretty on the lips.
SHADES: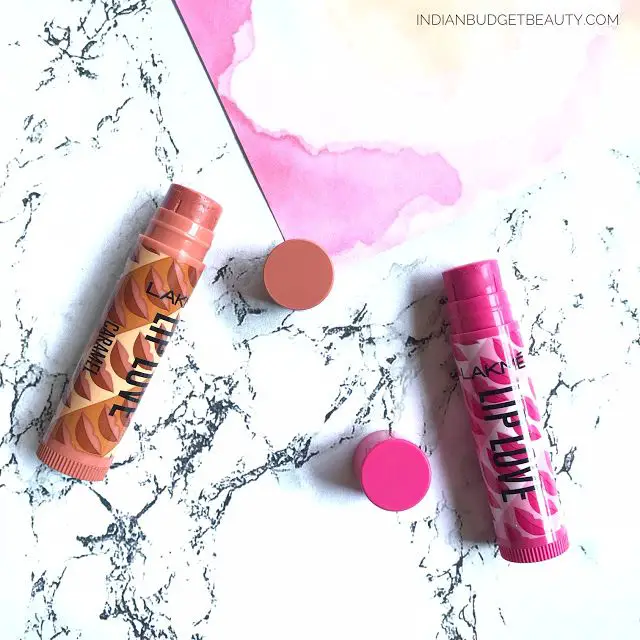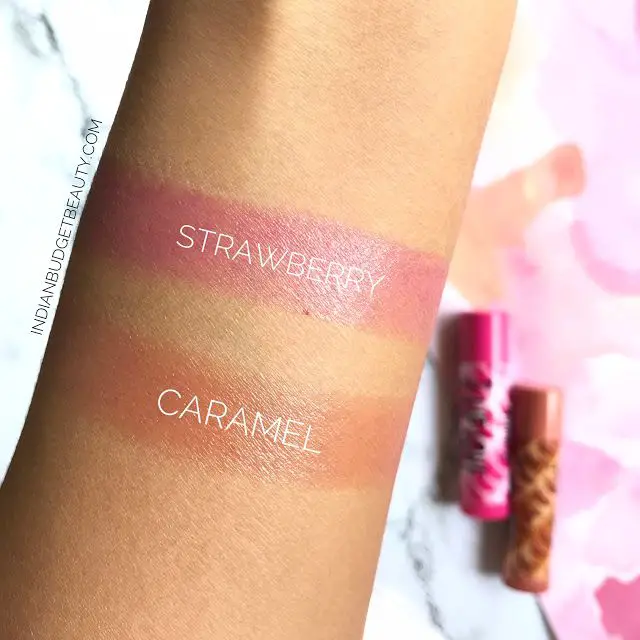 Lakme Lip Love Chapstick Strawberry Review: It is a bubblegum pink shade that gives a pretty hint of sheer pink to your lips. You will need to apply two coats to get the full hint of pink.
Lakme Lip Love Chapstick Caramel: It is a caramel nude shade that must be layered to get the desired pigmentation on your lips.
MY FINAL THOUGHTS ON THE PRODUCT:
These chapsticks have a very waxy consistency which does moisturize your lips and keeps them soft. They lasted for 4 hours on me after that I had to re-apply it. I loved the fact that they are very small and compact in size so I can carry them anywhere I go. The 22-hour claim is not true, you have to re-apply after 4 hours. It also has SPF 15 sun protection, so you can definitely wear it every day and protect your lips from sun damage.
You can wear this lip balm underneath any liquid matte lipstick and your lips won't feel dry at all. I've tried it with my Miss Claire Soft Matte Lip Cream 58 and Wet n Wild Give Me Mocha Megalast Liquid Catsuit Lipstick. These retail for Rs.150 and you are getting 4.5 g which is more than what other lip balms are offering at this price range.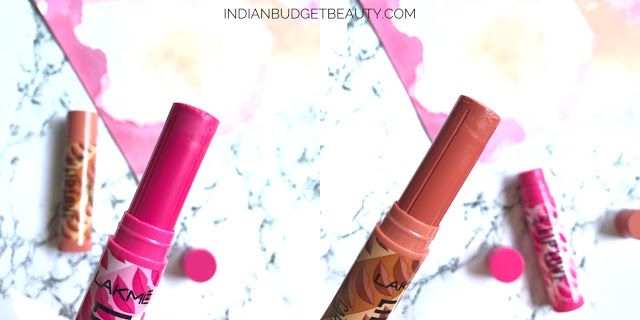 I just wished it had a fruity scent instead of the usual Lakme lipstick fragrance.
DO I RECOMMEND IT?
Yes, you can try it out. But I do prefer Maybelline's Baby lips lip balm more than this.
Pros
Pretty packaging
Affordable
Travel-friendly
Comes in 7 shades
Good pigmentation
Waxy consistency
Moisturizes your lips for 4 hours
Contains SPF15
Cons
22-hour claim is not true
The ingredients list is not mentioned
It does not provide enough moisture to your lips.
RATINGS: 3.5/5
Is Lakme lip love good?
Lakme Lip Love Chapstick decently moisturizes your lips by providing a stain. It moisturizes your lips for about 4 hours.