Luxurious Adore Aurum 24K Gold Serum
Recently, I received this Aurum 24K Gold Serum from Luxurious Adore. I'm glad that I got to know Samiya (the owner and founder) through Instagram. She's the sweetest and hardworking lady behind this amazing brand. 

Luxurious Adore is an Indian brand which is 100% cruelty-free. They have a good range of serums which are made especially for your skin types and needs. They do ship worldwide.
How To Use:
Shake AURUM Elixer well before use so you can achieve the best results and even application of 24K gold on your skin. Apply to face and neck, morning and night. Apply AURUM to a clean face, before moisturizer. It may be used as a primer before makeup application. Due to its skin-enhancing properties, it can be a valuable addition to your daily skincare.

·Daily moisturizer
·Hydrating lips
·Revive Dry Cream Products
PRICE: Rs.850 for 10 ml (0.33 oz)
INGREDIENTS: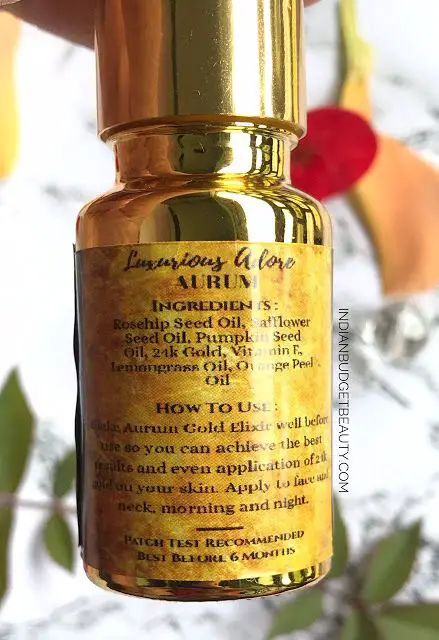 PACKAGING: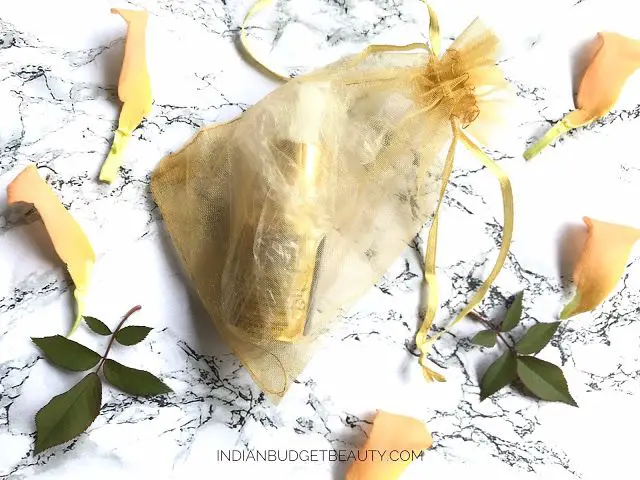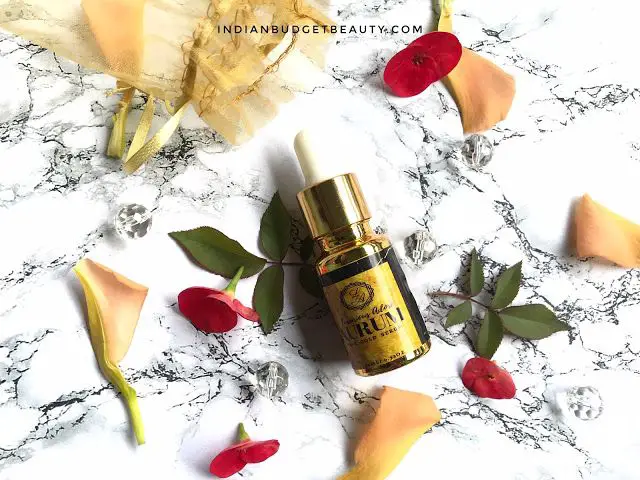 The serum came in a beautiful golden pouch, wrapped in a thin outer packet that provides extra protection. The serum vial is metallic gold in color with black detailing. It has a luxurious appeal to it, which I like. Every detail is mentioned in the vial which is a good thing.  
Since it is very small in size, it is definitely travel-friendly. It did not spill or leak, so it is safe to travel with.   
ALSO READ: Soc 3D Beauty Serum Face Mask Pack (Lipidure) – moisturizing
CONSISTENCY & TEXTURE: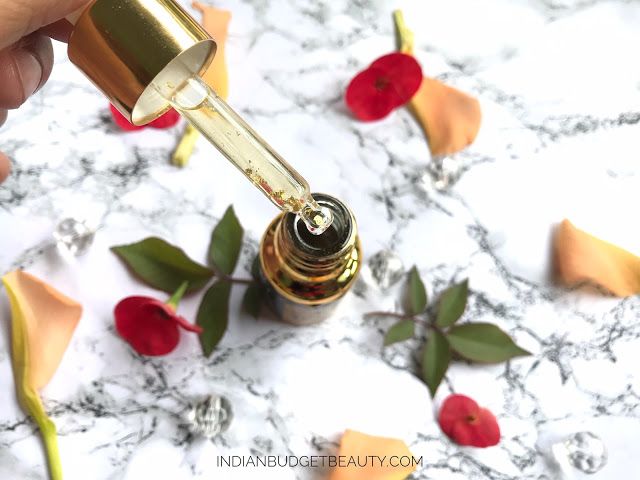 Luxurious Adore Aurum 24k gold serum has a very thin consistency that gets absorbed into the skin within a minute. This serum contains gold flakes which you can see on the picture above. These gold flakes give a good sheen to your face and moisturize without being sticky. 

It has an even texture with few gold flakes which get absorbed into your skin quickly. The serum is non-sticky, non-greasy and very lightweight.


MY FINAL THOUGHTS ON THE PRODUCT: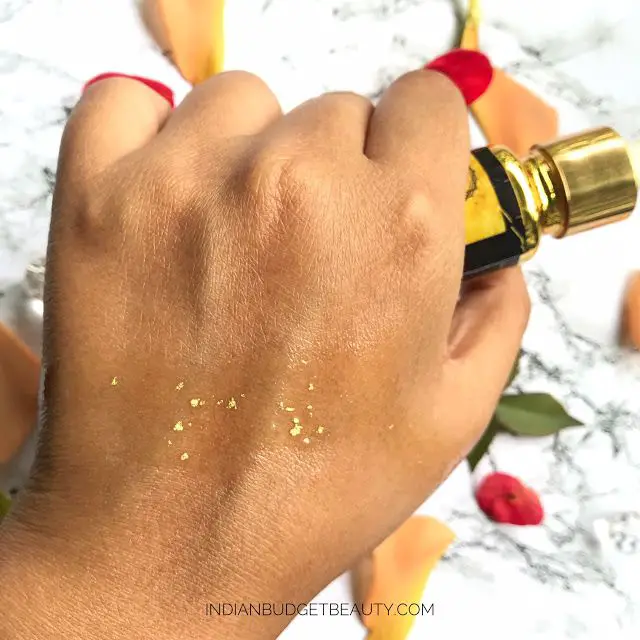 This serum claims to be a primer, a moisturizer and also claims to revive dry creams. I've used this as a primer. It prepares your face for flawless foundation application and gives a glow from within. You can even use it directly with your foundation if you want a dewy look. It won't fill in your pores very well, so if you have large pores, I'd recommend that you use a pore filling primer, but it will definitely give you a smooth canvas to work on.
Secondly, I've used this as a moisturizer and trust me, it kept my face well moisturized throughout the day. I've been using this every morning and also before I go to bed. I like it a lot.
Coming to the claim that it revives dry creams, I haven't used it that way so I won't be able to comment about it. But I do feel that you can revive a dried out gel liner if you mix one drop of this serum with the gel liner (Tip Alert!)
I love the fact that it gets absorbed within a minute and is not at all sticky. But, I do feel the scent is a bit overboard, which can linger on for some time. You get less quantity but for Rs.850, 24K gold serum is a win-win.
It is 100% cruelty-free and is a hand blend product, which contains Rosehip seed oil, Safflower seed oil, Pumpkin seed oil, 24K Gold, Vitamin E, Lemongrass oil, orange peel oil with no extra chemicals. It has a shelf-life of 6 months since it has no added chemicals into it.
PROS:
Works as a primer
Good moisturizer
Keeps skin hydrated throughout
Contains 24K Gold
Absorbs within minute
Non-sticky, non-greasy
100% cruelty-free
Hand blended with no added chemicals
Even your skin
CONS:
The scent is a bit overboard
RATINGS: 4.5/5
(Product was sent to me for an honest review)