Sigma Beauty
has sent me a lot of their products two months ago.  Becoming a Sigma Beauty Affiliate was on my wishlist ever since I started this blog. They have sent me some of their best selling makeup, makeup brushes and lot more. I've used a couple of them on my Instagram tutorial as well (follow me
Instagram
if you haven't already)
My Sigma Beauty Affiliate Welcome Gift Contains:
They have sent me three of their best selling makeup brushes-  Sigma F80 Flat Kabuki brush, Sigma F37 Spotlight Duster Brush, Sigma E36 blending brush and their new launch- Sigma 3DHD Blender.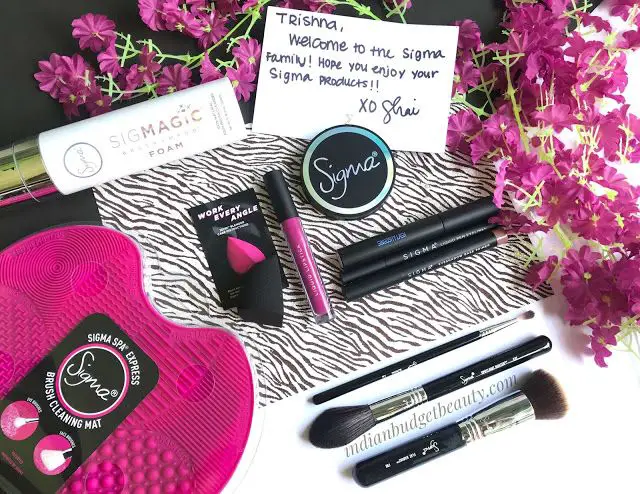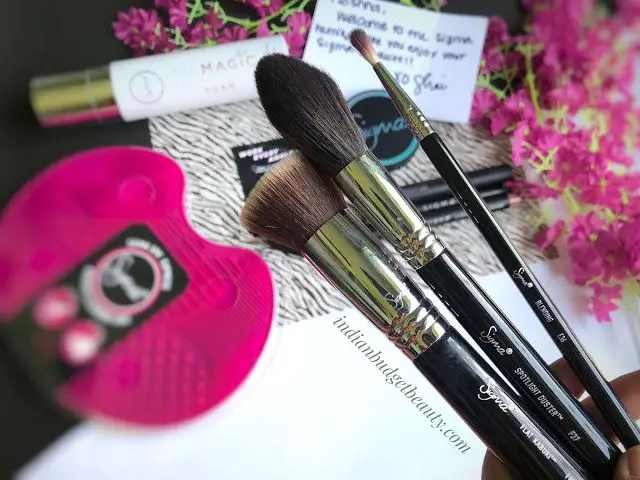 Sigma F80 Flat Kabuki Brush: It is one of their best selling brushes. It has a dense and flat head. I use is to basically buff my foundation. The bristles are very very soft. It gives you a streak-less finish, which I like.
Price: $25 (Approx Rs.1718)
Sigma F37 Spotlight Duster Brush : This is a fluffy, tapered brush which can be used for highlighting your face. It can be used to "achieve your ideal, natural glow by glazing highpoints of the face with this soft, tapered SigmaTech® fiber brush using powder or shimmer." I use this brush to highlight my face and to apply blush as well.
Price: $25 (Approx Rs.1718)
Sigma E36 Blending Brush : This is a precise eyeshadow blending brush. You can use it to concentrate colour on your crease or in the outer-V of your eyes. I love this brush for my crease.
Price: $15 (Approx Rs.1030)
3DHD™ BLENDER : This is a very unique blender which will help you get to the contours of your face. I've got the black one.
Price: $15 (Approx Rs.1030)
Liquid Lipstick, Eyeshadow Base, Blush Mascara & Eyeliner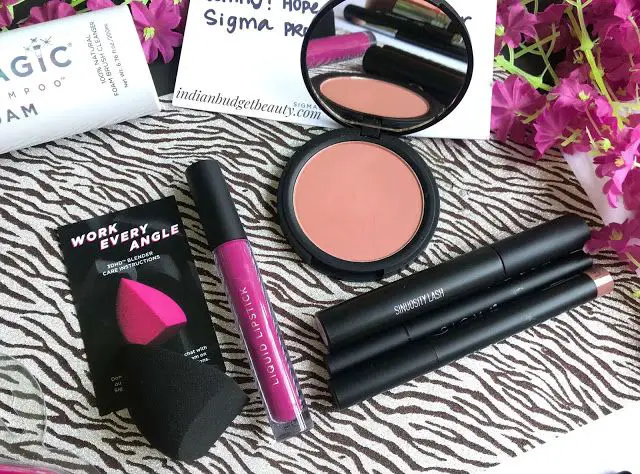 Price: $15 (Approx Rs.1030)
SINUOSITY LASH MASCARA: This is a good curling mascara. It lifts your lashes and gives them a nice curl. It opens up your eyes. This mascara has a water resistant formula which can be easily removed.
Price : $19 (Approx Rs.1304)
AURA POWDER BLUSH (Cor-De-Rosa):  
Aura Face Powder (blush) in the shade 'Cor-de-Rosa' is such a pretty Earthy colour! It gives an instant flush of colour to your cheeks which is so beautiful.
Price : $19 (Approx Rs.1304)
EYESHADOW BASE PRIMERS: This eyeshadow base is so pretty and long lasting. It sets within seconds and is very blendable as well.
Price: $15 (Approx Rs.1030)
Price: $14 (Approx Rs. 961)
Brush Cleansing Tools & Foam: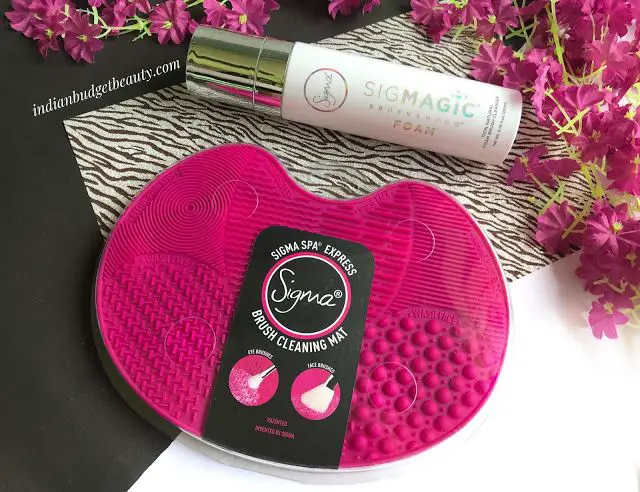 SIGMA SPA® EXPRESS BRUSH CLEANING MAT : This is a unique brush cleansing mat which contains 7 different textures. If you have read my review of the Practk Palmat, then you'll know that this is the large version of that. (Practk is the sister brand of Sigma Beauty)
Price: $25 (Approx Rs.1718)
SIGMAGIC® BRUSHAMPOO™ FOAM: This is a brush cleansing foam which is made of 100% natural virgin coconut and ethically sourced palm oil, which will help in removing bacteria and product build up. But I love the liquid version better than this.
Price: $15 (Approx Rs.1030)
I have a special discount code for you guys. You can use the code IBB to get 10% off on any Sigma Beauty products.
That's all folks. These are all the goodies that I've received on becoming a Sigma Beauty Affiliate. Subscribe my blog for swatches and reviews on these products.