Hello everyone, I hope you all are doing well! This post is HIGHLY requested, so I'm here sitting down, writing my experience about this illuminator by Miss Claire.  So, here's my Miss Claire Born To Glow Illuminator Makeup Base Review (05 Shiny Beige)
PRICE: Rs 395 | BUY IT HERE
INGREDIENTS: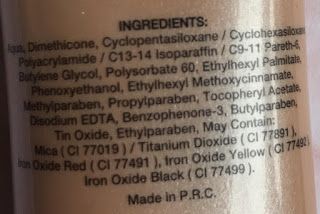 HOW TO USE:
Wear alone or pair with makeup to instantly highlight and enhance wherever it is applied
Miss Claire Born To Glow Illuminator Makeup Base Review
PACKAGING:
The packaging is good. It is color-coordinated with the illuminator and very easy to apply as well. This packaging is very travel friendly.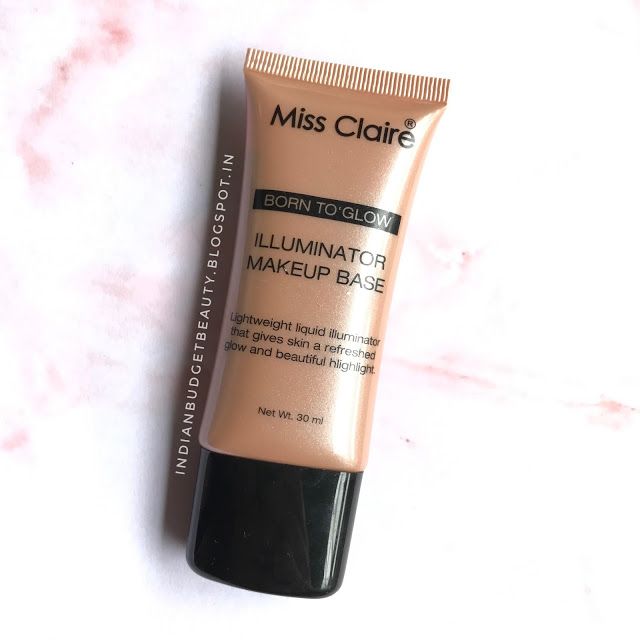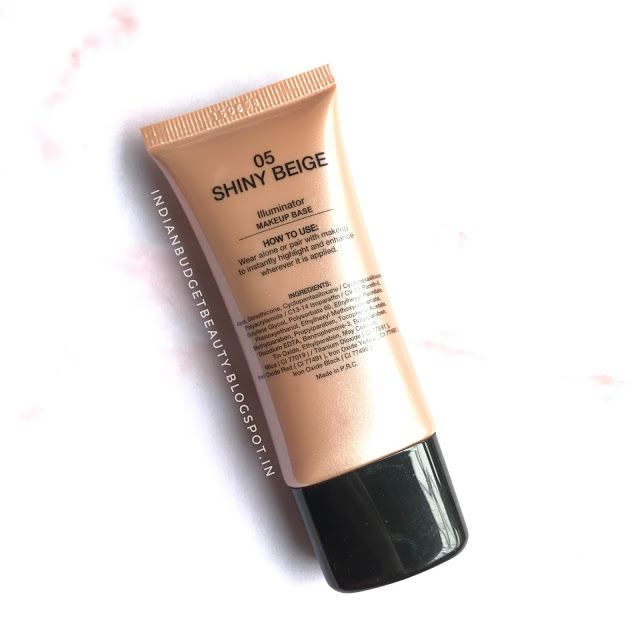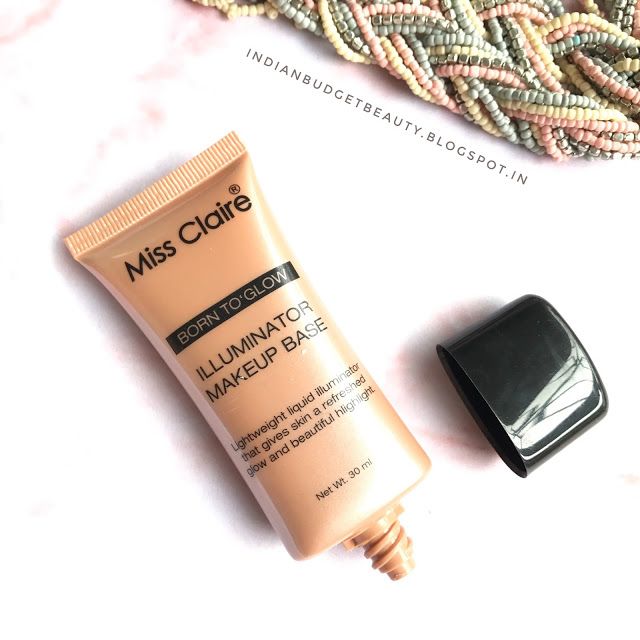 CONSISTENCY:

Miss Claire Born To Glow Illuminator Makeup Base has a very unique consistency. It is very moosey in texture but at the same time, it is lightweight.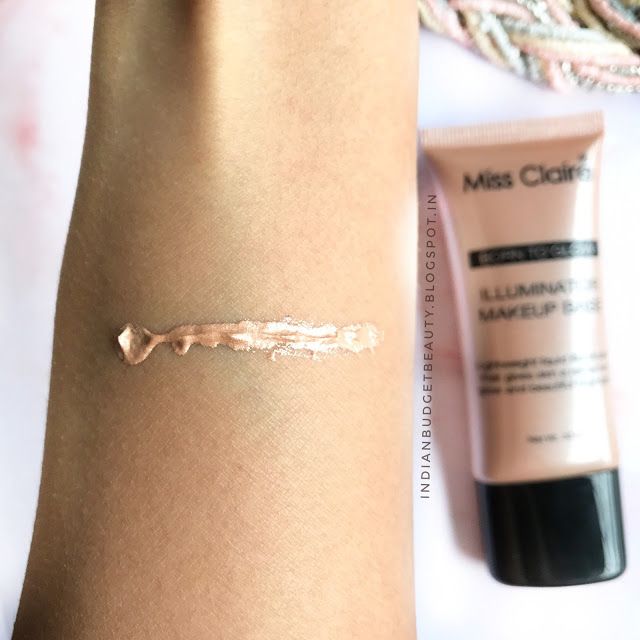 SHADE:

Miss Claire Born To Glow Illuminator is available in six shades
I bought the shade 'Shiny Beige'. It's a silver highlighter with a peachy pink undertone. It looks very pretty on fair Indian skin tone. It'll also look great on medium skin tones as it has peachy pink undertones.
But the highlighter is very chunky, It won't look good as a makeup base.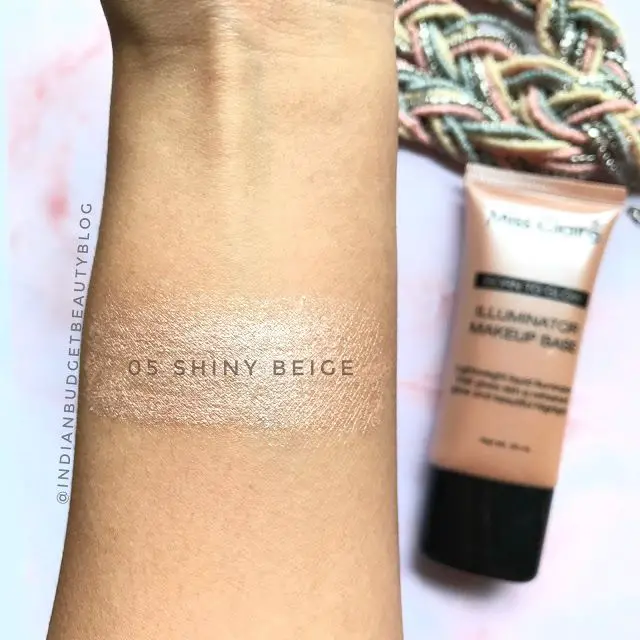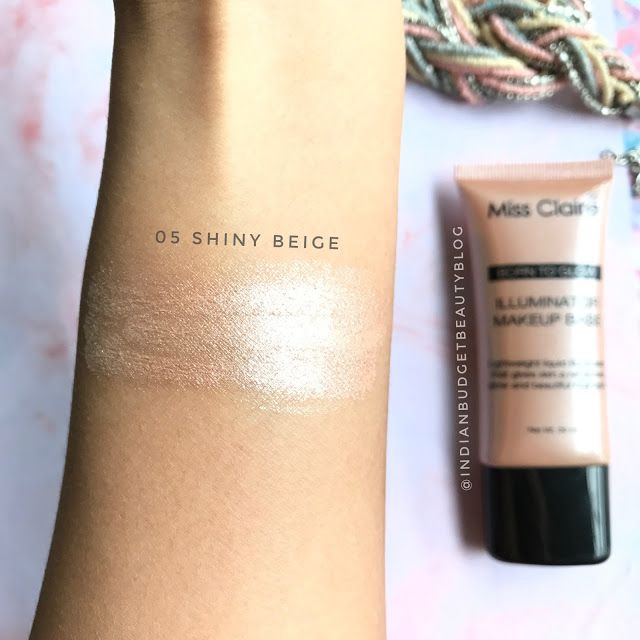 MY REVIEW ON THIS PRODUCT:
To be honest, at first usage I did not like it a bit. It was chunky and very glittery. I was very disappointed BUT when I tried it again and played with it more, I got to know the technique.

Always use it only as a highlighter and NOT as a base. It contains shimmers so it is very beautiful when worn alone as a highlighter to bring out your features.
This highlighter is available in 6 different shades that cater to different skin-tones. It is very build-able and has good pigmentation. You can achieve a blinding highlighter look and also 'highlight from within' kinda look. It all depends on your blending abilities.
Since this highlighter contains chunky shimmers in it so you really need to use a pore filling primer because if you don't use a pore filling primer then the highlighter may look a bit patchy.
How I use it:
I directly dot it on my cheekbones and then blend it with my fingers and use a beauty blender to take away extra chunky shimmers. In this way, it gives a very beautiful sheen to your face.
I've heard and read a lot of negative reviews about this particular illuminator but since now I know the right technique to apply it, I'm in love with this baby.
IS IT LONG LASTING? 

Yes, it is. It lasted for about 5-6 hours WITHOUT any touch-ups.

DO I RECOMMEND IT?
No, I'd not recommend this product at all. Even though it is very pretty but the highlighter has chunky glitters that don't look good
THINGS I DON'T LIKE:

Don't use it as a base because it doesn't look good. It contains shimmers so it appears like you have sparkles everywhere. Secondly, I don't like that it contains parabens.
PROS:
Color Coordinated Packaging
Affordable
Build-able from sheer to full coverage
Beautiful Shade
Good pigmentation
Available in different shades
Lasts for 5-6 hours without touch-ups
CONS:
Never use it as a base
Very patchy
Has glitter particles that don't look good
Contains Parabens
RATINGS: 2.5/5
Also Read:
Miss Claire Soft Matte Lip Cream 42, 55, 58 Review & Swatches
Miss Claire Eyeshadow Review, Swatches and EOTD
Miss Claire Soft Matte Lip Cream 31 & 47 REVIEW
Miss Claire Soft Matte Lip Cream 20 & 38 Review, Swatches
Miss Claire Soft Matte Lip Cream 11 REVIEW (Nyx SMLC Dupe)