Hello everyone, if you know me, you might know that I'm a sucker for eyeshadow palettes. My love for eyeshadow palette can never cease. When Shruti, the founder of Tann Beauty reached out to me, I was on cloud night. I've been eying this Tann Beauty This Is All I Need Eyeshadow Palette ever since it launched. Finally, I have my hands on this gorgeous palette and I thank Shruti for being ever so gracious and sending this palette over.
About Tann Beauty
Tann Beauty is an indie makeup brand based in Mumbai. Their first product is the "This Is All I Need Eyeshadow Palette" with 15 ultra-rich colors with smooth formulas. This eyeshadow palette is made in Italy and deals for the application of eyeshadow, blusher, eyeliner, highlight, and contour with shades that suit Indian skin tone. Shruti Bhatt is the founder of Tann Beauty. Shruti spent 16 years in makeup, working on a variety of skin tones of brides and photoshoots on models, educating many students.
---
Tann Beauty This Is All I Need Eyeshadow Palette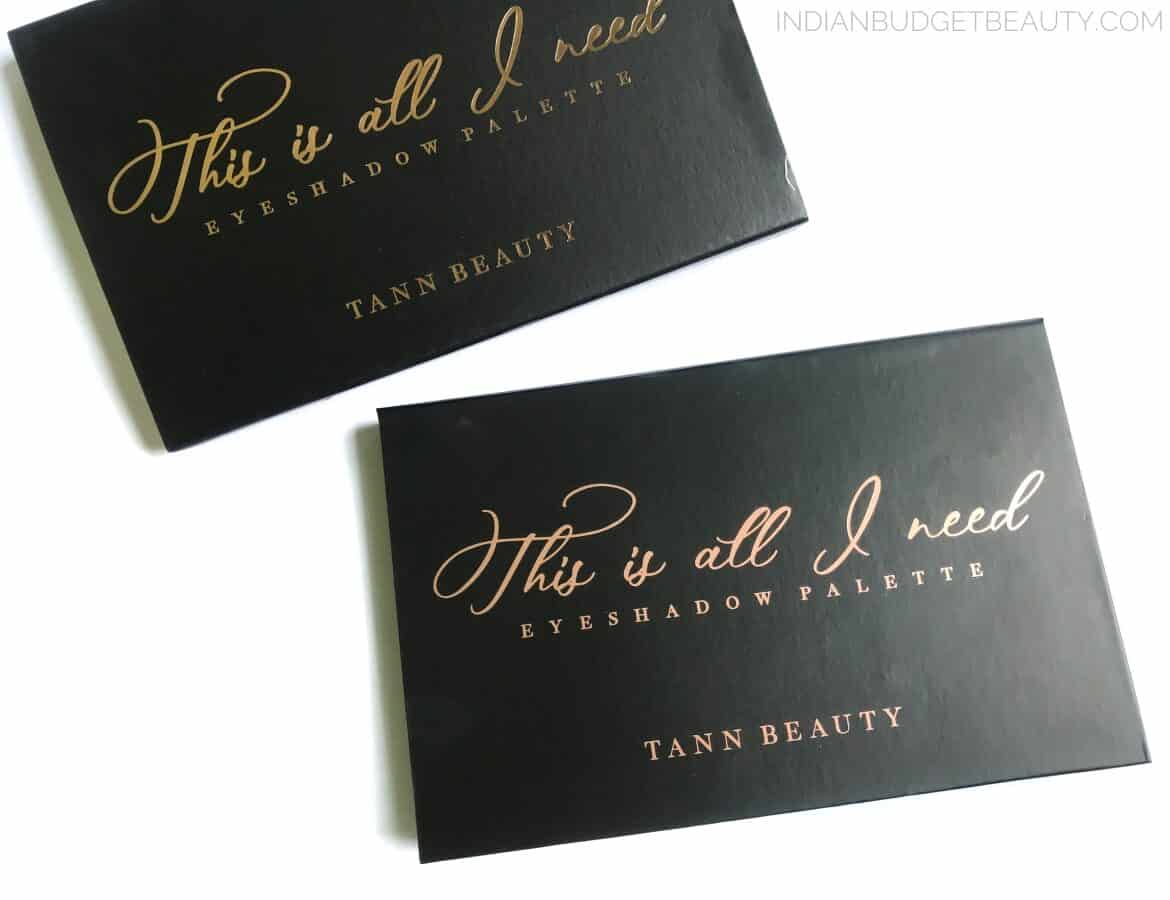 Tann Beauty This Is All I Need Eyeshadow Palette is described as a "Timeless Palette" and I could not agree more on this! This palette is designed for professional makeup artists as well as for personal usage. It's an 'all in one' palette that contains eyeshadows, highlighter, contour, blush, and eyeliner.
---
Price: Rs.2400
---
Packaging
The Tann Beauty Eyeshadow Palette is not only pretty to look at, but also very light-weight and sturdy. It comes with its own mirror and also has an additional cardboard sleeve. It does not contain any brushes, but I prefer to use my own brushes, so it's not an issue.
The pan size of the shadows is small, with 0.8g of eyeshadow in each pan. So, you get a total of 12g of product. There's a good amount of space in between the shades which ensures that you don't end up mixing your shadows. There are also protective plastic films over the eyeshadows and the mirror.
This palette also have a magnetic closure system so that your palette is secure even if you travel with it. I'd suggest that you keep the cardboard sleeve as it can make the palette extra secure.
The packaging is very simple and sleek, matte black in color with golden accents. I'd say very classy. The size of the palette is almost the size of my hand, so it is very apt for travelling.
Overall, I'd say a lot of thoughts has been put into the packaging as it totally resonates with the name of the palette, I'm impressed!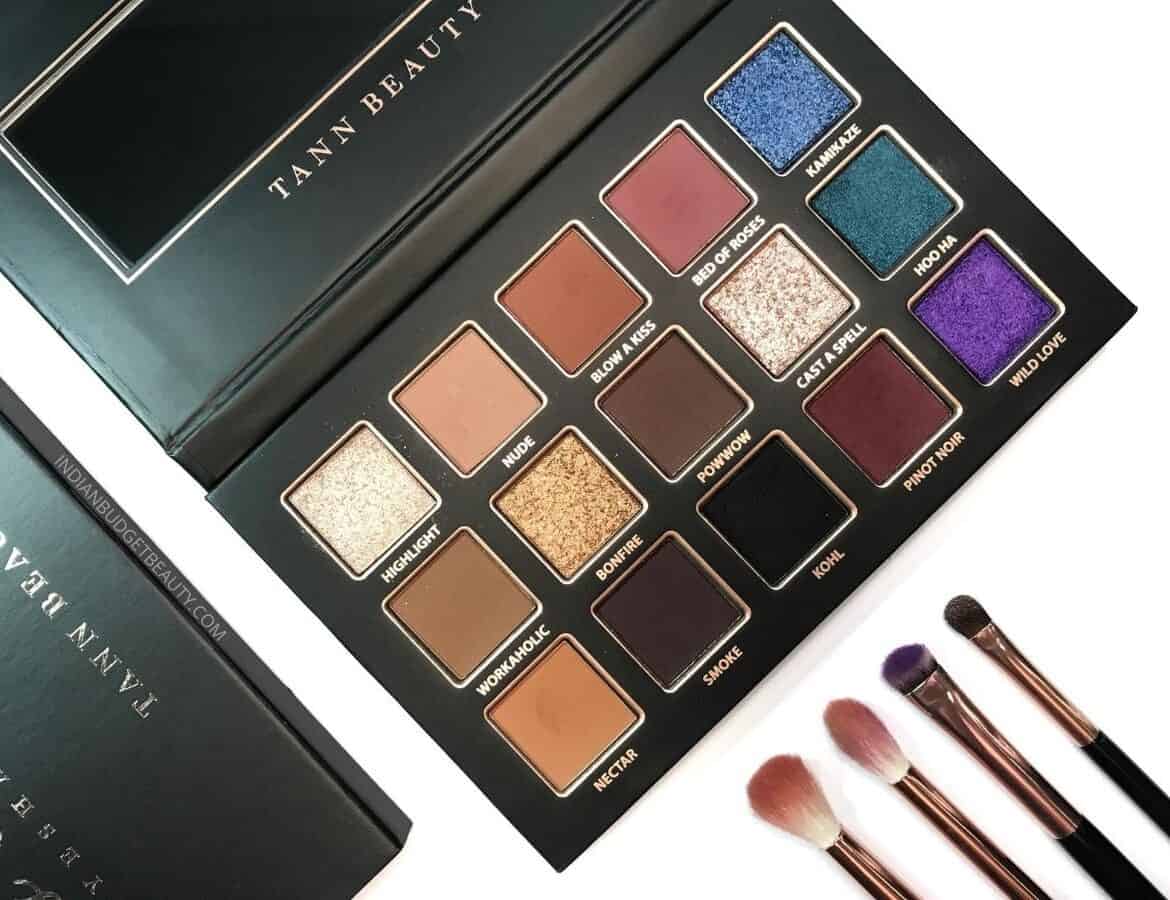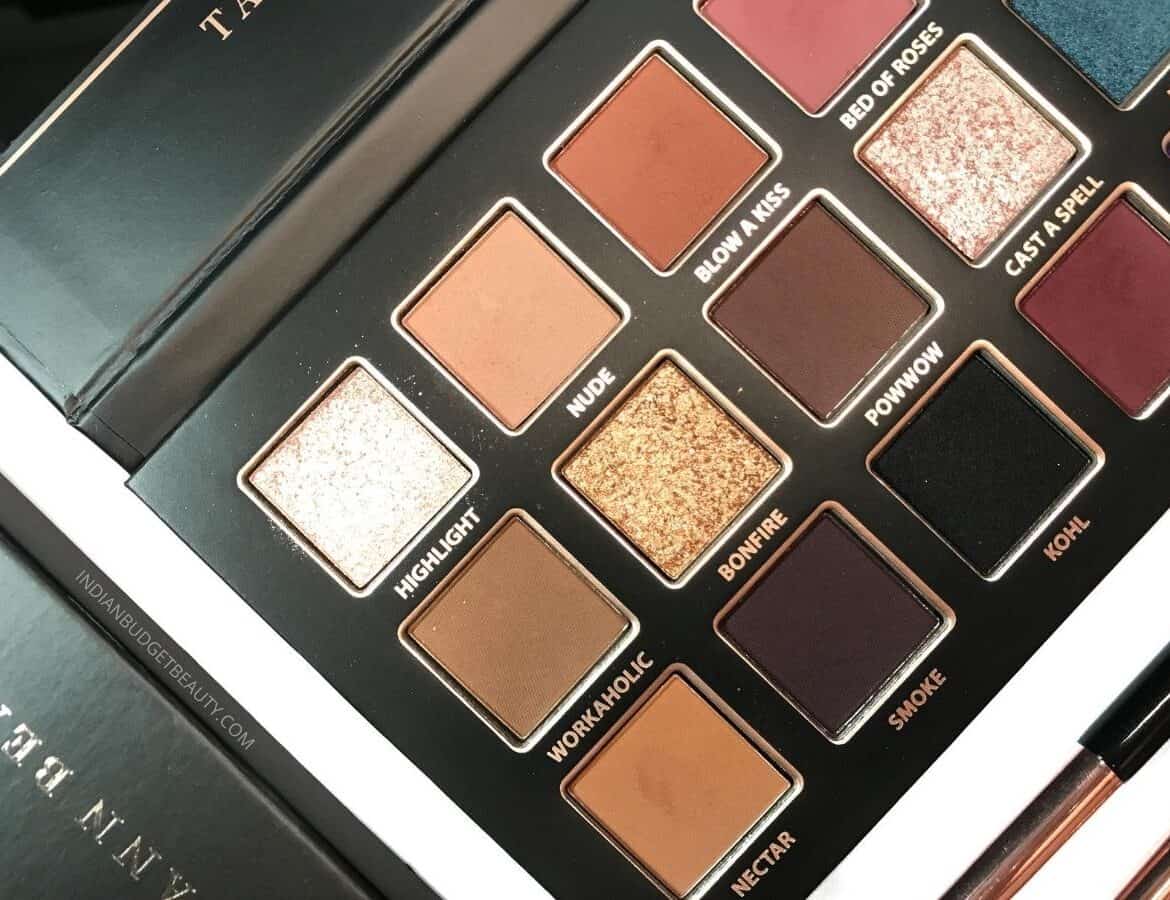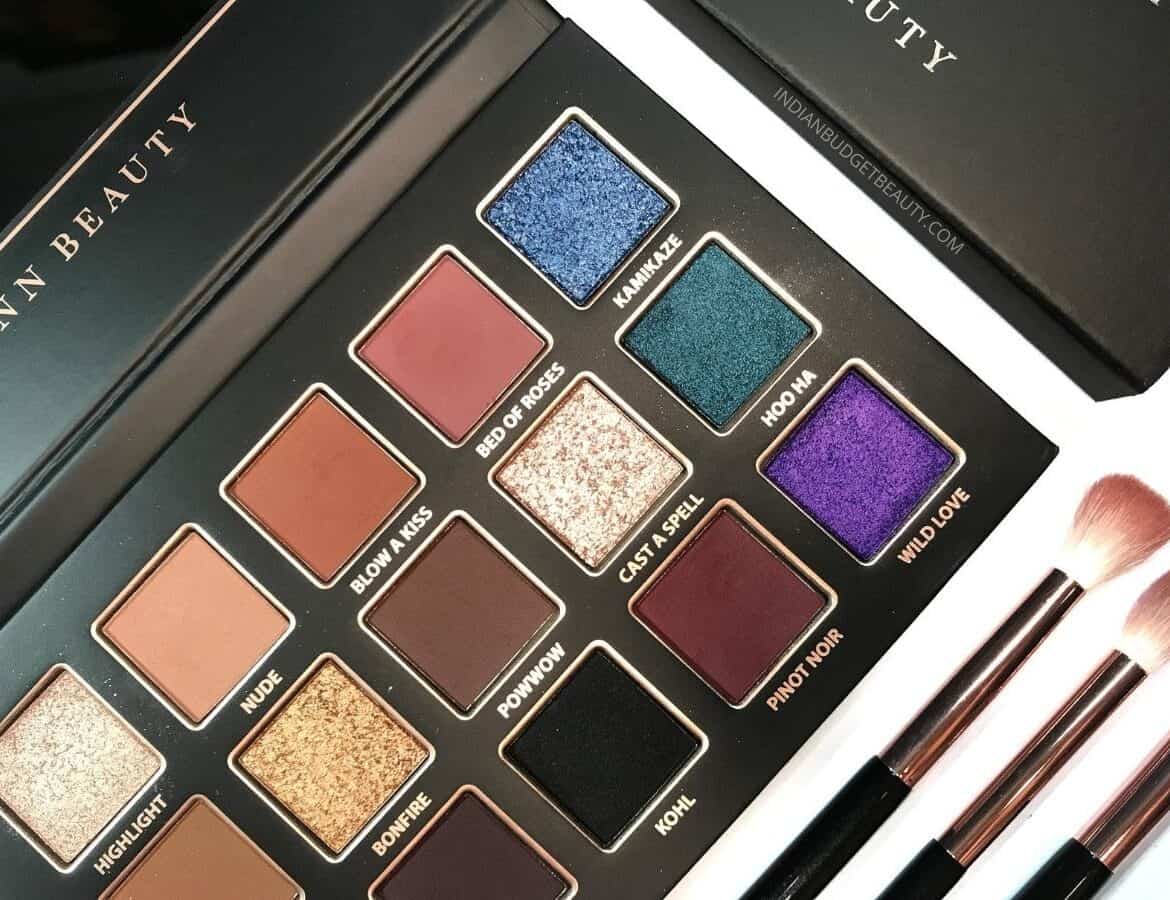 ---
Formula & Pigmentation
The Tann Beauty This Is All I Need Eyeshadow Palette Consists of 4 different Formulas:
3D Diamond Sparkle: Kamikaze, Cast a Spell
Frost Cream: Highlight, Bonfire, Hoo Ha, Wild Love
Matt Cream: Kohl
Matt: Nude, Blow a Kiss, Bed of Roses, Workaholic, Powwow, Nectar, Smoke, Pinot Noir
I found the eyeshadow to be very pigmented and blend-able, even without an eye shadow primer underneath. They work well with a brush as well as with the finger.
The 3D Diamond Sparkles are topper shades so they work well with the fingers. They contain micro glitters and do sparkle when light hits them
The Frost Creams are super pigmented and have a metallic finish. They are creamy and works best with your fingers.
The Matte Cream shade "Kohl" feels exactly like Kohl and will work well with a denser brush. It is super pigmented and I prefer it to use as an eyeliner.
The Matts are blend-able and airy. They are pigmented and are very build-able.
---
Swatches & Shade Description
All the swatches are on bare skin and two swipes of shadows.
ROW 1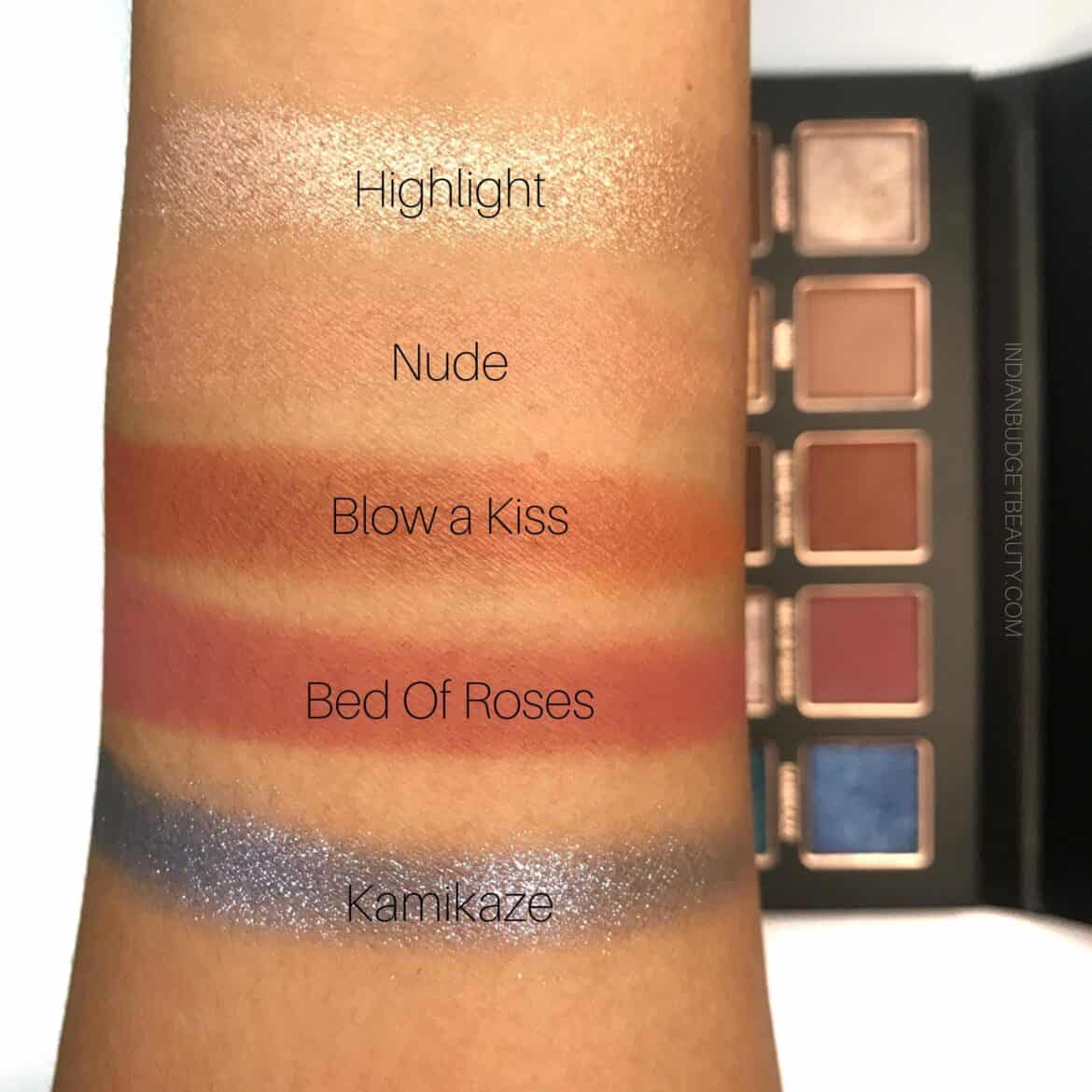 HIGHLIGHT: It is a beautiful champagne shade that has a frost cream formula. Works well with brushes as well as fingers. Can be used as an overall face highlighter or on the inner corners and brow-bone. It is very similar to Bling Bling from the JH Bling Boss Palette
NUDE: Nude is a Matt shade that blends with my skin tone, so I use it to set my eyelids or as a brow bone highlighter.
BLOW A KISS: It is a Terracotta Matt shade, very blend-able and can be layered well.
BED OF ROSES: A beautiful mauvy pink matt shade that can also be used as a blush. When I swatched it next to my Sigma Cor De Rosa Blush, I found Bed Of Roses is a deeper and pigmented version of the Sigma Blush
KAMIKAZE: A beautiful deeper blue diamond frost shade with flecks of green, blue, silver and purple glitters
ROW 2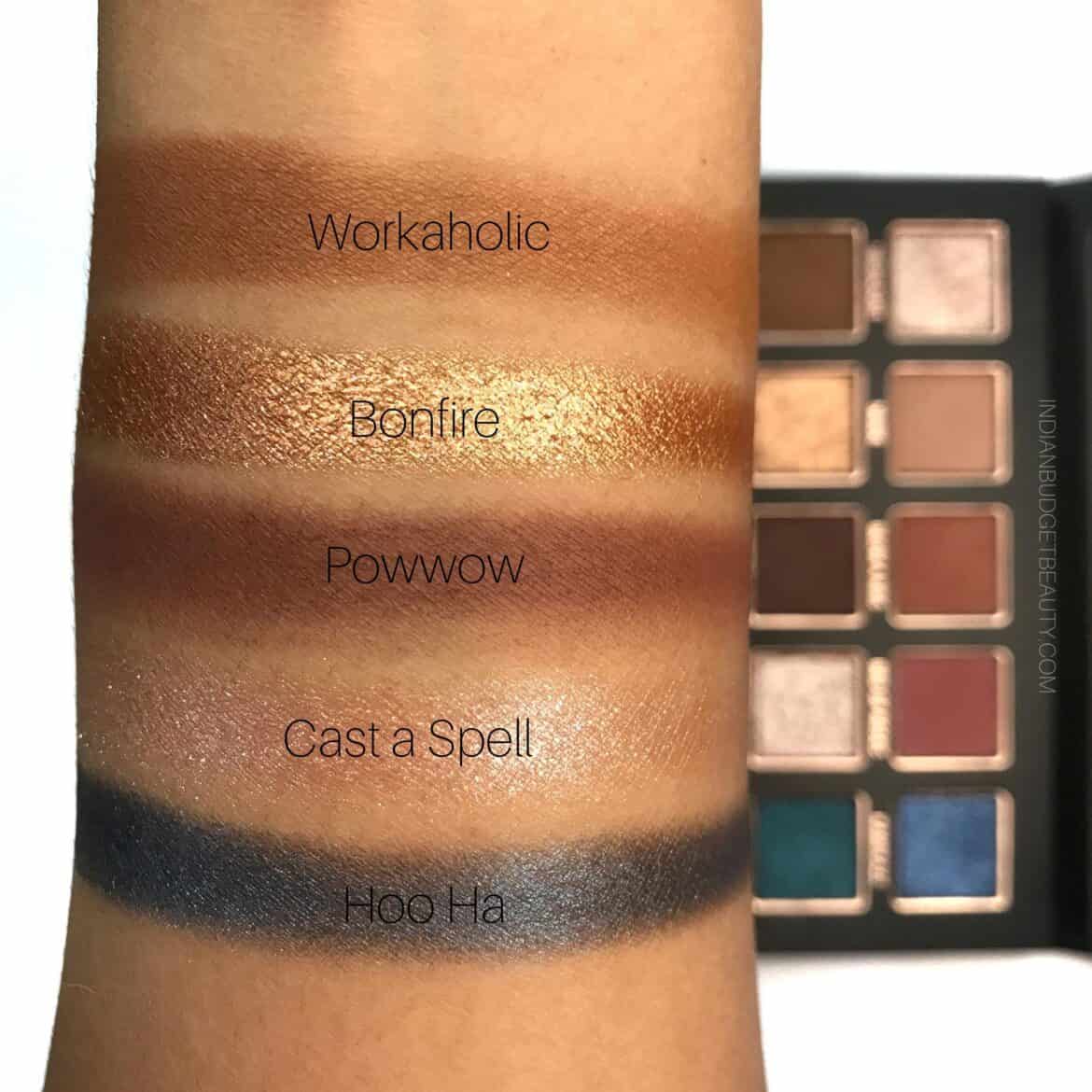 WORKAHOLIC: It is a beautiful cool toned bronzy brown matt shade that can also be used as a contouring shade
BONFIRE: It is a metallic gold shade with a Frost Cream formula. I found that it worked best with your fingers and can be packed with a dense flat brush
POWWOW: It is a darker chocolatey brown shade with a matt finish. It does have a bit of fallout but very pigmented and blendable
CAST A SPELL: It is a beautiful champagne shade with flecks of glitter. It is one of my favorite shades and a topper shade so you can apply it on top of any shade to give an extra dimension to your look.
HOO HA: It is a duo-chrome shade that appears as dark emerald green the lids but somehow my camera captured it as a greyish silver. A very unique shade
ROW 3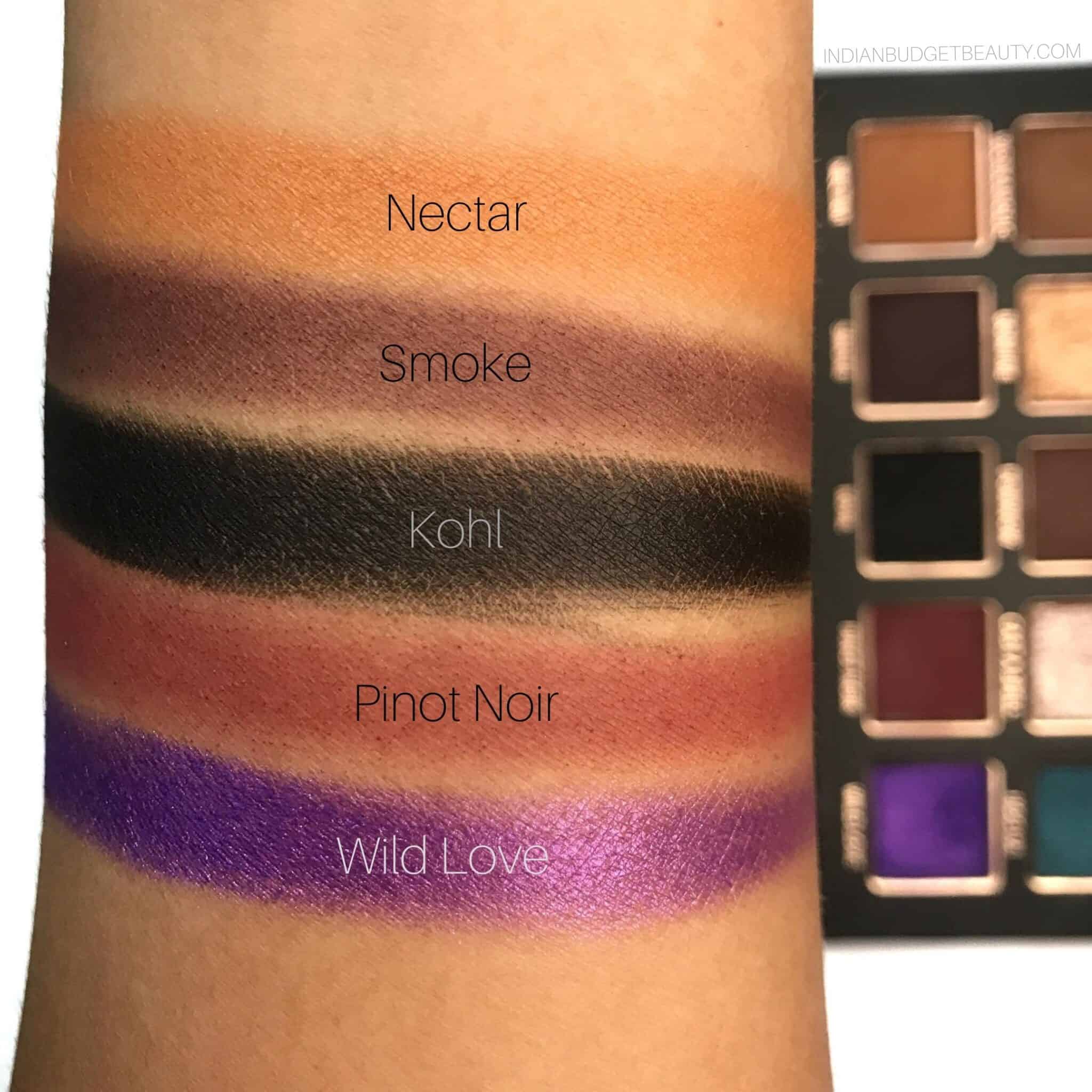 NECTAR: I can describe Nectar as a pale honey shade with a matt finish. Its perfect for a transition shade.
SMOKE: It is a deeper chocolatey brown than POWWOW with a matte finish. It is the only shade that I had trouble blending with. (Update: set your primer with powder if for a smooth blend)
KOHL: It is actual kohl in a pan with a matte cream finish. I absolutely love this shade. It works well with a denser brush
PINOT NOIR: It is a rich burgundy matt shade. It is similar to Mystic in the JH Bling Boss palette
WILD LOVE: It is a rich purple frost cream shade that has a metallic finish. I am obsessed with purples ever since I got the Jaclyn Hill Bling Boss Palette. Wild Love is similar to Gem in the JH palette
Swatches With Eyeshadow Base
For this swatches, I've used the Gerard Cosmetics Clean Canvas Base. You can see how the shadows pop more with an eye-shadow base underneath.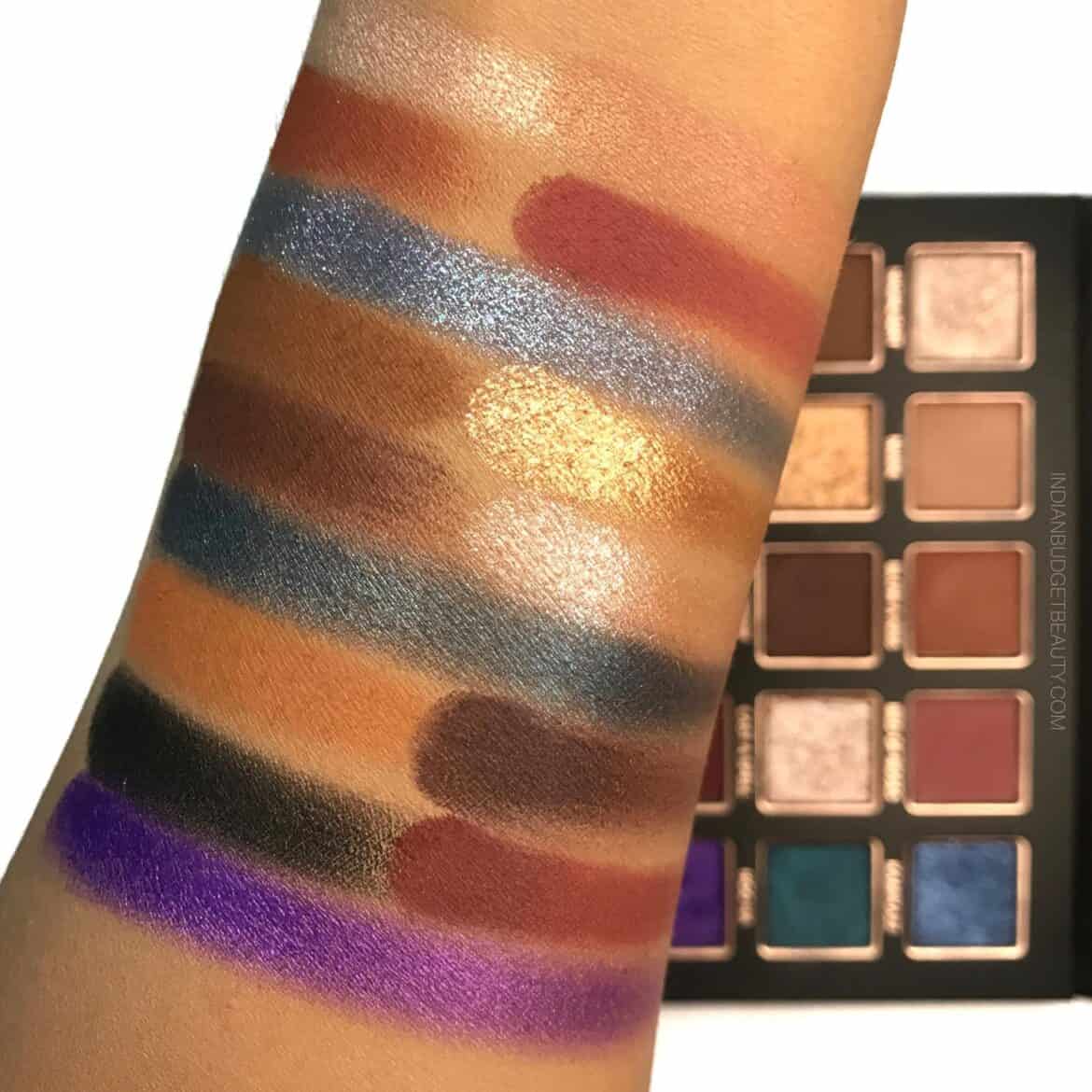 ---
My Final Thoughts On The Palette:
The Tann Beauty This Is All I Need Eyeshadow Palette is a complete package. It contains neutral shades as well as three pops of colors. I love how versatile this palette it. If you want to invest in a single palette, just get this one and you will not regret a bit!
I love the different formulas that this Tann Beauty Eyeshadow Palette has. They blend so easily and show up on the Indian skin even without an eyeshadow primer. I have a fair-medium skin tone and this looks beautiful on me and also on my mother.
These shadows are long-lasting and I never had any issues with fallouts. All the shades blended easily except the shade Smoke. UPDATE: I've noticed that if you set your eyeshadow primer with powder and apply the shade Smoke, it blended well.
They are true to the claims when they mentioned these shades being super-pigmented and highly bendable because, to be honest, this is the best palette I have till now.
This Tann Beauty Eyeshadow Palette Priced at Rs.2400 with 15 shadows, is totally justified. It makes each eyeshadow pan to Rs.160 per shadows. Honestly, if you are getting 15 high-quality shades at this price, I'll definitely dig in.
DO I RECOMMEND THIS PALETTE?
Yes, absolutely! I highly recommend this palette.
---
Why You SHOULD BUY The "Tann Beauty This Is All I Need Eyeshadow Palette"?
Very versatile palette
Highly pigmented shadows
All the shades are super blendable
Experienced no fallouts
Has 4 different formulas
Packaging is travel-friendly
Perfect for professional and personal usage
Cruelty-free
Why You SHOULD NOT BUY The "Tann Beauty This Is All I Need Eyeshadow Palette"?
No reasons, just buy the palette!
---
Tann Beauty This Is All I Need Eyeshadow Palette
Packaging

Pigmentation

Blendability

Wearability
---
DON'T FORGET TO PIN THESE IMAGES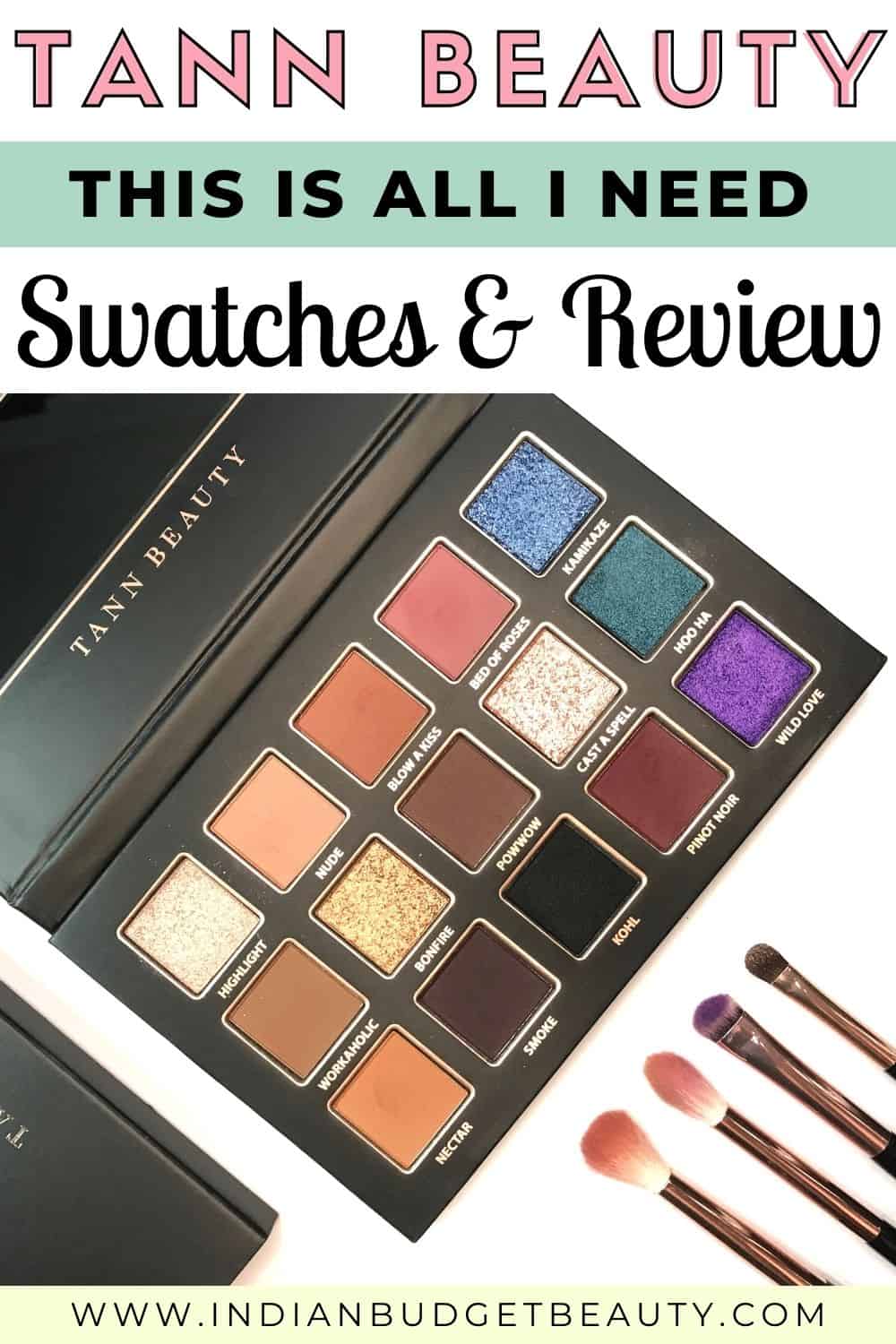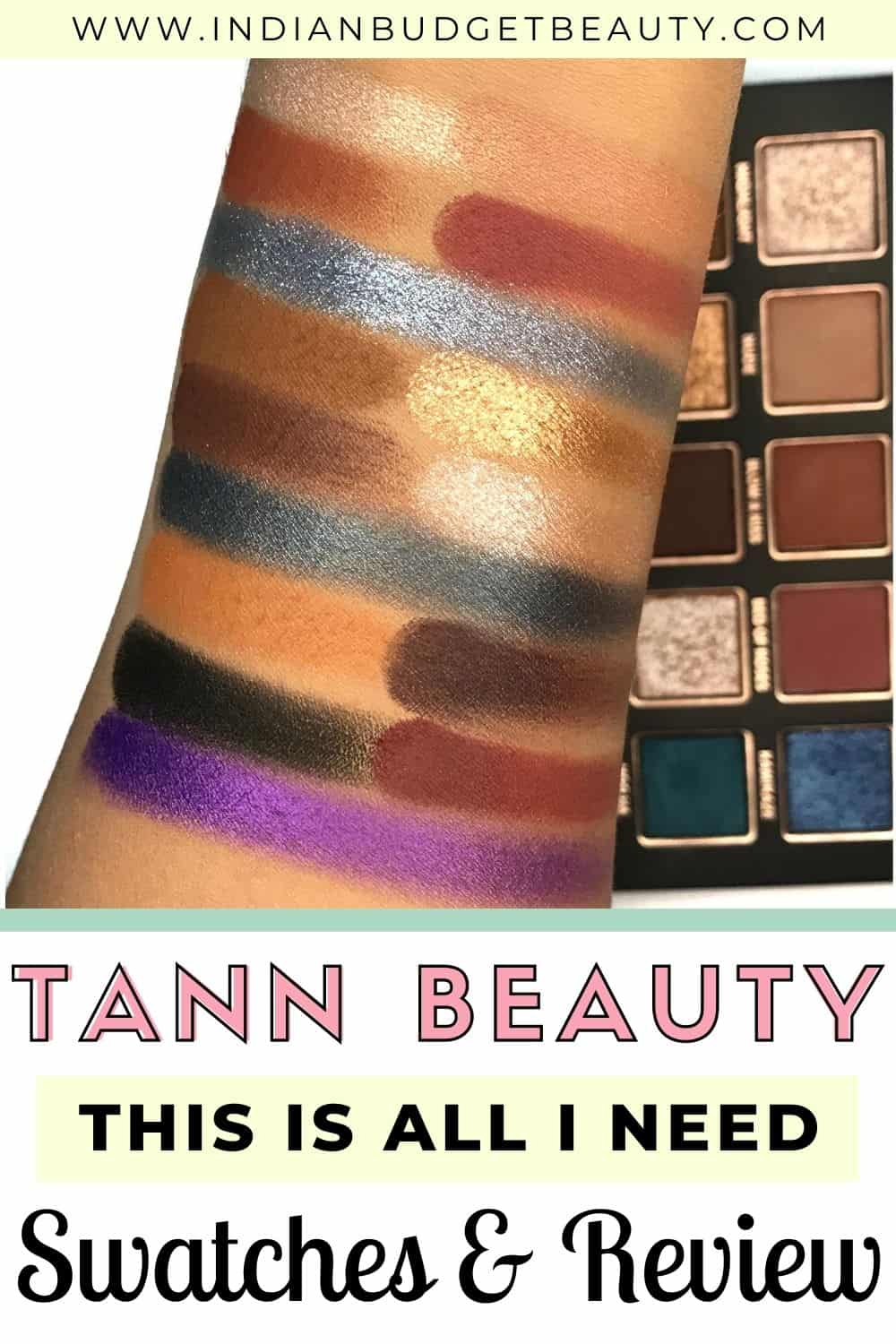 ---
Related Reviews:
(Part Of PR kit)