Beauty Glazed Lemon Palette has a similar color story like the Colourpop Uh Huh Honey Palette. So, I thought about purchasing this Beauty Glazed Bright Eyeshadow in the Lemon variant as it was super affordable. I've tried Beauty Glazed palette in the past. (Check Review of Beauty Glazed Color Studio Palette)
These Beauty Glazed 9 Color Eyeshadow palettes are available in more than 9 variants. Many of them are Huda Beauty Obsession palette dupes, some are even Huda Beauty Neon Obsession dupes.
Price: Rs. 226
Ingredients:

Packaging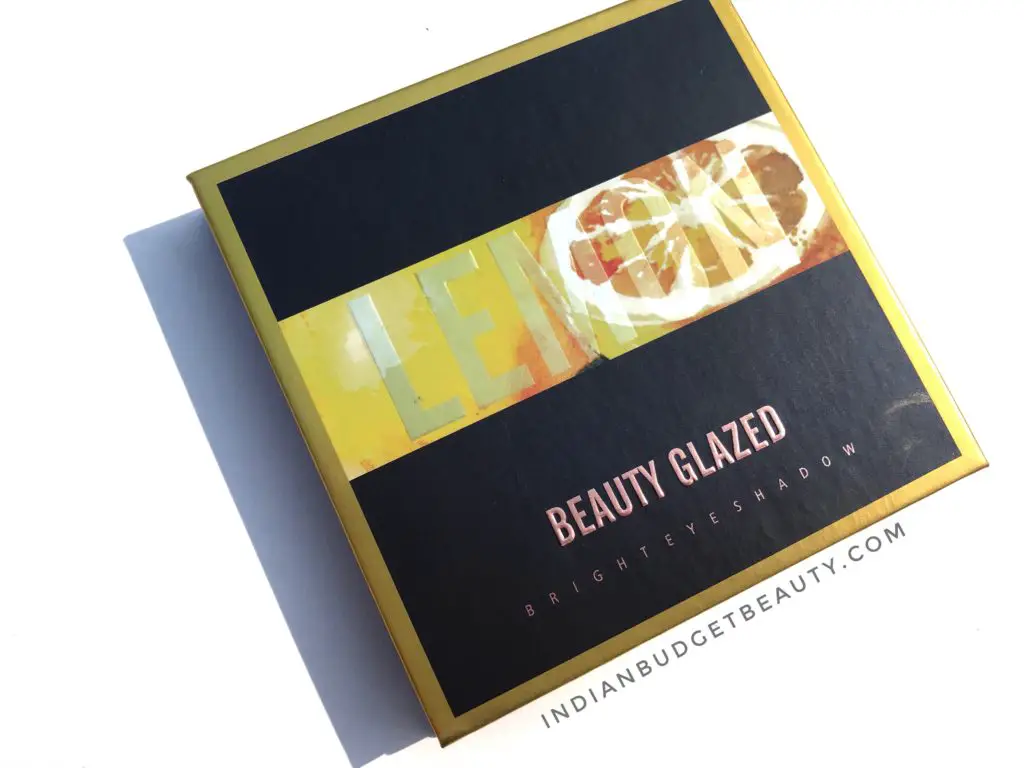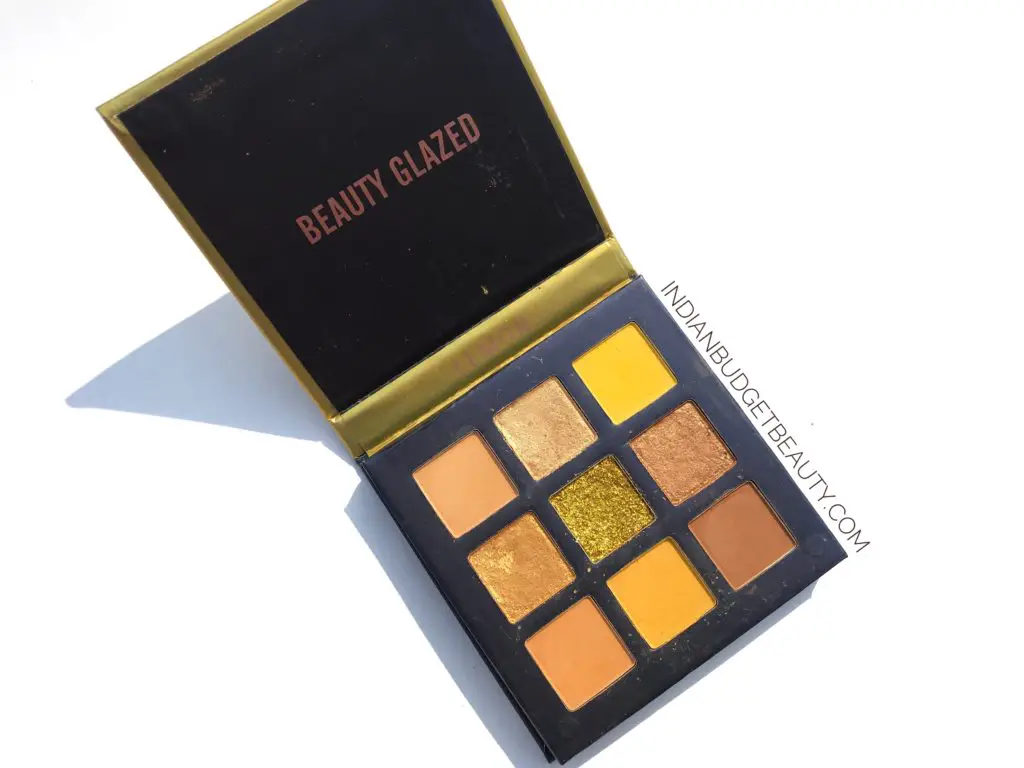 These Beauty Glazed 9 color Eyeshadow palettes come in a cardboard square packaging which looks very simple yet pretty. The Lemon Palette has golden detailing on a black body.
The outer lid does have lemon embossed on it along with Beauty Glazed Bright Eyeshadow written on it. The size of this palette is small and it fits my palms.
They are perfect travel-friendly palettes but it does lack a mirror.
Shades & Pigmentation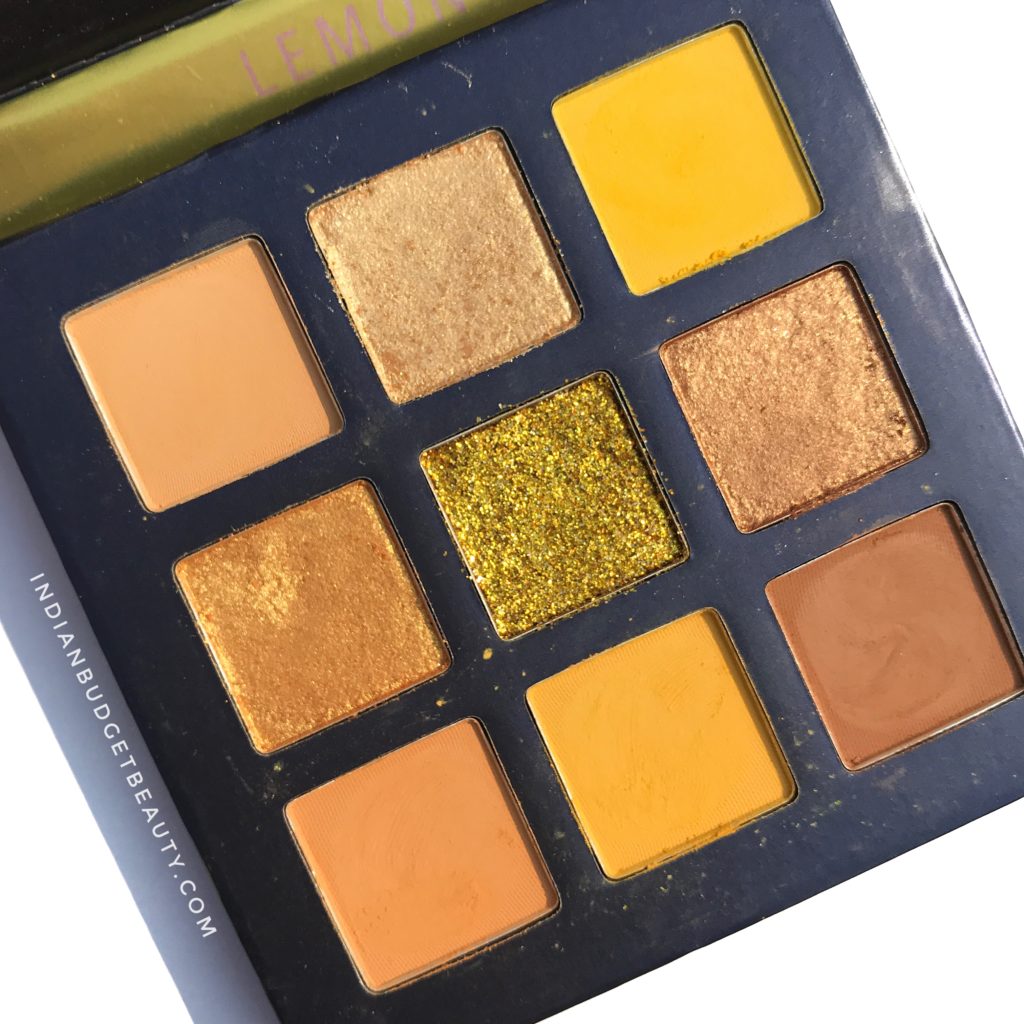 Beauty Glazed Lemon Palette has a yellow monochrome color story. It contains shades of yellow, gold and bronze. There are 3 kinds of eyeshadow formulas in this palette – Matte, Foiled Textures, Glitter
The mattes work well on top of an eyeshadow base/ concealer. They are very blendable
The foiled textures work better with fingers, but you can definitely use it with any flat detailed brush. I've used it Jessup 237/ Detail Shader and it worked perfectly.
The glitter shade was very dry and not messy. It does have a tiny amount of fallout, not much of a big deal but I'd recommend using it with glitter glue.
Swatches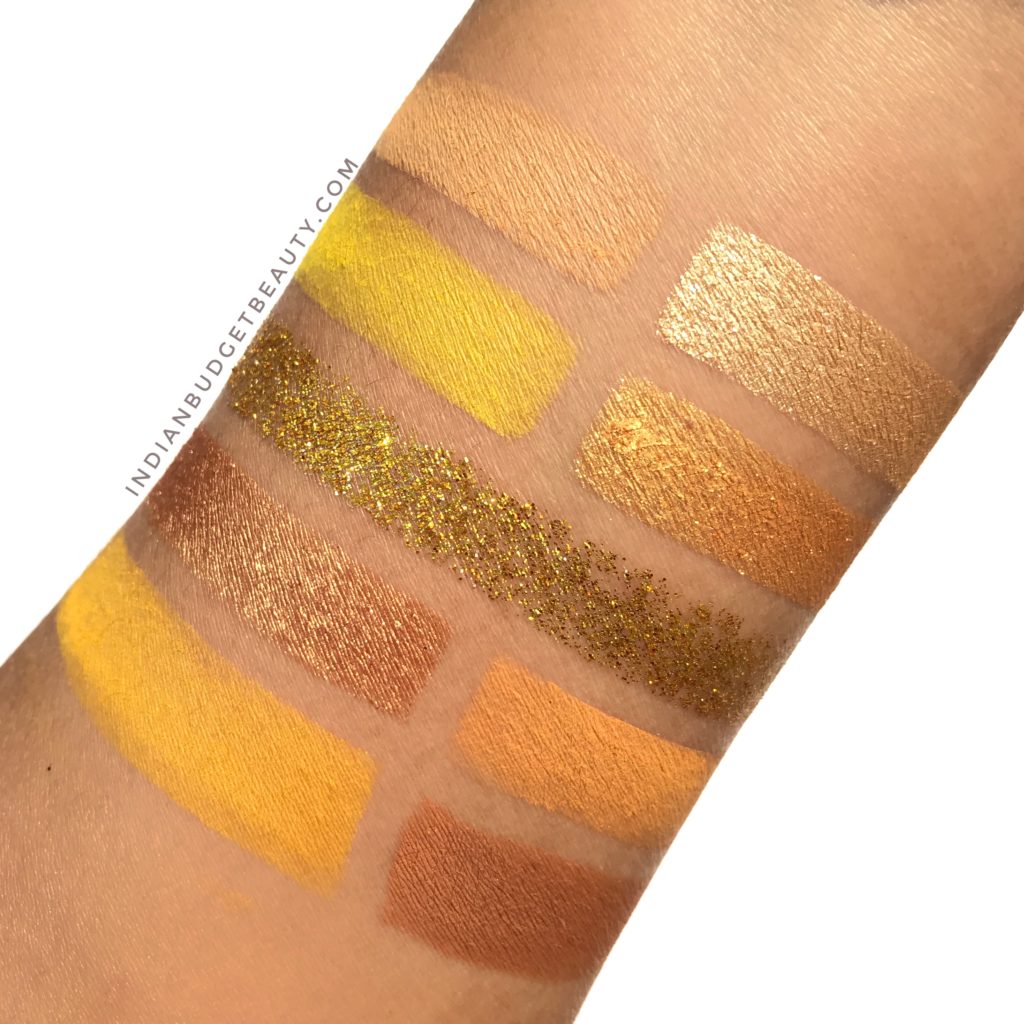 The mattes don't swatch well without an eyeshadow primer/base. So in the above swatches, I had to swipe thrice for the mattes, the foiled shimmers are high quality, very pigmented and buttery. The glitter shade does not give an opaque finish, so you will have to layer it.
A look using Beauty Glazed lemon Palette
Final Thoughts on the Product
This is a pretty affordable palette that can be used to create any golden, neutral or yellow-based makeup look. First look at the color scheme could be intimidating, but you can definitely use these shades for any festive occasion or even for everyday usage as it has some neutral shades.
The lighter mattes don't show up that well on my skin tone, but the darker shades are buildable. I'm highly impressed with the foiled shimmers as they are very creamy and pigmented. The glitter shade is like an added bonus.
The size of the palette is perfect for travel as it does not take much of your space. It does lack a mirror but we cannot ask for more at the price we are paying.
These shadows do stay on for about 6-7 hours so it very long-lasting, provided you use an eyeshadow primer or a base underneath.
Do I recommend the Beauty Glazed Lemon Palette?
Absolutely Yes! If you are not into golden-yellow shades, you can try out the other variants. These palettes are perfect for a beginner. The matte transition shades are buildable and blend easily.
Colourpop uh huh honey dupe?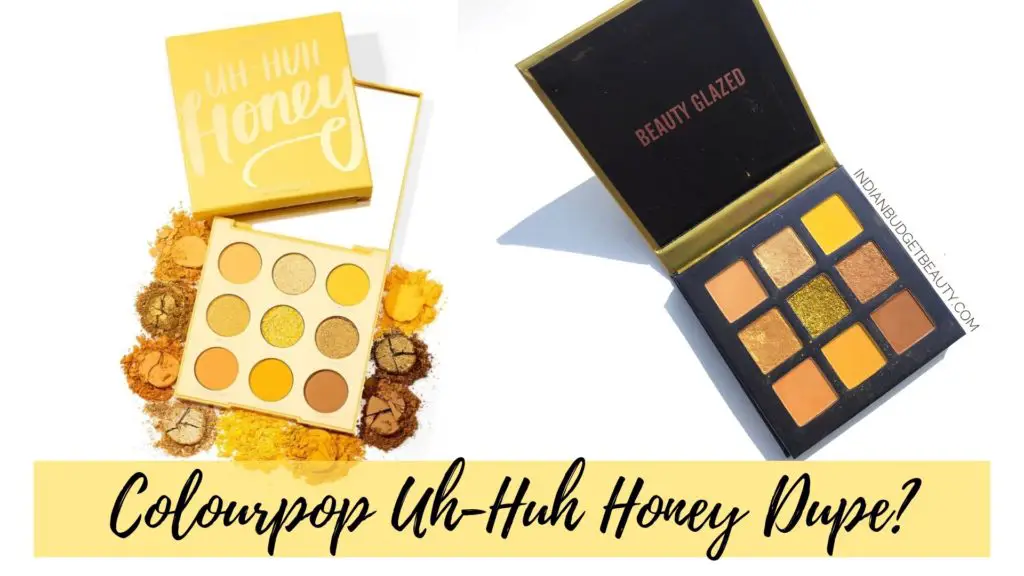 The main reason I got this palette was because of how similar the lemon palette was to the Colourpop Uh Huh Honey palette. If you look closely at the colors of both the palettes, you will get to know how each shade is an exact dupe and they even have a similar layout.
Also Read:
Beauty Glazed Color Studio Palette Review
NYX Perfect Filter Eyeshadow Palette – Rustic Antique Review
Wet n Wild Rose in the Air Eyeshadow Palette Review
MUA Glamour Night Eyeshadow Palette
Essence I Love Stage Eyeshadow Base 
Pin these Images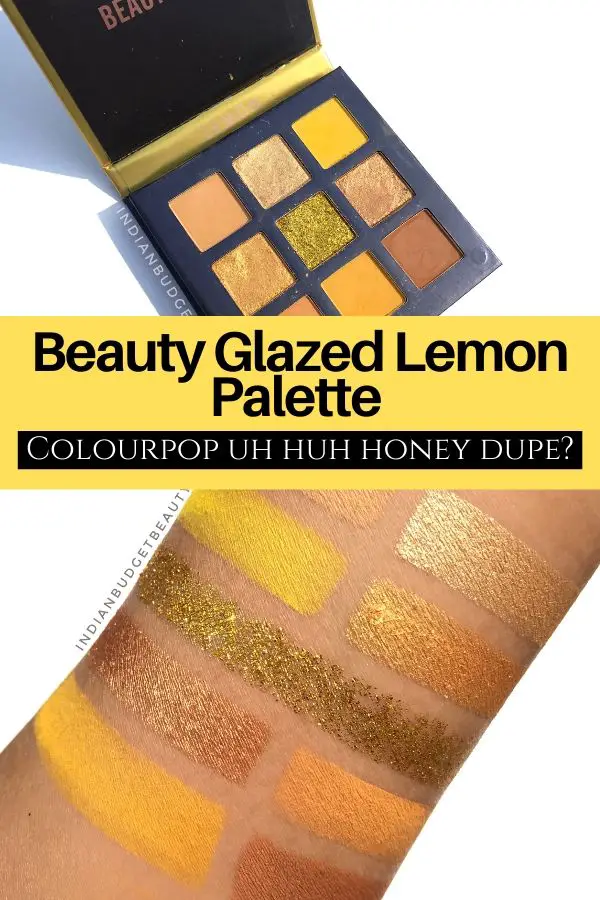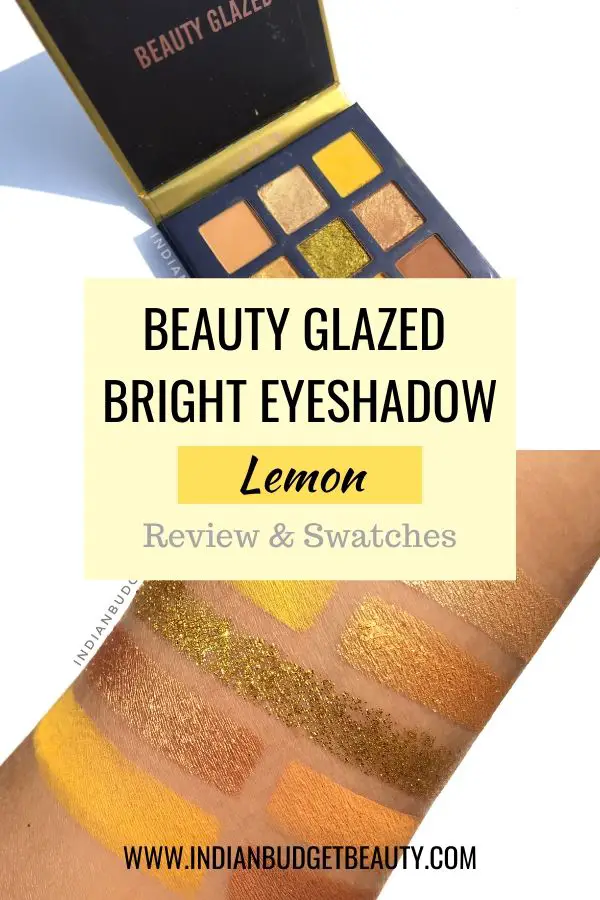 Beauty Glazed Lemon Palette
Rs.266
Pros
Small and compact palette
Contains Mattes, foiled shimmers and a glitter shade.
The foiled shimmers are supremely pigmented and buttery
The matte shades are buildable and very blendable
Very affordable palette
Cons
The glitter shade is not opaque
The mattes have a bit of fallout
Does not contain a mirror