Deyga Organics is a cruelty-free, natural brand that creates products for men, women, and babies. They have sent me this Rose Glow Kit which contains some of the best selling Rose variant products. Here's my Deyga Organics review on the Deyga Organics Rose Glow Kit.
Deyga Organics Rose Glow Kit Review
Price: Rs.3800 for 7 products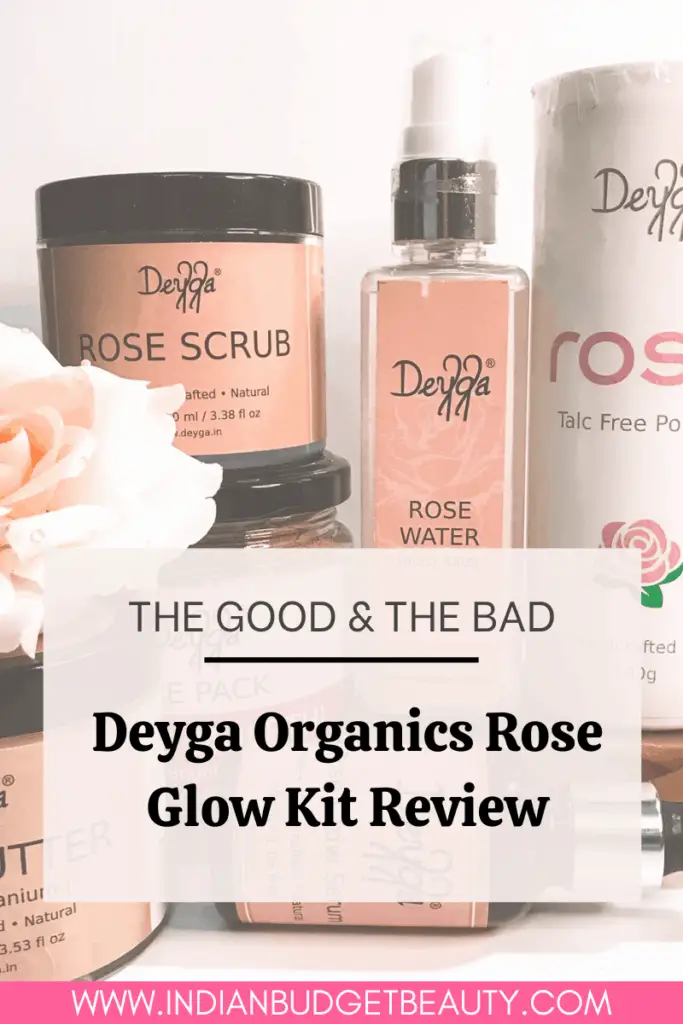 Deyga Rose Pink Clay Soap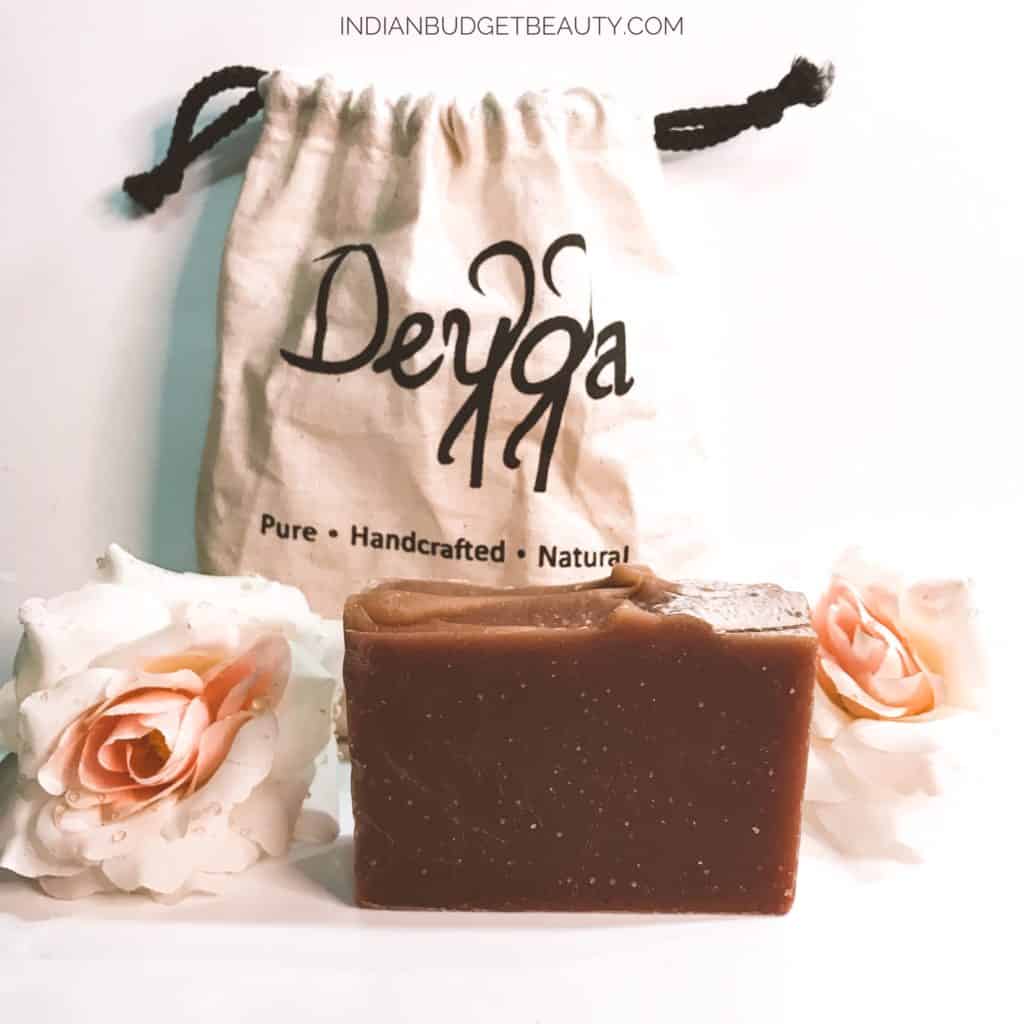 Price: Rs.370
Rose Pink Clay Soap is made of Rose Extract, Pink Clay, Sweet Almond Oil, Shea Butter, Olive Oil, and Extra Virgin Coconut Oil.
The first thing that made me instantly like this soap is packaging. Deyga's packaging is on point, to be honest. This soap comes in a small potli bag. How freaking cute is that!
It is a handmade cold-pressed soap which can be used for your face and body. As I belong to the combination-to-dry skin family, I was quite hesitant to use it. But after I've used it on my face and body, it totally made me fall in love with this soap.
After usage, it totally softened and hydrated my skin. I never expected a soap to provide me with hydration. This Rose Clay Soap did not strip off moisture from my skin and in fact, helped in providing moisture.
I'd advise that you cut the soap into two halves and use it, one for face and another for the body.
Does this have a fragrance?
I could smell a woody fragrance in this soap, very light, not overpowering at all.
Will I Repurchase & Recommend it?
I'd absolutely repurchase it and will highly recommend it. Even my mother loves this soap a lot.
Deyga Rose Scrub Review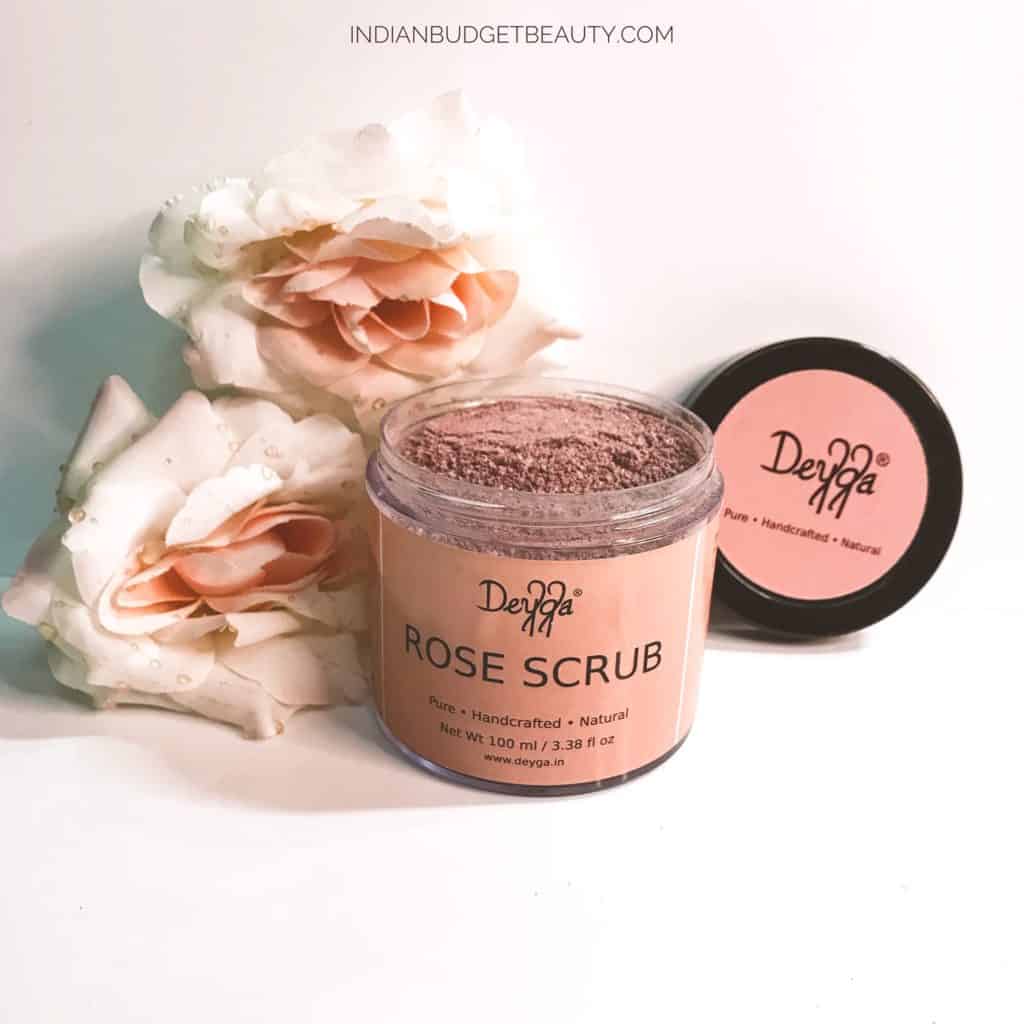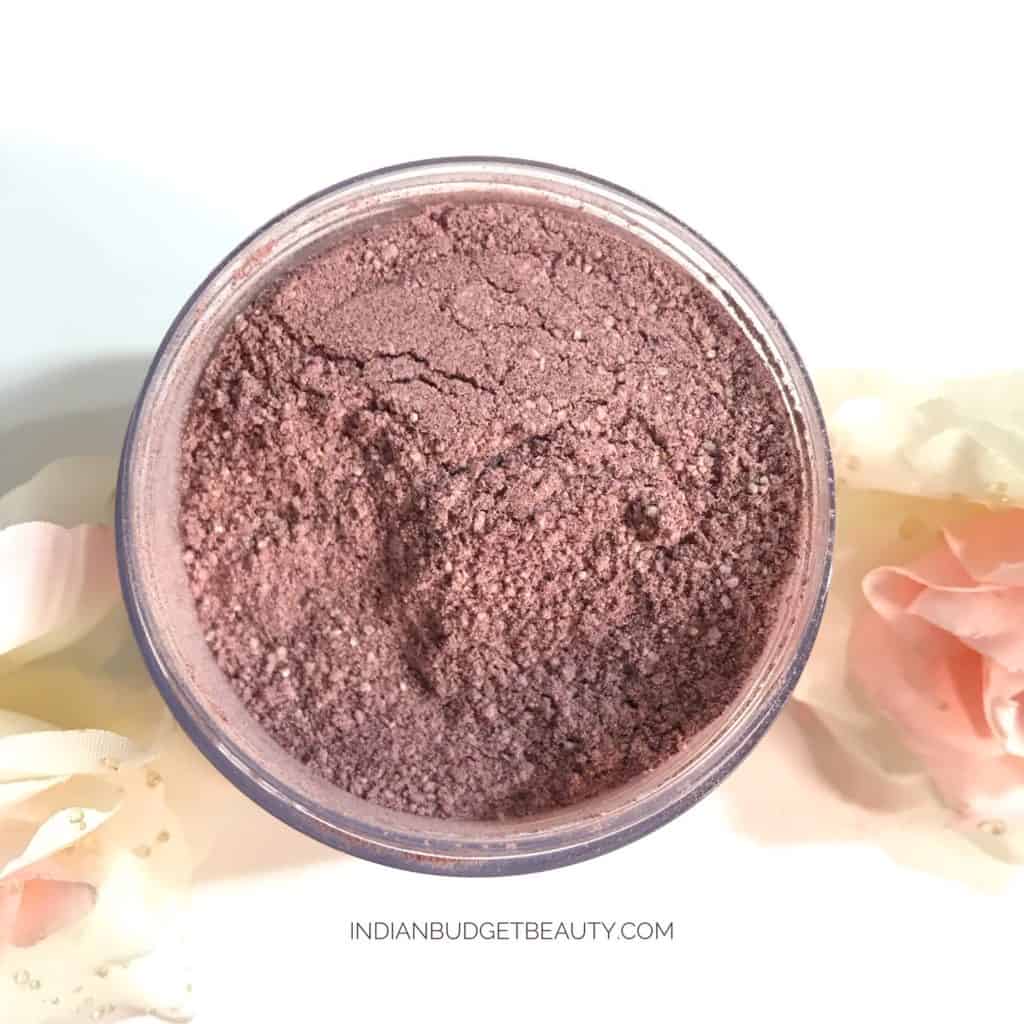 Price: Rs.570 for 100 g
Ingredients: Native Rose Petals, Lotus petals, Beetroot Extract, Semolina, Aloe vera Powder, Rice Powder
This Rose Scrub is my absolute favorite. I am totally impressed with this scrub. It's very gentle on the skin but at the same time does exfoliate and make your skin very soft.
It comes in a ground powder form of different petals and other ingredients. You have to mix it with either rose water or normal water to make a thick paste.
After using this scrub, my skin felt very refreshed, softer and had a healthy glow. I did not face any irritation what-so-ever.
Will I Repurchase & Recommend it?
I'd absolutely repurchase it and will highly recommend it. I've used anything like this. It is very effective and at the same time very gentle on the skin
Deyga Rose and Mulethi Skin Brightening Pack Review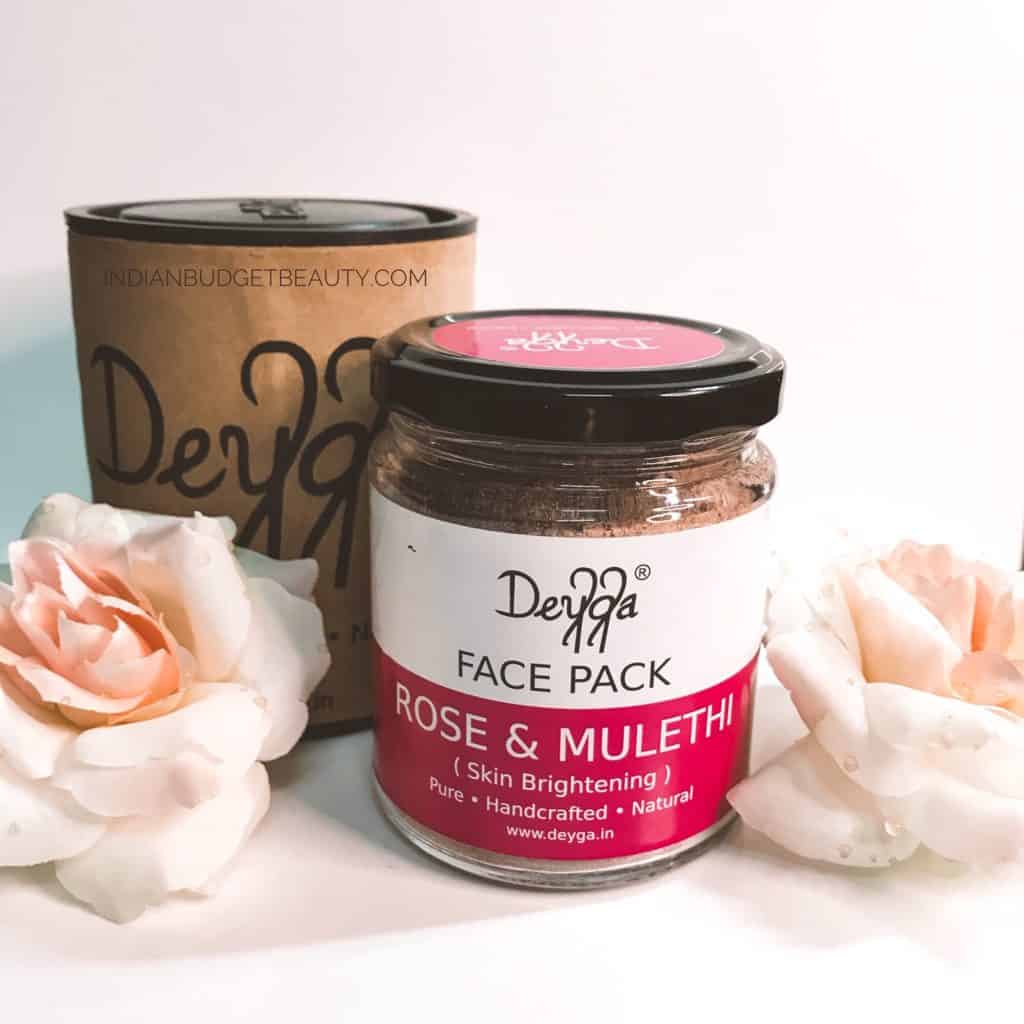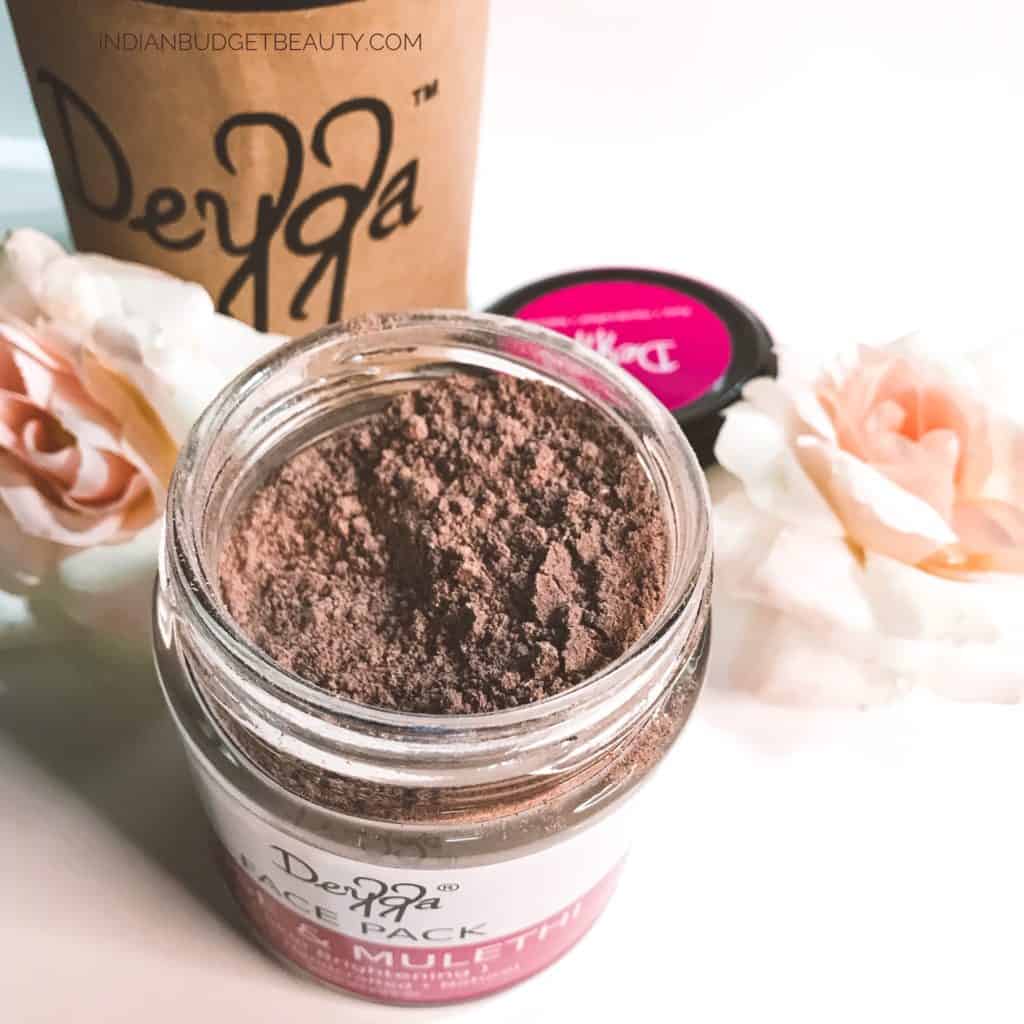 Price: Rs.490 for 200 gm
Ingredients: Native Rose, Mulethi, Oat Meal, Essential Oils.
This Rose Mulethi Face Pack is one of the best sellers from Deyga Organics. It has a pink powder textured mask that needs to be mixed with either milk or water.
I've used it with rose water and made a fine paste. It won't be a thick paste but a very thin translucent paste. It also has the same woody rose smell which I'm quite fond of.
I'd suggest that you do a patch test first because it irritated my skin on the first usage. I guess it has to be due to the dry season. I'm not gonna lie, I was a bit scared of trying it again but eventually gave it another shot.
The next time it did not irritate my skin. I could feel a slight glow on my face, not very prominent. I'd suggest that you try this at least twice a week to see the results.
Do I Recommend It?
Though it is for all skin types, I'd recommend it only to normal and oily skin. If you have dry and sensitive skin, I'd request you to do a patch test first.
Deyga Rose Water Toner Review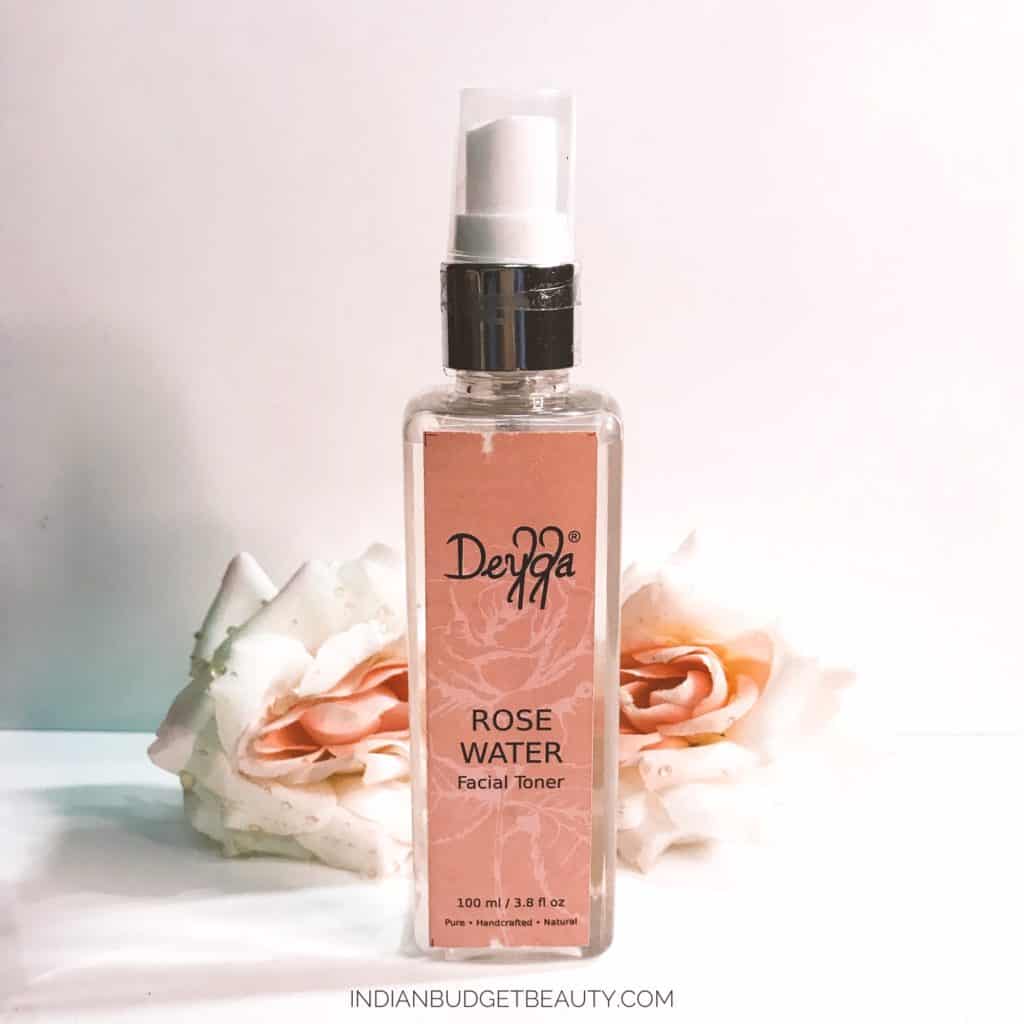 Price: Rs.430 for 100ml
Ingredients: Steam Distilled Water
This Rose Water facial toner from Deyga comes in simple spray-bottle packaging. I do like the spray dispenser which releases very fine mist which is not stark on your face.
But I'm not the biggest fan of the fragrance. It smells exactly like how Roh Afza used to smell like and it's very overpowering. I wish they would have not added that fragrance as its a good toner with a fine mist, but the smell totally makes it impossible to spritz onto the face.
Other than the fragrance, you can totally use this to refresh your face, give a boost of hydration whenever your skin is dry.
Will I Recommend it?
You can try it out if you don't have an issue with the smell.
Deyga Rose Glow Serum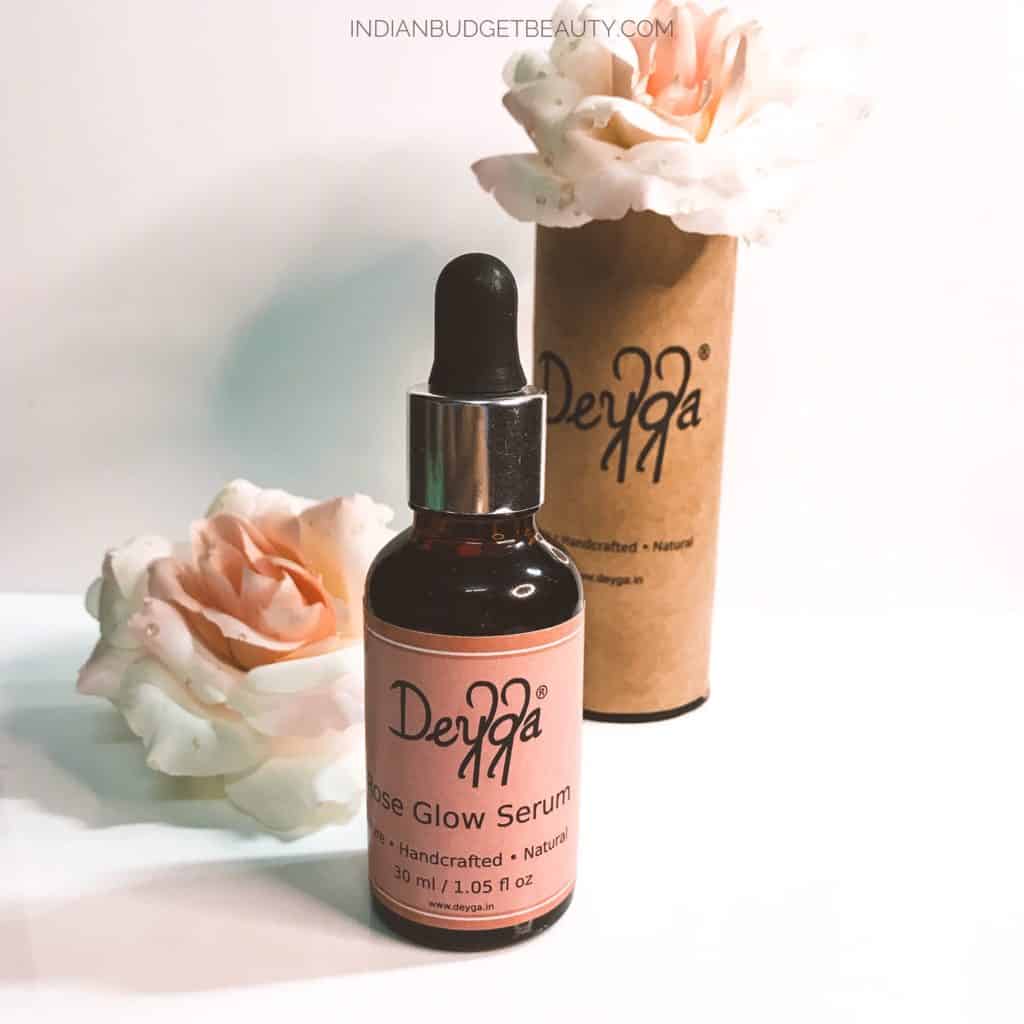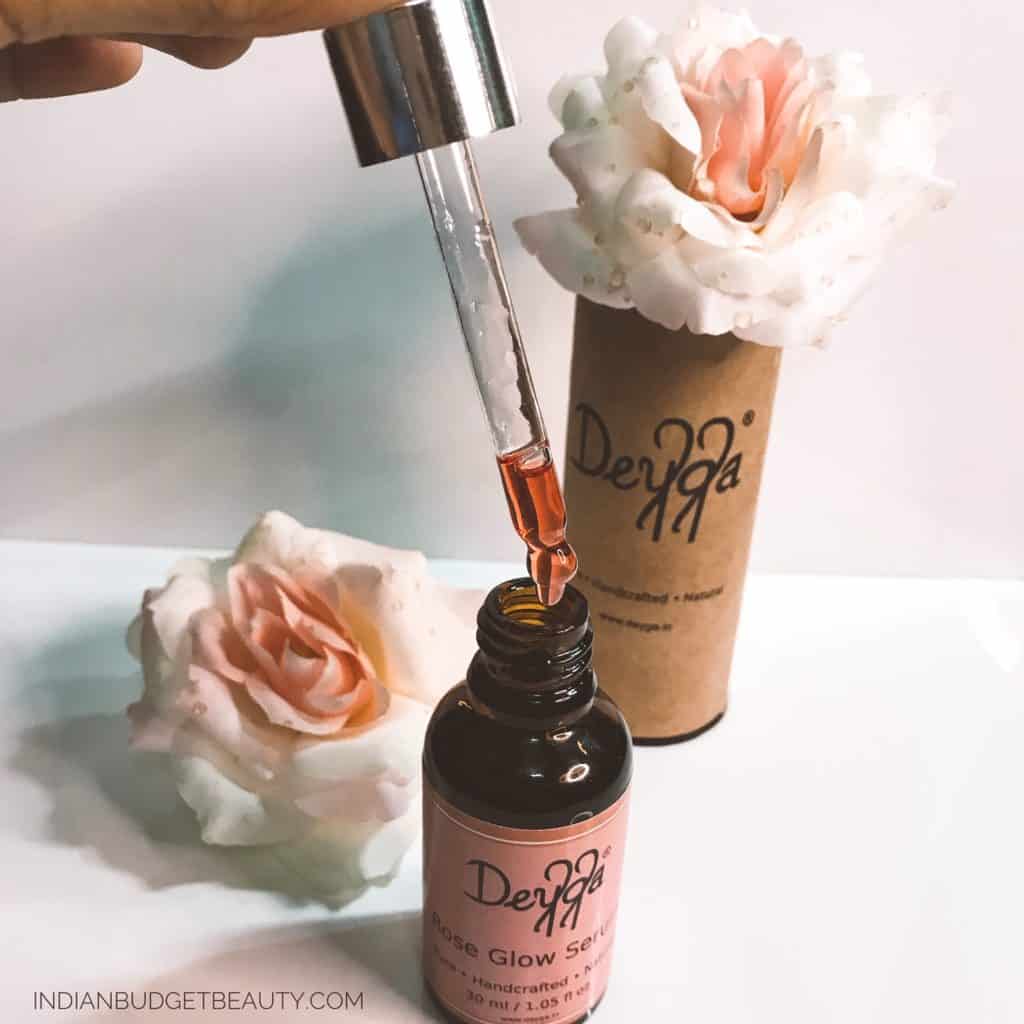 Price: Rs.790 for 30 ml
Shelf Life: 6 Months
Ingredients: Rosehip oil, Saffron, Jojoba Oil, Almond Oil, Vitamin E Oil, Rosemary Oil, Pomegranate Oil, Rose Essential Oil.
I've used 3-4 drops of this serum after cleansing and toning as instructed. It is a lightweight serum with multiple oils in it. At first, I found the serum to be a bit oily but not sticky, so I totally skipped the moisturizer.
The next day I found the oil has been absorbed into my skin and it gave my dehydrated skin a slight glow. So, I've also used it in my morning routine, but this time I've used only 2 drops. My makeup glided on easily and gave me a dewy look.
If you have dry skin, I'd suggest you use 3-4 drops for nighttime routine. As for people with oily skin, use only 1 drop.
Does this have a fragrance?
This rose glow serum has a slight rose fragrance.
Will I repurchase it?
I'd not repurchase and I have way too many serums at the moment and would not like to be a hoarder. I'd rather try to use this up within the shelf life of 6 months.
Will I recommend it?
I'd absolutely recommend it to people with dry skin.
Deyga Rose & Geranium Body Butter Review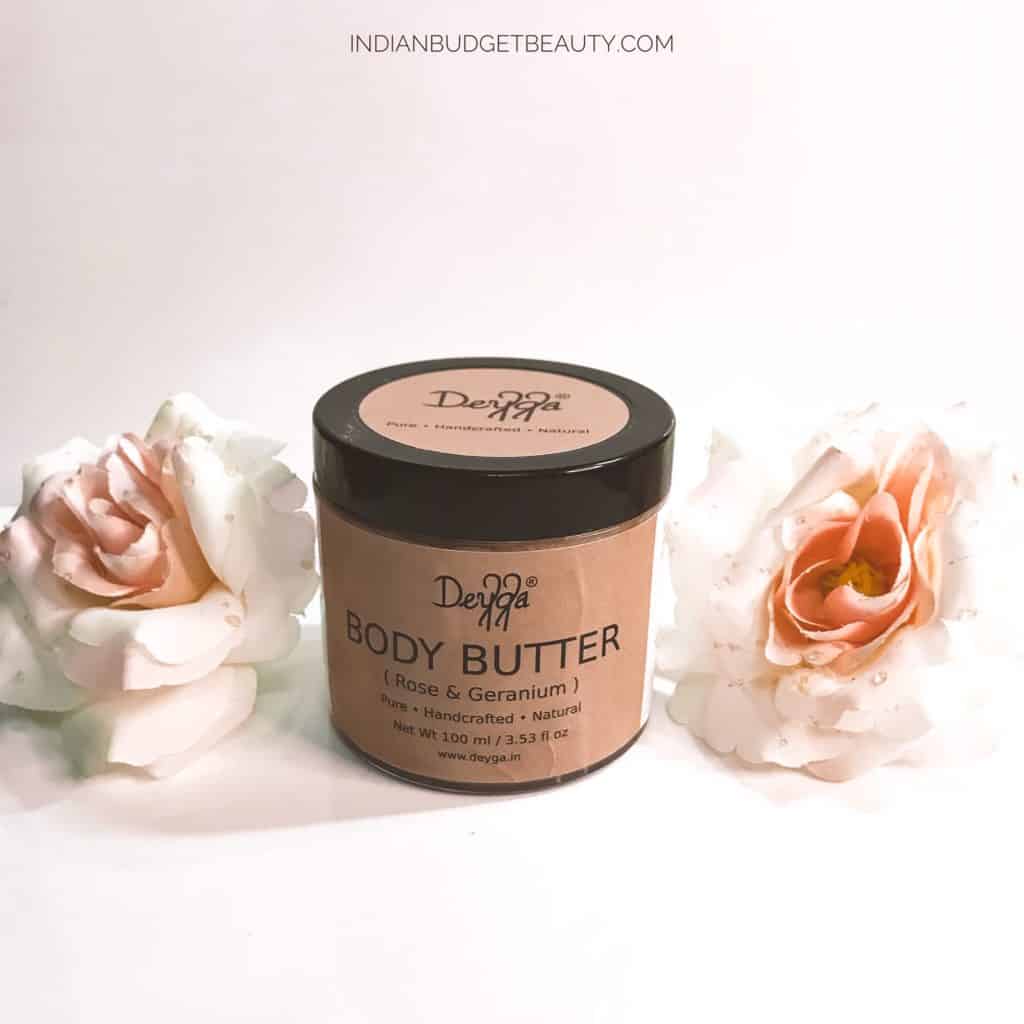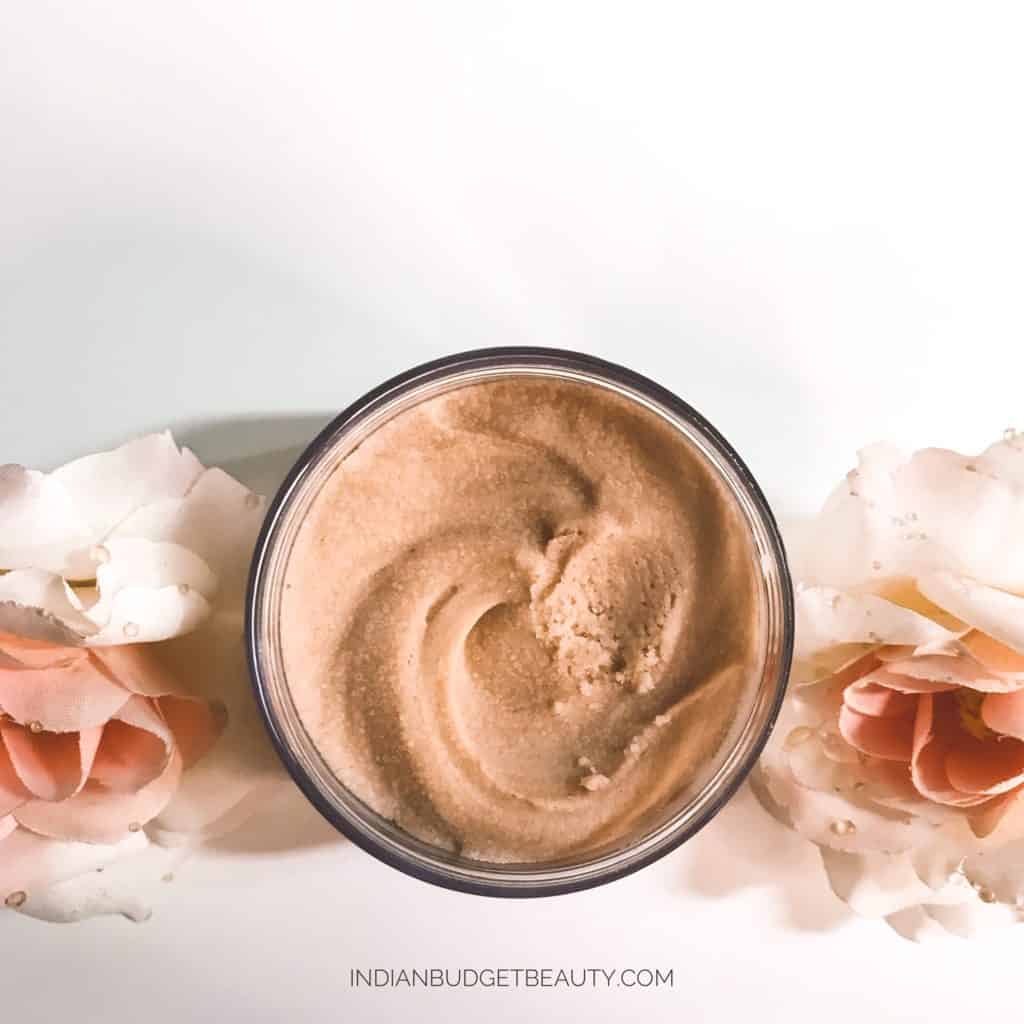 Price: Rs.550 for 100g
Ingredients: Unrefined Shea Butter, Extra Virgin Coconut oil, Sweet Almond oil, Rose Essential oil, Geranium Essential Oil,
Jojoba Oil
This Rose & Geranium Body Butter has a rich course texture and not whipped and creamy like other body butter. At first, I was not that fond of this thick texture as it used to crumble and fall on the floor due to its waxy texture.
But when I saw the after effect, I was quite fond of it. It provides you with full nourishment but does have a sticky feeling. So, I'd suggest that you use it before going to bed as it will deeply nourish and hydrate your skin.
If you are suffering from dry patches and dryness all over your body, then this is the right body butter for you. Just use it overnight and your skin will thank you.
However, due to its deep nourishment and sticky feeling, it won't be suitable for the summers, but it is excellent for the winters. I only wish the texture would have been a bit less waxy and more like a usual body butter.
Will I Recommend it?
I would highly recommend to people with dry skin types.
Rose Talc Free Powder Review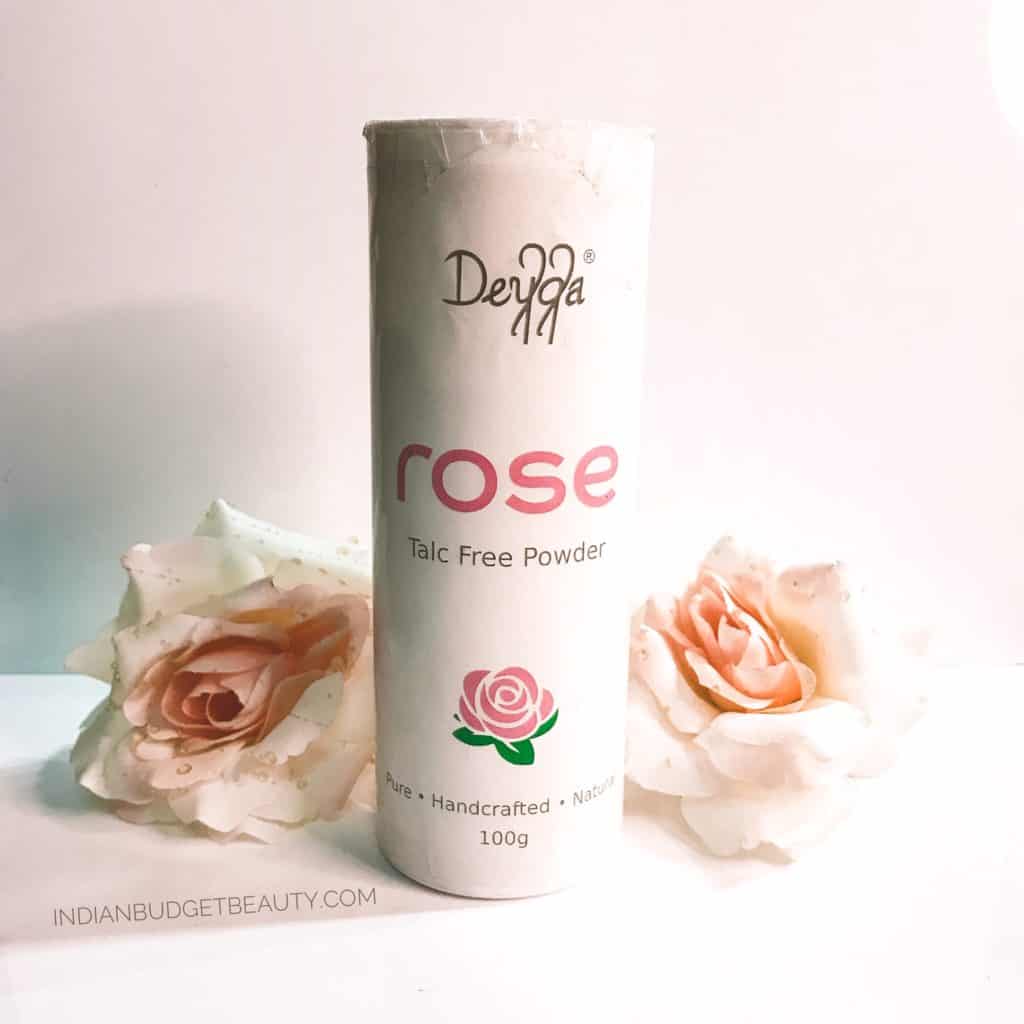 Price: Rs.600 for 100 g
Ingredients: Organic Arrowroot Powder, Rose Essential Oil, Kaolin Clay, Natural Zinc Oxide
I'm not very fond of body powders as they tend to dry out my skin. But eventually, I've used this particular one to try and test it out as its talc-free.
The first thing I've noticed is the fresh smell of it. It instantly made me try it out. I found it helped me in controlling sweat. I'd definitely recommend it to everyone as summers are almost here.
Final Verdict:
I absolutely loved the Pink Clay Soap, Rose Scrub, Rose Glow Serum and the Body Butter more than rest, hence I would highly recommend these.
If you loved this Deyga Organics Products Review, then don't forget to comment down your favourite product from Deyga
Also Read:
Luxurious Adore Arabica Coffee Body Butter & Body Polish Review
Natural Vibes Vitamin C Brightening Face Wash Review
Sukin Signature Facial Moisturiser Review | Cruelty Free
Vanya Herbals Rose and Olive Face Cream Review
Plum Green Tea Range Review | A Simple 3 Step C-T-M Routine
Derma Roller System Review | How to use, Post care | FAQ
(Sponsored Post, Honest Review)